If you or someone else tries to login into your apple service and enters your password, security questions, or any other required account information incorrectly so many times, your Apple ID will automatically get locked to protect your security. If you have your Apple ID locked for any security reason, any of the alerts below might be shown to you:
You can't sign in because your account was disabled for security reasons
This Apple ID has been locked for security reasons
This Apple ID has been disabled for security reasons
So, what causes Apple ID locked for security reasons?
Attempting to access iCloud data using multiple tools on the same account, over a short time.
Also, using third-party tools based on open source iCloud tools.
You may not be able to sign in to any of the Apple services. When it comes to iPhone Apple ID unlock, this post introduces you several awesome ways to unlock Apple ID. Read on and learn what and how to do.
Solution 1: Unlock Apple ID on iPhone via iMyFone LockWiper
One of the best-known ways in the world used to remove Apple ID from a device, especially an iPhone is with a unlock tool called iMyFone LockWiper. This tool can remove Apple ID and remove the data of the previous account so you can have the chance to use your own account.
Although it looks quite risky, it is an effective way to gain access to your mobile device. For people who forgot their Apple ID and password or got an second-hand iPhone with the old Apple ID on it, this tool ensure that the account and data are removed for convenience.
Here's What You Can Do with LockWiper:
Remove Apple ID/iCloud account without passcode within minutes.
Complete control of the iDevice after removing the locked Apple ID.
Compatible with iPhone, iPad, iPod touch with all iOS versions including iOS 16.
Unlock iPhone screen passcode no matter it is locked, disabled or cracked.
Bypass different kinds of screen locks including pattern, PIN, 4-digit/6-digit passcode, touch ID and face ID, etc.
How to unlock Apple ID without password:
Step 1. Download and launch iMyFone LockWiper on your Windows PC or Mac. Choose "Unlock Apple ID" mode.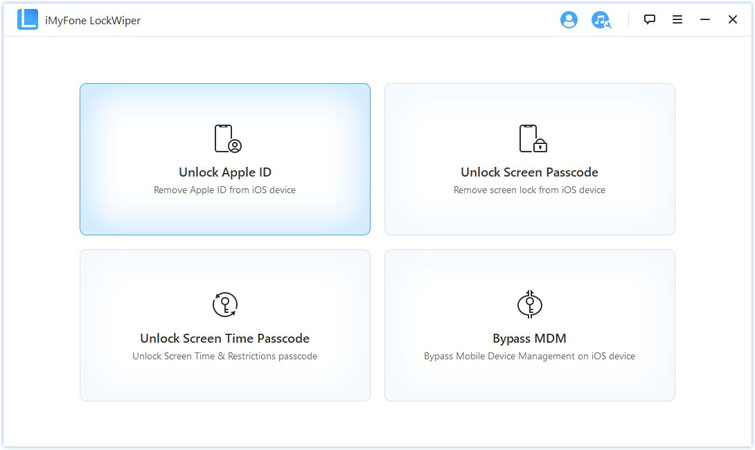 Step 2. Connect your iOS device to trust the connection. Then click "Start to Unlock" to begin.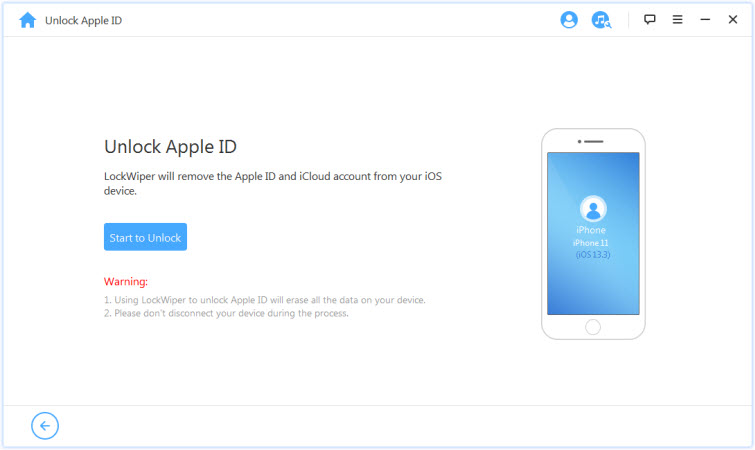 Step 3. If Find My iPhone feature has been turned off, the program will start to unlock Apple ID on your device.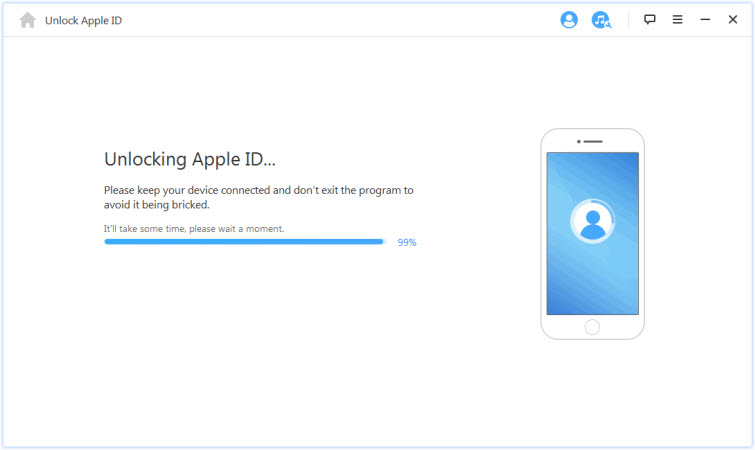 If your Find My iPhone is turned on, please go to "Settings > General > Reset All Settings" to set up first.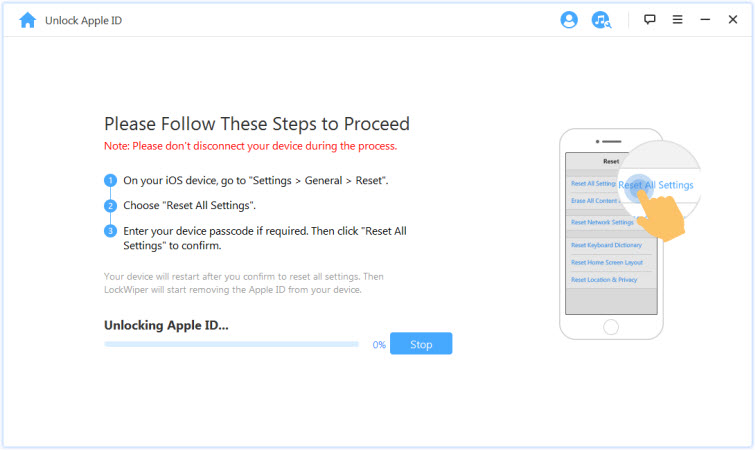 Step 4. Wait for a second, it will unlock your Apple ID successfully without any hassles.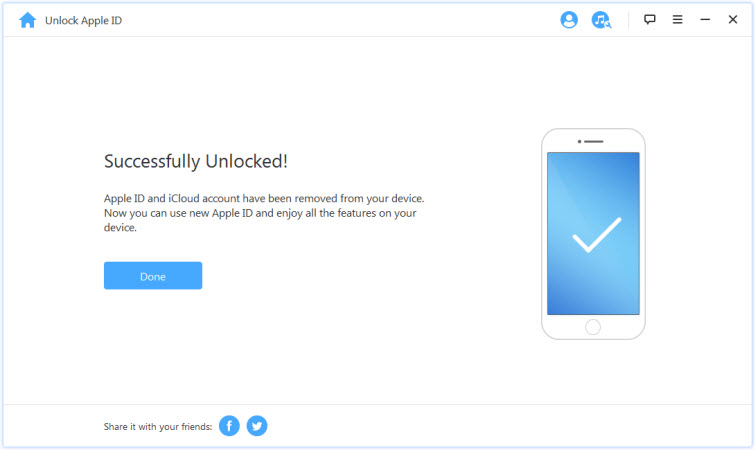 Note: When removing an Apple ID from an iPhone using the lock tool, ensure your iPhone is activated and there is an uninterrupted connection. Also, it will be erase all the data on the phone.
You can also check the video guide here since it can also help to unlock Apple ID without phone number/email/security questions easily:
Solution 2: Reset Apple ID Password through Security Verification
Resetting your Apple ID passwords is very easy when it is blocked. Series of steps have to be followed to get this done. This is to make sure that you own the account. Below are the steps to follow:
Step 1: Open your browser and go to your Apple ID account page.
Step 2: Click on "Forgot Apple ID or Password", or you can go through iforgot.apple.com. Use steps for two-factor authentication instead if you are asked to confirm your phone number.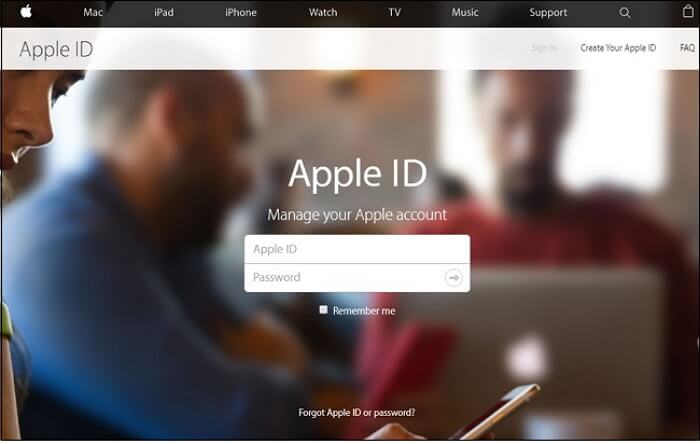 Step 3: Enter your Apple ID.
Step 4: Select the option that suite you to reset your password, then choose Continue.
Step 5: There are three options available to unlock Apple ID on iPhone:
To answer your security questions, select "Answer security questions" and follow the remaining steps.
To get an email instead, select "Get an email". To reset your password, use the email that we send to your primary or rescue email address.
If asked for a Recovery Key, then you can use the steps for two-factor authentication or two-step verification instead.
You can also refer to the following video tutorial:
After you have reset your password, you will later be asked to log in with your new password. You also might need to update your password in Settings on your iPhone.
Solution 3: Contact Apple Support to Seek for Help
For product and technical support, you can visit the Apple Support Site at getsupport.apple.com for quick answers, manuals, and in-depth technical problems. Here's what you can do:
Step 1: Go to getsupport.apple.com, and choose Disabled Apple ID.
Step 2: You'll see three options as bellow: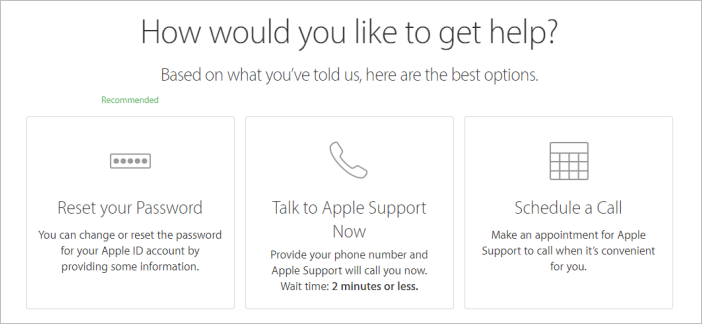 Step 3: Choose Talk to Apple Support Now. You can also choose Schedule a Call.
Step 4: Provide your information it required, and apple support will contact you within 2 minutes.
You can also visit Apple support communities to get help and tips from fellow Apple customers. Most of them are willing to offer you suggestions on iPhone Apple ID unlock.
Tips: Learn How to Keep Your Account Secure
You can protect your Apple ID by the following recommended tips according to Apple:
Always use a strong password for your Apple ID.
Use difficult-to-guess answers in your security questions.
Use two-factor authentication.
Never use the same password for Apple ID and other websites.
Change your Apple ID password constantly and try not to reuse old passwords.
Note: Emails with the title "Your Apple ID Locked for Security Reasons" are not from Apple, they might be scams. They only lure you into inputting your Apple ID account login; if you fall for them, they will compromise your Apple ID account.
Apple users should never click on any link to sign in, in their emails. If you ever receive any warning email, visit https://appleid.apple.com/ and sign in from there. If there really is a problem with your account, you will be alerted there.
---
Conclusively, it is no longer necessary to worry or get frustrated. Losing passcodes or even your iPhone is normal and the need to find a solution is common among users. All you need is have the authentication and enough proof to protect your personal information. Luckily, Apple is keen on protecting the safety of its customers. If you have them intact, you can always secure your iOS devices every time whenever necessary. Also, even you don't know the password of it, you can still get help from an unlock tool – iMyFone LockWiper when your Apple ID has been locked.