Did you know that text did not removed permanently after you delete text messages from iPhone. They get stored on iPhone servers , in case you accidental delete any. However, you may be prone to illegal hackers who want to steal your information, and spy on you. To prevent such scene, you may use applications that allow you to delete them permanently before classified information falls into other's hands.
Part 1: Get iPhone Text Messages Records from Service Provider
Often, valuable information such as bank statements and application OTPs start disappearing. Losses go unnoticeable until you need these data again.In case you have lost any of your valuable data from your iPhone you can try the following.
Contact your service provider immediately to prevent any further loss of data.
Search the app store for applications that allow you to retrieve your personal data.
If your text message records are already chosen to be stored on Cloud, then make use of cloud storage to find and retrieve all the data you have lost.
iPhone manufacturers keep classified information in separate directories that hold records of all your information. So if your phone is hacked or you smell foul play, you can contact them. Else, for the best of both worlds, try an application that allows you to check the list of current and deleted text messages.
Part 2: Shred iPhone Text Message Records Forever with Excellent App
You logged onto iTunes from your friend's phone because your phone battery just died. After working on personal information that you get after synchronizing with your iTunes account, you forget to log out of your account. This calls for the need to delete these messages before any unscrupulous hands make bad use of them. If you want to know how to get text message records and delete them from internal servers as well, read on. You might as well need to get rid of some applications that are unused for a long time.
Follow the steps to get cell phone text message records off your iPhone using iMyFone Umate Pro or iMyFone Umate Pro for Mac .
Step 1: Download iMyFone Umate Pro software and connect your phone to your computer.
Step 2: Choose "Erase Private Data" mode and scan for text message record.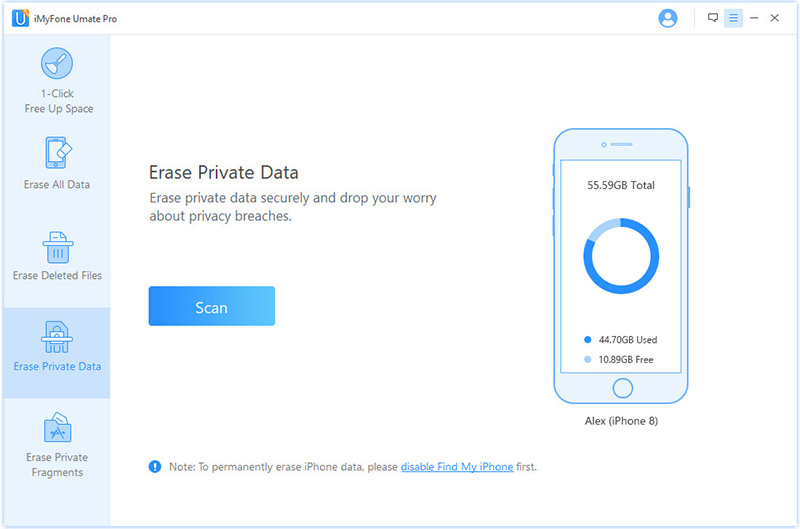 Step 3:Delete cell phone text message records before they fall prey to hackers intending to make bad use of your information.
Key Features of iMyFone Umate Pro
Simple get cell phone text message records.
Unlike most of the applications that help in identifying lost data, Umate Pro does so with use of a user-friendly interface.
Make some of the information completely irrecoverable by using "Erase All Data" options in this software.
The paid version of this application helps in recovering and shredding those files which are otherwise not identifiable.
Compatible for all iOS versions, and it can run on any Mac or Windows enabled machine.
Part 3: Scan and Retrieve Cell Phone Text Message Records from Storage Device
There are times when you accidental delete text message records or threads. In case you are grieving over the loss of personal data, you can look online for various software available.
Simply install the application on your Windows or Mac enabled computer. Then connect your iPhone or any iOS device and scan for deleted or leaked information including text messages. List of all messages will appear in the same window. Select those you need and retrieve them.