Volume booster apps have come to be one of the most selling apps on Apple's app store. However, most iPhone users don't know how to choose the correct one for themselves. Hence, iMyFone Inc. has brought to you a review of top 5 iPhone volume boosters to help you choose an app to increase volume that will give you better experience.
Part 1. Create Enough Space to Free up iPhone and Make It Run at Optimal
iMyFone Umate Pro iPhone Data Eraser is iOS based cleaning software that can be used to clean junk files, temporary files, erase deleted files, compress photos, backup and delete large files, erase iOS device to factory settings, overwrites data to render it unrecoverable, etc. It is most relevant to have iMyFone Umate Pro alongside a volume booster app on your iPhone because of its compatible features.
Key Features of iMyFone Umate Pro:
It helps to erase hidden junk files in order to create space and speed up iPhone.
It employs over 25 analytic technologies in scanning out useless, redundant and needless files from iOS device, and clean all them in 1-click.
It has four erasing modes for erasing all your private iOS data, and protecting your privacy.
It erase not only current data but also previously deleted data; the supported iOS data type - messages, contacts, call history, photos & video, browsing data, etc.
All you need to do is to click "Erase Deleted Files", and then select items that you want to erase.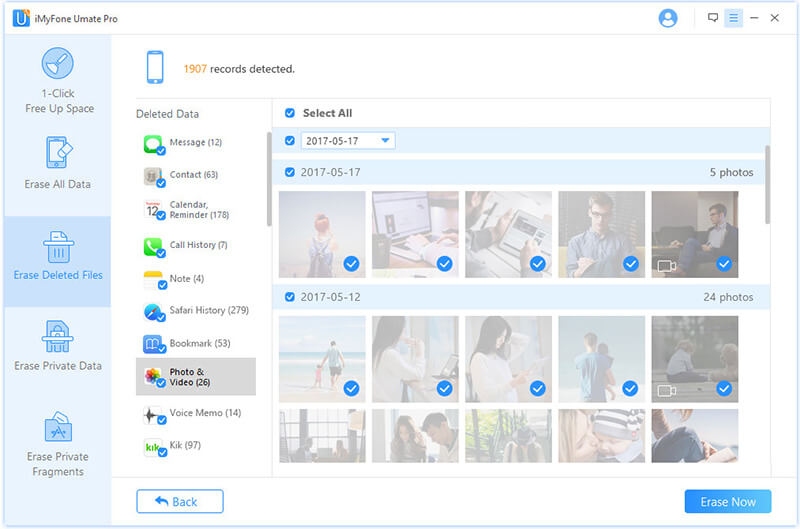 Part 2. Top 5 Volume Booster for iOS
1

Equalizer Pro Volume Booster
Equalizer Pro is an AppleWatch, iPad and iPhone volume enhancer app that costs $3.99. It was developed by NovaApps with a file size of 43.9 MB. Equalizer pro's current version 2.2 has over 60 ratings and 764 ratings for all versions. It rates 4.0 stars on iTunes because it is a new generation app that has enhanced media player capabilities and sound quality.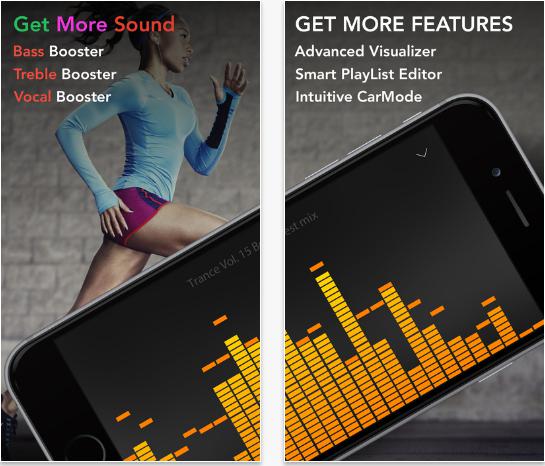 Pros:

It can play music outside of sound cloud and music library.

Equalizer also offers a free version known as "Equalizer+-".

Equalizer pro offers more presets than the free version.

Cons:

Display bugs were mentioned to have been taken care off, but they still displaying on the app.

You cannot add multiple songs or delete multiple songs off your playlist.

It still needs some basic improvements on playlist selections, shuffle and user friendliness.
2

KaiserTone Audio Player
If you would like to feel the great power of music on an iPhone, then you should download and install KaiserTone music volume booster. KaiserTone was designed by CyberFort LLC, and its current version 2.7.6 was updated on March 28, 2017 with the download size of 30.0 MB. This app is designed for both iPhone, iPod touch and iPad users, and it requires iOS 7.0 and later for compatibility.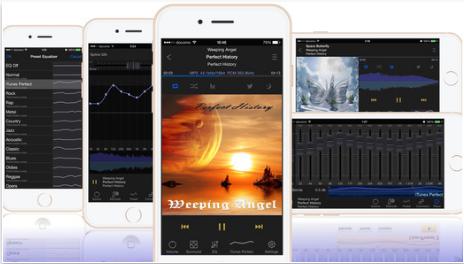 Pros:

It brings out the best sounds nuances from the headphones, which is crisp and light.

You can switch between its four playback modes easily.

It has an incredible sound quality.

Cons:

Its cost at $9.99 is more than the price of an average iPhone volume booster.

It does not support other operating systems like Android.

It is not very user friendly.
3

Bass Boost Volume Enhancer
If you prefer amplified bass tone from a volume boosting app, then Bass Boost is the right iPhone volume boost for you. This app was last updated to version 1.8.0 on Dec 05, 2016 by its developer DJiT SAS, and it has several versions of language like English, French, Portuguese, etc. to select from. Its downloadable file size is 33.1 MB, and its rated 4+ stars on iTunes.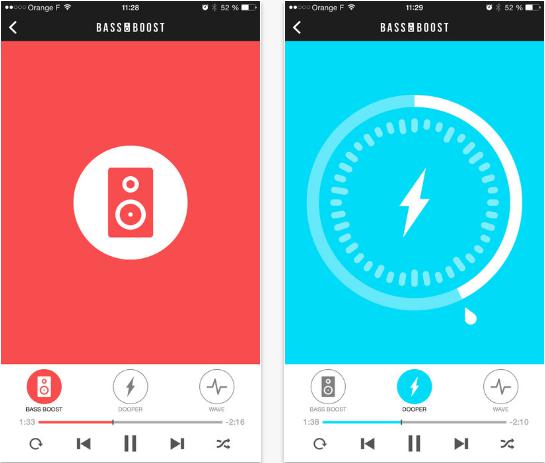 Pros:

This app really makes a big difference in bass tones.

You can easily adjust the volume levels.

3. You have full control over boosting your iPhone music with this app.

Cons:

There are still bug features on this new version.

The iPhone earbud controls cannot be used to pause or skip tracks, and this can be only done from the app.
4

SonicMax Pro Music Volume Booster
Among the apps to increase iPhone volume; BBE's SonicMax Pro is notably the loudest and most amazing sound system. If you have used the pro sound Sonic Maximizer gear for live performance, then you would appreciate having a more audible iPad volume enhancer like SonicMax on your iOS device. This app is sold at a little sum of $0.99, with a file size of 8.1 MB, but it is really the mobile generation of HD audio technology – Sonic Maximizer.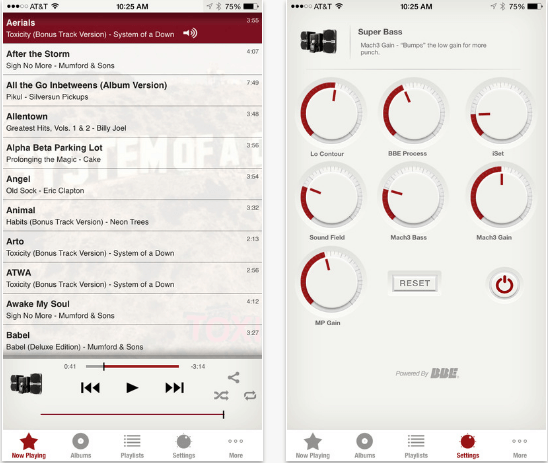 Pros:

Its developers - BBE are well established in developing professional music products.

It is loud enough for everyone.

3. It is user friendly.

Cons:

It is highly outdated with its most recent update on Feb 21, 2015.

SonicMax Pro volume booster app crashes for no discernible reason.
5

ONKYO HF Player Volume Boost
If you are looking for a free volume booster app that offers greater control on how your iTunes music sounds, then ONKYO HF sound booster is the best fit for you. This app which is used to increase volume is rated 4+ on iTunes was developed by ONKYO corporations with its latest version 2.2.2 dating back to Dec 26, 2016, with downloadable size of 25.6 MB. It is compatible with all models of iPhone, iPad and iPod touch with iOS 6.0 or later.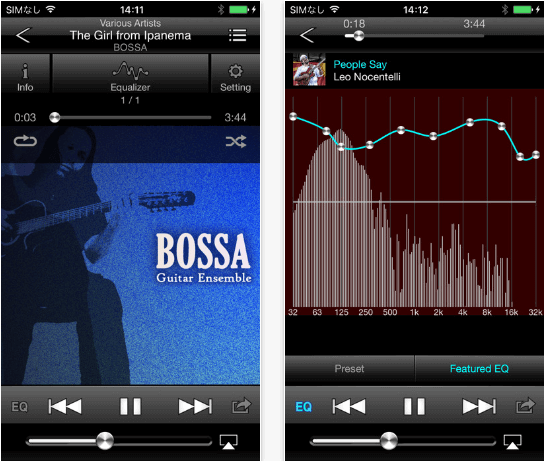 Pros:

It is a free music booster app.

It is very user-friendly and produces balanced sound effect.

It is best used in playing high-resolution music.

Cons:

It features bugs in iOS 10.3

Its paid version has more components like "play from music library" than free version.
Conclusion
iMyFone Umate Pro is a useful tool that you can not miss! Not only does it clean up all kinds of junk files and time files, it also wipes the cache occupied by deleted files. At the same time, it also supports a variety of data types, like WhatsApp, WeChat, Kik, Viber, LINE messages, photos, videos, documents, etc. Just have a try now!