Question
"Are WhatsApp messages stored on iCloud?"
"Does iCloud backup include WhatsApp?"
Yes! iCloud can back up WhatsApp messages, videos and media, as long as there's sufficient iCloud storage.
The above problems are frequently asked questions in Apple users. WhatsApp, as one of the most widely used messaging apps in the world, is important to us. So it's necessary to back up your WhatsApp messages or data to iCloud immediately in case you lose them.
In this guide, we'll tell you everything about iCloud WhatsApp Backup.
Part 2. How to Backup WhatsApp Messages to iCloud
Usually, there is a common way to back up WhatsApp messages. That is to enable iCloud drive to back up WhatsApp. Before you start to back up WhatsApp chat history. Please note as below.
Note
All your iPhone data will backed up when turning on iCloud backup, including WhatsApp chat history. While WhatsApp backup only includes WhatsApp data. If you make both iCloud and WhatsApp backup, you will have duplicate data in iCloud. You can only enable WhatsApp backup if you don't have enough storage.
Please make sure that you have enough FREE icloud storage to back up WhatsApp messages, at least 2.05 times free space available in your iCloud account.
iCloud drive MUST be enabled through Settings > Apple ID Name > iCloud > iCloud Drive.
Follow these very simple steps to make a manual backup with iCloud.
Step 1: On your iPhone, open Settings app and then tap on iCloud.
Step 2: Tap on the iCloud Drive and turn it on if it is turned off.
Step 3: look through the list of apps to make sure that WhatsApp is turned on.
Now all you have to do is go to the WhatsApp app and tap on Settings > Chats > Chat Backup and then tap on Back Up Now to back up all WhatsApp chat messages.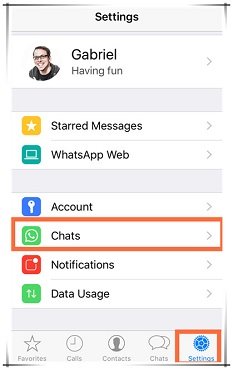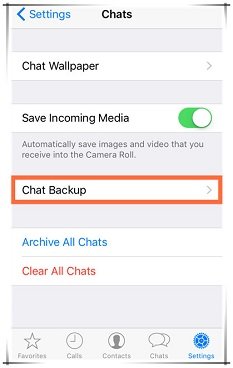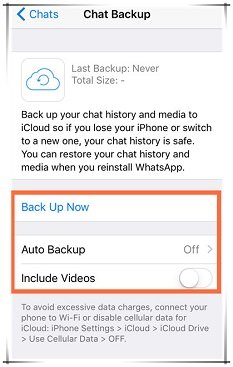 Besides, you can turn on Automatic Backup for automatic WhatsApp backups. So all your WhatsApp messages and media will be backed up to your iCloud regularly. Before using automatic backup, please note the Requirements here.
You must sign in with your Apple ID and make sure you can access the iCloud account.
Please make sure there is enough free space on iCloud and iPhone to make a backup.
iCloud drive should be enabled.
Part 3. "iCloud Can't Back Up WhatsApp?" Fix It with 5 Ways
Many users have reported that they get an "iCloud Can't Back Up WhatsApp" error every time they try to backup WhatsApp data. If you're also facing this issue, then implement the below way outs.

Rest assured, one of them will definitely get the job done for you.
1

Update WhatsApp
WhatsApp regularly rolls out new updates to troubleshoot minor bugs. Many a time, these temporary bugs are the culprits why you can't back up WhatsApp messages.

So, first of all, confirm if you're using the latest version of WhatsApp or not. Go to the App Store and check if any update is available. If yes, install it.  
2

Check iCloud Space
Note that iCloud offers only 5GB of free space. WhatsApp cannot backup messages to iCloud if you've run out of free iCloud storage.

To check the iCloud storage:

Step 1. On your iPhone, navigate to Settings > tap Your Profile Name > iCloud. Here, a bar graph will show the available storage.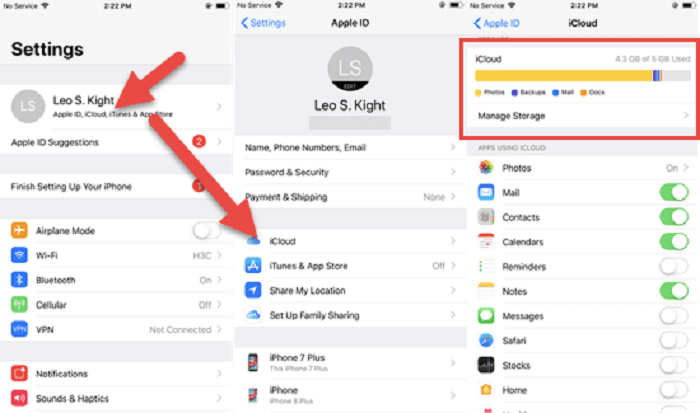 Step 2. If you don't have free storage available, you'd need to update your extra iCloud storage plan or delete an old backup.
3

Delete the Existing iCloud Backup
Sometimes, the existing iCloud backup is corrupted – especially when the backup process stops unexpectedly or it gets stuck. In this situation, WhatsApp tries to overwrite the existing iCloud data and you get the error.
So, you need to delete the existing backup. For that:
Step 1. Head to Settings > tap Your Name > iCloud > Manage Storage > Backups.
Step 2. Now, tap the device whose backup you want to delete and then, tap Delete Backup > Turn Off & Delete.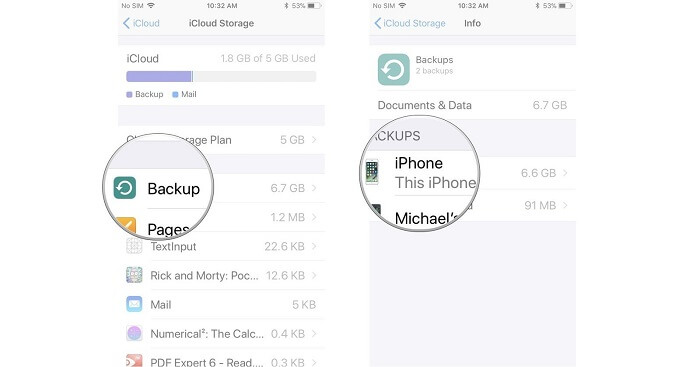 Hopefully, it will resolve your issue. if not, keep reading.
4

Enable Background App Refresh
Another proven method of fixing why iCloud can't backup WhatsApp is by enabling the Background App Refresh. To do that:
Go to Settings > General > Background App Refresh.
Again tap Background App Refresh and make sure it's enabled.
Finally, swipe down and turn on the toggle in front of WhatsApp.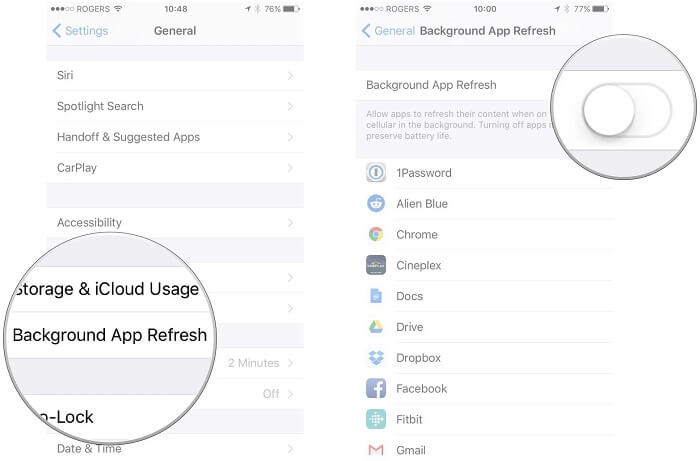 5

Taking a Backup with iTunes
If you're still facing the same issue, then try backing up data via iTunes. This method will make a new backup of all the data on your iPhone including WhatsApp messages.

To do that:

Step 1. Launch the latest version of iTunes on your computer and connect your iPhone to it.

Step 2. Hit on the iPhone icon at the top bar and then, click on Back Up Now.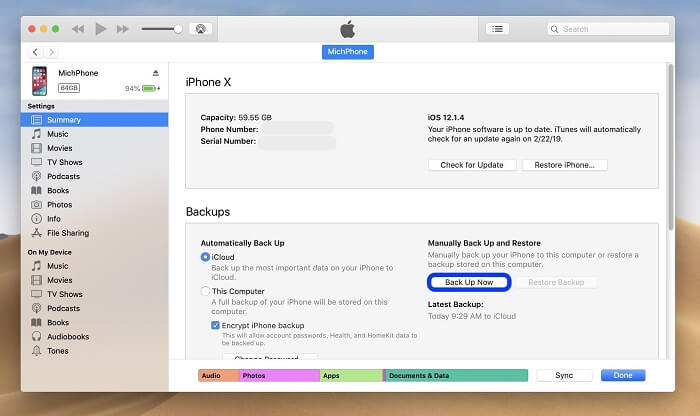 Step 3. Wait until the program completes backing up your WhatsApp messages.
Part 4. How to View & Find WhatsApp Messages in iCloud
If you want to make sure the WhatsApp messages are backed up or you want to view them in iCloud, here are the two most sought-after methods.
1

View WhatsApp Messages with the Official Way
Unfortunately, there's no official way you can view the WhatsApp messages in iCloud. However, you can confirm whether or not your messages are being backed up to iCloud. To do that: 
Go to Settings > Your Name [Apple ID] > iCloud > Manage Storage.
Confirm if you can see WhatsApp Messenger .
If it's enabled, it means iCloud is backing up your WhatsApp messages.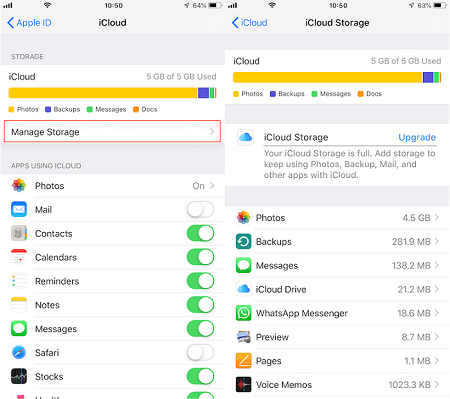 That's all you can confirm.
2

Retrieve WhatsApp Data with A Smart Tool
As you may already know that the first method Is limited in scope and you cannot view or retrieve the selected messages. That's where iMyFone D-Back comes into play. Being a top-ranked iOS recovery tool, this powerful software helps you retrieve WhatsApp data quickly.
It performs a deep scan of your iPhone and lets you recover the WhatsApp messages you need, instead of restoring the whole backup. Here's how you use D-Back to retrieve WhatsApp messages:
Step 1. After installing iMyFone D-Back, launch it and connect your iPhone to it.  
Step 2. On the main interface, click on the Recover from the iCloud mode in the left tab and then, select iCloud Backup.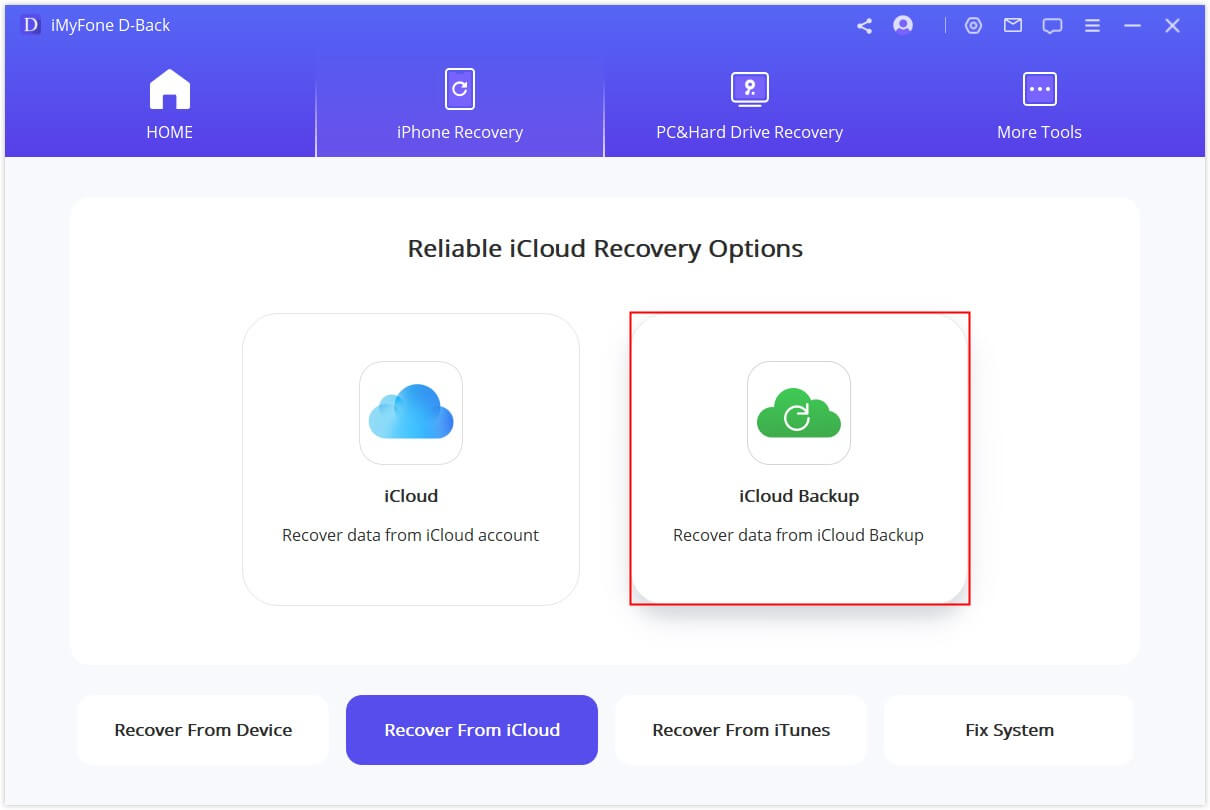 Step 3. Now, follow the on-screen instructions to reset your iPhone and then, choose Restore from iCloud Backup in Apps & Data when it restarts.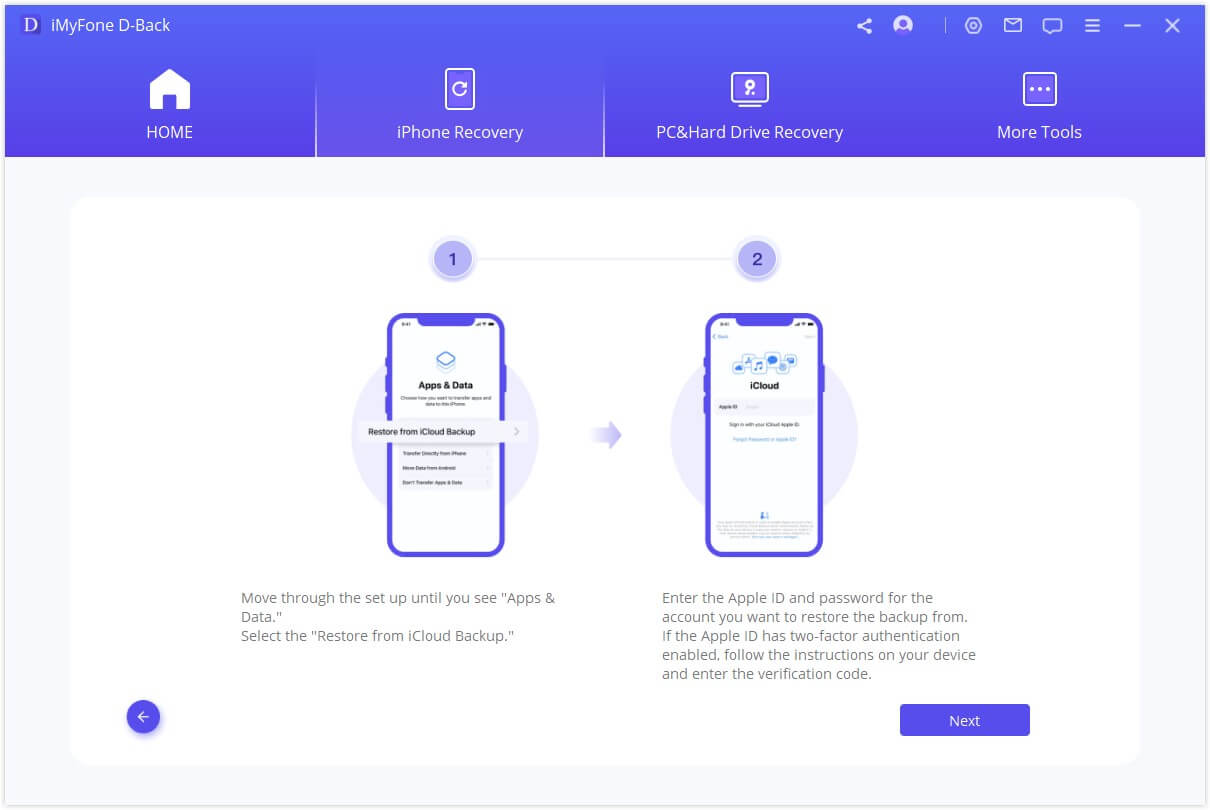 Step 4. Choose the backup you want to restore and hit Enter.
Step 5. Now, check the WhatsApp app and hit Scan.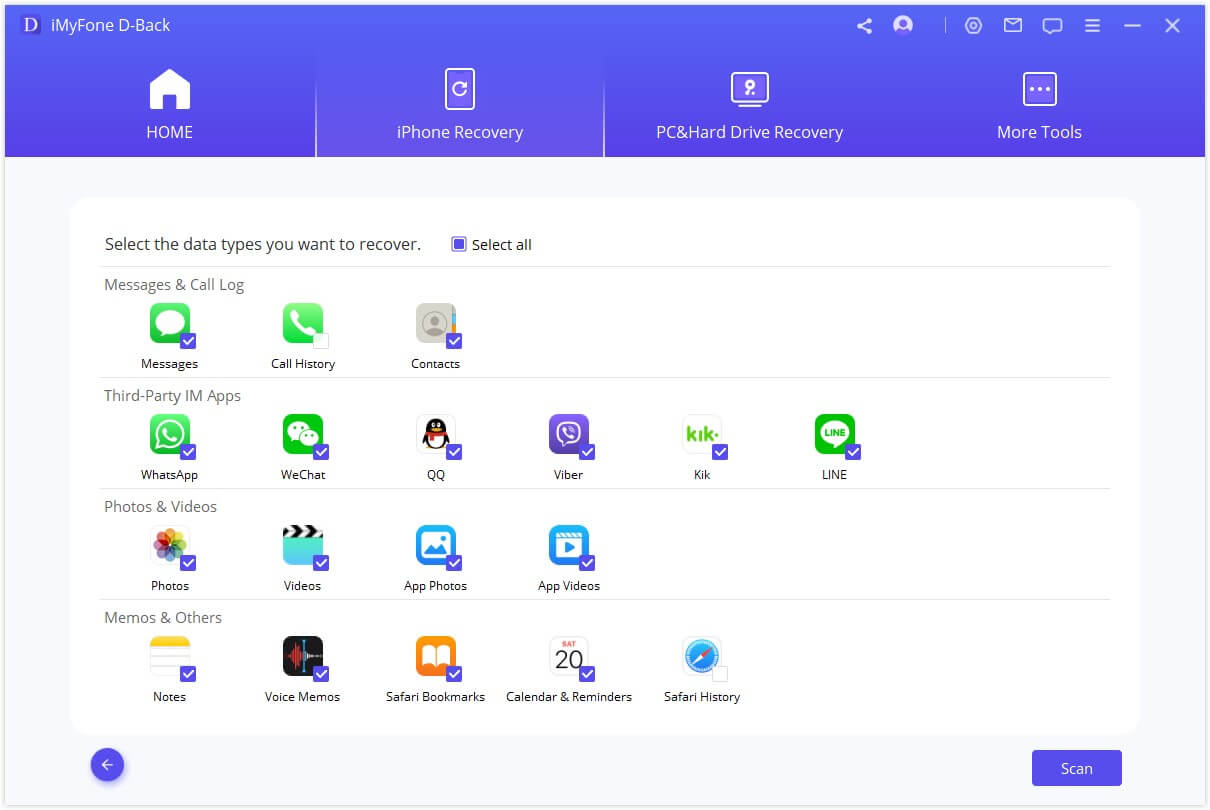 Step 6. The program will show all the WhatsApp messages in the backup. Choose the one you want to retrieve and hit Recover. The program will save them on your computer.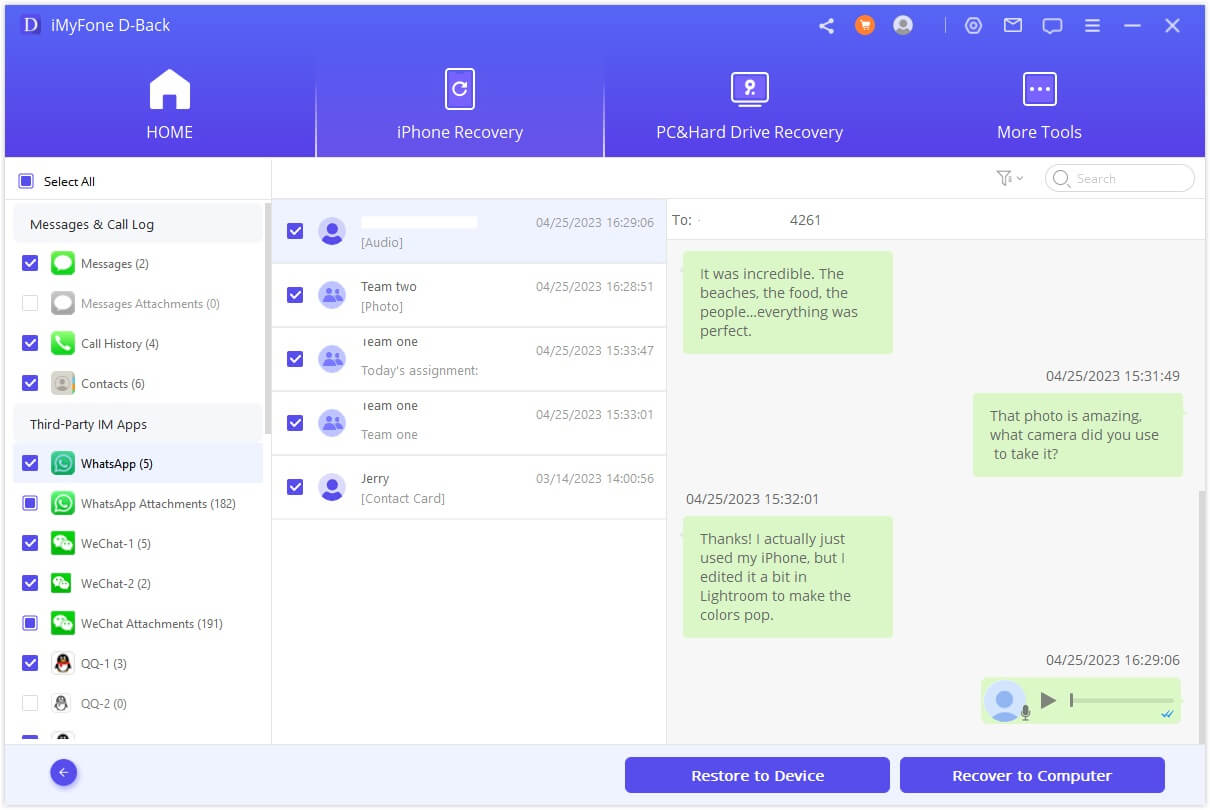 Part 5. How to Restore WhatsApp Messages from iCloud
If you've backed up the WhatsApp data, you can restore messages any time you want. This feature comes in handy when you have lost WhatsApp messages for any reason – like accidentally deleting the messages, damaged app, etc.
In such an unfortunate event, here's how you restore the WhatsApp messages:
Step 1. Uninstall WhatsApp and install it again from the App Store.
Step 2. Now, verify your phone number to log in to your WhatsApp account.
Step 3. WhatsAppwill automatically detect and show the existing backup on your phone's screen. Tap on Restore Chat History and wait until the program restores your messages from iCloud.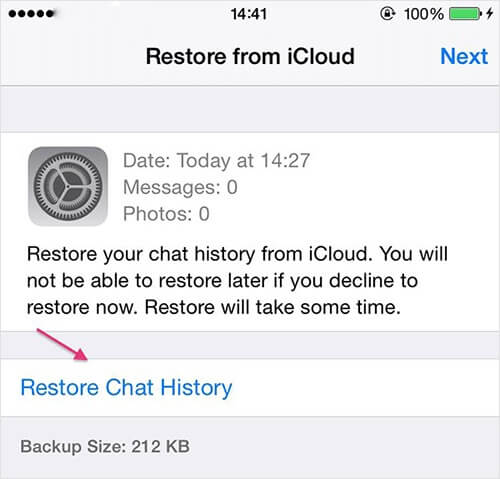 Note that you should log in with the same account you used to make a backup. Plus, the iCloud drive must be turned on. You cannot restore the chat history from another account, so use the same number for backing up and restoring WhatsApp messages.   

A Better Alternative

As you have already seen that this method is lengthy and complex as it entails deleting and installing WhatsApp. If you want a simple way out, then use iMyFone D-Back which is the best and most efficient software to restore WhatsApp messages.

With just a few clicks, you can retrieve all the WhatsApp chats you want – without deleting the app.
Part 6. More Questions about iCloud WhatsApp Backup
Below are the most common questions of users pertaining to the issue at hand. Read on to better understand the topic. 
1

Can I retrieve deleted WhatsApp messages from iCloud?
Yes, you can retrieve deleted WhatsApp messages from iCloud but only if have backed up WhatsApp chats before losing the messages.

In such a case, you can either restore directly from iCloud backup (after deleting and installing the app) or use a third-party app like iMyFone D-Back to do so. Users can recover deleted WhatsApp messages from an iTunes or Finder backup – if there was any.  
2

Why WhatsApp Cannot backup to iCloud?
There can be several reasons why you're unable to backup WhatsApp to iCloud, including:
Not enough iCloud storage available
iCloud back up for WhatsApp is not enabled
Poor or no internet connection
A temporary bug in WhatsApp app
Last iCloud backup is corrupted
3

How can I recover WhatsApp messages without backup?
Unfortunately, there's no official way for recovering the WhatsApp messages if you didn't make a backup. The only available way to retrieve messages is to use a third-party WhatsApp data recovery software like iMyFone D-Back.
4

What happens if I don't back up my WhatsApp?
If you don't back up your WhatsApp, it won't affect the working of the app. However, you won't be able to retrieve the important conversations if somehow the WhatsApp data is lost. 
That's why WhatsApp recommends users backing up the data.
To Conclude
This guide was all about "does iCloud backup WhatsApp messages." After reading this guide, you'd certainly be able to backup WhatsApp messages without any hassle.
As you see, there're many third-party tools you can use to find and retrieve WhatsApp messages in iCloud. But iMyFone D-Back stands apart when it comes to efficiency, blazing-fast speed, and ease of use in finding and recovering WhatsApp messages.