If you have lost some of the data on your iOS device and never have a backup, the best way to get the data back on the device is to use a data recovery tool such as iMyFone D-Back. D-Back is one of the best data recovery programs in the business and like most other data recovery programs, it is a paid solution although it offers a free trial version.
So what if you can't afford to buy the full version of the program? While it may not be possible to get the full version of the program for free, you can significantly reduce the amount you have to pay for the program. Keep reading as we will share you how to get iMyFone D-Back at a discount.
1. Is It Possible to Get Free iMyFone D-Back Registration Code?
It is currently not possible to get an iMyFone D-Back registration code for free, regardless of what you may see online. That's because we have a system that detects the use of registration codes. This means that even if someone else purchased a registration code, they can't share it with more people than allowed. The number of the devices D-Back supports is under control, so the license cannot be used for more devices than the required number.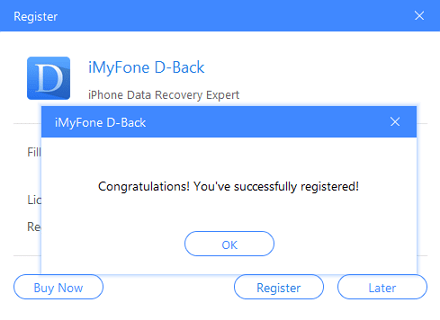 2. Why Should You Buy iMyFone D-Back Registration Code?
Purchasing the registration code gives you the access to the full version of the program. This means that you get full access to D-Back's unrivaled data recovery capabilities. But that is not all, you'll get. Some of the other benefits of purchasing the iMyFone D-Back registration code include the following:
You will get a lifetime and live updates of the software as they are rolled out. This means that if we make changes to iMyFone D-Back including significant improvements in the way the program works or we add new features, the software you purchased will receive an update with the new feature without extra cost to you.
iMyFone customer service offers technical support to help you easily recover the missing data on your device. You can sometimes recover more data with the help of the support team. With our technical support, you can ask our team for assistance in the recovery and we guarantee that we will respond to any queries of every customer.
The full version with a registration code also offers you better performance and all the features you need to recover any data on your device. It is fully compatible with all iOS version and will work to recover data from all iOS devices.
Purchasing iMyFone D-Back registration code ensures that you get a safe software. You don't need to waste time on resolving the problems that might occur during the process.
It wastes time to search for a free registration code.
3. How to Purchase iMyFone D-Back Registration Code
There are several options to choose from when buying the iMyFone D-Back registration code. You can choose from the 1-Month Plan, 1-Year Plan, Perpetual Plan or the Business Plan.
While the Individuals version offers you various options to choose from depending on what you need. If you will only be using the program for a single iOS device,1-Month Plan and 1-Year Plan would be ideal for you. You can also choose the Perpetual Plan that can be used on 5 devices. The Business Plan allows you to use the program on 6-10, 11-20, 21-50, 51-100 or an unlimited number of devices.
Bonus: A Discount for iMyFone D-Back
And finally, here's how to get a discount we promised you earlier in this post. Welcome to take part in Best Deals from iMyFone, you will get official iMyFone D-Back at the price:
$31.95 (55% off)