Recovery mode can be useful when you want to fix some of the common problems that can affect your iOS system. If for example, a software update that you were attempting to install is taking longer than it should, you can put your device onto recovery mode to mitigate the problem.
Therefore, knowing how to put your device in recovery mode can be crucial to fixing some issues with your device. But, recovery mode itself can become a problem when the iPhone gets stuck in recovery mode loop. At this point, you can't use the device ay all which can put your life on hold in ways you never expected. In this article we are going to show you how to exit iPhone recovery mode loop easily.
Get iPhone out of Recovery Mode Loop without Losing Data
In most cases when your device is stuck in recovery mode loop, it will not show up on iTunes when you connect the device to iTunes. This means that it is impossible to restore the device to factory settings, a solution that fixes all other software issues. Therefore, it may become necessary to seek other solutions to get your device working normally again. You also don't want to lose any data on your device, so the solution you choose should ensure that none of the data on your device is lost or damaged.
One of the best solutions for this problem is iMyfone D-Back iPhone data recovery which is an iPhone data recovery program that comes with a "Fix iOS System " feature that makes it very easy to get your iPhone out of recovery mode even if it doesn't show up on iTunes. The following are just some of the other features that make iMyfone D-Back the ideal solution to this problem.
It is very easy to use. A short demonstration shortly will show you just how easy it is to get your device working normally again. It is also very fast; your device will be fixed in under 10 minutes.
The data on your device will not be lost while the device is being fixed.
It can be used to fix all kinds of issues with your iOS device including a device stuck on the white screen, stuck in recovery mode, stuck on the Apple Logo, has a black screen or one that is simply having issues with the operating system.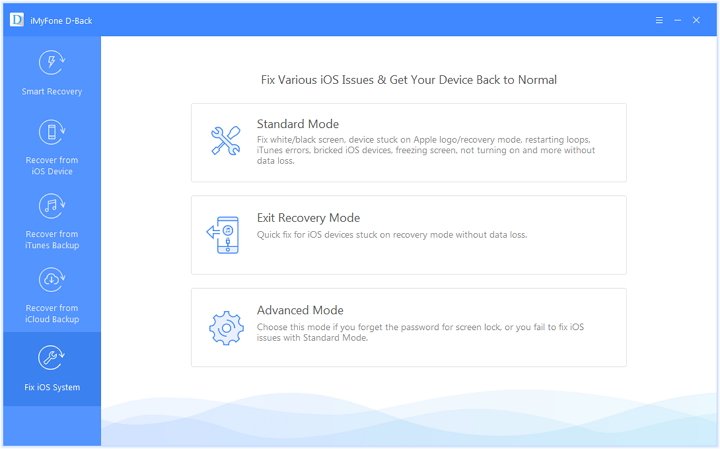 2 Connect the iPhone to the computer using USB cables. Once it is detected by the program, click "Start" to begin.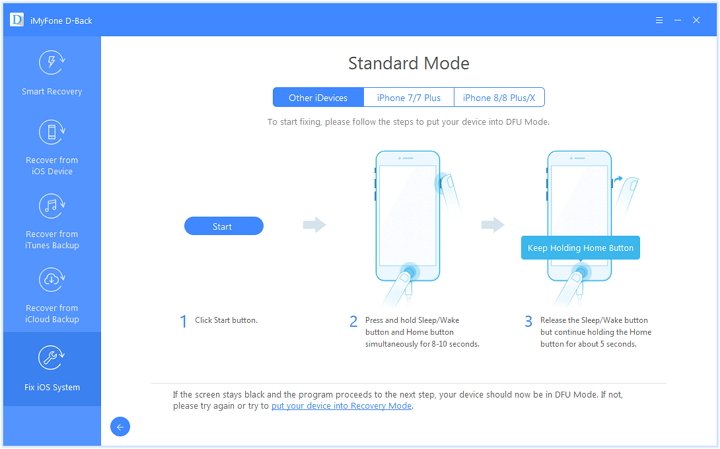 3 To be able to fix a faulty operating system., the program will need to download the latest version of iOS. The program already provides you with the latest firmware, all you have to do is download. Wait for the download the firmware, the process shouldn't take too long.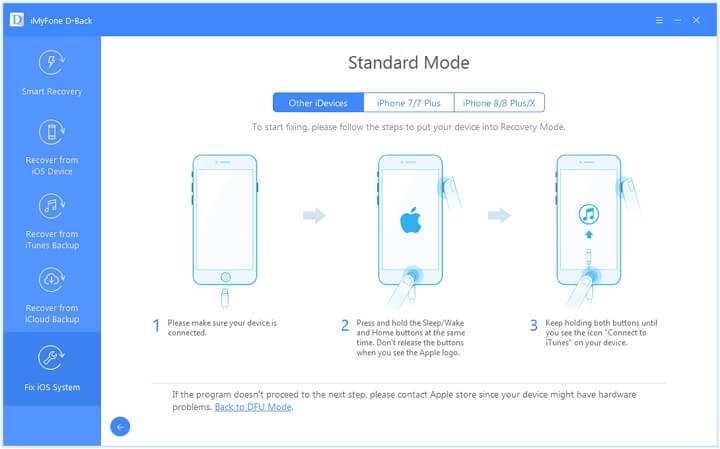 4 Once the firmware is download, D-Back will automatically begin repairing the iOS system of your iPhone.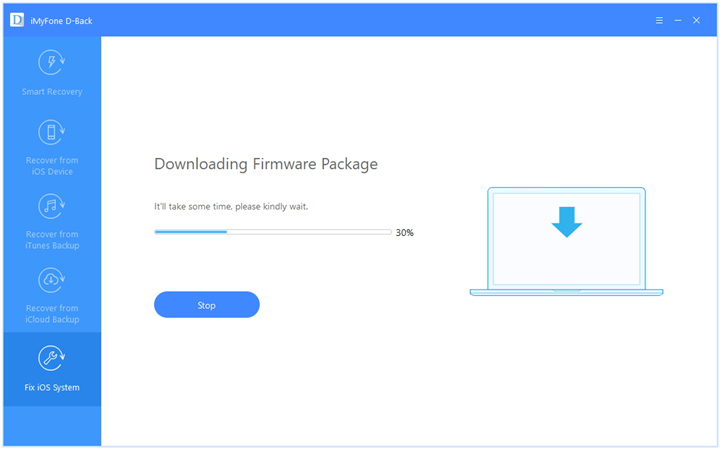 5 The entire process will take no more than 10 minutes. After it is complete, the device will restart in normal mode and you can begin using it as you normally would.
Now download iMyfone D-Back iPhone data recovery to get your iPhone out of recovery mode loop.