iPad not turning on? Don't panic. It's very frustrating when you have a fully functioning iPad and suddenly the screen goes black and refuses to turn back on. iPads are used for fun and entertainment but in many other cases they are also used for business. You simply cannot afford to have your iPad in this condition if there is some very important work going on or crucial data in your device.
Why does it happen? There are many reasons as to why your iPad has turned off and won't turn on again. In this article, we are going to go through all of those reasons and show you the easiest ways to get around them. So, let's not waste anymore time and fix your turned off iPad.
Here are 5 easy and quick ways to fix your iPad not turning on:
1. Charge Your iPad
The most common reason as to why your iPad keeps turning off is because of battery issues. Its common for batteries to lose charging rapidly in cold weather, resulting in your device to turn off much sooner than you would expect it to. Whereas in a hotter temperature, your device can get heated up and turned off by the software itself after showing a warning sign, to bring it back to its optimal temperature. Other reasons include software glitches that can make your battery appear to be more than what it actually is. Hence, when your iPad dies its an unexpected thing for you.
If you are facing this problem, you just have to put your iPad on charging. Chargers that charge at lower amperes can be less effective so make sure you are using a genuine Apple charger that supports quick charge. Leave your device to charge for almost 30 minutes. After that simply turn on the device using the power button and it should be ready to go.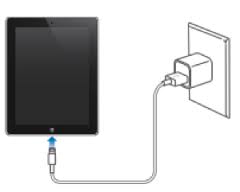 2. Hard Reset iPad when it Won't Turn on
In the off chance that even charging the device doesn't help, the next plan of action is hard resetting it. The usual restart might not always work. The reason that you can be stuck in a situation that your device's screen would refuse to turn on or even blink even on charge is the presence of broken software bits that have been corrupted by slaggy applications. To fix that, you need to get rid of all traces of applications that are causing this. A hard reset is exactly what does the job here. Hard resetting can be tricky for people that haven't used this method before because it is manual, but don't worry. Just follow the steps given below and everything is going to be fine:
Hold the power button and home button at the same time.
Keep holding the buttons even if the slider appears, it will eventually go back to black screen.
Let go of the buttons when the Apple logo appears and let the device boot up as usual.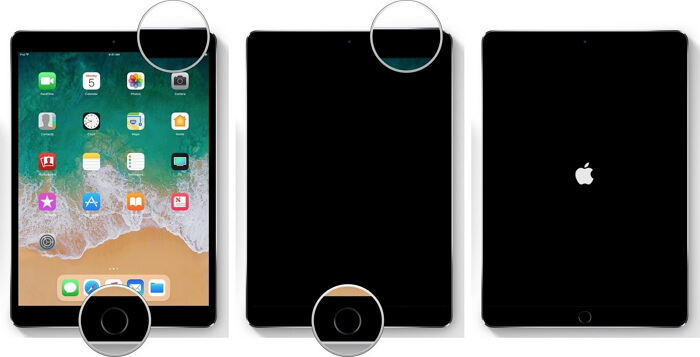 Here you go, now there is no malware in your device and it has been wiped clean. Note that this method will remove all of the data on your device, so it will be wise to back it all up.
3. Fix iPad not Turning on without Data Loss
If the methods mentioned above are not working and still your iPad will not turn on, then unfortunately your iPadOS might be the reason why it is happening. Usually when you are facing such a problem, you have to back up your data, delete the old software and install a new iPadOS. Since you are replacing your firmware, all data will be wiped. But that's when you do the regular way. When you use iMyFone Fixppo, you can easily repair iPadOS system without losing any of your data.
iMyFone Fixppo let's you fix all iPadOS related issues in the blink of an eye. It's a very useful tool trusted by tech companies like Cnet, TechRadar and more. You won't lose any data if using Standard mode. This feature can solve basically majority of iPadOS issues like your iPad cannot turn on.
Let's check out how you can fix your iPad not turning on without losing any data using iMyFone Fixppo. Follow these steps:
Step 1.Install iMyFone Fixppo and run it. Select Standard mode. It solves all common iPadOS issues without losing data.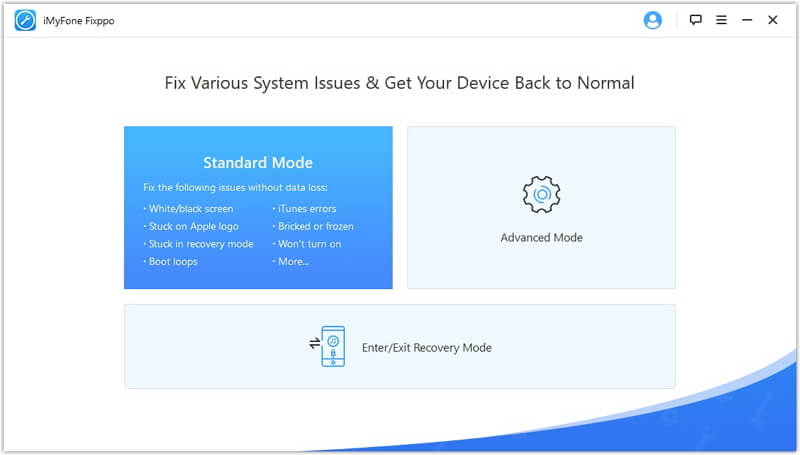 Step 2.Connect your iPad with it and click Next. If device isn't detected, get your iPad into recovery mode by following the clear steps that are given on the screen, then move to the next step.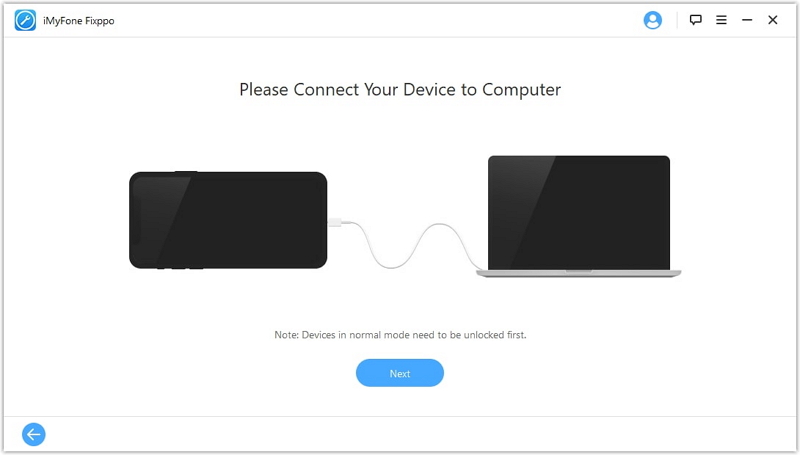 Step 3.The repair tool will automatically detect the info of your device and show you all the available iPadOS versions. Click the firmware you want to install and proceed.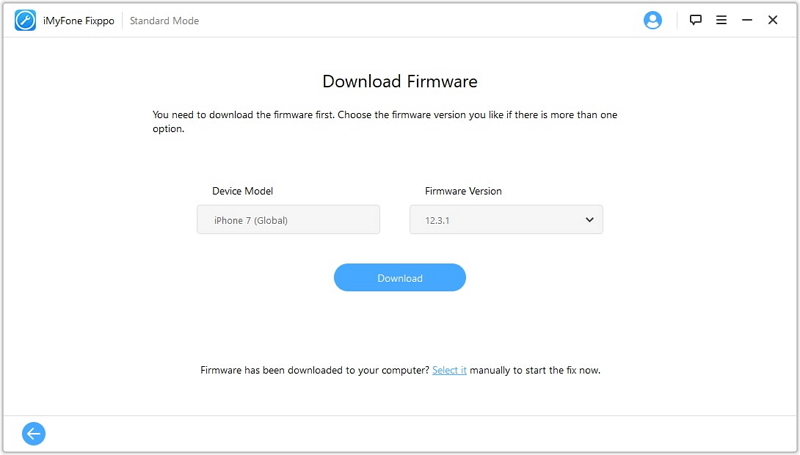 Step 4.When everything is ready, check the iPadOS version and confirm everything is correct. Click Start to Fix and the tool will start repairing your iPad. After finishing up, the iPad will reboot and start functioning properly.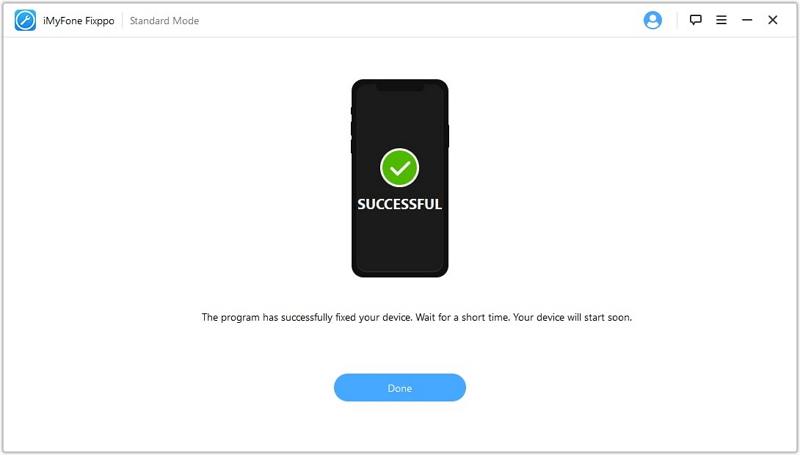 4. Recovery Mode Restore iPad
If the problem still persists, here's how to restore your iPad in iTunes using Recovery mode. Kindly note that iTunes will erase all the files on your iPad and you will lose everything if there is no backup.
Press and hold the home button.
Connect the USB cable to the device while holding the home button. The Apple logo will appear after a while, continue holding the button for a few more seconds.
Keep holding the button until iTunes logo appears.
A dialogue box will appear saying "The software on "iPad" needs to be restored to factory settings or updated", select Restore.
Click Restore and Update in iTunes and follow the steps given on screen. Your device will be restored.

5. Call Professionals to Check Hardware Issue

If after all these steps you still cannot figure out how to turn on iPad, then the worst-case scenario is that it is because of a hardware problem. Your best bet in this situation is to take your phone over to the Apple store to be checked out by the professionals so they can diagnose the problem and fix it for you.

Conclusion

It is fair to say that regardless of any problem you are facing other than a hardware issue, you can easily fix it using iMyFone Fixppo. Having your iPad not turning on isn't the only issue that you can face, so you need to be ready in case you need to tackle any iPadOS issue. Having iMyFone Fixppo at your disposal can help you avoid major issues like these so you can use your device without anything without a worry in your head.