iMyFone Fixppo
Solve iOS 17 focus mode not working problem with ease.
I'm sure you must have tried the advanced version of Do Not Disturb on iPhone: Focus Mode. It's designed to help people reduce the time of using their cell phones while focusing more on tasks and being more productive.
However, a question like why my iPhone focus mode not working in iOS 17 attracts the public attention recently. Given the present situation, this article lists 10 useful solutions for those who want to get the problem fixed instantly. If you're still skimming through this article, you can head to the second part directly to save more time.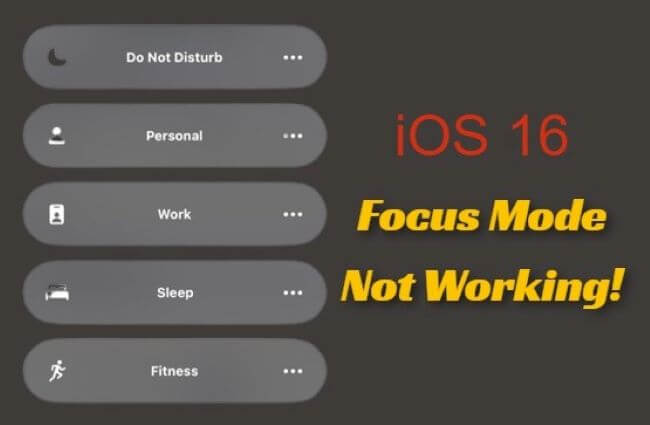 Why iPhone Focus Mode Not Working?
1

The silent mode of your iPhone is turned on.
This may sound unbelievable but it's true. Since the silent mode would be turned on without knowing sometimes, you should check if it's this mode that is stopping your focus mode from working.
2

iPhone focus mode is not set properly.
There are different settings in focus mode and if one of them is not set appropriately, the whole process of getting the focus mode to work may not run smoothly.
3

There are iOS glitches with your iPhone.
This can't be ignored. iOS bugs with your device will also cause features of your iPhone to malfunction. So it is the case with this focus mode not working problem.
One-stop Solution to iOS 17 Focus Mode Not Working on iPhone
If there are iOS glitches with your iPhone, then no matter how properly you set the focus mode, it still can't function well. This is just one minor problem, if the bugs still exist, problems like iPhone stuck on black screen, iPhone won't turn on and past Apple logo, etc, may appear. To avoid being trapped in such an awkward situation, you should need a one-stop iOS system repair tool – iMyFone Fixppo to fix this problem of focus mode on iPhone not working in iOS 17.
Fix iOS System Problem without Data Loss
One-click to reset your device without needing any passwords.
Protect your private data when you conduct repairs.
Downgrade back to iOS 17 until Apple issues an update.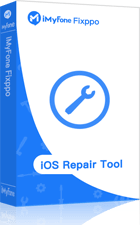 iMyFone Fixppo
Limited Time 10% OFF Coupon Code for iMyFone Fixppo: YTR5E7
Try it now to simplify the fixing process into 4 steps.
Step 1: Download and install Fixppo to your computer, then choose Standard Mode.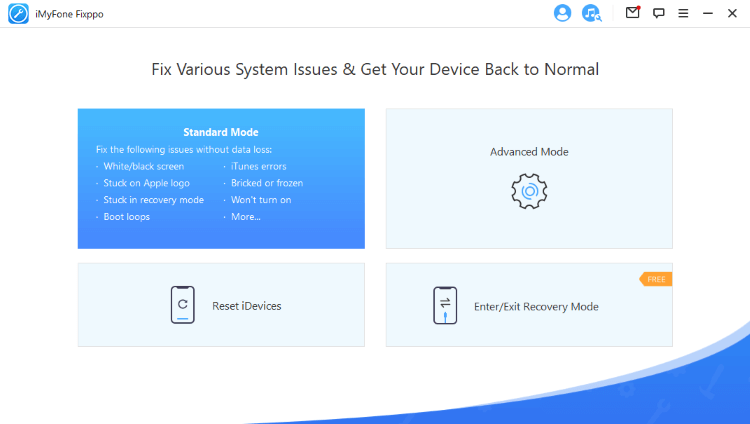 Step 2: Connect your device to computer. If your device gets detected, you're able to head to the next step directly. If not, please put your iPhone into Recovery Mode first.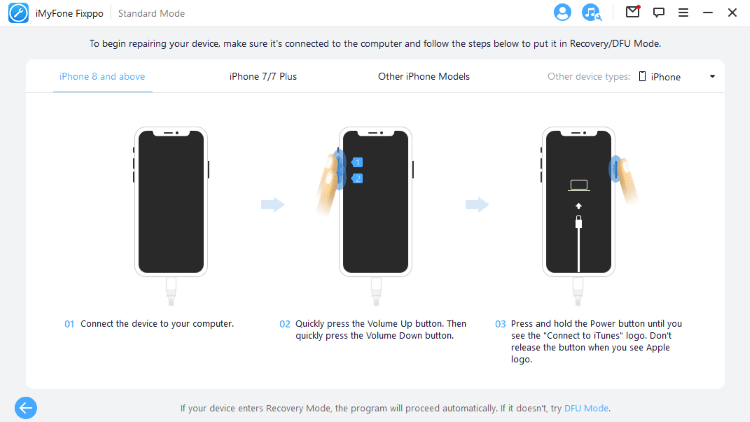 Step 3: Either way, your device information will show up on the screen, click on Download to download the firmware package.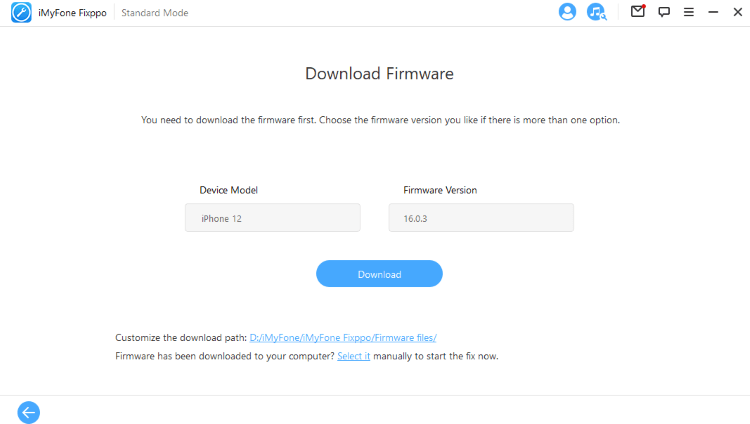 Step 4: When the firmware is downloaded, click Start to begin the fixing process, please wait patiently. After that, your iPhone will be restarted successfully and the focus mode on the iPhone should work normally.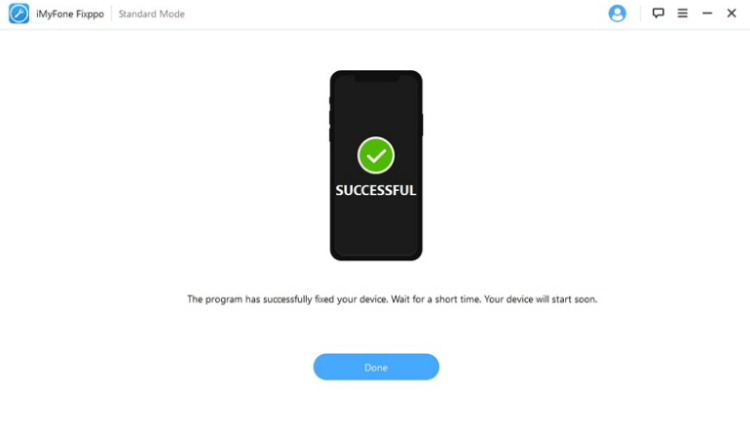 iMyFone Fixppo - System Repair
One-stop iPhone Troubleshooter:
Instantly enter/exit Recovery Mode on iOS devices for Free.
One click to reset iPhone/iPad/iPod touch without passwords.
Repair 150+ iOS/iPadOS/tvOS system problems like stuck on Apple logo, screen won't turn on, recovery mode loop, reboot loop, and black screen, etc.
It's 100% secure to use without losing data.
Limited Time 10% OFF Coupon Code for iMyFone Fixppo: YTR5E7
---
Other Solutions to iPhone Focus Mode Not Working in iOS 17
1

Turn Off Share Across Devices
One beneficial thing of having different iDevices is that you can log in with the same Apple account, through which you can easily forward your calls or messages to another device.
However, if you've turned on the share across devices feature and set up a different focus mode in another device, then it's likely that the focus mode will be synced across other devices, thus hindering the normal running of this feature in your iPhone. Follow to turn it off and see if the focus mode can work again.
Go to Settings, then tap Focus, turn Share Across Devices off.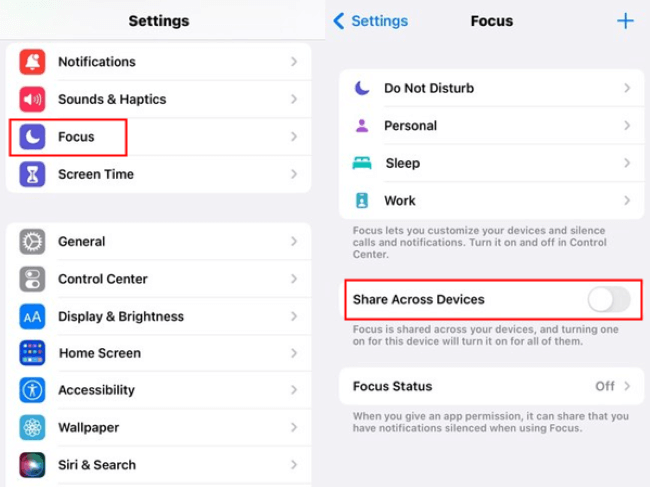 ---
2

Ensure to Set the Correct Time
If you're using the scheduled focus mode, you should check if the time is set corrected since there may be certain discrepancies that cause your focus mode to be turned off at the wrong time. Go check your settings with the steps below to see if the problem can be solved by correcting it.
Go to Settings, tap Focus then tap the problematic focus mode, scroll down to find the time you set under Set a Schedule, correct it if the time is not set properly.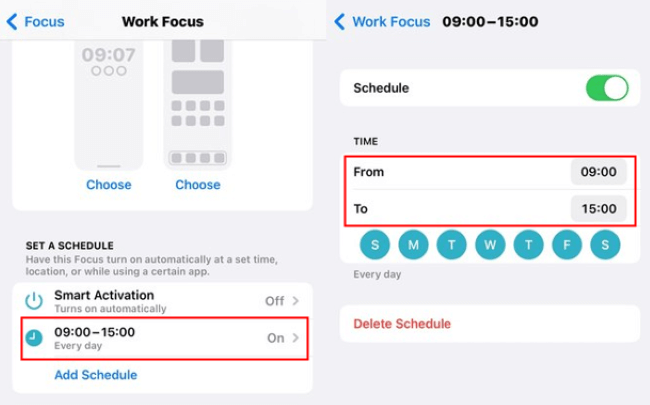 ---
3

Check for Unwanted but Whitelisted Apps
Are you sure that apps in the Allow Notifications list are all that you want? This focus mode not working issue can also happen because of the wrong or accidentally clicked apps on the list. If that is the case, go delete the unwanted apps and check whether the focus mode can function as it should.
Go to Settings, tap on Focus, click the suspicious focus mode, click Apps, check if all apps under Allow Notifications From are all that you need, and delete that unwanted one.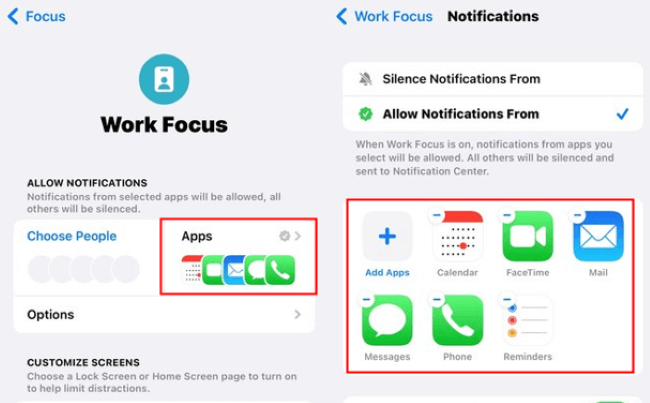 ---
4

Toggle Off Time-sensitive Notifications
This is a feature under every specific focus mode. It's designed for those who don't want to miss important information while blocking other notifications at the same time. If time-sensitive notifications are on, these notifications will be given a higher priority even if the apps that send them are not included in the allowed list.
However, there is no available choice for you to choose what can be included, all are done by the new machine learning technology. So if you're annoyed with the unstopping notifications, toggle off this feature may help to avoid this situation.
Go to Settings, then tap on Focus, click on the concerned focus mode, click Apps, toggle Time Sensitive Notifications off.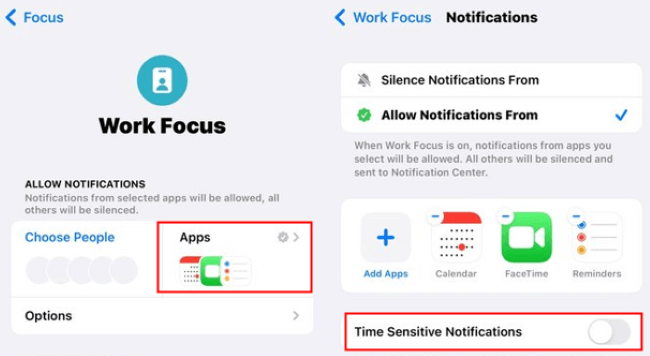 ---
5

Allows No Repeated Calls
If this issue happens with the phone calls keep showing up, then probably you've enabled the Allow Repeated Calls. It's said that a second call from the same person within a few minutes will not be silenced even though the focus mode is on. In this case, you should not only change to allow calls from specific people but also turn off this annoying repeated calls feature.
Go to Settings, tap Focus, click on the concerned focus mode like Sleep Focus, click People, choose to allow calls from allowed people or contacts only and toggle off Allow Repeated Calls.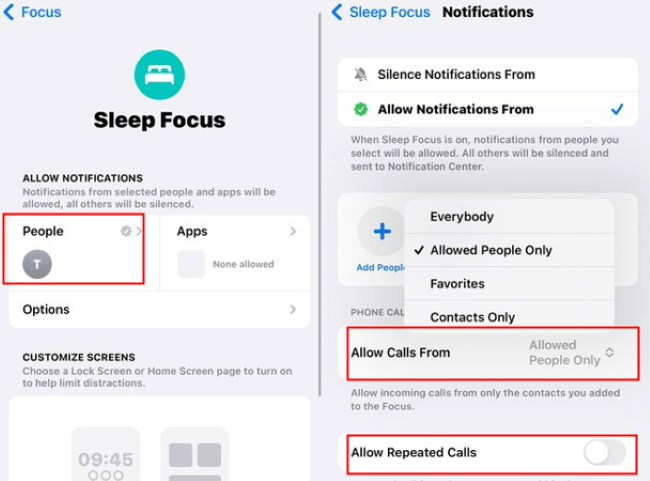 ---
6

Delete the Focus and Re-add
If you've tried to either switch on or off some buttons but the focus mode on the iPhone not working issue still can't be fixed, try to delete the focus and re-add it again. This solution is similar to the situation when your app keeps crashing, one possible solution would be to delete it and then reinstall it in order to fix unknown bugs. Go to Settings, tap Focus, tap the focus mode you want to delete, scroll down and tap Delete Focus.
---
7

Force Restart Your Device
If none of the common solutions are dedicated to solving problems with the Focus, then you should check if something is wrong with your iPhone system. And force restarting your iPhone can be one way to solve potential iOS bugs. To make it, please follow the steps below.
Toggle Volume Up then release it; Toggle Volume Down then release it; Press the Side button, release it at Apple logo.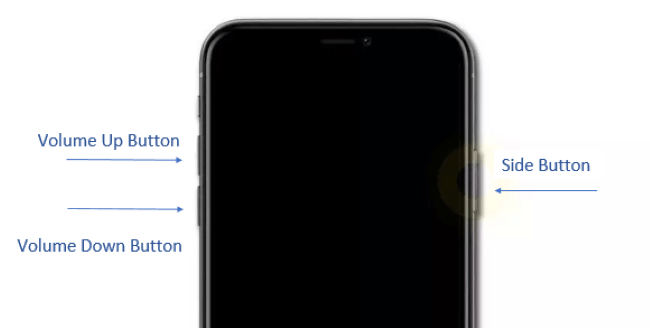 ---
8

Reset All Settings
This can be your last choice. Though resetting all settings doesn't include all your private data like photos and messages, it still takes time to rearrange all preference settings. However, if the solutions mentioned above can't work at all, seeking help from this solution is also necessary for you to solve the iPhone focus mode not working problem.
Go to Settings, tap General, tap Transfer or Reset iPhone at the bottom of the page, then click on Reset, choose Reset All Settings.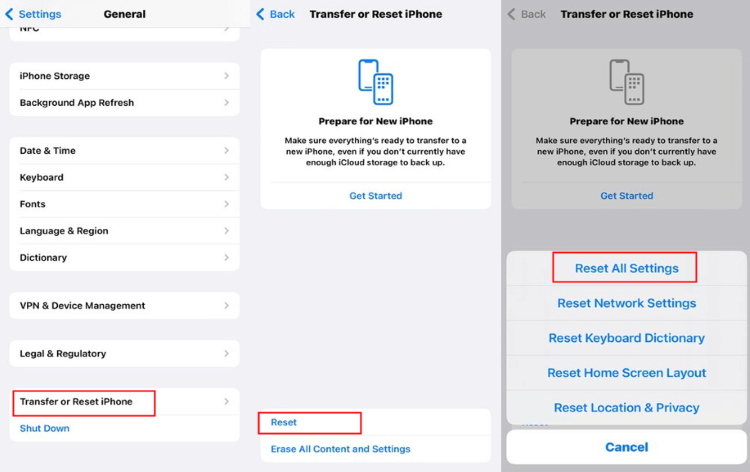 Conclusion
Can your focus mode get back to work with all these solutions? Hope this tricky problem can be fixed without delay. The problem should either be due to the inappropriate setting or the iOS system bugs. If the latter one causes you the inconvenience, make sure to try iMyFone Fixppo. It can instantly fix your iPhone focus mode not working in iOS 17 issue with a high success rate and guaranteed security.