The power button on your iPhone is a very important button with important functions. Yet, like most other aspects of your device, it is prone to damage. This is why it is not very surprising to find users complaining that their iPhone power button is either not working correctly.
In this article, we are going to look at some of the ways you can fix an iPhone power button that is not working correctly. We recommend that you attempt each of these solutions one at a time until you find the one that works for you.
Part 1. Tips to Fix iPhone Power Button Not Working
1. Turn on Assistive Touch
When the iPhone power button is not working, you can use Assistive Touch to perform certain functions like tack screenshots, activate Siri and even turn off or unlock the device. Follow these simple steps to turn on Assistive Touch;
Step 1: Open the Settings app on your device and the find and tap "Accessibility."
Step 2: Select AssistiveTouch and turn it on.
You can then move the AssistiveTouch button anywhere on the screen using your finger.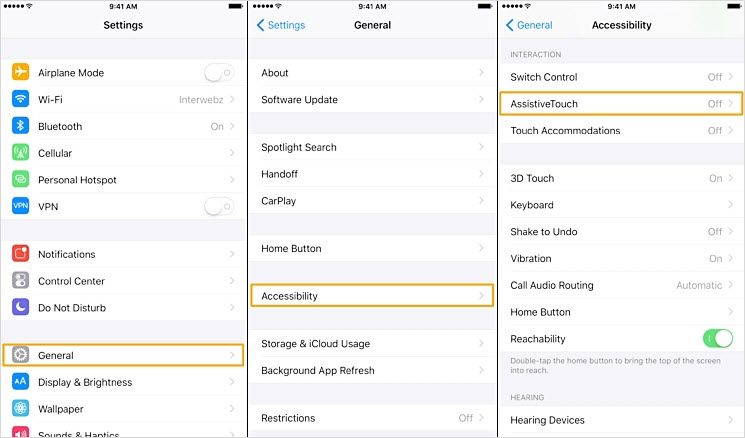 2. Clean and Twist the Button
Dust and dirt in the button's socket can cause the power button to get stuck. In this case, it might be a good idea to try and remove the dust. Blow on the area lightly or vacuum it to suck out the dust. Afterwards, the button should re-align to its correct position. If it doesn't, twist it a little and check if it is working correctly.
3. Is There Anything Wrong with the Software?
In many cases when the iPhone power button doesn't work as expected, many users assume it is hardware issue. But more often than not, it can also be a software related issue. In this case, you need a way to eliminate the software bug that could be causing the issue before the power button can function normally again. We recommend a third-party tool like iMyFone Fixppo that can fix all iOS related issues quickly and easily.
It can be used to fix almost all iOS issues including a device stuck in recovery mode, the Apple Logo, the black/white screen or on a restart loop without the risk of data loss. It comes with 3 modes of recovery each designed to help you fix you device quickly and easily regardless of the problem you face. It is worth to try and will not let you down.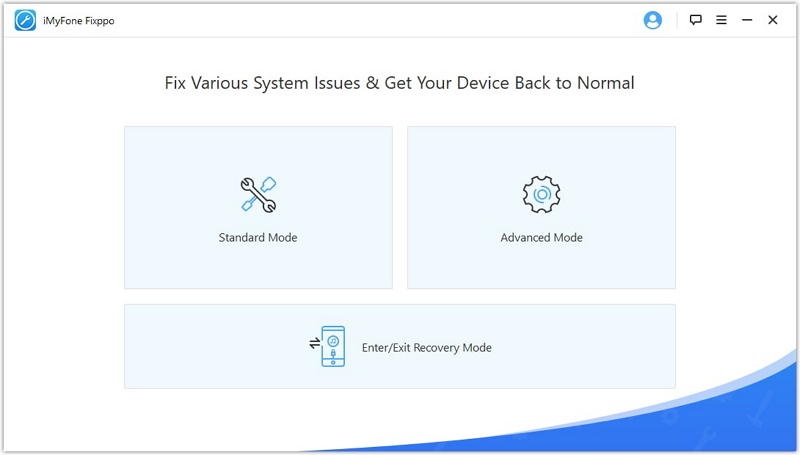 4. Ask for Technical Support
Since a damaged power button can also be a hardware issue, you may want to seek technical support to fix the device. Take your iPhone to your local Apple Store if the warranty is still valid to see if AppleCare or AppleCare+ can cover it. If the warranty is not valid, contact a qualified and certified technician who can help you fix the broken power button.
Part 2. How to Turn iPhone On/Off When the Power Button is Stuck
If the power button is still not working, you can still turn off the iPhone by following these simple steps;
Step 1: With AssitiveTouch turned on (You can go to Settings > Accessibility > AssistiveTouch to turn it on), tap AssistiveTouch > Device and then long press "Lock Screen."
Step 2: You should see the "slide to power off" bar appear. Slide it to turn off the device.
Part 3. How to Lock the Screen without the Power Button
You can still lock the screen even when the power button is broken or stuck. To do that you will once again need to use AssitiveTouch. To turn on AssistiveTouch, go to Settings > Accessibility > AssitiveTouch and toggle it to "ON."
Once AssistiveTouch is active, follow these simple steps to use it to lock the screen.
Step 1: Tap on AssistiveTouch on the screen.
Step 2: Tap on "Device" and then choose "Lock Screen."
The iPhone screen will immediately be locked. Alternatively, you can enable the auto-lock feature so that your iPhone screen will automatically lock itself after a specified period of time.
To do that go to Settings > General > Auto-lock and select the duration after which the iPhone will lock automatically.
If you are using iOS 10, go to Settings > Display & Brightness > Auto-Lock.