Is your iPhone battery percentage stuck out of the blue like other people? Do you want to know why and how to get it back to work again? Here you are. In this post, we will walk you through the reasons that cause this problem as well as detailed solutions. If you're in a hurry now, stick to this article and let's begin!

Why Does My iPhone Battery Percentage Get Stuck?
Before you head to the solutions, first you should check what cause your battery percentage to get stuck and try to avoid these problems from happening again.
Damaged Charging Cable and Charging Port. If your charging cable and charging port are not clean or damaged, they're very likely to prevent your battery percentage from working.
Default or Preference Settings of Your iPhone. It's said that some default or preference settings can cause the battery percentage problems.
iPhone Bugs with iOS System. It's proved that iOS system is also and always the reason why iPhone can't function properly. So it is in this problem.
Damaged Battery. The battery itself can also be the culprit of this problem, thus causing the percentage to not working well.
How to Fix iPhone Battery Percentage Stuck While Charging?
In the following section, we will detail 10 useful solutions to help you out of this annoying situation.
1

Check Charging Cable and Charging Port
Have you ever thought that your charging cable and charging port can cause problem while you are charging? In today's talk, they truly will. Please check your charging cable carefully to see if there are black spots on it, you can scrape them gently until they are gone or simply change a new one if it's too bad to save. Also, check your charging port, take a dry cloth to clean it up if there are dirt or liquids on it.
---
2

Turn Off Optimized Battery Charging
This feature is designed to reduce battery aging. It can learn from your charging habit and hold the battery's charge at 80% at night and then charge it to 100% when it guesses you're about to wake up. This is good to prolong the battery lifespan but to some of the users, it may cause their iPhone stuck at 80% permanently.
Go to Settings>Battery>Battery Health & Charging>Toggle off the button next to Optimized Battery Charging.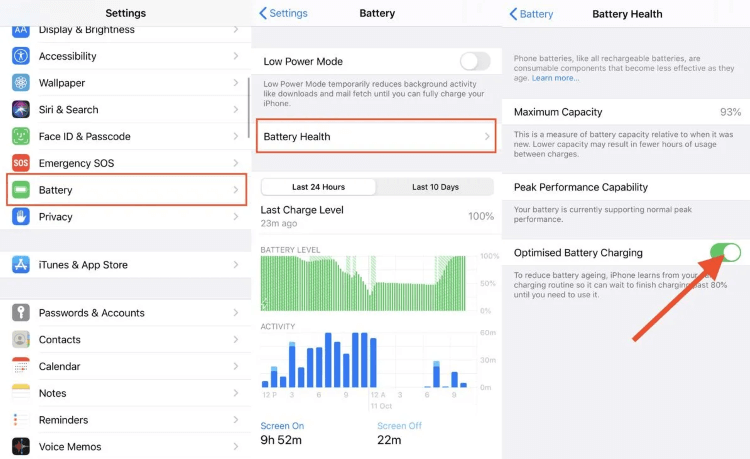 ---
3

Fix iPhone Bugs with iMyFone Fixppo (without Data Loss)
If you suspect that the problem may be due to the iOS system, then repairing your iOS system is needed. To do so, iMyFone Fixppo can be your choice without doubt. Within simple clicks, it can fix your iPhone battery percentage stuck while charging problem without worrying about the data loss. Here is how to do with it.
Step 1: Download and install Fixppo to your computer, then choose the Standard Mode.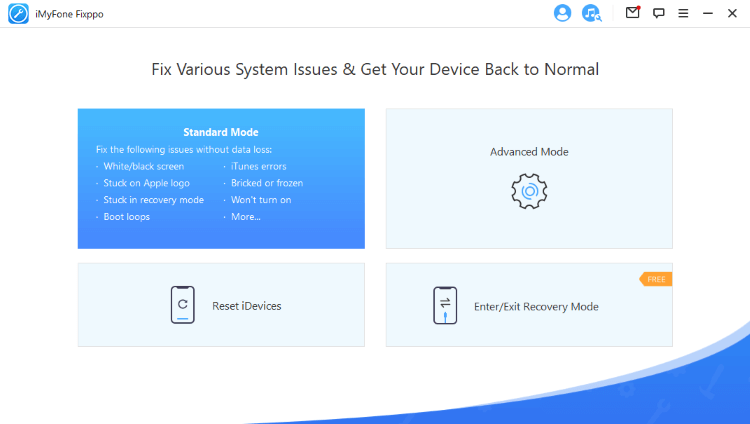 Step 2: Connect your device to computer with a lightning cable, then follow instructions to enter Recovery Mode (If this fails, DFU Mode is provided as well).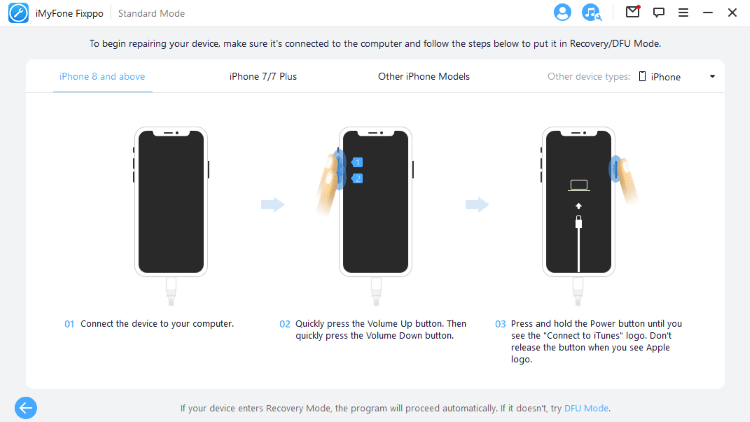 Step 3: Wait for a few seconds, click on Download button to download the firmware package.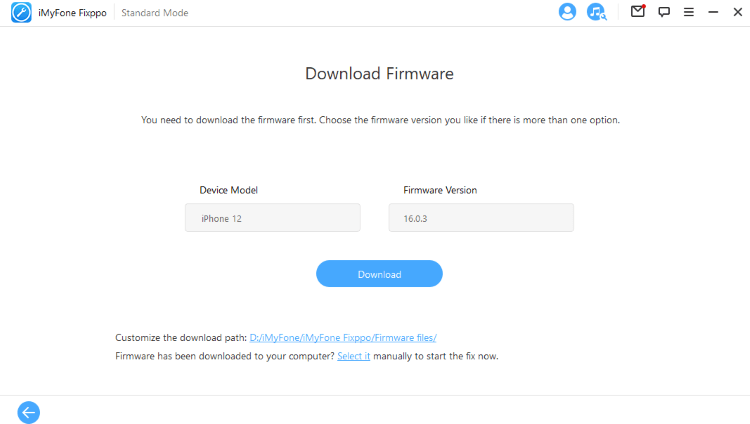 Step 4: After that, you can see Fixppo successfully helps to get you out of the iPhone battery percentage stuck problem by fixing the iOS system.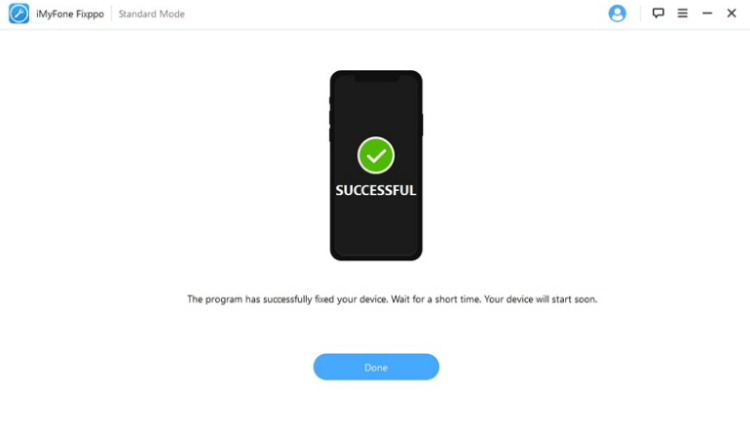 With these simple steps, your problem will be solved smoothly. However, you can benefit more from Fixppo. Download it to know more and fix other tricky iOS-related problems.
●What Else Can Fixppo Do?
---
4

Reset Date & Time on iPhone
Some users have pointed out this problem long ago and Apple replied that if users have manually changed the time of iPhone, then it's recommended to undo it to see if the problem can be solved.
Go to Settings>General>Date & Time>Set Automatically, if the button is off, toggle it on to get it back to the default state.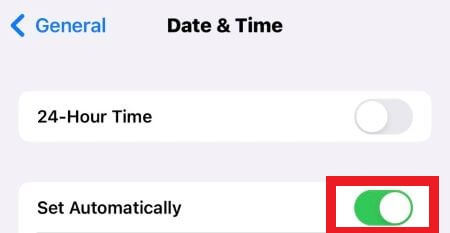 ---
5

Drain Your iPhone Battery
When the battery percentage can't show up correctly, you have no idea of whether the phone is charged fully. In this case, why not just shut it down to make some calibrations to see if it can help your iPhone show battery percentage correctly.
Step 1: Drain your iPhone's battery until it shuts down.
Step 2: Wait for a few hours then charge it with an original Apple charger.
Step 3: When it turns on itself, disconnect Wi-Fi and Cellular connection and put it into Airplane Mode.
Step 4: Let it fully charge itself without playing it.
Step 5: Once it's fully charged, restart it to see if your battery percentage can show up normailly.
Tips
How to restart your iPhone correctly?
Step 1: Press either the Volume Up/Down and Side Button simultaneously.
Step 2: Step 2: Release them when you see the slide to power off show up on the screen, drag it to the right.
Step 3: Wait for a few seconds then repeat again to press either the Volume Up/Down and Side Button at the same time to restart your phone.
---
6

Reboot Your iPhone
If the last solution don't work, then you should try this one. It's found that many users onlone suggested that their iphone battery can display percentage correctly by rebooting their devices. They claimed that this is just a small bug of iPhone itself. Follow the steps to fix it.
Step 1: Press and quickly release the Volume Up button.
Step 2: Press and quickly release the Volume Down button.
Step 3: Press the Side Button, release it quickly when you see the Apple logo on the screen.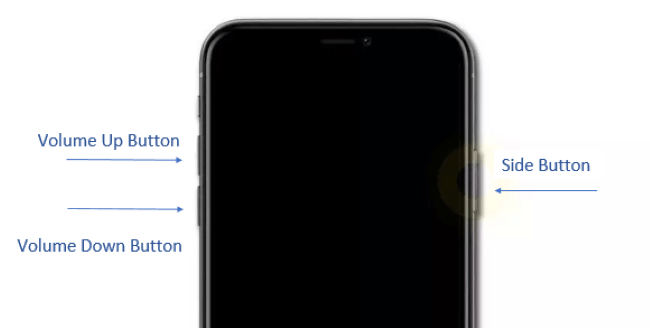 ---
7

Update iOS to the Latest Version
As we mentioned, this is most likely an iPhone-related bug that keeps annoying users. And making an update to the latest iOS version will fix this problem to some degree. If your system is in a relatively low verion, then it's time to make a renewal to check if the latest one can fix bug problems including this iPhone battery percentage stuck problem as usual.
Step 1: Make sure you are in a stable network connection and have enough storage space.
Step 2: Go to Settings>General>Software Update.
Step 3: Tap on Download and Install if it's available.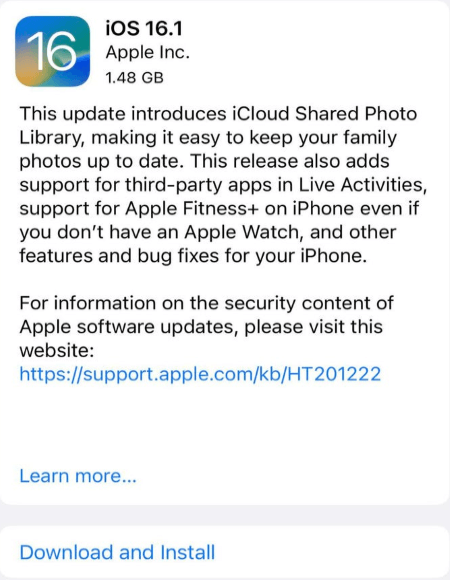 ---
8

Restore iPhone to Factory Settings (Risk Data Loss)
This step is a bit risky if you don't back up all your data and still want to try it. Restoring your iPhone to factory settings will sign out of your Apple ID and all your personal data will be removed. By doing so, your iPhone will return to the state you got in the first place and help to solve this tricky problem.
Step 1: Go to Settings>General>Transfer or Reset iPhone.
Step 2: Erase All Content and Settings>Enter your passcode or Apple ID if asked.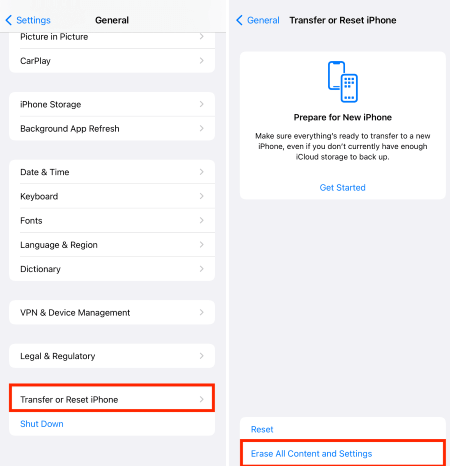 ---
9

Contact Apple Support Center to Have a Replacement
Unfortunately, if none of the solutions can help you out, the problem may lie in the battery itself. If your return window is still on, you can take the iPhone to the Apple Support Center and ask them to have a thorough examinationand ask them to replace one.
Bonus Tips: How to Check or Show Battery Percentage on iPhone?
1

Switch It On in the Settings
The simpliest way to do so is go to Settings>Battery>Battery Percentage, toggle the button on, and the number will appears inside the battery symbol on the status bar.
2

Check Directly from the Control Center
When your iPhone is equipped with Face ID feature, you can swipe down from the top-right corner of your display, and directly check the battery percentage from the Control Center no matter your device is locked or not.
3

Add a Battery Widget to the Screen
This is quite useful when you have other connected Bluetooth accessaries like Apple Watch or AirPods and want to check them all.
Step 1: Press and hold an empty space or any app on your Home Screen until the apps start to wiggle.
Step 2: Tap on the + at the top-left corner.
Step 3: Scroll down to find Batteries, then tap on it.
Step 4: Choose the widget style you like, then tap on Add Widget at the bottom.
Step 5: This chosen widget will show up automatically on your screen, move it to the place you want, and click Done.
Conclusion
After reading this article, I hope your iPhone battery percentage stuck problem gets fixed smoothly. It's a relief if the problem can be fixed through some common methods. However, if you doubt that the problemlies in the iOS bugs, try iMyFone Fixppo. It won't let you down in doing its job.