Apple launched iPhone XS Max with an advanced and big 6.5" Super Retina OLED display. After seeing the impressive features, many people got it for experiencing one of the most advanced iPhone. But some users have encountered a few issues on iPhone XS Max. They said that their iPhone XS Max buttons are not working for some reason.
Question
"I bought an iPhone XS Max with so much excitement. This device was impressive and was working as expected. Today, I wanted to activate Siri using the side button. But unfortunately, nothing happened. I ignored it and tried to reboot the device using the Side button, but nothing happened. So, now I realized that the issue is with the buttons. Can you please guide me to make the buttons work because I have tried many solutions without any luck?"
The side buttons may not work either due to software issues or physical damage. Before you decide that it's a hardware issue, we suggest you try these basic solutions given in this article. We have given comprehensive and effective solutions to fix iPhone XS Max buttons not working issue.
1. Reasons Why iPhone XS Max Buttons Not Working
Some of the common reasons for iPhone XS Max buttons not working issue are given below.
Most of the users use a back case for protection. When buttons of the case do not press properly, the users think that the iPhone XS Max buttons are not working.
Any changes in the Side buttons' click speed in the Settings app can also be the reason for this issue.
Older iOS installed on the device can have software bugs, preventing the buttons to not work properly.
Some unknown system errors may also happen.
There is something wrong with the hardware.
2. Fix iPhone XS Max Buttons Not Working due to Software Issues
Now check some of the best methods to fix iPhone XS Max buttons not working issues due to software problems.
Way 1. Force Restart Your iPhone XS Max
Force restarting your device helps in fixing various common iOS issues, so you can try this method as your first choice.
Press and release the volume up button and then volume down button. Now press and hold the power button until your iPhone restarts.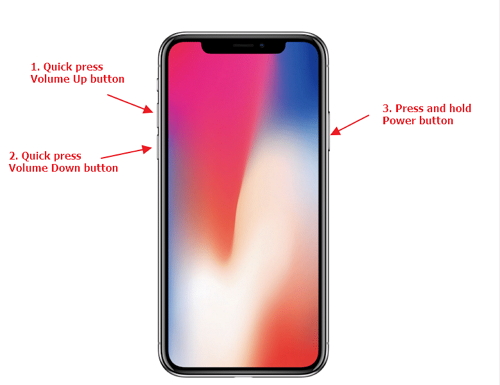 Way 2. Update Your iPhone XS Max to The Latest
The latest iOS version has fixes for multiple software bugs and glitches. So, always update and keep your device to the latest version.
Step 1: Open Settings and go to General -> Software Update.
Step 2: The iPhone will begin searching for new updates. You can download and update your device if an update is available.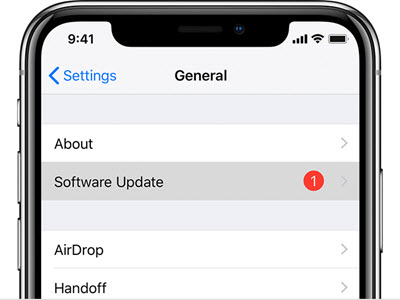 Way 3. Restore Your iPhone XS Max via Backup
Try restoring your iPhone XS Max if the above methods did not fix the issue.
Step 1: Open iTunes on your PC and connect your device to it.
Step 2: When asked, tap "Trust" on your iPhone.
Step 3: Now, select your iPhone XS Max on the computer screen.
Step 4: Click "Device" and then "Summary".
Step 5: Click on "Restore Backup" and select the relevant iTunes backup.
Step 6: Click on "Restore" to restore your iPhone XS Max.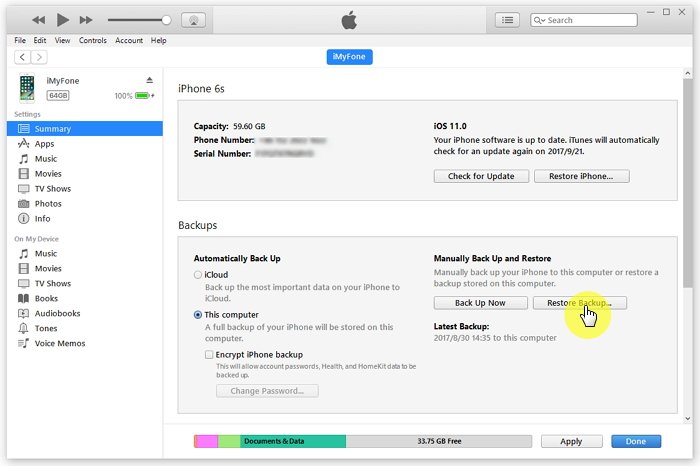 Way 4. Fix iPhone XS Max Buttons Not Working due to Software Issues without Data Loss
The side buttons are really useful for activating Siri, downloading apps from Play Store or authenticating Apple Pay and etc. So, it is important to make sure the buttons work correctly.
If you want to fix this issue without losing any data on your device, then you cannot miss iMyFone Fixppo. It is a powerful iOS repair tool that is developed for fixing unique and complex system issues.
What is more, "Forgetting Password" issue can also be fixed by Fixppo, as it can easily reset iPhone without password.
Fixppo has the fastest repairing rate and a 100% success rate when compared to its competitors.
You don't even need technical knowledge to use Fixppo in fixing iOS issues.
It only takes 3 steps to help you solve the issues with ease.
Many users have trusted and highly recommended this tool.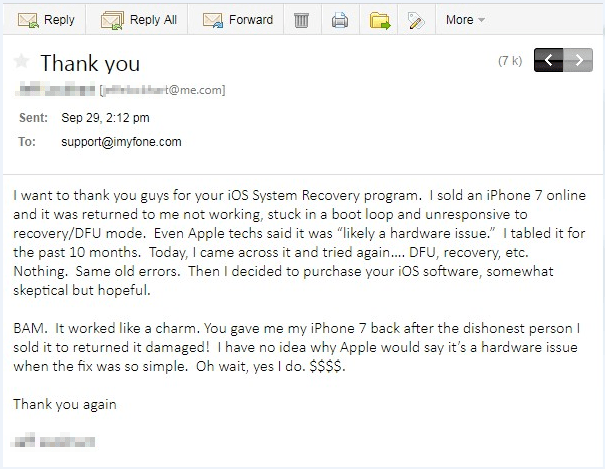 Here are the steps to fix iPhone XS Max buttons not working via the Standard mode of Fixppo.
Step 1: Open Fixppo on your computer and connect your iPhone XS Max to it. Click on Standard mode on the main page and click Next.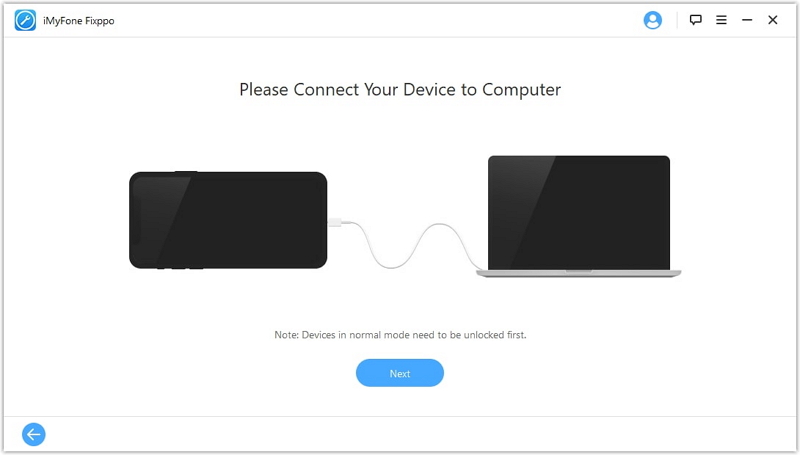 Fixppo now can compatiable with iOS 16/15/14. So, unlock it and then click Next. If still not detected, put the device in DFU or Recovery mode. Follow the steps given on the screen.
Step 2: Next, download the latest firmware for your device. Fixppo will display all the available firmware versions relevant to your device when the iPhone gets detected by it. Select the relevant one and click Download.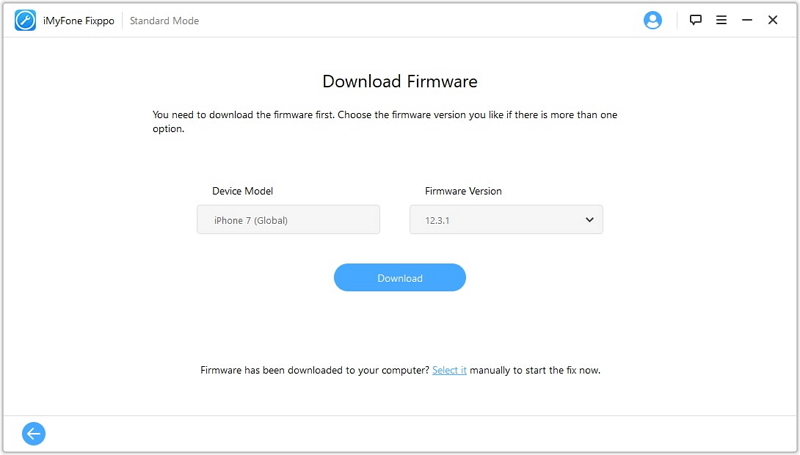 Step 3: The device and the firmware information will be shown on the screen. Click on the Start button to begin the fixing process if the information is correct. Don't use your iPhone or unplug it from the computer until the fixing process gets over. The iPhone will restart normally after the process gets over.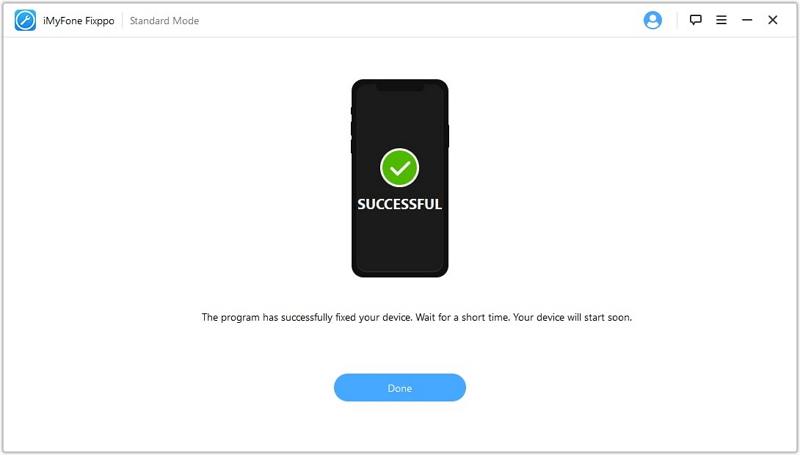 Want to have a seamless experience while fixing the iOS issues? Download and try iMyFone Fixppo and fix the issues with a few clicks now!
Tip: Review of the Above Ways
| | Success Rate | Difficulty | Required Time | Data Loss | What Can Be Fixed |
| --- | --- | --- | --- | --- | --- |
| Force Restart | 30% | Easy | Short | No | A few software issues |
| Update iPhone | 50% | Easy | Long | No | Some software issues |
| iTunes Backup Restore | 70% | Complex | Long | Yes | Some software issues |
| iMyFone Fixppo | 100% | Easy | Short | No | All system/software issues |
3. Fix iPhone XS Max Buttons Not Working due to Hardware Issues
It also can be a hardware issue on your iPhone XS Max if the buttons are not working. Here are the best tips to follow.
Way 1. Contact Apple Support Center
If the above methods do not work, then there are chances that the buttons are damaged or there is any other hardware problem.
Immediately contact Apple Support Center and explain the issue to the professionals.

Way 2. Find A Repair Store
If there is no Apple Service Center nearby and you are unable to fix the issue by yourself, it is better to find a repair store and get the device checked by a professional technician.
Conclusion
Now you know what to do when your iPhone XS Max buttons are not working. These methods above have effectively resolved this issue for many users. If you find it useful, share this article with your friends. If you have any queries, mention them in the comments section.