Question
Hello! I'm wondering what is the spinning circle/rotating circle on my iPhone showing just next to the Wi-Fi icon. It is kind of loading icon. It is really annoying. What should I do? How can I stop this? Please help!
Like the above user, you might also be facing this problem and that is why you are here. This loading icon or rotating wheel can indicate that your device is going though internet data exchange with Apple servers. If the circle seems unceasing, we are going to explain you the ways through which you can get rid of this continuous spinning wheel. Check out the tips you need to try when iPhone spinning wheel won't stop.
6 Tips to Fix iPhone Spinning Wheel Won't Stop
1. Disable Background App Refresh
The spinning wheel issue most of the times means that some operations are running in the background. When Background App Refresh feature is enabled, there are certain app operations which you may have closed but are still running in the background. Such acts consume a lot of processing memory space in the device and therefore, turning off the Background App Refresh feature will help you when iPhone spinning wheel won't stop. To do this, just head to 'Settings' > 'General' > 'Background App Refresh' and toggle the switch to disable it.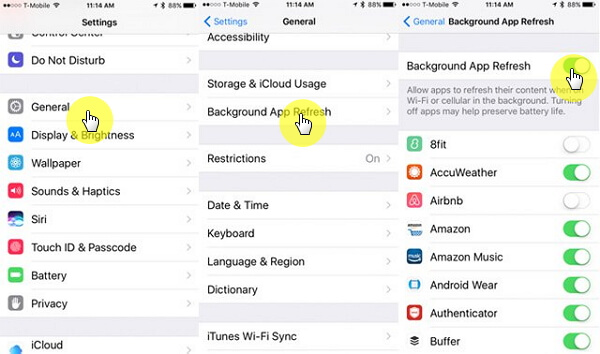 2. Force Quit All the Apps
When the problem continues to appear and the spinning wheel next to Wi-Fi in iPhone didn't vanish following the above steps, try to force quit the apps you have used and those are running in the background. Tap on your 'Home' button twice and you will get to the screen having all the apps running. Start swiping up the app one by one and close all of them. If you're an iPhone 12/11/X user, swipe up from your Home screen a little and pause at the middle. Touch the app for 1 sec and you will see a red circle on each app. Now swipe up the apps and close all.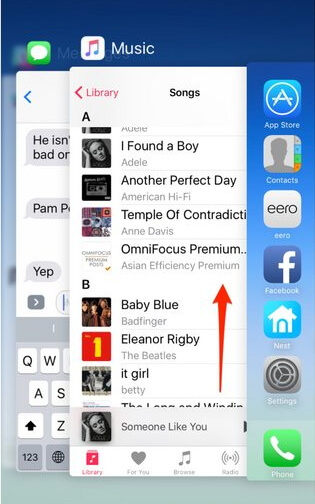 3. Update to the Latest iOS
The spinning wheel next to Wi-Fi can also occur due to an old iOS in your iPhone. Hence, it is recommended to update your device into the latest iOS version. Go to 'Settings' > 'General' > 'Software Update'. Your device will show you the available updates. Download the new version by following the instructions and update your device.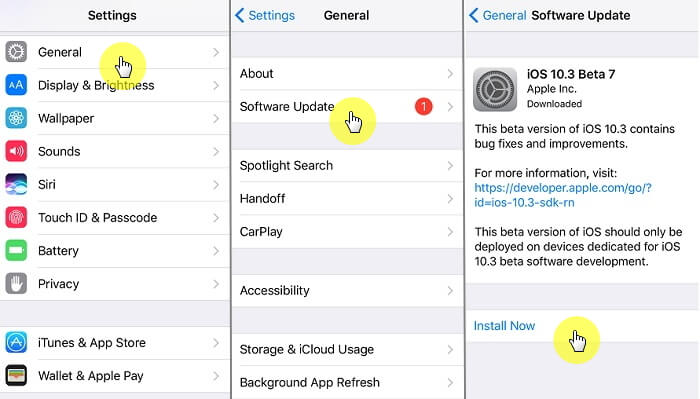 4. Stop Automatic Downloads and Updates of the Apps
Many times, automatic downloads and updates tend to work in the background of your iPhone. So, you're more likely to see spinning wheel next to Wi-Fi if any of your updates or downloads are in progress. Moreover, you may continue to see the spinning wheel next to Wi-Fi till the time the download or update is completed. Sometimes, packages are too huge in size and may take long hours to get the process completed. To avoid this situation in future, try turning off the 'automatic downloads and updates of the apps'. Here's how to do it: head to Settings > iTunes & App Stores > Now, toggle off all the available options under 'Automatic Downloads' section.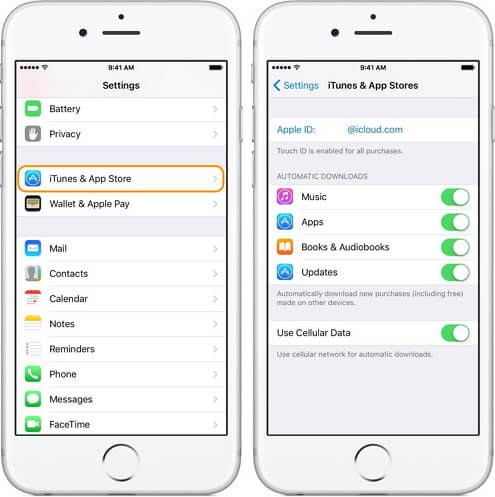 5. Cut Internet Connection
When you still get that rotating circle on your iPhone, cutting internet connection could give you assistance. Make sure to turn off your Wi-Fi and discontinue the internet connection. After switching off Wi-Fi, check if that spinning wheel goes away or not.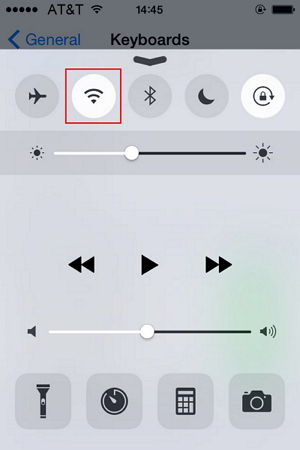 6. Fix iPhone Spinning Wheel Won't Stop without Data Loss (iPhone 14 and iOS 16 supported)
Well! We offered many useful solutions to resolve the spinning issue. However, if your iPhone wheel keeps spinning and you aren't able to figure out what should you do, we would like to inform you that it must be a system issue that your device is showing that spinning wheel next to Wi-Fi in iPhone. For such situation, all you need is iMyFone iOS System Recovery which is an expert third-party tool designed to repair numerous iOS issues, such iPhone stuck on recovery mode/Apple logo/white screen/black screen, and other issues like iPhone Wi-Fi not working, iPhone GPS not working, iPhone not sending picture messages, iPhone keyboard not working and so on.
With the help of it, you can sweep your various iPhone problems away. All that can be done without any data loss.
How to fix iPhone wheel keeps spinning issue with iMyFone iOS System Recovery
Step 1 – Download the tool, open it on our computer and plug in your iPhone via USB cable. Choose 'Standard Mode' from the three given modes on the screen.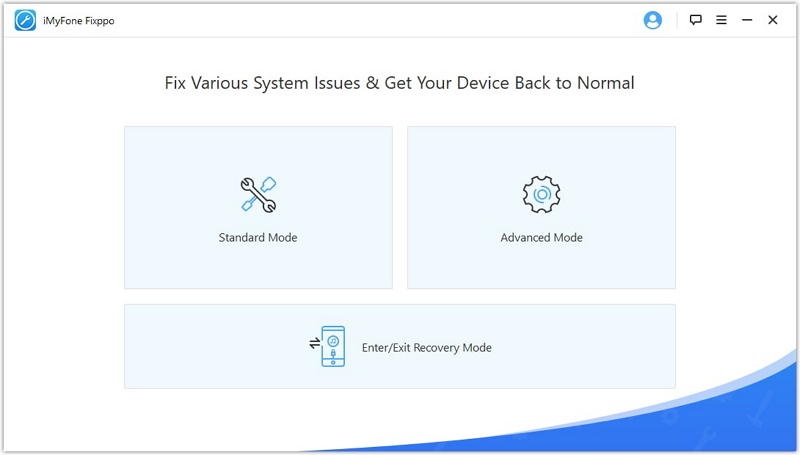 Step 2 – You now need to look into the steps given on the screen fto put your iPhone into DFU mode or Recovery mode.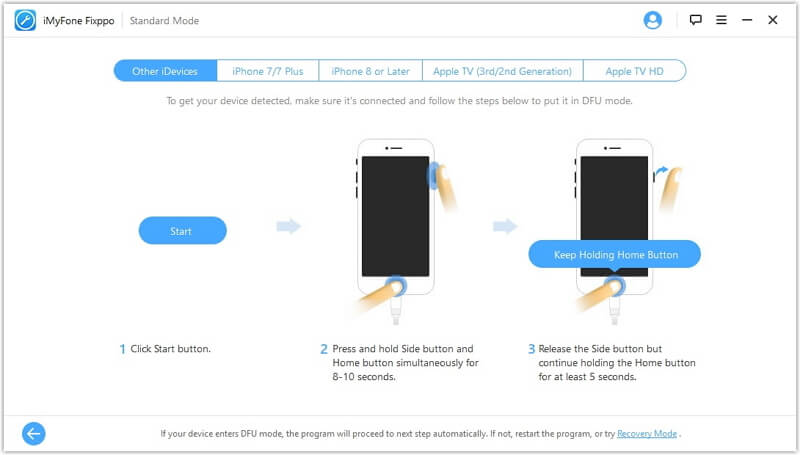 Step 3 – Now, you are required to download the latest firmware. For this, you don't have to follow complex steps, just click on 'Download' button and the program will give you the suitable firmware for your device.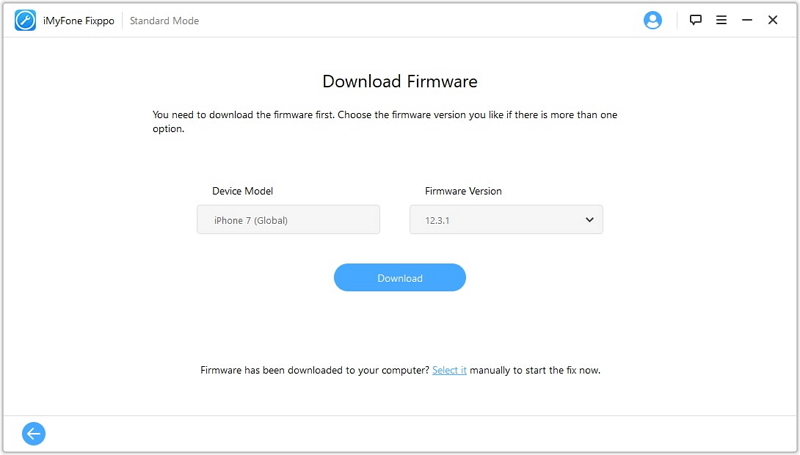 Step 4 – When the firmware gets downloaded successfully, it's time to fix the problem. Just click on 'Fix iOS System' and your device will start getting repaired. The spinning wheel next to WiFi icon on your iPhone will not appear again.