It is no secret that WhatsApp has become one of the "must-have" apps for modern-day people. As of today, many people consider WhatsApp to be their preferred mode of conversation due to the convenience it delivers. But, what if you tap on the WhatsApp icon on your iPhone screen only to find out a "WhatsApp crash" or an "iPhone whatsApp update stuck" situation?
When an app like WhatsApp starts to malfunction, you and the loved ones around you may experience the consequences. Therefore, it is really important to know how to solve iPhone WhatsApp update stuck issue as soon as possible and get connected to your loved ones again. Even if you haven't experienced this WhatsApp update stuck situation so far, isn't it a good thing to know how to overcome such situation in advance? Well, read this article if you want to know the right thing you should do upon an "iPhone WhatsApp update stuck" situation.
1: 9 Ways on Fixing WhatsApp Update Stuck on iPhone/iPad
Here let's see how to fix "WhatsApp update stuck on iPhone" issue.
1

Restart Your iPhone/iPad
Restart iPhone X
Hold Side button and volume button.
Drag the slider and turn off the phone.
Press the side button to start the phone.
Restart iPhone 8 (or older)/iPad
Hold the side or top button.
Drag the slider and turn off the device.
Press top or side button.
2

Update WhatsApp in Apple App Store
Go to App Store.
Tap on the Updates option (at the bottom).
Locate WhatsApp.
Tap Update.
3

Check Your iPhone Storage
Go to Settings and select General.
Select Storage & iCloud Usage.
Select Manage Storage.
Select the malfunctioning app and delete it.
4

Close Other Running Apps
Double press the home button.
Remove the apps (all of them) runs in the background.
5

Turn Airplane Mode on and off
Go to settings.
Tap on the toggle button closer to "Airplane Mode".
Repeat the same to turn off the Airplane Mode.
6

Toggle to Turn Cellular Data on
Go to settings.
Tap on Cellular button and then tap on the toggle switch next to Cellular Data option.
7

Turn Wi-Fi off and on
Go to settings.
Tap Wi-Fi.
Turn it grey or green simply by tapping on it.
8

Try Another Wi-Fi Hotspot
Go to settings and Tap on Wi-Fi.
Turn Wi-Fi on.
Select a different Wi-Fi Hotspot name and get connected.
9

Reset Network Settings
Go to Settings and tap General.
Tap on Reset and go to Reset Network settings.
Enter the password (if applicable).
Confirm reset network settings.
2: Back up iPhone/iPad before Fixing WhatsApp Update Stuck
When you experience some unexpected things about WhatsApp, the first thing you should do is to get a backup before fixing it.
Why Backup Your iPhone/iPad before Fixing?
The reason is that WhatsApp tends to lose some of the files during the fixing process. For instance, WhatsApp messages, contacts, photos, notes, videos etc. can get erased during this process. We know some of these files are exceptionally important to you. Therefore, we strongly recommend you to back up your iOS device in advance.
Backing up WhatsApp Data via iTunes
One of the easiest ways to create a backup of your WhatsApp data is using iTunes. Let's take a look at the pros and cons of iTunes.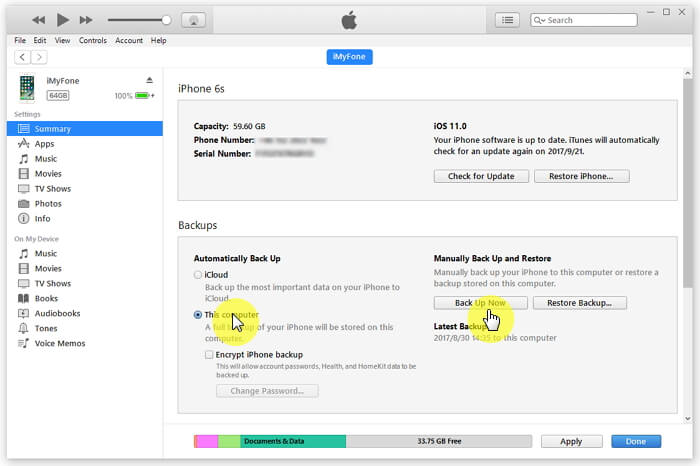 Pros of iTunes Backup
You don't need to use any third-party software tool
Even the large files can be backed up using iTunes without paying
Cons of iTunes Backup
You cannot view the data inside this kind of backup
You must have access to a computer and connect the iOS device to it to backup it
Backing up WhatsApp Data via iCloud
Another way to backup your WhatsApp-related data is using iCloud. Here's a list of pros and cons associated with iCloud.
Pros of iCloud Backup
iCloud can back up your device automatically
It features wireless backup process
You are allowed to backup the data without a computer
Cons of iCloud Backup
iCloud requires an internet connection
Not all your device data will be backed up
You cannot view all the content in your iCloud backup
You get a limited free space (up to 5GB)
Backing up WhatsApp Data via iPhone Data Exporter
What Makes iMyFone D-Port So Special
If you are looking for a professional and comprehensive solution to backup your iOS device, iMyFone D-Port iPhone Data Exporter must be your choice. This all-inclusive tool offers fullest freedom to the user in terms of backing up iOS devices such as iPhone, iPad and iPod touch. Let's take a look at the most notable features of iMyFone D-Port.
Instead of exporting all the files randomly, iMyFone D-Port lets you export more than 18 types of data files selectively
You can either backup the entire iOS device or just backup selective data such as WhatsApp, SMS and WeChat.
iMyFone D-Port lets you access iTunes and iCloud contents without physically touching the device.
Pros of D-Port iPhone Data Exporter
It allows you export  or backup the exact type of the file you need (for instance, only WhatsApp data)
It can access both iTunes and iCloud without even touching the device
It supports more than 18 types of files
There is no capacity limit
Supports all the modern iOS devices like iPhone, iPad and iPod touch
Cons of D-Port iPhone Data Exporter
You need access to a computer to use this tool
Export WhatsApp Data from iPhone
Now let's see how to export your WhatsApp data from iPhone.
Step 1: Connect your device to computer and launch D-Port. Then, select "Backup & Export from Device" option. Select "Export Data".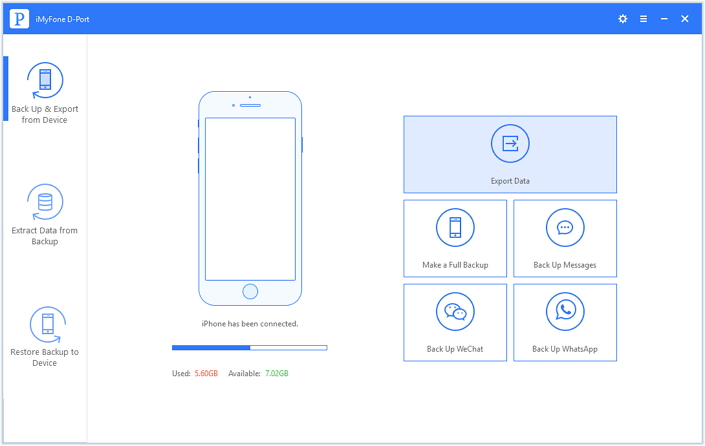 Step 2: At this stage, you will see the type of data that can be exported from iOS device to computer. Just choose the type of the data (it should be WhatsApp since you are trying to fix a WhatsApp crash). Then, click "Next". It will start analyzing your device now.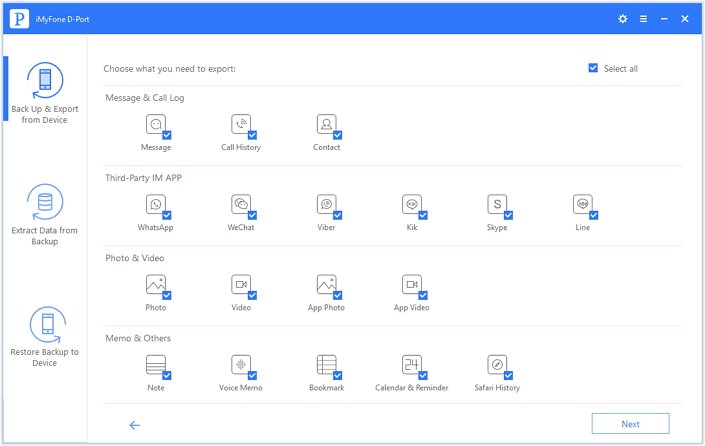 Step 3: At the completion of the scanning process, you will be able to see a preview of the data files with relevant details. Choose the file you need to specifically export and select "Export". The files will be saved on your computer.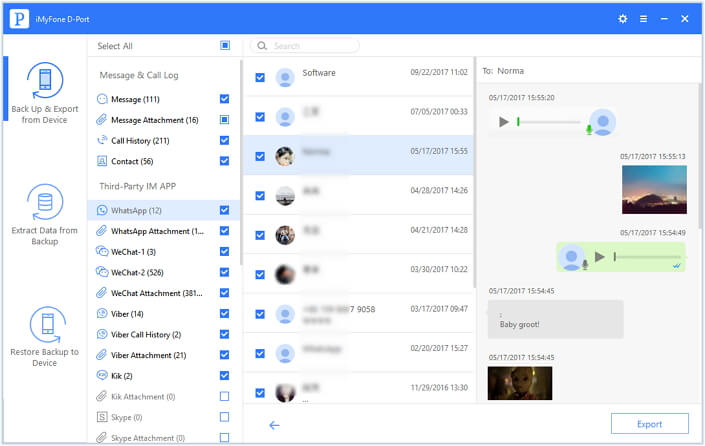 Only Backup WhatsApp from iPhone
Here's how to backup only the WhatsApp from iPhone.
Step 1: Select "Back Up and Export from Device" and go to "Back Up WhatsApp".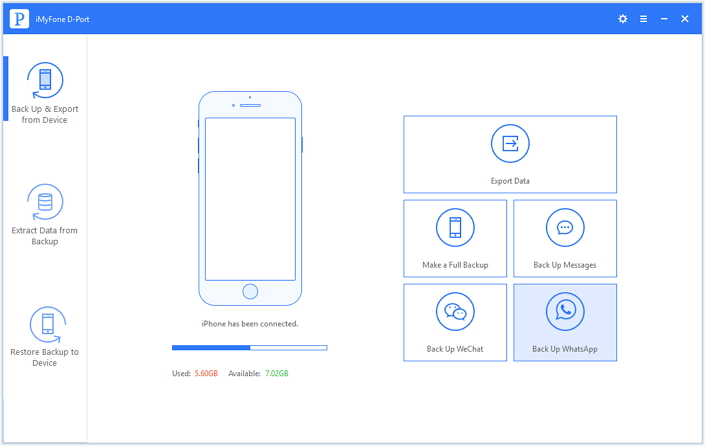 Step 2: Click on "Back Up" button and wait until the process completes.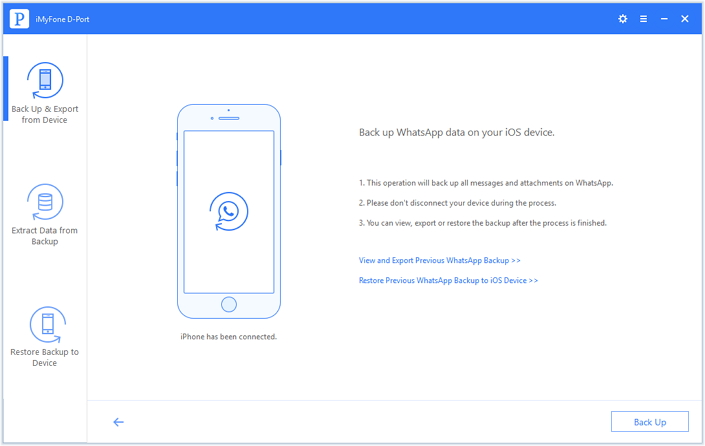 Step3: At the completion of the backup process, you will be notified. Now, you can view and export WhatsApp Data from the backup. If you need to restore the created WhatsApp backup, you will need to use iMyFone D-Port Pro.
Make A Full iPhone Backup including WhatsApp Data
Instead of creating backups of selective files such as WhatsApp, you can simply create a full backup of your iOS device using iMyFone D-Port. Such backup can be pretty handy when you restore your device in future.
Note: If you lose data after fixing the Whatsapp update stuck issue, you can:
- Use iMyFone D-Back and recover the lost data from your device or
- Use D-Port Pro to restore your previous backup
We suggest you try the above-mentioned steps and fix WhatsApp update stuck on iPhone or other iOS devices. The most important thing about the methods we have mentioned in this article is that they can help you overcome the issue without losing your valuable data. After rectifying your issue, we kindly request you to share your experience with us so the other iPhone users will find it helpful.