Do you want to know what's in your iCloud? Well, if you attempted to see what's in iCloud on your iPhone, you will note that you can only access the iCloud settings and iCloud Drive Files from your iPhone. Everything else is inaccessible from the device. In this article we see how to access iCloud on your iPhone. Plus, we provide you with a better way to gain access to the data in an iCloud account on your computer.
1. How to Access Files on iCloud Drive on the iPhone
With the iCloud Drive App, available in iOS 10, you can see all the files you have saved in the iCloud Drive right on your iPhone. First, you need to
make sure that you have turned on the iCloud drive app on yYour iPhone or iPad. Here's how to turn on the iCloud Drive on your iPhone or iPad.
Step 1: Open the settings app on your device.
Step 2: Tap on the "Apple ID">"iCloud".
Step 3: Turn on "iCloud Drive" to get the iCloud Drive app to appear on the Home screen.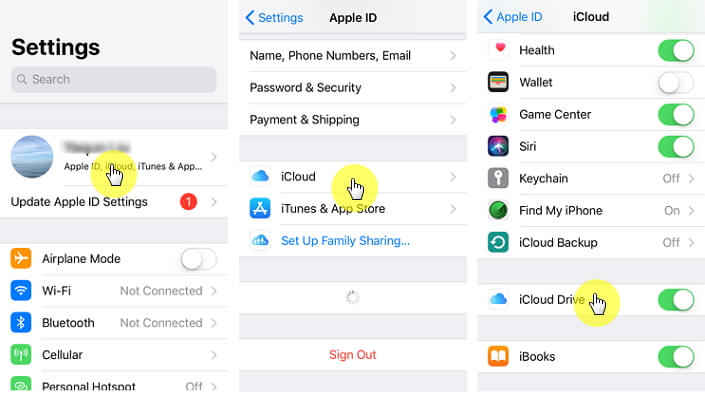 With the launch of iOS 11, came a better way to view files on your iPhone. The Files App is a great way to access all the files you have stored on your iCloud Drive. The following is a step by step guide to help you do that.
Step 1: Launch Files app on your iPhone or iPad.
Step 2: Tap on "Browse" at the bottom.
Step 3: Tap on "iCloud Drive" under the "Location" section and you'll be able to see all the files you've stored in your iCloud Drive.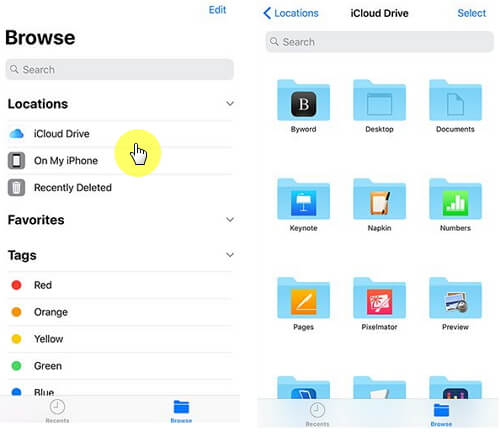 2. How to Access iCloud Settings on the iPhone
It used to be that you could access the iCloud settings easily by going to the section named "iCloud" in the setting app. But the new iOS version had changed that causing a lot of confusion when users can no longer find iCloud settings in the settings app. It is now actually easier to locate your iCloud settings, here's how to easily do that.
Step 1: Open the "Settings App" on your device.
Step 2: At the very top, of the screen, there is "Your Name." Underneath that, there is your Apple ID, iCloud, iTunes & App Store."
Step 3: Tap on your name to access the Apple ID settings and then tap on "iCloud" to find the iCloud settings.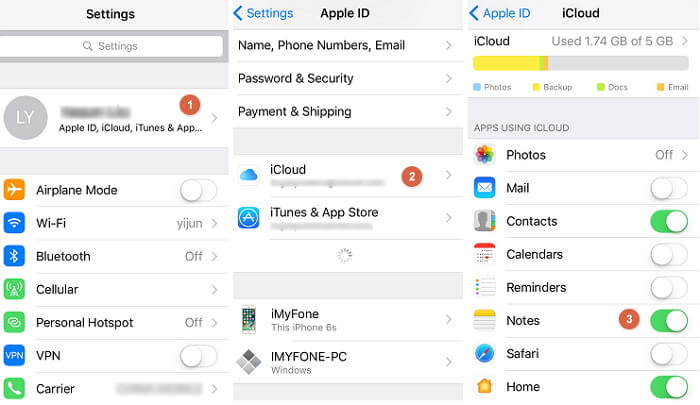 3. How to Access 18 + Types of iCloud Data on Computer
What you can access on your iCloud account via your iPhone is limited to just the files in your iCloud Drive and the iCloud settings. Yet iCloud holds a lot of information in the form of all your backup files and the contents they hold. What if you wanted access to those? To gain access to those, you would need a third-part tool to act as a link between your computer and iCloud account. One of the best is iMyFone D-Port iCloud Data Exporter, a data exporter that will allow you to gain access to everything on your iCloud account. The following are just some of the program's features.
Key Features:
It allows you to selectively export up to 18 different types of data from an iCloud account, iTunes backup or iOS device.
It will list all the available iCloud backup in an iCloud account for you to choose.
You can also use it to Back up your device or just your WeChat, WhatsApp and Messages.
You can access iTunes and iCloud data without needing to have the device with you.
It is very easy to use and compatible with both Windows and Mac OS.
How to Use D-Port to Access iCloud on your Computer
To use D-Port to gain access to the data in your iCloud account on your computer, you need to download the program to your computer. Once it is installed, follow these simple steps to do it.
Step 1: Launch the program on your computer and then select "Extract Data from Backup" from the options on the main window. You should see all the backups the program has detected. If you don't see the iCloud Backup you need access to, click "Download iCloud Backup" to download it from iCloud.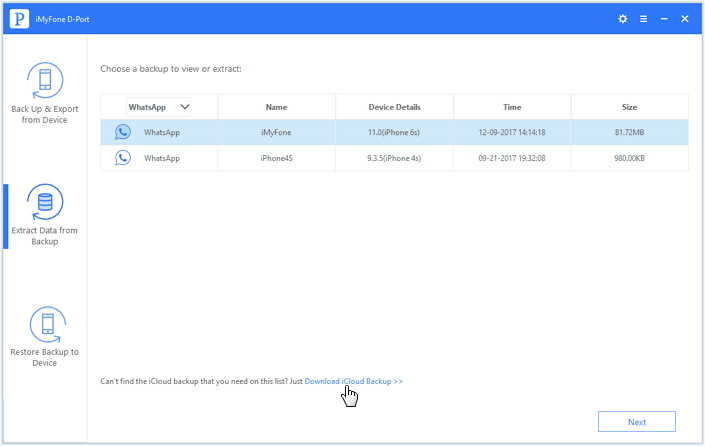 Step 2: Now, log in to iCloud with your Apple ID and password. Once logged in, select the iCloud backup file you need and then click "Next."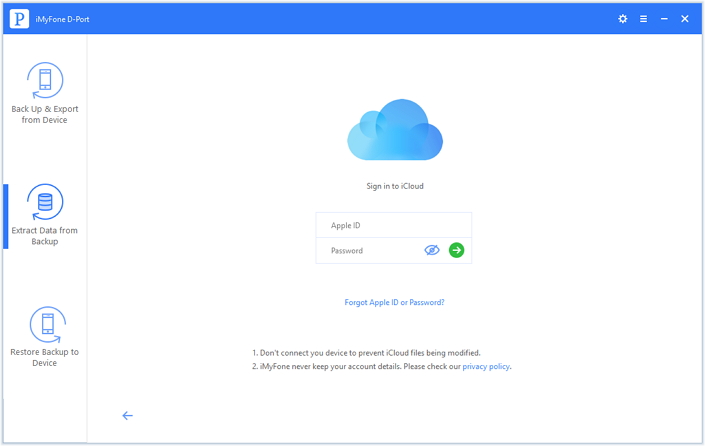 Step 3: On the next screen, you will need to choose the type of data you want to access. This is to reduce the time it will take the program to scan the backup. If you need to see all data, you can just check "Select All." Click "Next" once you've made your selection.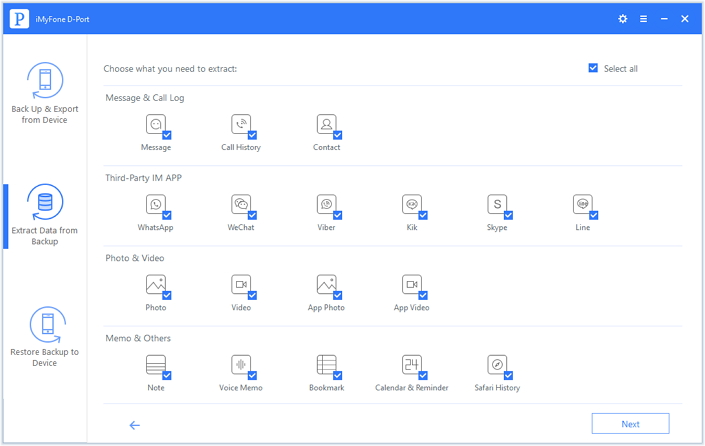 Step 4: The program will proceed to download and scan the selected backup file for the specified data. You can preview and select the data you need on the next screen. If you need to, select the file types you need and then click "Extract" to save the selected files to a folder on your computer.