Ever have to deal with an iPhone glitch? It is extremely annoying. You will never get to accomplish what you want. An iPhone glitch can be as a result of numerous things. For example, it may happen after you have updated your iPhone to a new iOS version or it could be due to a bug. Irrespective of the cause, if the iPhone is misbehaving, you would want a solution to this issue.
In order to make it possible for you to use your iPhone without dealing with annoying behaviors on the iPhone, we will show you how to fix iPhone glitch. But first, let's see the kinds of iPhone glitches iPhone owners may have to deal with every once in a while.
Part 1: Find Your iPhone Glitch Situations Here
The most common type of glitch you may have to deal with is the iPhone screen glitch. This glitch makes it impossible for you to scroll the device. As you scroll down, the iPhone will glitch as if someone is trying to scroll in the opposite direction. Also, if there are buttons on your screen, these will get pressed even though you are not pressing them yourself, like the iPhone may click links available on a webpage itself.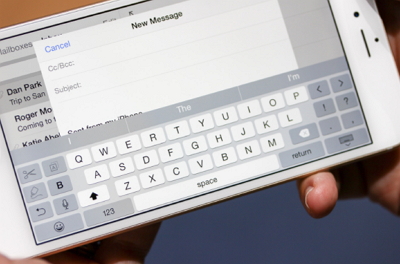 When you are using applications, you will find that your iPhone is closing them automatically when you are in the middle of doing a task with the applications. While you are texting, you may find your iPhone switching between vertical and horizontal views while the replies you were typing are left beneath the iPhone keyboard. When typing emails or texts, you may find that letters get auto-pressed and hence messing up your message.
Part 2: What You Should Do before Fixing iPhone Glitch
You will agree with us that the above situations are all extremely annoying. If you are involved in any of them, you may want to fix it. However, before we show you how to fix iPhone glitch, there is one crucial thing you need to do - backing up your iPhone first.
During the fixing process, it is possible to lose your iPhone data. You wouldn't want to lose important data such as your contacts, WhatsApp, messages, photos, and more. If you have already created a backup for your iPhone, you can easily restore the iPhone data if the data gets lost during the fixing process.
You can back up your iPhone quite easily using either iTunes or iCloud. However, these two backup tools will back up all the data available on your iPhone. If you wish to back up your data selectively, you can do this using a third-party tool known as iMyFone iTransor. This is available as a FREE trial version for Windows users. If you need the Mac version, click here.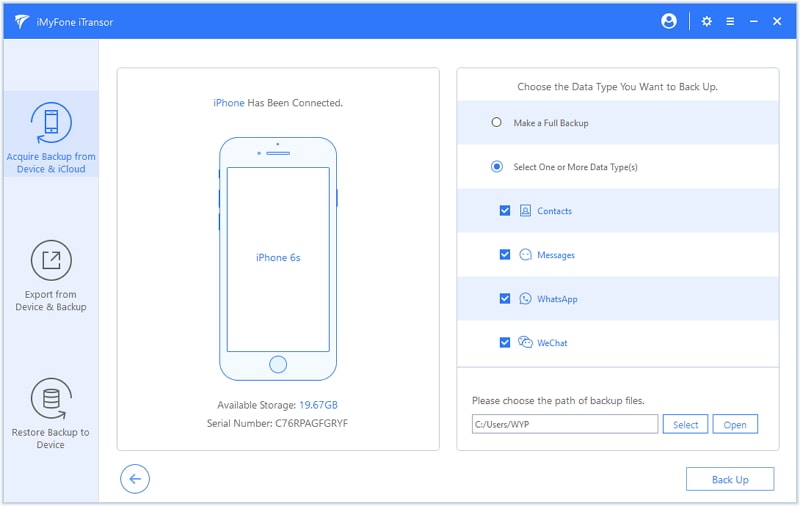 Part 3: How to Fix iPhone Glitch
After backing up your iPhone, it is time to learn how to fix iPhone glitch. Try the following solutions to fix the iPhone screen glitch.
Solution 1: Update iOS Devices to the Latest Version
Your current operating system could have a bug that is causing the glitch. To fix the iPhone glitch, you can try updating the iOS version. The following steps should help you update the device:
Step 1: Launch Settings -> tap General -> click Software Update. Make sure your iPhone is connected to Wi-Fi.
Step 2: If an iOS Update is available, your iPhone should display it. Click Download and Install. Wait for the update to complete.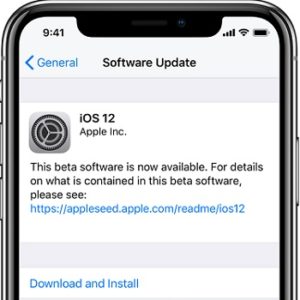 Solution 2: Fix with a Third-Party Tool - iMyFone D-Back Fix iOS Function
Updating the iOS version may not be the perfect fix for the iPhone screen glitch. In some cases, the glitches themselves originate from recent updates. A better way to fix the iPhone is through the use of a third-party tool known as the iMyFone D-Back. This is a tool developed in order to help you get your iPhone back to its normal operating condition. The tool will help you fix various iOS issues like iPhone glitches.
iMyFone D-Back has the ability to help you fix your iPhone screen glitch without you losing any data in standard mode. The steps below should help you:
Step 1: Launch iMyFone D-Back and connect your iPhone to the PC. Choose Fix iOS System on the left-hand panel. You will be able to view the 3 fixing modes provided by D-Back for fixing the iOS system. Choose the Standard Mode.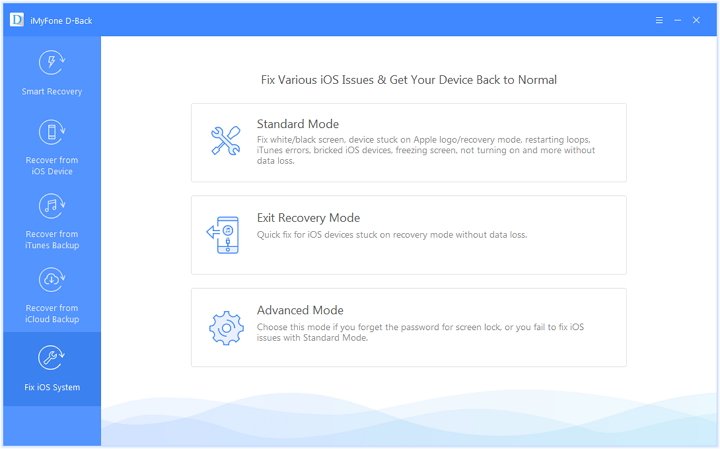 Step 2: Next, put your iPhone either in DFU or Recovery mode. To put the device in DFU Mode, click Start and then follow the instructions on the D-Back screen. If your iPhone cannot enter the DFU mode, click the "put your device into Recovery Mode" link at the bottom of the screen and follow the onscreen instructions to put it into Recovery mode.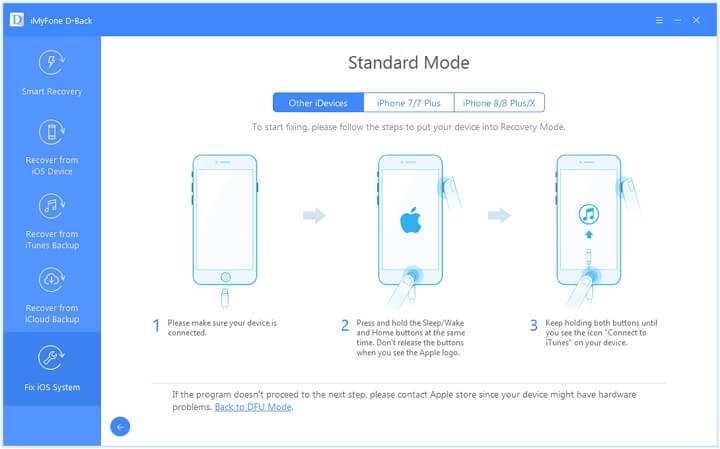 Step 3: Check to ensure that the auto-detected device is correct on the next screen. If it is incorrect, select the correct device manually and then tap download to download a new firmware for the iPhone. Click "Copy the link" to download the firmware in a browser if D-Back can't download it. If you already have the firmware on your computer, click "Select it" to add it to D-Back.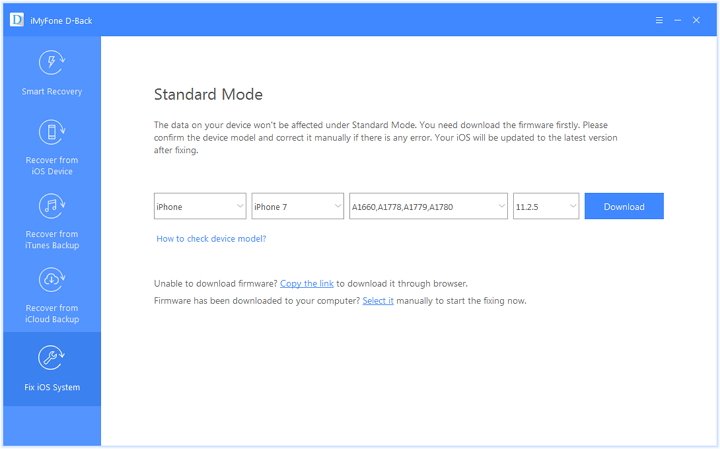 Step 4: After the download, simply tap Start to Fix and wait as the device is being fixed.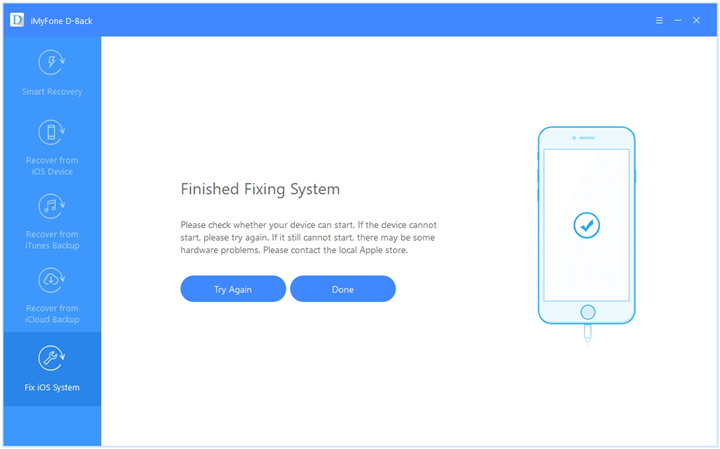 Other features offered by D-Back include:
It allows you to recover your data from all iOS devices and iTunes/iCloud backups to computer. It will help you recover your data irrespective of how you lost it if they are not overwritten.
You can recover third-party app data such as WhatsApp, WeChat, Kik, Line, and more.
You get to preview your data before you recover it.
Solution 3: Contact Apple Support
If none of the above solutions work, you can contact Apple Support. They will help you fix or change the iPhone.
Conclusion
If your iPhone is misbehaving, this article shows you how to fix iPhone glitch. Try the solutions outlined above and you should eliminate the iPhone screen glitch quite easily. Feel free to leave your thoughts below.