"I am stuck with 'Checking for Update' screen while updating my iPhone to the iOS 11. My friend told me it is because my device is jailbroken. Please suggest any alternative to OTA update. I really want to update my iPhone to iOS 11."
This is true! If your device is jailbroken, you can experience a hard time while updating to the new system update via OTA update. The majority of jailbreaks doesn't support OTA updates and end up disabling it. So, if you have a jailbroken iPhone and want to know how to update a jailbroken iPhone, this article will help you out.
You Can't Update a Jailbroken iPhone to iOS 11-16 via OTA Update
Yes, this is the bitter truth. When it comes to how to update a jailbroken iPhone, jailbreakers just don't have the privilege to update their jailbroken iPhones to iOS 11 via OTA update. If you even try to update your jailbroken iPhone via OTA updates, you would get stuck on the screen that says "Checking for Update", eventually. It disables the OTA updates as a precautionary measure to save the jailbreak firmware. Therefore, "Manual Upgrade" is the only possible answer to the question of how to update a jailbroken iPhones to the latest iOS version.
1. Update a Jailbroken iPhone to iOS 11-16 without Data Loss
The best way to update a jailbroken iPhone is with the help of iMyFone Fixppo iOS System Recovery. It is a tool which provides professional help in installing a new iOS on your device. Using this tool, you can upgrade your jailbroken iPhone from iOS 11 to iOS 16 without losing data. Apart from updating, this program can be used in repairing numerous iOS issues, fixing device when stuck in recovery mode and the tool can even repair when you have forgotten passwords.
Key Features:
It has 3 modes which are "Standard Mode", "Advanced Mode and "Exit Recovery Mode". There will be no data loss when using Standard Mode.
The program is designed to fix various iOS problems. The examples of issues may be iPhone stuck in a black or white screen of death or Apple logo and so on.
iMyFone Fixppo iOS System Recovery works well with iOS 11/12/13/14/15/16 and almost all iOS devices.
It is completely safe and easy to use.
How to Update a Jailbroken iPhone to iOS 11/12/13/14/15/16 using iMyFone Fixppo iOS System Recovery
Follow these easy steps in order to get the new iOS in your jailbroken iPhone. But before that, launch the program and connect your jailbroken device with the computer. Also, it is to be noted that your device will be unjailbroken after an update.
Step 1 – When you enter the main interface after launching, just click on "Standard Mode" from the three given modes on the screen.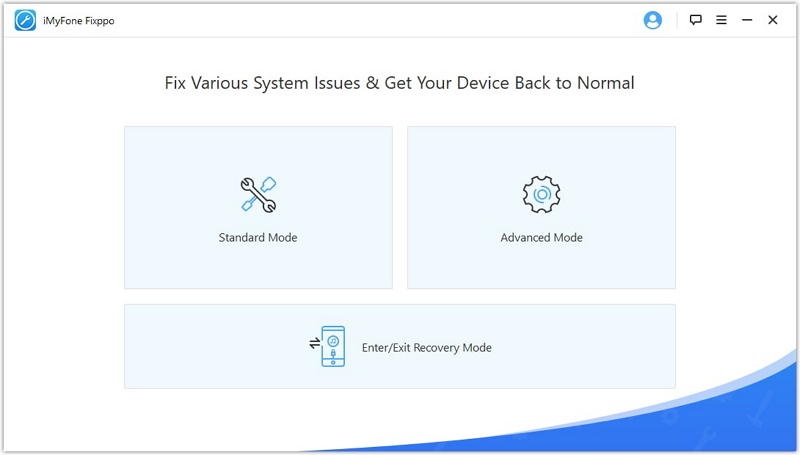 Step 2 – Then, you will have to follow the steps on the screen in order to put your iPhone into DFU mode so that the program can detect your device.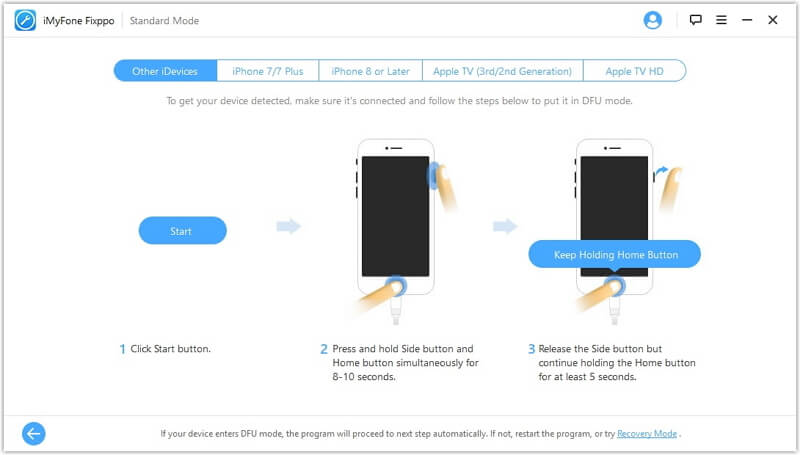 Step 3 – Detection of the device by the program will help you proceed to downloading the latest firmware. Just hit on "Download" button and the latest version will be downloaded automatically.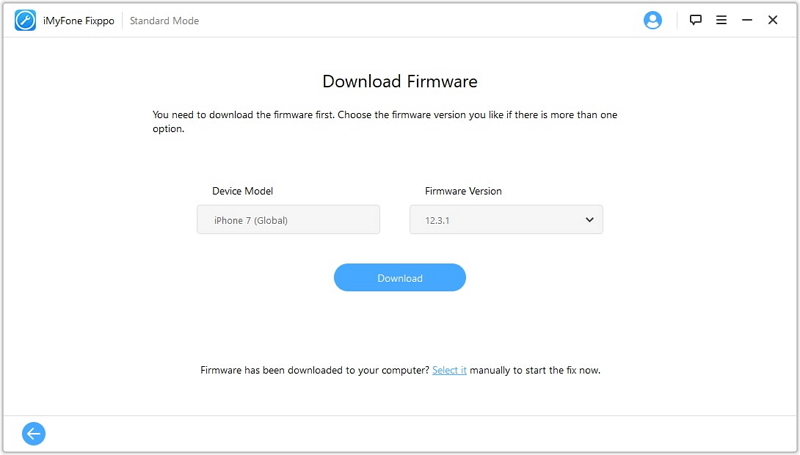 Step 4 – At the end, click on "Start to Fix" and you are done with the process.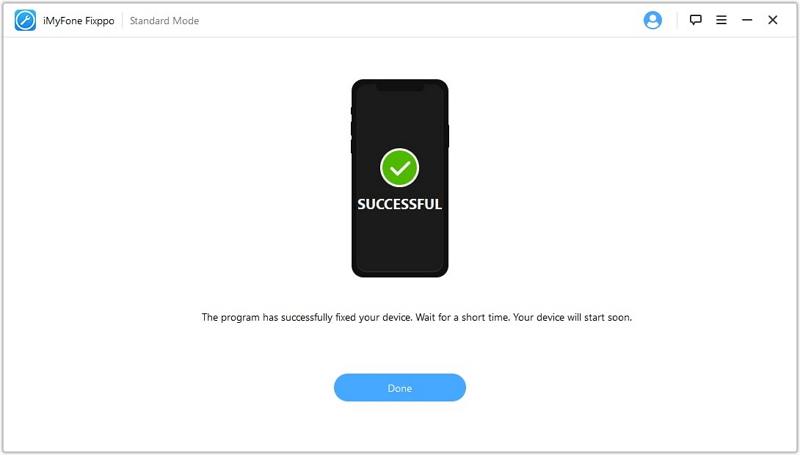 2. Use iTunes to Update a Jailbroken iPhone to iOS 11-16
Here is the guide on how to update a jailbroken iPhone via iTunes. This is quite a long and time-consuming process, so it isn't recommended to perform it if you have to rush to someplace in some time. Before following the procedures below, make sure both your iTunes installed is the latest version.
Step 1 – Launch iTunes and plug-in your device to the PC. Click on the "iPhone" icon on the top left corner and hit on "Check for Updates" in the "Summary" section.
Step 2 – If the update is available, you'll be notified with a popup window. Hit the "Download and Update" button. As soon as you hit it, iTunes will automatically update the firmware of your iPhone to iOS 11-16. That's it.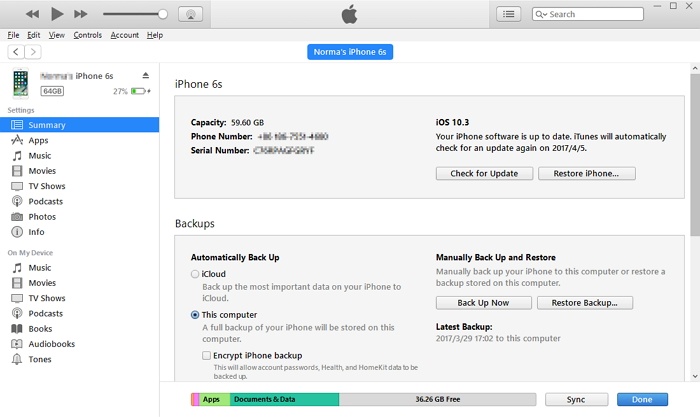 Note: If you didn't get a notification for the update, manually download the iOS version update for your iPhone on your computer and proceed to Step 3.
Step 3 – After downloading the .ipsw firmware file, hold down the "Shift" key [Windows] / "Option" key [Mac] and hit the "Check for Updates" on iTunes again.
Step 4 – A pop up will come up on the screen that iTunes will update your iDevice to iOS 16/15/14 and will get it verified with Apple. Hit Update and proceed with the positive options.
Step 5 – Since you've already downloaded the firmware file, it won't take much time. But if not, it will then take some time to download the latest firmware file (iOS 16 file size is expected to be 2.0 GB+). iTunes will then extract it and update your device to the latest iOS version.
Step 6 – Make sure your device stays connected with the computer during the whole process. Also, your device will reboot several times during the process, which is normal. So wait patiently until the process completes.
Step 7 – After completion, your device will reboot to a "Hello Screen" and you can proceed to set up your device.
Tip: Selectively Backup iPhone before Updating
Now you are aware of how to update a jailbroken iPhone, but backing up iPhone before updating is never a bad idea. So, here's a bonus, we are going to tell you the expert way through which you can backup your device selectively. For this, all you need is iMyFone iTransor which has renamed from D-Port Pro which helps iOS device users to back up their device fully or partially. Furthermore, you can also use it to selectively restore your device. Please rest assured that the backup function of this program is totally free.
The best part of the programs is that it allows the users to either backup full iPhone or only backup their messages, WhatsApp or WeChat separately if they want.
This iOS 11/12/13/14/15 compatible backup tool doesn't overwrite any backup that you have made before.
The users are allowed to view their backup once created.
It is a risk-free tool and anyone can use it for its user-friendly quality.
This program also can help in extracting 20+ data types from iCloud, iTunes, iPhone or the backup file you made with this program easily.
How to Backup iPhone Selectively
In this portion, we are going to explain to you how you can backup your data selectively with iMyFone iTransor. We are taking the example of message backup here. If you want to backup other data, the process will be the same; you only need to click on corresponding tabs. So, install and open iMyFone iTransor and make a connection between iPhone and PC via USB cable.
Step 1 – Take the first step by clicking on "Backup & Export from Device" from the left panel on the main screen interface. And after this, click on "Backup Messages".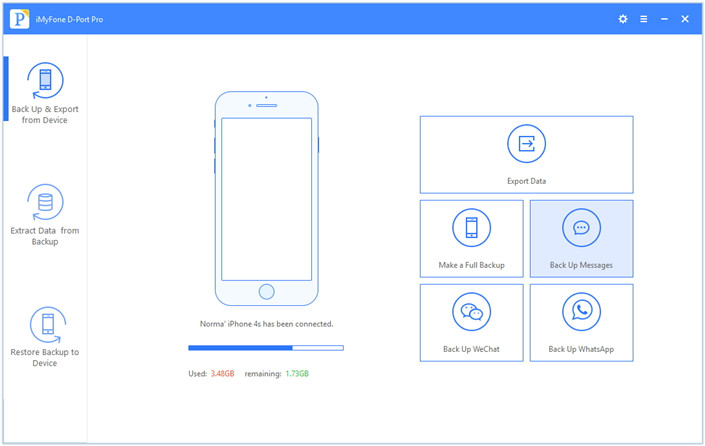 Step 2 – Hit on "Backup" and as soon as you do this, your messages will begin to backup.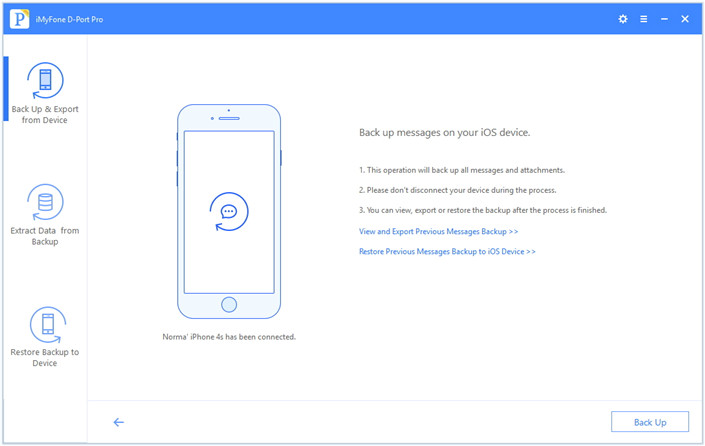 Step 3 – Now, wait for the completion and don't disconnect your device before the accomplishment of the process. Within a few seconds, your messages will be successfully backed up.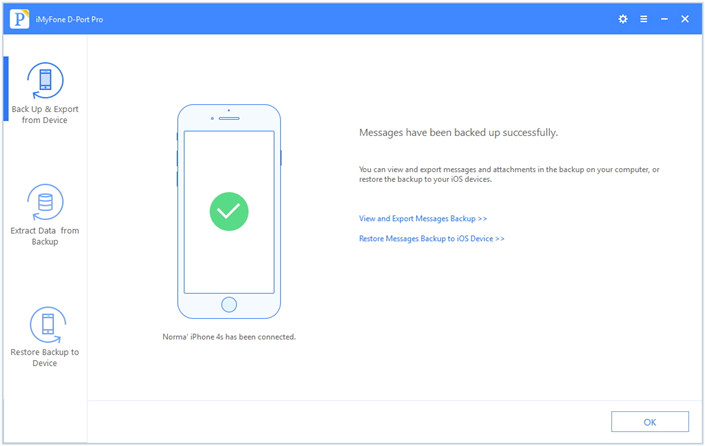 Conclusion
A jailbroken iPhone gives some trouble updating via OTA, but now you have learned how to update a jailbroken iPhone. We have provided the best way to update a jailbroken iPhone with the help of which you are not going to lose your data. Please let us know if you still have any question or any problem. We would be more than happy to help you.