Are you frustrated with the photo gallery on your iPhone because you can't seem to delete some of the pictures? Are you looking for the little trash bin icon, but it's nowhere to be found and you're not sure how to remove the photos? Or do you delete some photos but when you check, the photos are still on your iPhone? This is actually a common problem, and the fix is fairly simple.
Why Are Your Photos Not Deleting from iPhone
There are two main reasons why photos will not delete from iPhone:
The photos are synced from iTunes. If the photos are added into your iPhone because you synced them from iTunes, you're going to have iTunes remove them.
The photos are stored in iCloud. If Optimize iPhone Storage is enabled, you may actually be unable to delete the photos directly on your iPhone, because they are stored in iCloud.
How to Fix "iPhone Not Deleting Photos"
1. iPhone Not Deleting Synced Photos? Fix
Way 1. Delete Synced Photos from iPhone Using iTunes
If the problem is that your photos were synced from iTunes, then Apple requires you to sync again to delete them. Yes, this is annoying, but it's the official method. Basically, you have to do the following:
Step 1. Plug your iPhone into your PC or Mac, and open iTunes.
Step 2. Click on your iPhone tab in iTunes so that you can see the Summary tab.
Step 3. Go to the Photos tab and de-select the photos that you don't want showing up on your iPhone anymore.
Step 4. Click Apply to sync iTunes with your phone.
Step 5. Check your phone to make sure the photos are gone.

Way 2. Delete Synced Photos from iPhone without iTunes
If you cannot access the iTunes you used to synce photos before, or you simply want to have more control over your photos, there's another way. You can actually delete synced photos without iTunes by using a third-party tool called iMyFone iPhone Eraser for Win/Mac.
iMyFone iPhone Eraser is special software that lets you to permanently delete private data from iPhone without zero chance of recovery. Deleting synced photos is much easier than using iTunes.
Options:
Backup & Delete: This function helps to transfer photos to computer and delete from iPhone. (Also work for synced photos.)
Permanently Delete: Preview and select unwanted photos to be completely destroyed. (Synced photos are included.)
Backup & Compress: Backup all photos to computer and losslessly compress photos in iPhone to save 75% space.
Deleted files will be scanned and can be selected to destroyed.
3 Easy Steps to Fix "Photos Not Deleting from iPhone"
Step 1. Download and install the program on your computer and connect your iPhone..
Step 2. Choose Erase Private Data tab and let it scan. Select the photos that you want to delete from your iPhone and click Erase Now button.
Step 3. Confirm by typing "delete" into the box.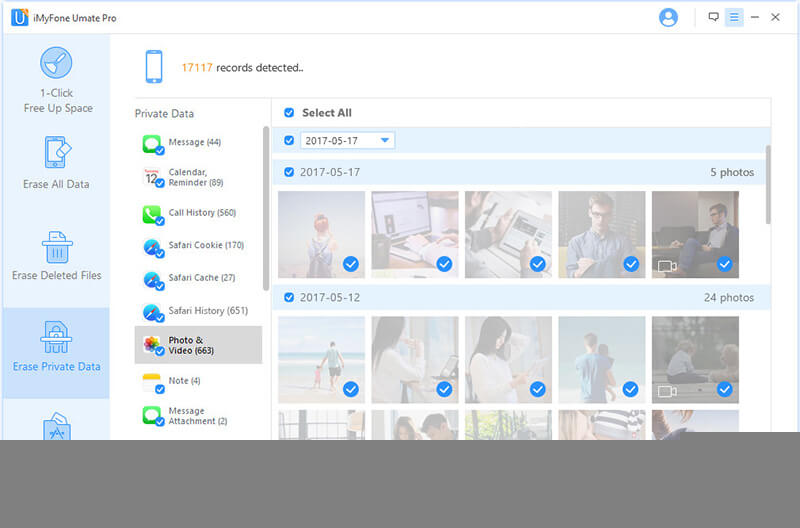 It's that simple. Unlike iTunes, you have full control over your photos and can delete them anytime you want.
Related Tips
How to Delete Synced Photos from iPad/iPhone
2. iCloud Photos Not Deleting from iPhone? Fix
Unfortunately, with iCloud, it's a little bit more complicated. You can't delete photos from iCloud unless Optimize iPhone Storage is disabled.
Way 1. Disable Optimize iPhone Storage
Step 1. Go to Settings on your iPhone.
Step 2. Select Photos & Camera.
Step 3. Uncheck where it says Optimize iPhone Storage and check where it says Download and Keep Originals under iCloud Photo Library. Or you can just turn off iCloud Photo Library.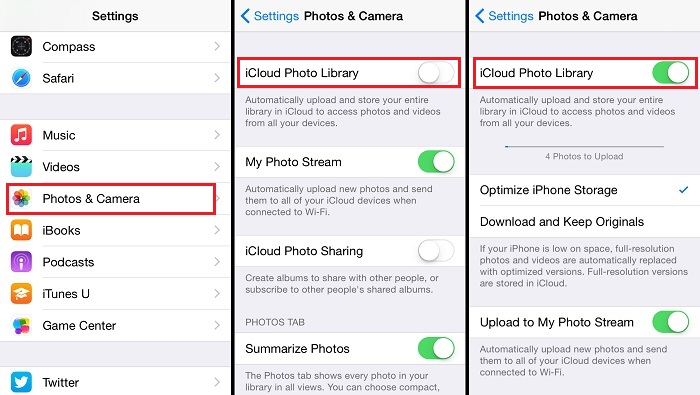 Way 2. Backup & Delete Photos from iPhone and iCloud
Now you can back up your photos using any method you want. For example, you can use the Backup & Delete function of iMyFone iPhone Eraser for Win/Mac. Yoy won't lose the photos and the photos will be deleted from iCloud.
Step 1. Connect your iPhone to computer and open iMyFone iPhone Eraser.
Step 2. Click on Photos tab from the home interface. Choose Backup & Delete option.
Step 3. Select the photos and click Export & Delete to let it continue.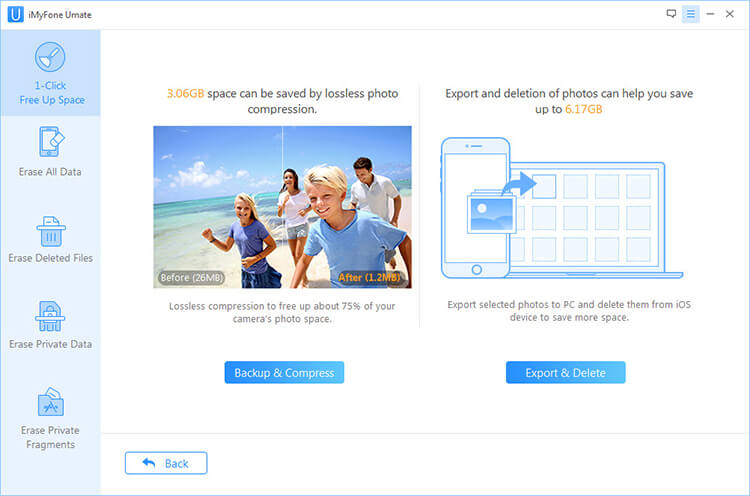 This will backup the photos on iPhone. And your photos will be deleted from your iPhone and iCloud.