Most people use their phones for a year or two years, at the most, before they are switching it to a newer and fancier device. But changing your device comes with its own set up of problems. Especially for users using chat and communication App like LINE. People looking to switch have questions like, how to backup line chat history? How to move/migrate/transfer LINE to a new phone/iPhone/Android phone? How does moving LINE to a new phone even work?
Don't worry, this guide will answer all these questions. This guide will also show ways to backup LINE chat history on Android and move it to an iPhone. Or backup LINE chat history on an iPhone and move it to a phone running Android.
Our editor recommend iTransor for LINE to transfer your LINE data to anther phone within one click. It also support backup and restore your LINE data. Download iTransor for LINE free now.
iMyFone iTransor for LINE
1-Click to Backup, Restore, Transfer and Export LINE Data on iPhone/Android Easily.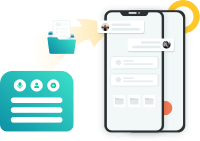 Watch this video about how to transfer LINE data to new phone easily
Part 1: What to Do before Transferring
The first thing you need to do before we start the backup process is to make sure that your account information is correct. To do this:
Click on the gear icon.
Select Account.
Confirm your details like phone number, email, password, etc.
Connect your Facebook account if you want to login in the future without your phone number.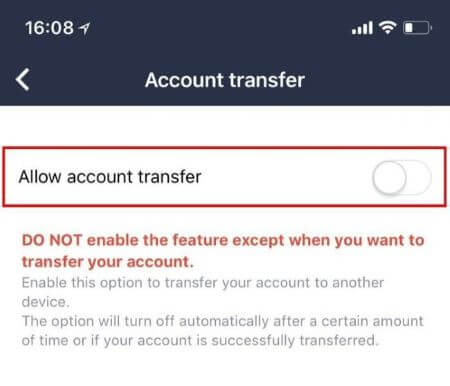 You also need to make sure that you have toggled on the Allow account transfer option on your old device. It is also important to point out that after the Allow account transfer is selected, you have 36 hours to make the transfer to a new device. In case, you don't do a data transfer in that window, this option will have to be selected again.
Part 2: Recommended Tool: Directly Transfer LINE Chat History with iTransor for LINE
We strongly recommend an efficient tool for you to transfer LINE to a new phone/iPhone/Android phone. iTransor for LINE allows users to transfer LINE data without OS restrictions, no matter you transfer between Androids or iPhones, or transfer from Android to iPhone and iPhone to Android, which will save you a lot of time on the process.
iMyFone iTransor for LINE
Transfer/Backup/Restore/Export LINE on iPhone/Android with One Click.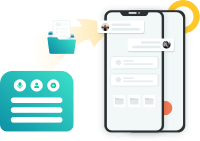 Step 1.Download and run iTransor for LINE on your computer. Choose Transfer LINE data between Android and iOS devices from the left panel, and connect your source device and target device to computer with USB cables.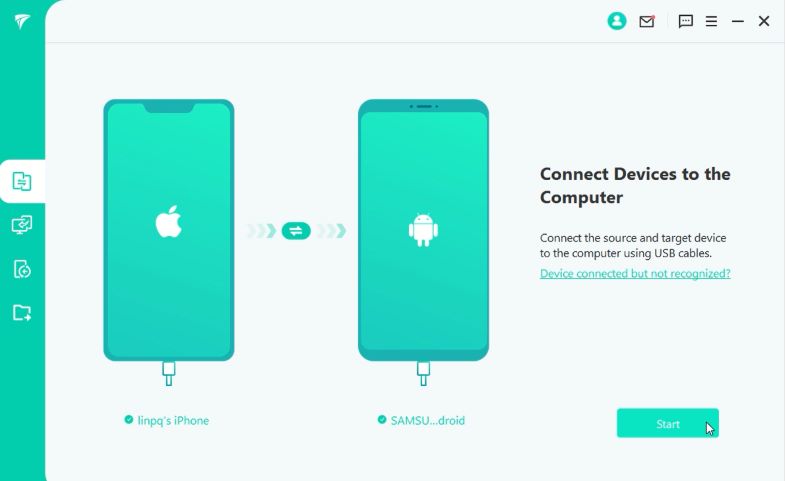 Note
Please allow the
USB debugging
on Android and
Trust this computer
on iPhone when pop-up windows prompt, then click on
Start
on the program.
Step 2.For devices of different operation system, following steps are various. Follow the instructions below and skip to the part you need most.
Android to Android Transfer: Follow the instruction that the program gives during operation.
iPhone to iPhone Transfer: Disable Find My Phone on target iPhone.
Android to iPhone & iPhone to Android Transfer: the process will be more complex, follow the detailed steps below.
Android to iPhone Transfer
Step 1. Open LINE on Android, go to Settings > Talk > Back up and restore chat history to back up LINE data to Google Drive. Then click Done on the program.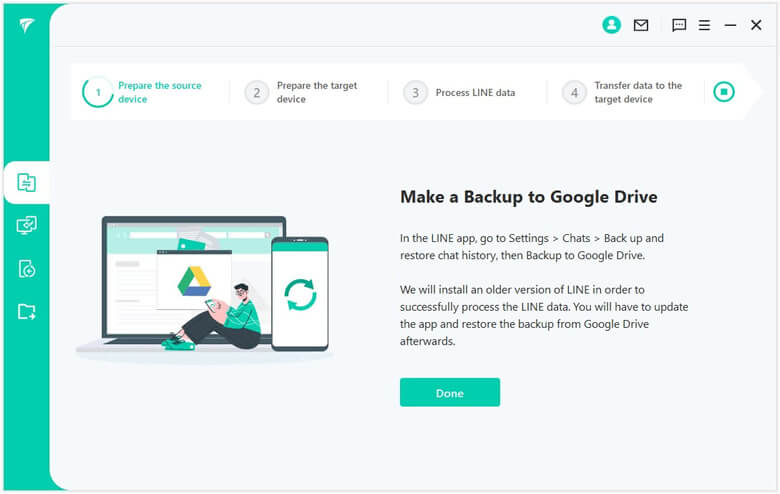 Step 2. The program will note that an older LINE version will be installed on Android, please rest assure that this step won't affect your current LINE data.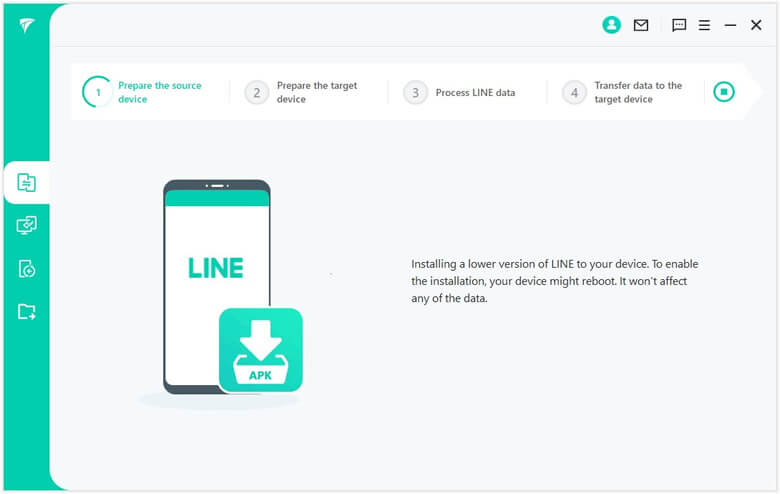 Step 3. Set a password on Android, and then tap on BACK UP MY DATA.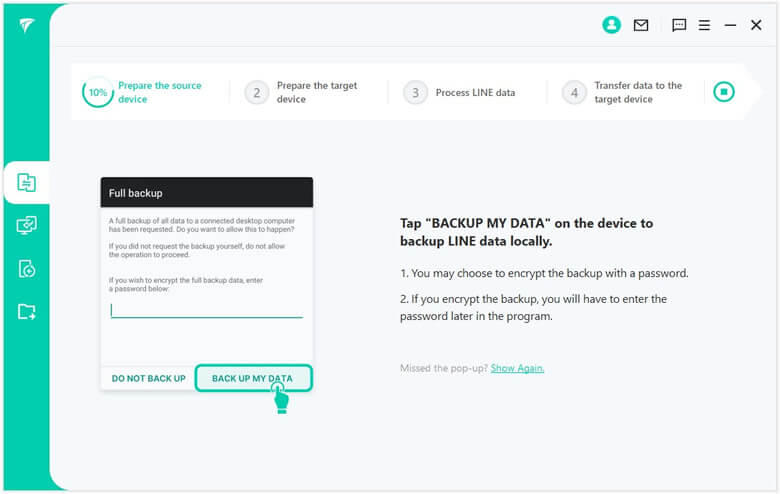 Step 4. On the program, enter the password you just set, then click Done.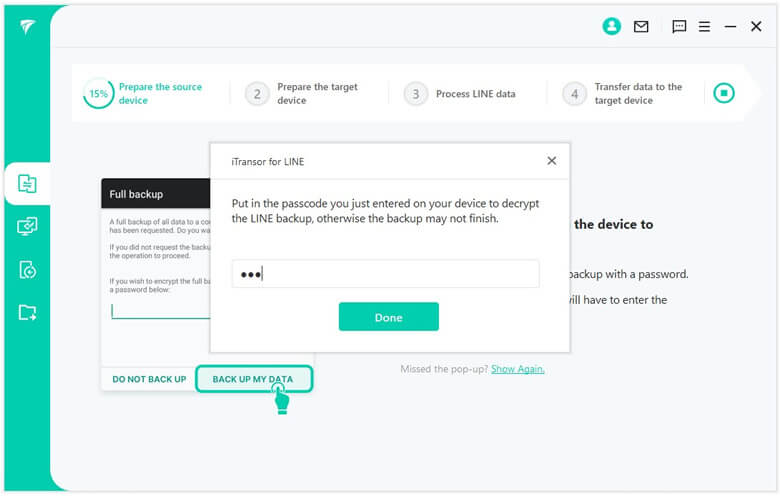 Step 5. You may need to allow the installation of iTransorAssisstant on your Android device. Then go to Settings > Apps > iTransor Assistant > Permissions, turn on storage permissions. Then click Done on the iTransor program.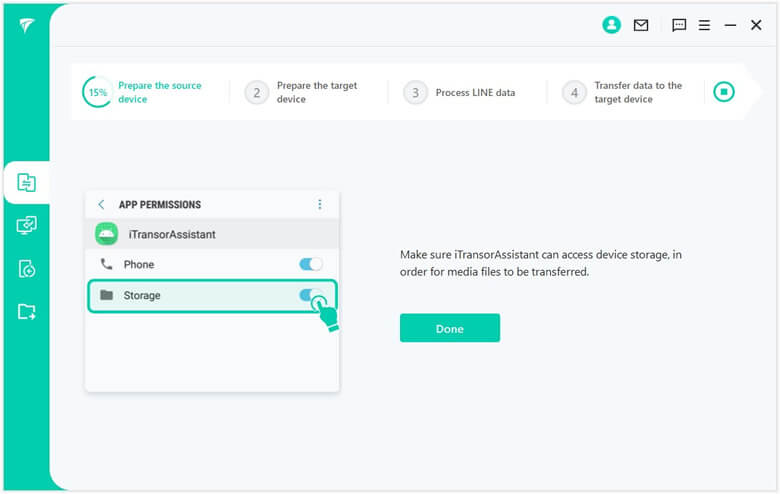 Step 6. Log into LINE with the same account you used on iPhone, then, tap on Done on the program and wait until it completes. Finally, select Don't Transfer Apps & Data in Apps and data, this won't affect your previous data.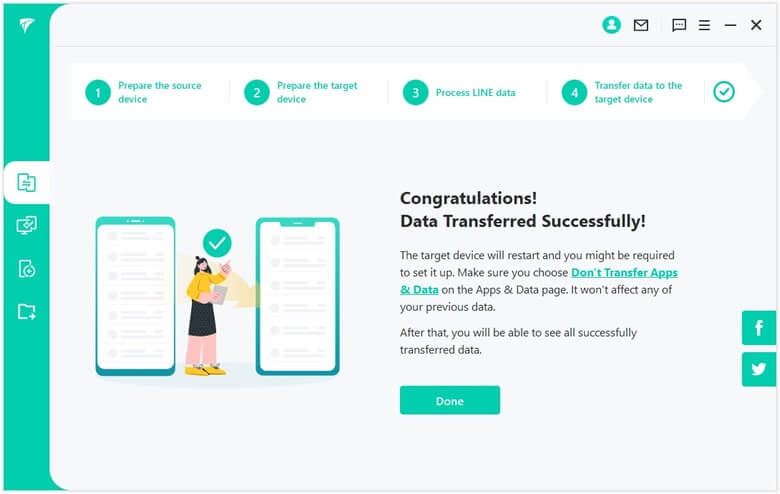 iPhone to Android Transfer
Step 1. iTransor will inform you to install an older LINE version on Android automatically. Please rest assure that this step won't damage your data, and you can stop the process anytime by pressing the icon on the top-right corner.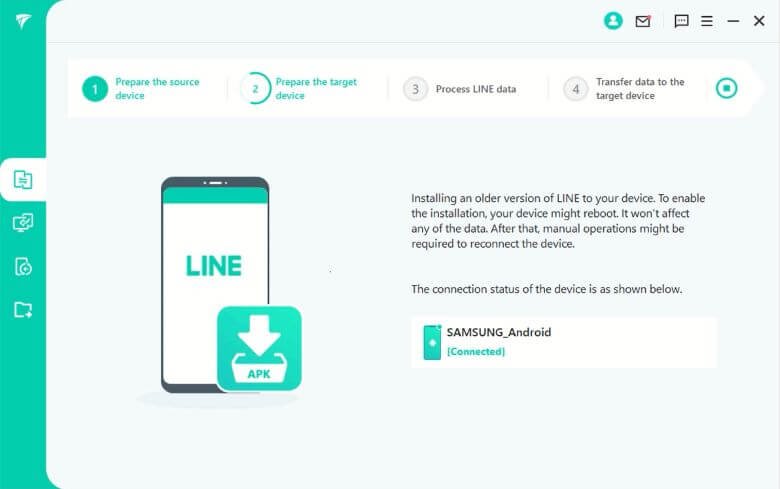 Step 2. Then you need to tab RESTORE MY DATA on your Android when it pops up the window of Full Restoration.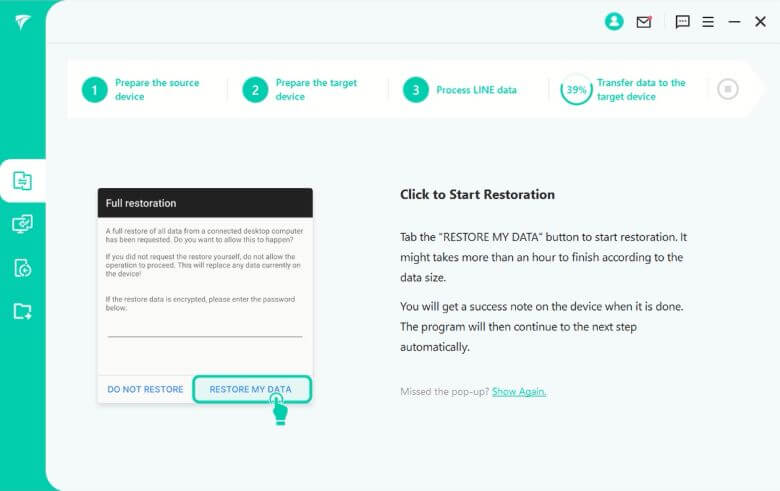 Step 3. Download the latest version of LINE on your Android and log into the same account. After that, click on Next on the program.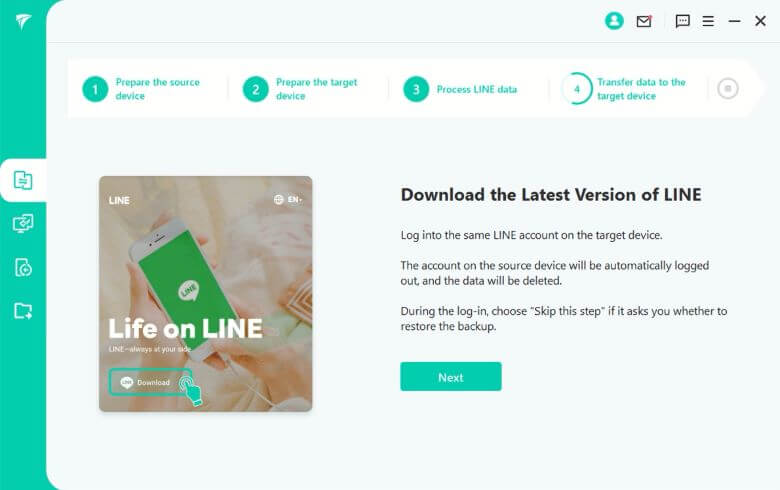 Step 4. During the log-in on Android, choose Skip this step if it asks you whether to restore the backup. Click on Done on the program.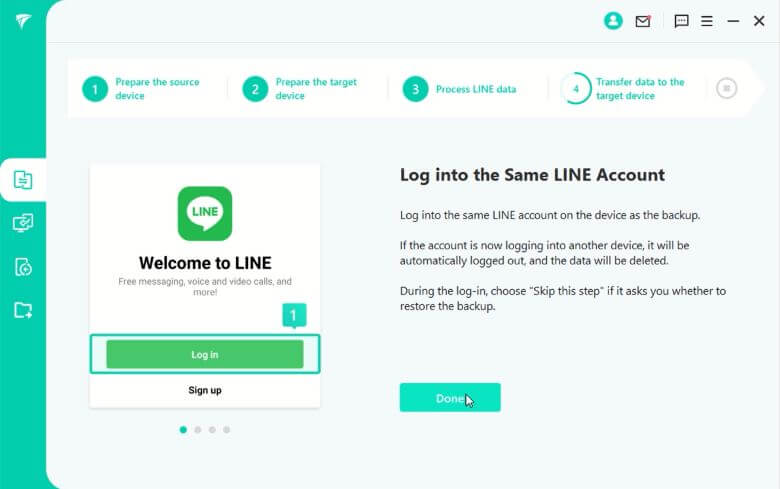 Step 5. Finally it will note that data has transferred successfully. Click Done to finish the whole process and you finally migrate LINE data to new phone.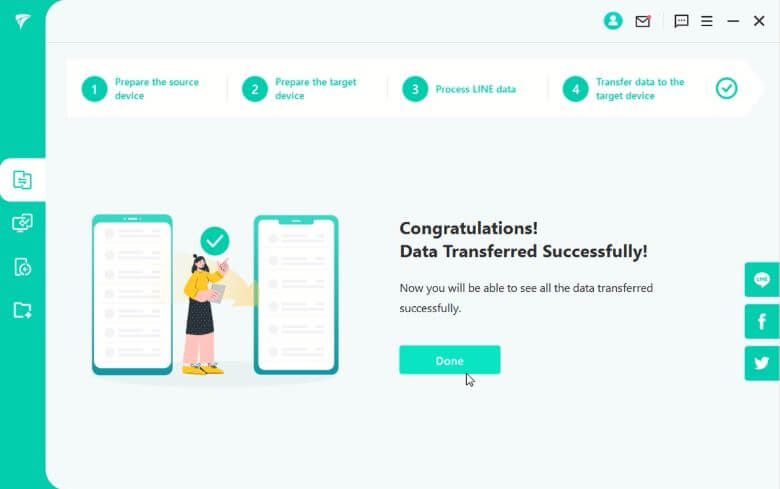 Part 3: Transfer LINE Data to New Phone via iCloud for iOS Users
How to create LINE chat backup on iCloud
For iOS users that use LINE on their iPhone or iPad, we will be backing up LINE data to Apple iCloud. To transfer chat data, we first have to create a backup on the old device. You can do this by following these steps:
Step 1: In the LINE app, click on the More icon and go to Settings.
Step 2: Select the Chats icon.
Step 3: Go into Chat history backup.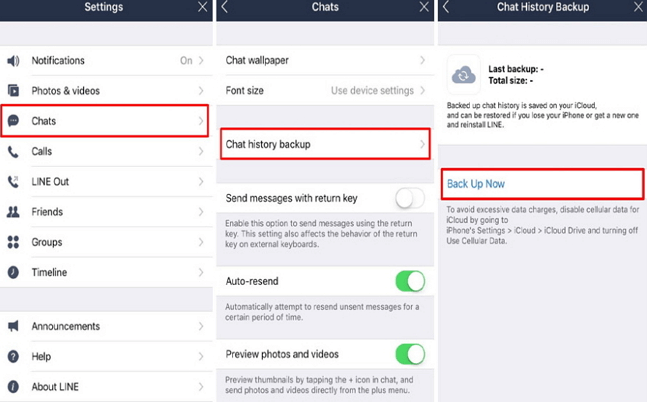 Step 4: Click on Back Up now.
Step 5: LINE chat has been backup up into your iCloud account.
Note
You may experience iCloud backup failures, and the main reason may be insufficient storage capacity. Since we do a lot of communication every day, the
5GB
of free iCloud space may not be available for backups. In this case, you need to clear out more iCloud storage space.
How to Restore LINE Backup on the New iPhone
After you are done creating a backup. Follow these steps on your new device to restore your old LINE chat:
Install the LINE application from the app store (obviously!).
Go into the LINE app and click on More.
Click on Settings.
Select Restore chat history.
Here you will see all the backups created previously, simply select which backup you want to use.
Your new device now has all the old chats.
Part 4: Transfer LINE Account to New Phone via Google Drive for Android Users
How to Create Line Chat Backup on Google Drive
For Android devices, backing up and transferring LINE chat works the same. We can backup LINE chat for android devices on Google Drive. After that, we can move LINE to a new phone. To create a backup on your old Android device, follow these steps:
Step 1: Open your LINE app and locate the Friends option.
Step 2: Then go into the Settings.
Step 3: Click on Chats.
Step 4: Select Back up and restore chat history.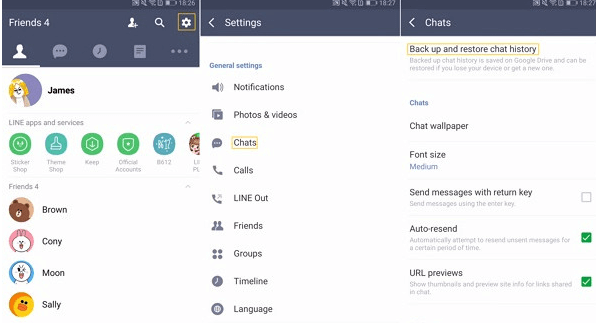 Step 5: Select Backup to Google Drive, after the bar, reaches 100% the backup is complete.
How to Restore LINE Backup on the New Android Phone
Now that you have created a backup of LINE from your old device. You can restore this backup on the new device by following these steps:
Open your LINE app.
Enter your login details.
Go into Friends and then Settings.
Select Chats and then select Backup and restore chat history.
Click on Restore.
Part 5: What to Do after Transferring
No change in phone number
For those users who will be using the same phone number as on their old device, it is fairly simple to login to the LINE App.
Launch the LINE App on your new device and select login.
Select login by phone number.
Put in your verification code and password.
Phone number has been changed
Sometimes you have to switch to using a new number on your new device. This makes things a little complicated. This can only be done if you have connected your LINE to your Facebook account like mentioned at the start of this article. Follow these steps to login:
Launch the LINE App and select the option to log in with your Facebook.
Put in your Facebook account details.
And then tap login.
You should be in your LINE account now.
Part 6: FAQs about Migrate LINE Chat History to New Phone
How to use the same LINE account on different phones?
You can simply log in using the same details on two different phones. This way you can use the same LINE account on different devices.
How to switch accounts in LINE?
You can add up to 5 accounts in LINE. Just click on the three dots at the bottom right. Click on the downward-facing arrow near your profile picture. Select Add another account. And then log in with details on the LINE account you want to add.
---
Conclusion
Cloud storage has made it easier these days to quickly backup and migrate LINE account to a new phone. Services like Google Drive and iCloud allow us to use our phones without worrying about losing out on our precious chat history. But sometimes, we need to transfer data across OS lines. For this, we will have to use a third-party application like iMyFone iTransor for Line. It is also always a good idea to not forget your Facebook login details since that is the only way to access your line account with a phone number.