LINE is a fantastic communication and chats tool for gaming, sharing music, audio, video, and messages all over the globe. Since its creation after the 2011 tsunami in Japan, LINE has been providing quality service for quick and easy messaging on PC, iOS, and Android devices.
The only problem is sometimes our phones have little storage in available space from all the apps, games, and photos. So in this post, I will show you some free ways to backup LINE chats on your device to free up some much-needed storage space.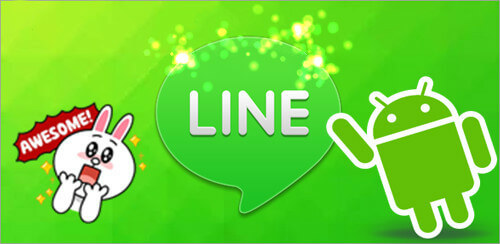 Backup LINE Chat with Android
Android is one of the giants in mobile computing, mainly due to its open-sourced operating system. That makes it an excellent device for backing up because it is so versatile and can work with many other apps.
Here is a quick way to backup LINE Chat on your Android directly to your Google Drive account.
1. Open up your LINE and tap on the "More" icon.
2. Navigate over to your "General setting" section and then tap on "Chats".
3. At the top of the list, go ahead and select the option "Backup and restore chat history".

4. On the next screen, tap on the "Backup to Google Drive" option. And the interface will begin to backup all your LINE Chat history from your Android to your Google Drive.
5. Verify that you are using a Google Drive Account. Most of the time, you'll have already created one because your device uses Google applications primarily.
6. You're all done! Now all your LINE Chat app history, images, messages, and more are correctly backed up into your Google Drive for safe storage.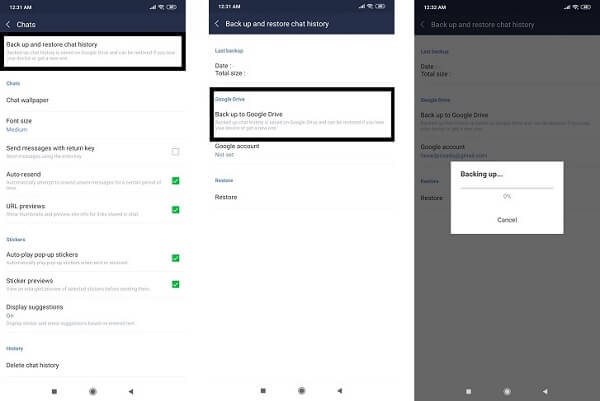 Backup LINE Chat on iPhone to iCloud
The beauty of Apple's mobile products is that they are all within an easy-to-use centralized system. When you sign up for your mobile device, you are automatically given iCloud storage space that you can use for practically anything on your iPhone. The only thing you'll need to double-check is that you have enough free space. Most free iCloud accounts only allow up to 5GB of space. Here are the steps for backing up your LINE Chat info to your iCloud.
1. Launch the LINE app on your iPhone.
2. Top on the "More" option and navigate to Settings - Chats.
3. Under the Chat History Backup" option, tap on the "Back up Now" button.
4. Now, just back and wait while your data is being backed up into the cloud.
Backup LINE from PC to Google Drive
Not all PC users embrace Google products on their devices, but they are some of the most accessible applications to utilize. If you do not already have one, you should sign up for a free Google account and make sure you have your Google Drive free of space.
Follow these simple steps to backing up your LINE data from your PC to your Google Drive.
1. Connecting your mobile device to your PC with the data cable. You'll need to authorize your computer to give it access to all the app data.
2. Open a browser like Firefox or Chrome and navigate to your Google Drive webpage.
3. Click on the "My Drive" tab and select "Upload files" or "Upload folder.
4. Select the LINE files you want to save and click okay, and your data will begin to filter to your Google Drive.
Backup LINE Chat with a Third-Party App
There are many third-party applications designed to make your data management easier and simple to understand. We suggest using the "Backup Text for LINE" method, which allows your device to export chats by date and type to your SD card or email. You'll have to create a LINE backup manually using this built-in feature.
1. Download "Backup Text for LINE" on your device. Then open the LINE app and open your chat.
2. Tap on the arrowhead located at the top-right corner and click on "Settings".

3. Find and select the "Export chat history," the App will begin to store your messages as a text file using "Backup Text for LINE".
4. After the file is created, you can export it to your SD card or send it anywhere using email.
5. You may filter out any messages before sending them if you would like.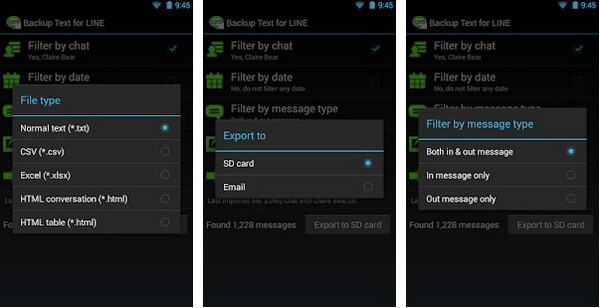 The Most Recommended Way to Backup LINE Chat -- iTransor for LINE
If you think the methods we talk above is too complicated, you can't miss iTransor for LINE! It's a professional tool to help you back up LINE data from Android and iOS.
iMyFone iTransor for LINE
Transfer LINE data from Android/iOS to iOS

Selectively export LINE data to computer

Restore LINE backups to iOS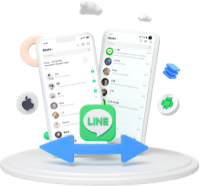 Let's see how we can backup LINE data for free.
First, you need to download and install iTransor for LINE on your PC.
For Android
Step 1: Follow the instruction steps on the screen to back up your LINE data to Google Drive. Tap on "Finish" after the process is completed.

Step 2: You need to restart for LINE after iTransor installs an older LINE version on your device.

Step 3: You can back up your LINE data on an Android phone by tapping on the "Back up data" button.

Step 4: Keep waiting for the procession completed, and you can view the data you back up yet.
iPhone version
For iOS users, the program will start and back up data automatically, and you just need to keep waiting for the procession to finish.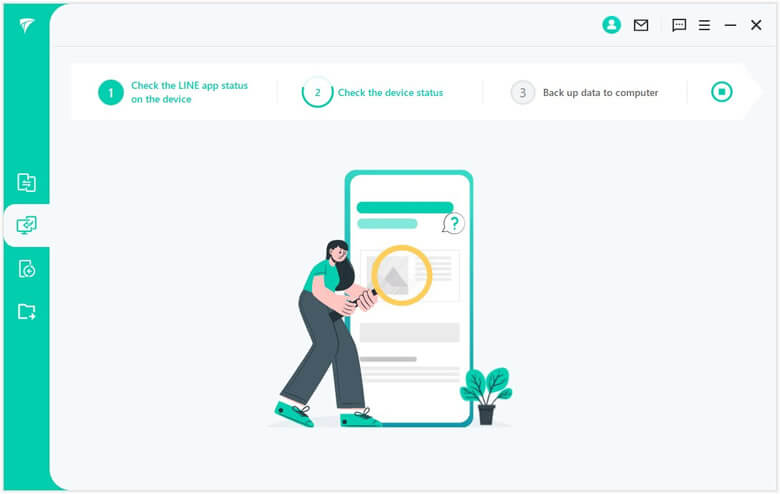 Bonus Tips: 3 Methods to Solve LINE Backup Failure Issues
1

Check your mobile/PC network connection
Your backup could take a long time. If your network connection is limited or slow, you run the risk of the backup being interrupted midway. Always double-check that you have a stable, secure network connection. Being on your home Wi-Fi is the best.
---
2

Update the latest version of LINE
Before you back up your information, you need to ensure your app is entirely up to date with any bug fixes that could corrupt the files you're trying to save. You can do this through your mobile store or by opening the LINE app and clicking on the "Settings" - "About LINE" feature to see what version you are currently using.
---
3

Confirm the size of LINE backup
You have to make sure you have enough space on your cloud account or computer storage spaces. If your backup is around 8GB, but you only have 5GB available on Google or iCloud, the backup is not going to work. You can check the size of your LINE backup by visiting:
For Apple: iOS - Settings - General - iPhone Storage - LINE
For Android: Settings - Applications - LINE
Conclusion
With the LINE Chat app being so popular, it makes sense that we need to back up the data. With the files backup, you can free up more space to enjoying all the benefits of having a smartphone. Doing a few maintenance steps, as we mentioned above, is a surefire way of improving your system without interrupting taking more photos or watching movies.