There are several messaging apps available to users worldwide, and one of them is LINE. It is highly popular and has around 200 million active users. What makes the app highly popular is its commitment to user privacy and frequent updates. Other than that, LINE is a super app. It means that it allows users to do more than text or call friends and family. LINE users can make payments or order a taxi through the app.
There are 3 LINE functions that allow users to manage their chats conveniently. As the title indicates, the functions are blocked, delete, and hidden. Before using them, it is better to understand their purpose. So, to avoid any issues, let us talk about these three in detail.

What is LINE Block, Hide and Delete? How to Do?
This part will explain the three functions and how to execute them. Well, the operations of LINE block and hide contacts are approximately the same. There are two options to choose. Besides, you can follow the detail steps below: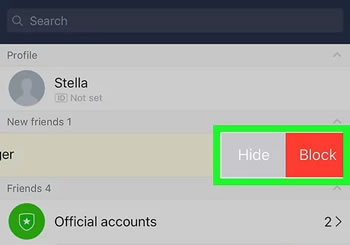 LINE Block Function
Suppose you no longer wish to interact with someone because your relationship ended on poor terms or someone is spamming your LINE chatbox. In such situations, what is the best solution? The most common answer is to block that person to prevent them from texting or calling you. Well, LINE Block serves the same purpose.
If you want to block someone on the LINE app, follow these steps:
Step 1: Open the LINE app. If it is already open, tap the 'Home' tab.
Step 2: Access the friend list.
Step 3: Tap '+' hold on the friend/account name you wish to block.
Step 4: Tap on 'Block'. Then, again, tap 'Block'.
Now, the user is blocked.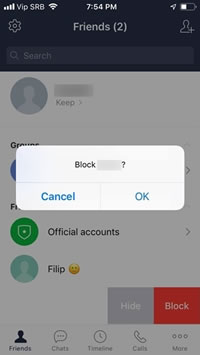 LINE Hide Function
There are some accounts that you do not want to block completely. Instead, you want to avoid seeing them in your chat list and receive any notifications. In that case, the better option is to hide that user.
How to hide a user on the LINE app? Follow these steps:
Step 1: Go to the 'Home' interface.
Step 2: Go to the friend list and find the account you wish to hide.
Step 3: Long-press that account.
Step 4: Tap on 'Hide', followed by another tap.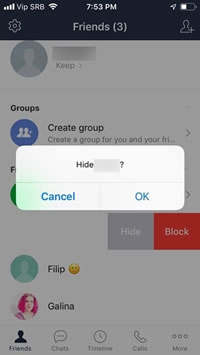 LINE Delete Function
There are some users that you neither want to block nor hide. Instead, you wish to delete them entirely. Please note that before proceeding with this option, there is no way to undo it.
You will need to block the person before deleting them.
Step 1: Go to 'Home' > 'Settings' > 'Friends'.
Step 2: Find and tap on Hidden users or Blocked users. You will see a list of all the users you have hidden or blocked.
Step 3: Tap 'Edit' on the user you wish to delete entirely.
Step 4: Tap 'Delete'.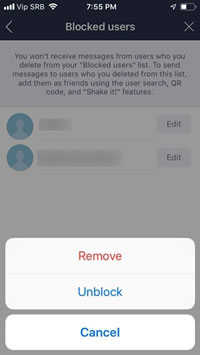 Difference Between the 3 Functions
As the above discussion shows, all three functions are unique. While block and hide are reversible, you cannot undo the delete function. So, please proceed with the delete function only when you are 100% sure it is the right decision. Now, let us focus on undoing the block and hide features.
How to Cancel or Undo the Block, Hide and Delete Operations?
Unblock on LINE
If you wish to unblock someone on the LINE app, you need to undertake the following steps:
Step 1: Open the LINE app.
Step 2: Tap the 'Home' button > 'Settings' tab' > Locate and tap the 'Friends' option.
Step 3: Tap on 'Blocked' Users.
Step 4: Locate the user that you wish to unblock. Click on 'Edit' next to the username. Then tap 'Unblock'.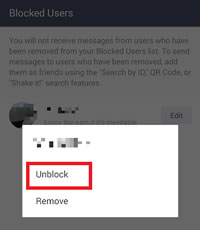 It might take a short while before you can start communicating with the user again. So, there is nothing to worry about if you cannot text or call the person right away after unblocking.
Unhide on LINE
Unhiding a user on LINE is a straightforward process.
Step 1: Tap the 'Home' button, proceed to 'Settings' then go to the 'Friends' tab.
Step 2: Tap 'Hidden' Accounts.
Step 3: Tap 'Edit' next to the user you wish to unhide.
Step 4: Tap on 'Unhide'.
Again, it might take a short while before the change is effective.
Re-Add a Friend on LINE
There is no way to undo the delete option in LINE. Instead, you will need to re-add the user again. There are several ways to do so.
Method 1: Ask the person to send a QR code image. Tap on 'Scan QR Code' and then 'Add'.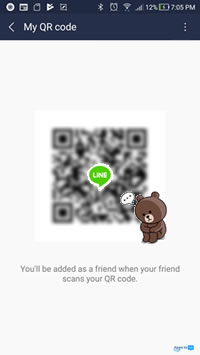 Method 2: Searching them using their LINE ID or phone number.
For this, you need to go to 'Add friends' > 'Search for friends'. Then, tap on the LINE ID or Phone number. If your friend has turned off their add me by using my ID or phone number setting, they will not appear in the search results. It is why we said that before proceeding with the delete option, be careful.
Bonus Tips: How to Backup Precious Messages and Contacts on LINE
There are several ways to back up your LINE data. And here is the easiest method, iTransor for LINE allows you to securely back up your LINE data included chats, contacts, Keep Memo, photos, videos and more to the computer, among numerous other things. What's more, you can sync data between phones and pc.
iMyFone iTransor for LINE
You can use this comprehensive LINE management tool to back up and restore LINE data quickly and efficiently. This wonderful tool can transfer LINE data between Android and iOS directly. You can restore LINE backups to your device at anytime you want.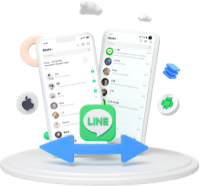 Step 1.Download, install and open the iTransor for LINE app. Then, connect your phone to the computer.
Notes
Please allow the '
USB debugging
' on Android or hit '
Trust this computer
' on iPhone and allow the permissions that iTransor requests.
Step 2.Click on 'Backup LINE data from Android and iOS devices'. You will see it on the left side of the interface.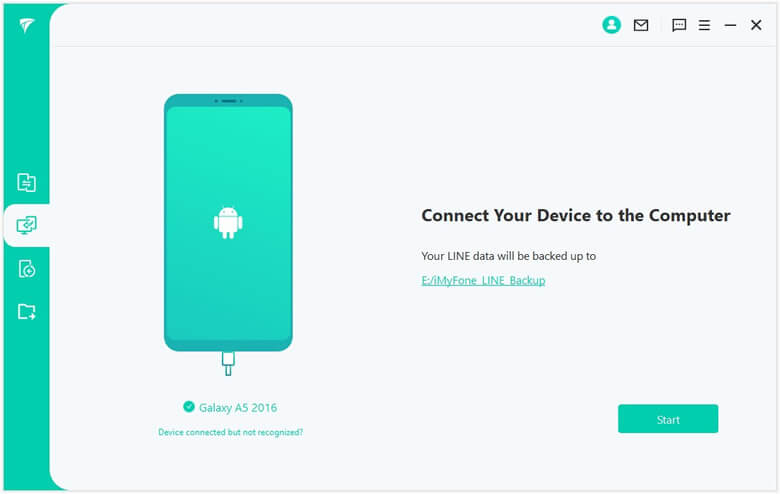 Step 3.Click on 'Back Up' to start backup process. For iOS users, you just need to wait till this process complete. Meanwhile, for Android users, please follow the steps below to do some operations on your Android.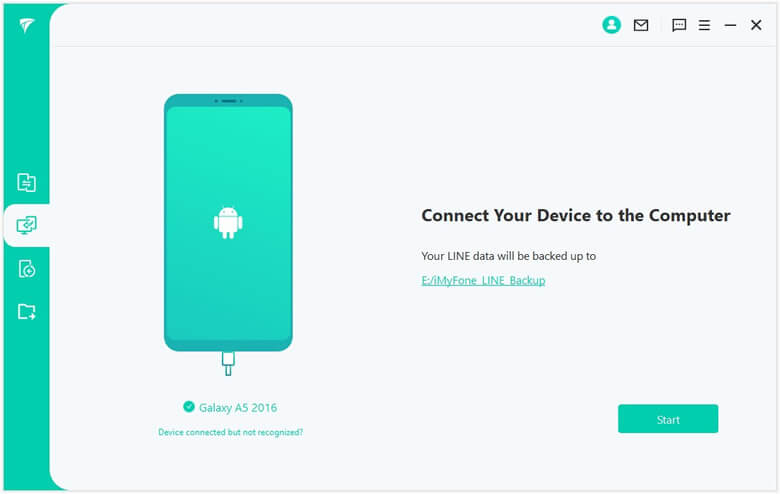 *Backing Up LINE from Android
Step 1. First you need to backup your LINE data to Google Drive on Android. Go to 'Settings' > 'Talk' > 'Back up and restore chat history' on your LINE app.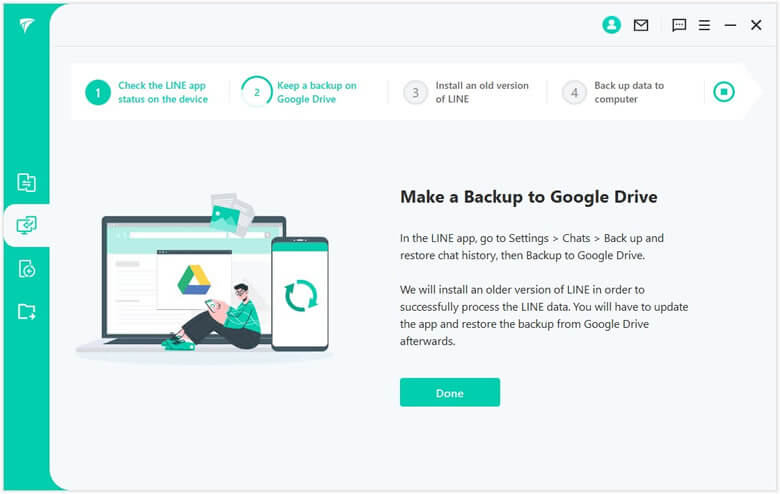 Step 2.To get your LINE data, an older LINE version will automatically install on your Android. After a restart process, all settings will come to affect. This process will not affect OR overwrite your current data.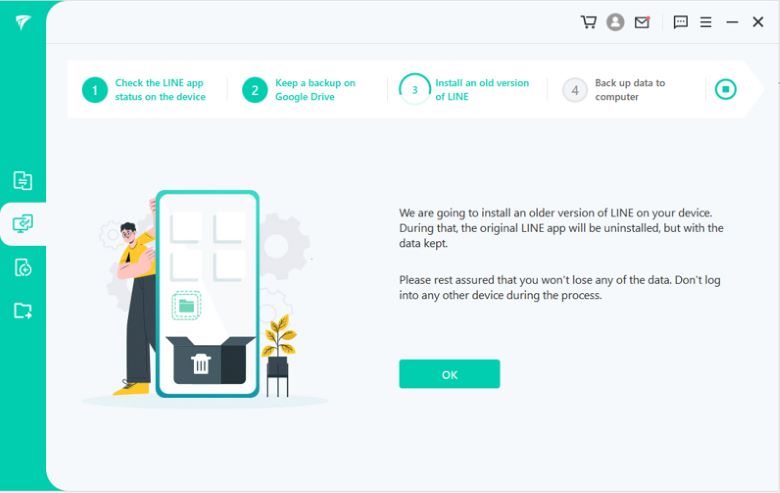 Step 3.Tap on 'Back up data' on your Android to finish the process. There you go!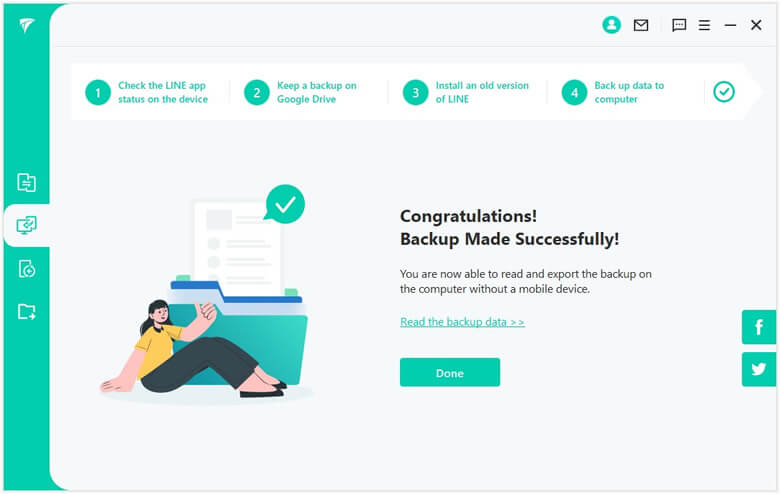 FAQs: More Tips About Block Someone on WhatsApp
1

Do your friends know they have been blocked, deleted, or hidden by you on LINE?
There is no official way for the other party to know that you have blocked them. The other party will see that their messages remain unread. The same applies to the delete and hide functions.
2

Can I make calls if the LINE user is blocked?
The answer is No. Once you block a user, you can no longer send or receive any communication. Instead, you will need to unblock the user to resume communication.
Conclusion
The block, delete, and hide functions are not commonly used. Nevertheless, one must understand their differences as you may need to use them. To avoid to mis deletion, we suggest you to back up your LINE chats or contacts in time, just in case you want to find them back.