Transferring LINE to a new device sounds like a scary situation, because there are a variety of challenges that you may have to overcome. That being said, this also comes in handy, since you can handle a multitude of challenges and adapt accordingly based on your needs. It makes a lot of sense to perform LINE transfer as fast as you can, as it helps save quite a bit of time and money as well.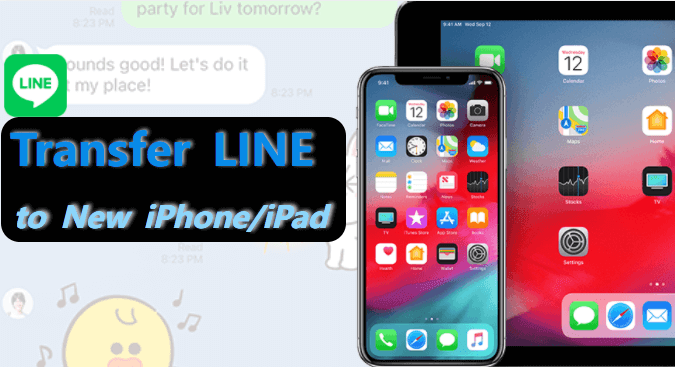 Part 1: What to Do Before Transferring LINE to Another iOS Devices
There are a few things you need to do in order to transfer LINE to a new device. The process itself is not very complex, but it will provide you with a lot of great results. It's extremely important to avoid any rush and prepare everything to ensure it works exactly the way you want.
01

Update LINE and iOS Version
It's very important to make sure that you check the LINE version and see if you have the latest one. You can enter the About section of LINE and see what version you have installed. In case your version is not the latest one, you can easily go to the App Store and grab the latest version there. It's a very important process, since you do want to have the latest LINE version just to ensure that there are no problems.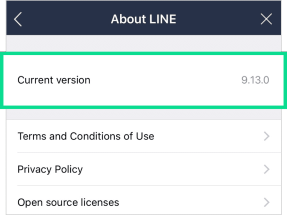 02

Set Phone Number and Email Address Linked
This matters because without a bound email or phone number, you will not be able to login to the old LINE account. That also means you are unable to restore LINE in any way. The process is simple:
Click the Gear icon.
Click on Account under Settings.
Confirm your Phone number and Email address are bound. You may also need to set the password successfully.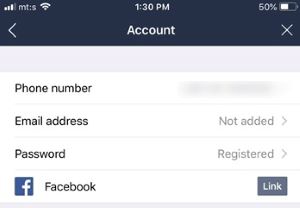 03

Backup LINE Chat History
Before you transfer anything to a new device, you do need to create a backup. After all, you never really know what issues appear, so preparing beforehand can be a great idea. Turn on the iCloud automatic backup, you can also initiate a backup right now if you want.
Right from the homepage, click the Gear icon.
Choose Chats > Chat history backup and then you can press Back Up Now.

Once you finish this, the entire process is complete and you don't have to worry about any issues.
Part 2: How to Transfer LINE to Another iOS Devices for Different Scenarios
It's very important to find the right time to set up everything when you transfer LINE. With help from the guidelines listed below, you will have no problem transferring your LINE information, while making the entire process fast and seamless.
01

Still Have the Phone Number
Even if you changed the iOS device, you may still have the same phone number. When that happens, you just need to follow the guidelines below and complete this process:
Download and then install LINE on your new device. Then you must choose to Login with phone number.
Enter your phone number and also the password or identification code.
Choose Yes, that's my account.

Press the button to Restore Chat History, and then you can press OK.
Then you just have to clock on the green button to complete the process.
02

Have Changed Phone Number
If the number has changed, then you do have to focus on a few tasks that will make this process seamless. With that being said, it can actually bring in great benefits, and the approach itself can be second to none.
Press the Gear and enter the Settings menu.
Choose Account transfer, enable Allow account transfer.
Now go to the new device and install LINE. Press Login with phone number.
Enter the new phone number and the authentication code, then click on Account transfer.
You can choose Get account transfer code to continue.
Check the verification SMS, enter the Account transfer verification code, and now you can press OK.

Make sure that you click login, then recover chat history. This means your account is transferred to the new device.
03

Transfer Without Limitation with LINE Transfer Tool
The problem with these transfers is that many times you are limited in a variety of ways, and that can end up halting the process or not making it as efficient as it could be. Which is why it's a great idea to give iTransor for LINE a try today.
This is a tool that can easily backup LINE data from your phone to the computer. It can also preview LINE data and choose what you want exported. Additionally, it restores LINE backups to your device, and you can also transfer LINE messages between devices directly. And yes, you can export the LINE chat history in different formats like HTML, CSV, XLS and PDF, among many others.
iMyFone iTransor for LINE
Transfer/Backup/Restore/Export LINE on iPhone/Android with One Click.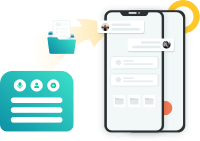 Step 1.Install and run iTransor for LINE on your computer, and choose Transfer LINE data between Android and iOS devices option from the left pannel. Connect both your old and new iOS devices to PC and Start the process.
Note
Please hit
Trust this computer
on your iOS devices, and disable
Find My iPhone
on the target iPhone.
Step 2.The program will automatically prepare your devices for the transfer. When it shows Log into the Same LINE Account on the program, follow the instruction and click on Done when finished.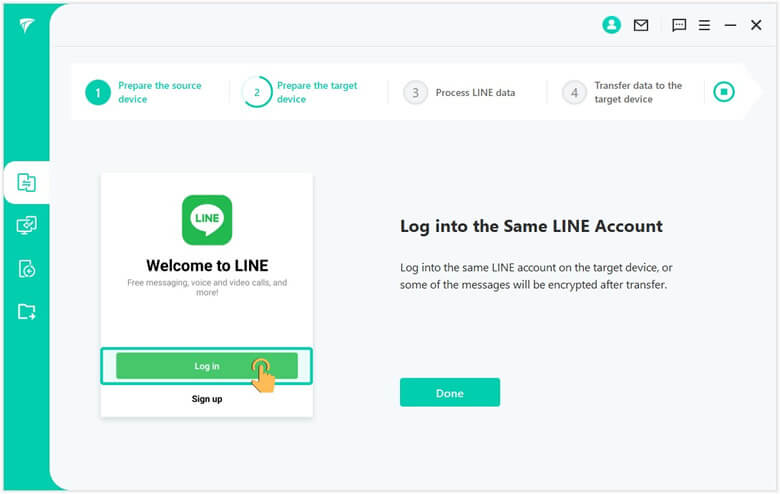 Step 3.Wait for the process and choose Don't Transfer Apps & Data on the target iOS devices if it asks.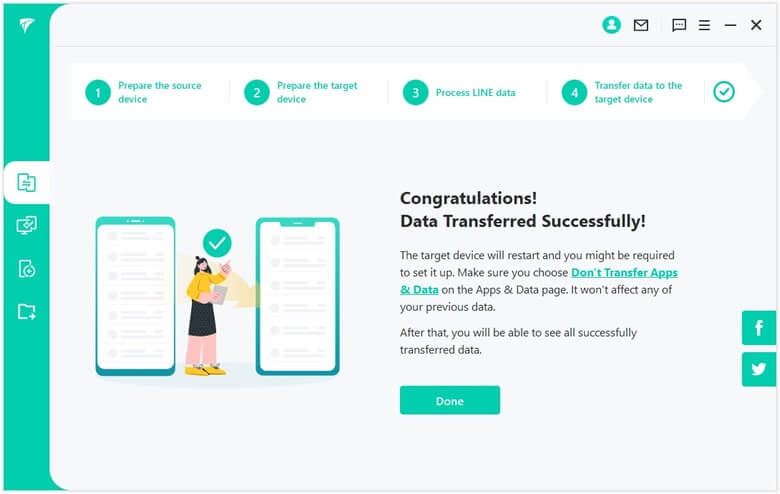 Step 4.There you finally transfer your crucial LINE data to a new iPhone or iPad with ease.
Part 3: Restore the Whole Backup Including LINE to Another iOS Devices via iTunes
Also you can restore the whole backup to your another phone if you don't mind. iTunes is very important if you want to restore the entire backup to a new iOS device. Thankfully, the entire experience is seamless and you don't have to worry about anything. Just make sure that you have the latest iTunes version installed.
When you connect your old device to the computer, iTunes will automatically create a backup for it. You can also do a manual backup if you want.
Once the new iOS device is connected to the computer, press the Restore Backup button.

Here you can see the backups which are available and then you can choose the latest one, once you do that just press Restore.
You will have to wait just a little bit until the process is complete. The phone will restart, but you do need to maintain the connection and wait until everything is synced properly and without any issues.
Tips
You can also achieve restoring LINE backup to new idevices by using
iTransor for LINE
, which will only transferLINE backup instead of the whole backup of your old phone in iTunes way.
FAQs: More About Transferring LINE
1. How long does LINE transfer take?
It depends on how much data you need to transfer. It can take anywhere from a few minutes to 15 minutes, 30 minutes or more. But generally, the transfer time is short.
2. Can I transfer LINE from an old Android to a another iOS device?
Yes, you can do that, by following the guidelines presented in 4 Useful Ways to Transfer LINE Data from Android to iPhone. It's a very good process and it shows the results you can achieve and how everything can be fully adapted in order to implement the best possible results and experience!
Conclusion
It's now easier than ever to transfer your LINE content to a new device. It's all a matter of finding the right tool and making sure that you follow the guidelines listed above. It's a great solution and it will bring you a simple, yet efficient way to obtain amazing results every time. Try out these tools and guidelines, and you will have no problem transferring your LINE content to a new device. Nevertheless, if you still cannot take over LINE after trying, hope you can find answers here.