You may have come across all kinds of issues on LINE when switching devices. Here we will list all the common problems when LINE cannot take over during models changing, and show you easy and effective solutions.
Part 1. Directly Transfer LINE Without OS Restrictions via iTransor for LINE
It could be simple to transfer LINE to a new phone without any restriction of the operating system. Especially when you come across those difficulties we will discussed in next part, a third-party tool will help you achieve LINE data transferring easily and successfully.
iMyFone iTransor for LINE
Backup LINE data from Android/iPhone to computer.
Transfer LINE messages between Android and iOS devices directly.
Preview LINE data and select specific data to export.
Restore LINE backups to Android (for Windows) and iOS devices.
Export LINE chat history in HTML, PDF, CSV / XLS formats.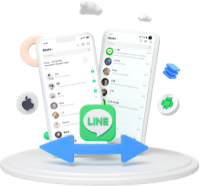 The first thing you need to do is to install and run iTransor for LINE on your computer, and connect both your devices to computer. Choose the first option - Transfer LINE data between Android and iOS devices and start the process. Following operations are various for different operation systems.
1.1 Android to Android & iOS to iOS
It is extremely easy and simple to transfer LINE data to a new device with the same operating system, all you have to do is to follow the instruction of the program. This will make you able to transfer data, files, and Apps from Android to Android and iOS to iOS.
Users can even transfer LINE data to different devices and operating systems. Just keep reading to find out the methods.
Step 1.To avoid data misoperation, iTransor for LINE will inform you and install an older version LINE on Android. This step will not damage your data.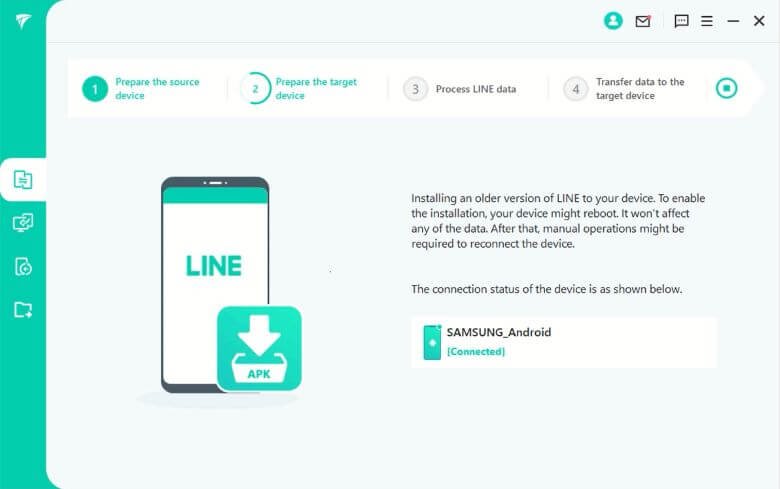 Step 2.After data processing, you need to tab RESTORE MY DATA on your Android to start restoration.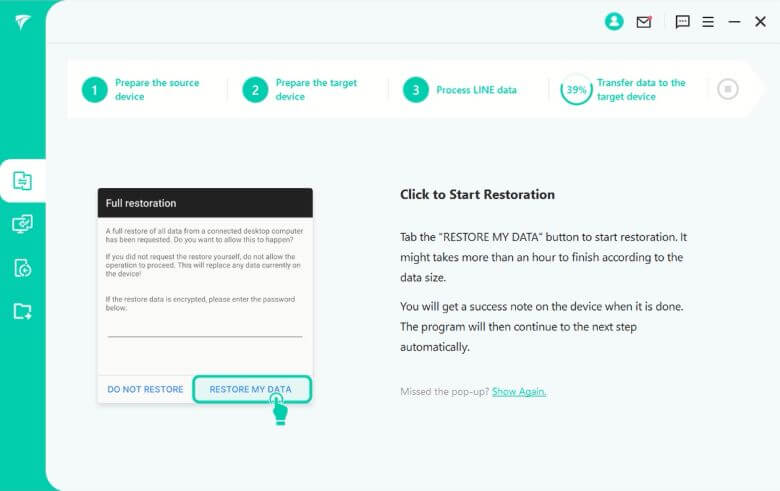 Step 3.Download the latest version of LINE on your Android, click on Next.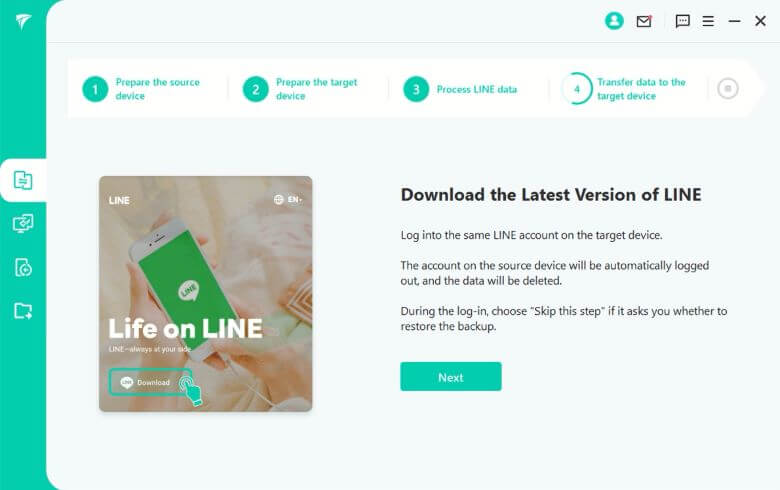 Step 4.Log in to the same account on Android as the backup. During the log-in, choose Skip this step if it asks you whether to restore the backup. When finished the operations, click on Done.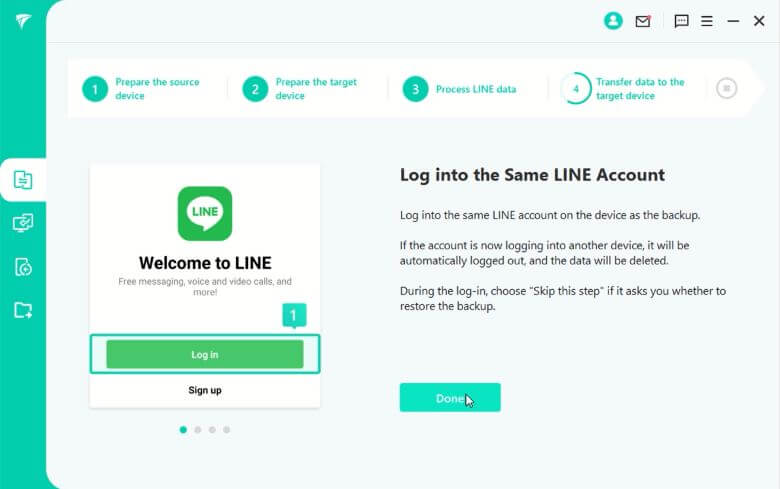 Step 5.Finally it will note that data has transferred successfully. Click Done to finish the whole process and you finally transfer LINE data from iOS to Android.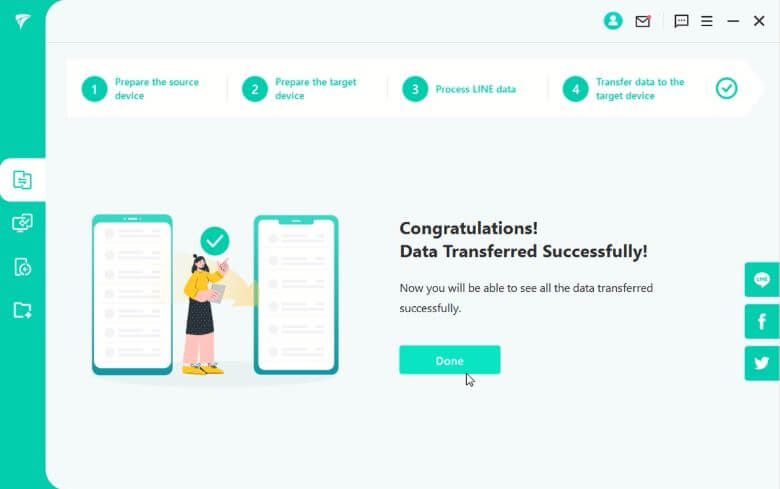 Step 1.Follow the instruction to backup LINE Data on Android. Open the LINE app on Android, go to Settings > Talk > Back up and restore chat history to back up LINE data to Google Drive. When completed, go back to iTransor and click Done for the next step.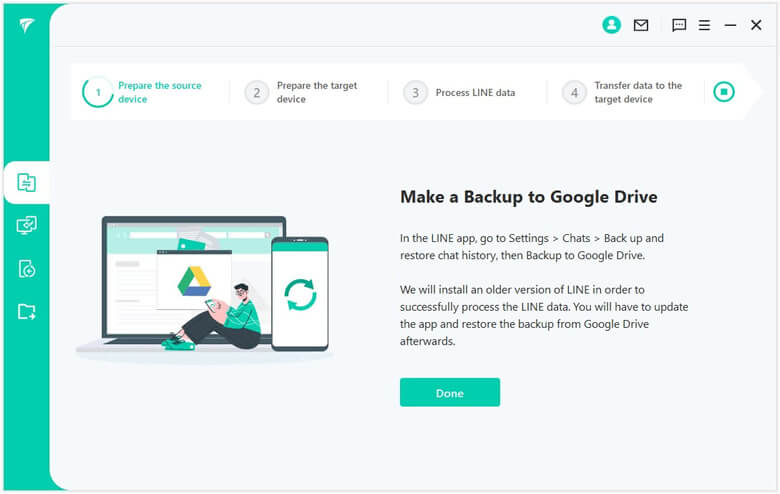 Step 2.An older version of LINE will automatically install on your Android. Don't worry, this old version will not affect your current LINE data.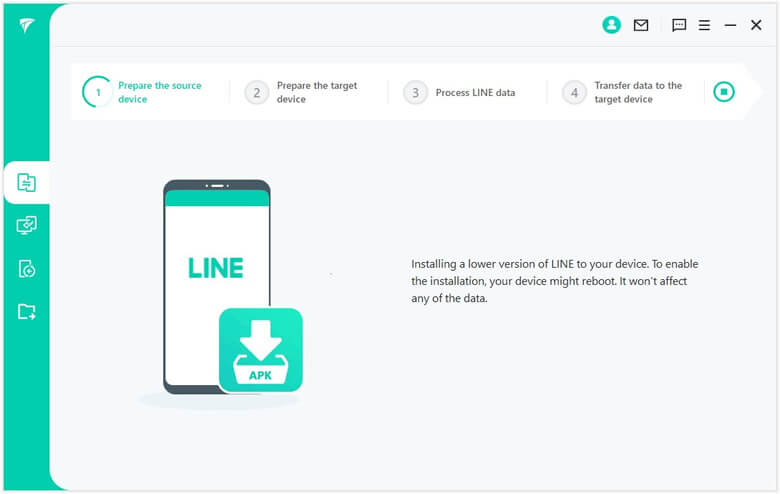 Step 3.Set a PIN code on your Android device, then tap BACK UP MY DATA.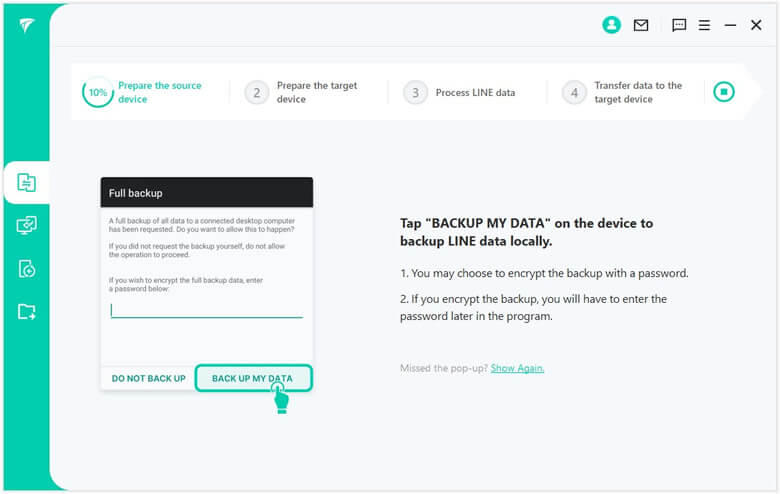 Step 4.On you pc, enter the PIN you have set on Android and then click Done.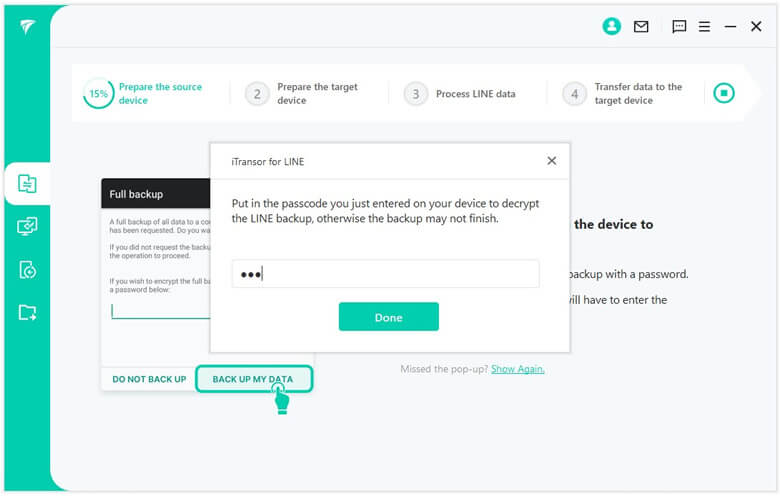 Step 5.Allow the installation of the required assisstant app - iTransorAssisstant on your Android device.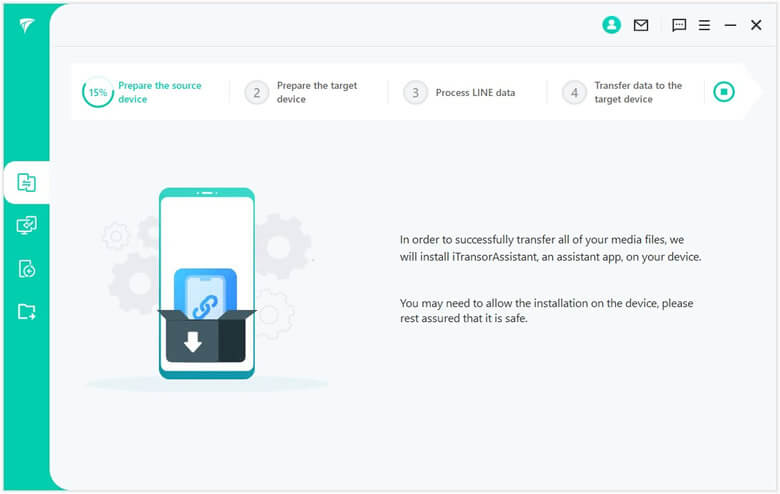 Step 6.On your Android, go to Settings > Apps > iTransor Assistant > Permissions and turn on storage permissions. Then click the Done button on the iTransor program for changing settings on iPhone.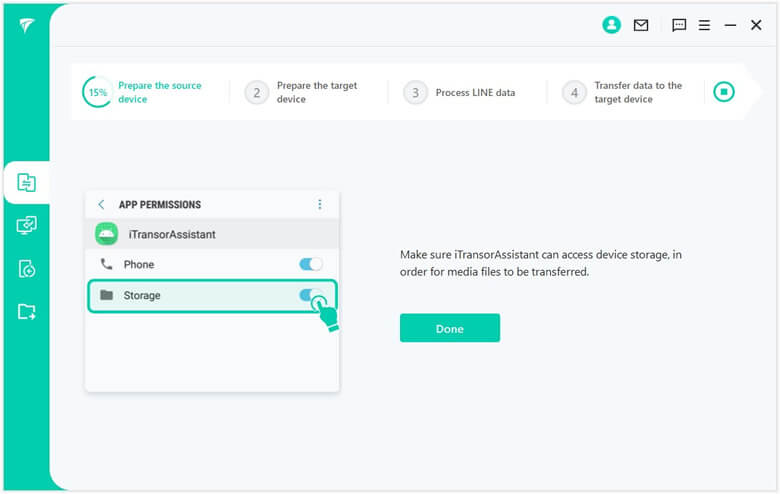 Step 7.Log in to the same LINE account on iPhone. Again, click the Done button and wait until completion.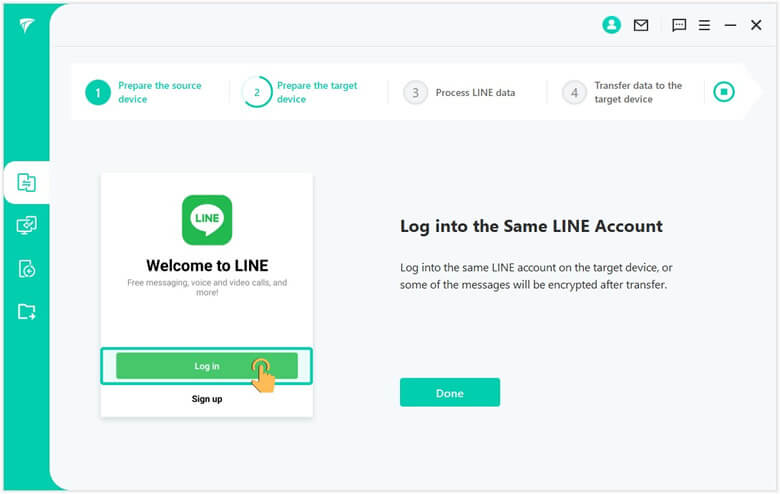 Step 8.You have successfully transferred LINE Data from Android to iPhone when this screen appears. Select Don't Transfer Apps & Data in Apps and data, and your transferred LINE data should be there.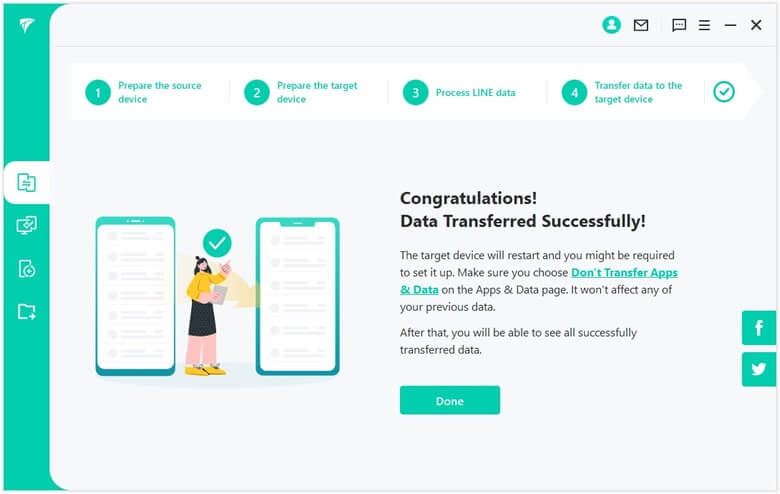 Part 2: 8 Problems and Solutions for Cannot Transfer LINE to New Devices
2.1 Forget Email Address
Sometimes it happens that the user has forgotten his email, so it will be essential to reset the email to continue with the app and to complete the transfer. Here are some steps to follow:
Move to the Settings.
Click on the option of Accounts > Email Account Registration > Change your registered email address.
Reset your email address by typing a new one.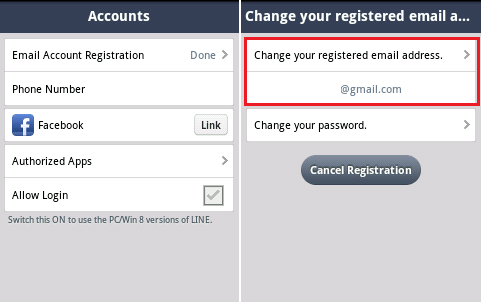 2.2 Forget Password
If the password is forgotten, then you must have your email so that password can be reset by email, if you do not remember even if your email then reset the email according to the above process.
Where the users have to add the password, click on the option of Forgot your password. Then add an email to confirm it's you. And password will be reset via email sent to your address.
The user will receive an email. There you can add or change the password by just tapping on the link in the email.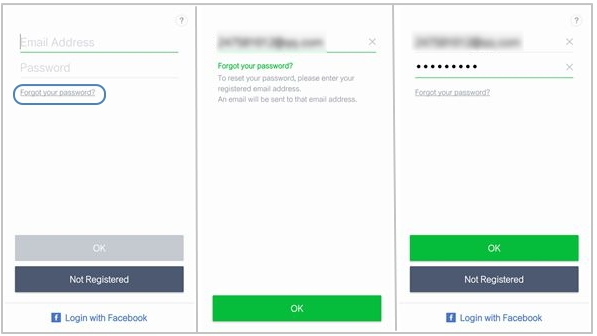 2.3 "Invalid Phone Number" Noted
The user cannot proceed further if the provided phone number is not correct. So, if this problem occurs, this may be just an issue on the site or app, and restart the app if it is again showing this message then wait for some hours.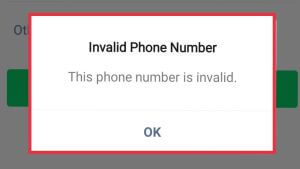 2.4 Fail to Log in with Facebook
Often it is experienced that whenever users tried to connect via Facebook they were being presented with an error and the message of try again later.
It may occur when the Facebook ID joint to LINE is different from the ID that the user is currently providing. To overcome this problem, match the ID you are using and the ID that is connected to LINE.

2.5 LINE Is Locked
Sometimes if a user mistakenly enters the wrong password or email more than 3 times, LINE will be locked. Then there will be 3 solutions:
Wait for some time, and try again after one hour.
It may be unlocked by just restarting device.
By restarting LINE, the error will be removed and LINE will be unlocked.
2.6 "Allow Account Transfer" Not Permitted
You will see the two steps to verify while using and transferring data through LINE. If you are unable to verify then a message will appear that "transfer of account is not allowed".
This problem can be solved by connecting to a stable internet connection. Then open Settings, turn on the settings of Allow Account Transfer.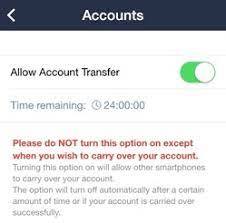 2.7 Cannot Find Purchased Stickers
Sometimes an issue occurs that your already purchased stickers disappear or you have to load them all again, but it doesn't mean you have to purchase them again.
Move to the home screen and open Settings then click Stickers.
Then under the tab on the Sticker screen, click on my Stickers.
Under the option, all your purchased stamps will be present you just need to download them all again.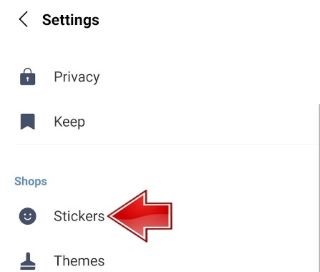 2.8 Not Enough Storage Place
Sometimes when we transfer LINE to a new phone, the history of LINE chats will not be overtaken. This issue may be due to insufficient cloud storage or the environment for communication is not good and supportive.
Go to Settings on your phone, and check the cloud storage. If it is mostly occupied, try to clear some data you do not need.
Or you can sole this problem by transferring the data to a different operating systems, and then your chat history will remain secure even the device has not had much space.
FAQs: More About LINE During Transferring
1. What happens if I delete my LINE account?
When you delete your account, all related data will also be deleted, including your purchased stickers, coins, registered phone number, friends, groups, chat history, and registration with other authorized apps.
2. How long does LINE take to transfer data?
It depends upon the size of your data, if you are transferring a large file then it may take some hours or if the size of transferred data is small it can be sent instantly.
Conclusion
In this article, we mention the process of data transferring through LINE on different operating systems. Along with this, we discussed all the reasons and solutions to fix LINE can't take over when changing models. We also recommend using some professional tools with LINE to do all these processes.