Step-by-Step Guide: How to Download Facebook Videos on Your PC
Category: Videos Maker
6 mins read
Are you looking for an easy and quick way to download facebook videos on your PC? If so, then this article is for you! In it, we'll go over how to download Facebook videos using three simple steps.
We'll also discuss why you need a Facebook video downloader for PC, some alternatives to consider, and the top facebook downloader for PC - iMyFone TopClipper.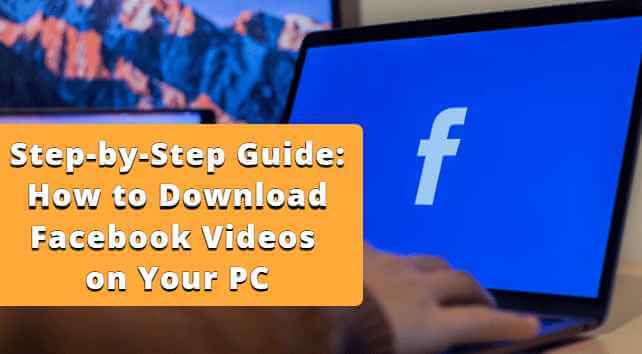 By the time you finish reading, you'll have all the information and tools needed to download Facebook videos on your PC in no time!.
How to Download Facebook Video in 3 Steps
Facebook videos are a great way to entertain and engage with your friends, family and followers. Unfortunately, not all videos can be downloaded directly from the platform.
Luckily, various third-party apps and websites enable you to download videos without hassle. Here are three simple steps on how to download facebook videos for pc. 
Step 1: Find the Video You Want to Download 
The first step is to find the video you want to download from Facebook. To do this, open the app or browser tab where you have opened your Facebook account and search for the video using keywords or scrolling through your news feed. Once you find it, click on it and ensure it plays correctly before continuing. 
Step 2: Copy the Video's URL 
Once you have found and verified the video is playing correctly, right-click on it and select "Copy Link Address" or "Copy Facebook Video Link " (the exact wording may differ depending on which browser you use).
This will copy the direct link of that specific video so it can be pasted into a third-party downloader app or website later.  
Step 3: Use a Third-Party App or Website 
The last step is transferring that copied link into a third-party application or website to begin downloading the video. There are many options available for this purpose – free and paid – so take some time researching different ones until you find one that fits your needs best we recommend websites such as iMyFone TopClipper.
After selecting an app/website of your choice, simply paste the link from Step 2 and follow any additional instructions provided (such as entering your email address for verification purposes) to complete the downloading process.
Why Do You Need a Facebook Video Downloader for PC
When downloading videos from Facebook, a facebook video downloader for PC is essential. While it may seem easier to simply share the video link on your other social media accounts or even messaging apps, there are several reasons why having a facebook downloader for pc can be beneficial:
1

Convenience

A Facebook video downloader for PC is a great tool for anybody who wants to access their favorite videos quickly and easily. With this type of software, you can download any type of media file from Facebook and store it on your computer, so that you can watch it whenever you like without having to go back to the site to re-download it again.

This makes it much more convenient than relying on streaming or other methods of accessing content online. Plus, if you have limited bandwidth or are in an area with poor internet speeds, downloading your videos directly may be the best way to ensure you can still watch them without interruption.
---
2

Offline Accessibility

Another great benefit of using a Facebook video downloader for PC is that it gives you the ability to watch your videos offline. This means that even when there is no internet connection available, such as when traveling or being in a remote location, you can still watch your favorite videos as long as they're stored on your computer.

This makes it easier to keep up with the latest updates from friends and family, especially when away from home for extended periods of time.
---
3

Security

Facebook videos can contain sensitive data which should not be seen by anyone other than yourself. By downloading facebook videos from a Facebook downloader for pc, you can keep this data secure and private.
---
4

Organization

Using facebook video downloaders for pc helps to keep all of your Facebook videos organized in one place. With the ability to organize them into categories, it is also much easier to find specific facebook videos that you need or wants to watch again.
---
5

Share Easily with Friends

Having a Facebook Video Downloader for PC makes it easy to share videos with friends outside of the platform too. Instead of sending each other countless links and risking that they may not work on all devices (due to different operating systems), you can simply download the video and email it as an attachment instead so that anyone can view it without needing a Facebook account.

Additionally, since these files are much smaller than streaming online versions, they won't take up as much data when transferring them over via email or chat services like Skype either.
Other Facebook Downloaders for PC
Other facebook downloaders for PC include Getfvid.com , a free facebook video downloader that supports various video formats such as MP4 and AVI. This facebook video downloader is browser-based and easy to use online.
Depending on your preferences, it provides options to save facebook videos in HD or SD quality. Additionally, you can also add subtitles to the video if desired.
Another facebook downloader for PC is FBDownloader. This facebook video downloader is a desktop application that can be installed on Windows and Mac systems. It supports multiple formats, such as MP4, MPG, MOV, and AVI.
The user interface of this facebook downloader for pc is easy to navigate and offers an extensive range of options to customize the download video process.
Facebook Video Downloader App for PC is a comprehensive facebook video downloader that can save facebook videos with just a few clicks. It supports multiple formats, including MP4, AVI, WMV, and MOV.
Additionally, you can choose the quality of the facebook video you wish to download. It's simple and convenient, making it ideal for those who need an easy way to save Facebook videos on their PC.
TopClipper—Versatile Facebook Downloader for PC 
iMyFone TopClipper is a versatile Facebook downloader for PC that makes it easier than ever to save videos, photos, and other content from the world's biggest social media platform.
It's designed to easily locate and download almost any content from a wide range of sites and platforms quickly and securely. With TopClipper, you can now access all your favourite clips, images, and more with just one click. Here are five of the best features that TopClipper offers.
1

Quick Search
---
TopClipper allows users to quickly search through their Facebook feed to find the videos they want to download. The software uses its advanced algorithm to scan the entire page and extract keywords embedded in each post or video. This allows users to find exactly what they're looking for without manually scrolling through their entire timeline. TopClipper will also provide related searches that could help narrow down the results even further when searching for specific topics or phrases. 
2

Customize 
---
Once users have located a video or post they would like to download, they can customize it before downloading it onto their PC.
They can choose from different resolutions (HD or SD) and sizes (normal or small) and even add subtitles if needed. This feature gives users more options when saving their files so they can enjoy them in their preferred format without any quality loss. 
3

Save Video
---
 After customizing the video as desired, users can save it onto their computer with just one button click. All downloaded files are automatically stored in a designated folder on their machine to be easily accessible whenever needed.
Furthermore, with TopClipper's intuitive interface, saving these videos takes only seconds, no matter how large or small the file is! 
4

Automatically Crop Brand-New Videos
---
Another great feature of TopClipper is its automated cropping software which allows users to crop out unwanted elements from newly uploaded videos before downloading them onto their computer.
This includes removing ads and other irrelevant content from the clip so that only the important portions remain intact upon saving. Thanks to this app or software, users no longer need to worry about watching ads whenever they watch a new video!
5

Extract & Save Audio Freely
---
With this amazing program, users can also extract audio from any video and save it separately in any desired format, such as MP3 or WAV, depending on what works best for them. This gives them greater flexibility when playing back music or audio clips on compatible devices since players do not support all formats.
Furthermore, thanks to TopClipper's user-friendly interface extracting audio has never been easier; simply select your desired format and let the software do the rest!
Conclusion 
Although downloading videos from Facebook to your PC can be a little tricky, it is still possible to do so with the right tools and know-how.
With the help of a reliable video downloader like fbvideodownloader, you can easily and quickly download your favourite videos from Facebook without any hassle. You can also try other shortcuts like TopClipper for downloading facebook videos.
With iMyFone TopClipper, a Facebook video downloader for PC, is much more convenient and accessible than ever before. As a free facebook video downloader for PC, it provides users with an affordable way to access their favourite content on facebook without having to worry about compatibility or cost.
Try TopClipper today for a truly comprehensive Facebook video downloader for a PC experience. So what are you waiting for? Start downloading your favourite Facebook videos now!