10 Best Fdownloader Alternative to Download Facebook Videos Without Watermark
Category: Videos Maker
6 mins read
fdownloader is a great tool for downloading videos from Facebook, but it may not always be the best option. Whether you need features like batch downloading or want to try something new, plenty of fdownloader alternatives are available.
Here we look at 10 fdownloader alternative app or software to help you download high-quality Facebook videos without watermarks. We also introduce our top pick, iMyFone TopClipper, a powerful and user-friendly fdownloader alternative for downloading Facebook videos without a watermark.
Read on to learn more about the best fdownloader alternatives for downloading Facebook videos without a watermark. Let's get started!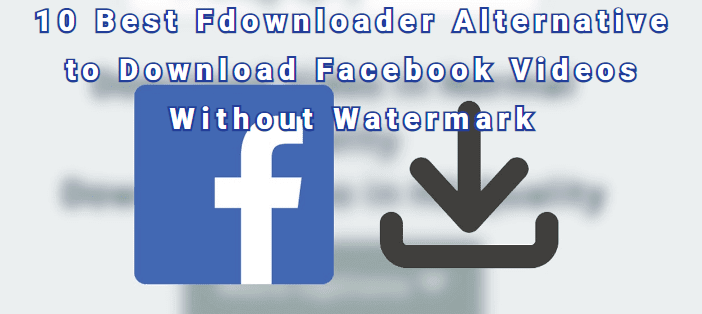 Top 10 Fdownloader Alternatives
Fdownloader is a popular tool for downloading videos from the internet. It provides a fast, easy and secure way to download videos from websites and social media platforms like YouTube, Facebook, and Instagram.
However, many fdownloader alternatives offer better features and capabilities than fdownloader. Here is a list of the top 10 fdownloader alternatives. 
1

TopClipper

iMyFone TopClipper is one of the most popular fdownloader alternatives due to its powerful features and intuitive user interface. It allows users to quickly and easily download videos from websites such as YouTube, Facebook, Vimeo and many more.

The software also includes an advanced editing app or software allowing users to customize their videos before downloading them. TopClipper supports both Windows and Mac devices and has an incredibly fast download speed making it perfect for those who need to get their videos quickly.
---
2

Downloader for Facebook

Downloader for Facebook is another great alternative to fdownloader that allows users to quickly download videos from their favourite social media platform.

With this software, you can easily save your favourite memories or upload new ones with just a few clicks of the mouse. This program also includes advanced editing tools like cropping, trimming and resizing to ensure your videos look perfect before they are downloaded to your computer or device. 
---
3

Video Downloader and Stories

Video Downloader and Stories is another excellent fdownloader alternative that lets you easily save your favourite stories on social media platforms like Instagram, Twitter and Snapchat.

This software has an intuitive user interface that makes downloading stories quick and easy while giving users access to powerful editing tools so they can customize their content before downloading it for permanent storage or sharing with others online.

The program also supports multiple languages, making it perfect for individuals worldwide who speak different languages but still want access to powerful video-downloading software. 
---
4

Vidownloader

Vidownloader is yet another great fdownloader alternative that offers an impressive array of features, including an intuitive user interface that makes downloads simple even for beginners.

This program also provides advanced editing tools, so you have full control over how your content looks before it's committed to long-term storage or shared with family or friends online.

Additionally, Vidownloader supports multiple file formats, so you can safely store your files in any format compatible with your device, whether a smartphone or laptop computer, without worrying about compatibility issues down the road when trying to open them again in the future. 
---
5

Video Downloader

Video Downloader is one of the most widely used FB downloaders due to its ease of use combined with its comprehensive set of features, such as advanced editing capabilities allowing users complete control over how their content looks before committing it permanently onto their hard drive or sharing online with others on any given platform including YouTube, Vimeo & Twitch among many more streaming services out there today.

What's even better is this program supports multiple file formats with an internet download manager, which ensures compatibility between various devices regardless of operating system & type, meaning no matter what device you're using (iPad/iPhone/Android), you can rest assured that what you've downloaded will always work properly when accessed again later on down the line!
---
6

Free Video downloader for Facebook – Video Saver

The "Video Saver" app allows users to easily download any Facebook video they find by simply pasting the URL into the app & then waiting for the file to be downloaded onto their device.

It's an incredibly fast process, with no need to wait for conversion or anything like that, as it can all be done in a few seconds. Perhaps the best part is that it's completely free & doesn't require any payment to use, meaning you can start downloading right away!
---
7

Save Status

Save Status is a great fdownloader alternative because it allows you to easilydownload any Facebook video without paying for the premium version of the downloader.

It's easy to use and offers high-quality downloads that don't take up too much space on your device. You can also convert videos into different formats to make them compatible with your specific device.
---
8

Video Downloader for FB

Video Downloader for Fb is a great fdownloader alternative because it's incredibly easy to use and free download manager!

It allows you to download videos from Facebook without paying for the premium version of fdownloader. You can even convert videos into different formats to be compatible with your specific device.
---
9

Download Mate

Download Mate is a highly versatile software solution that enables you to download files from the internet quickly and easily. It supports various media formats, including videos, music, documents, photos, etc.

With its intuitive user interface, you can easily configure settings to suit your needs. It also boasts an impressive collection of tools that make downloading content as simple as clicking a button. Its advanced features, such as automated schedule downloads, speed optimization and malware detection, give it an edge over other fdownloader alternatives.

Moreover, it offers unlimited downloads without any limitation on file size or type, allowing you to enjoy maximum convenience while downloading your favourite content. 
---
10

Face Video Downloader 

Face Video Downloader is an effective tool for downloading online videos from various sites, including YouTube Videos, Vimeo and Dailymotion. Its simple, user-friendly interface is easy to use, allowing users to drag and drop links directly into the program for speedy downloads.

Furthermore, it provides high-speed downloads with support for multiple youtube videos easily.

Additionally, it comes with several advanced features like batch processing which allows users to download multiple files at once; automatic video conversion, which allows converting downloaded video files into different formats; and even a built-in video player for viewing downloaded videos directly from within the app itself!

All in all, Face Video Downloader is one of the most comprehensive fdownloader alternatives out there!
TopClipper—Best tool for downloading Facebook Video without Watermark
Here are the Simple Steps to Download Facebook Videos without a Watermark with iMyFone TopClipper.
Step 1. Go to the TopClipper website and click the "Download" button.
Step 2. Copy the video URL from Facebook that you want to download.
Step 3. Paste it into the download bar of TopClipper and hit enter.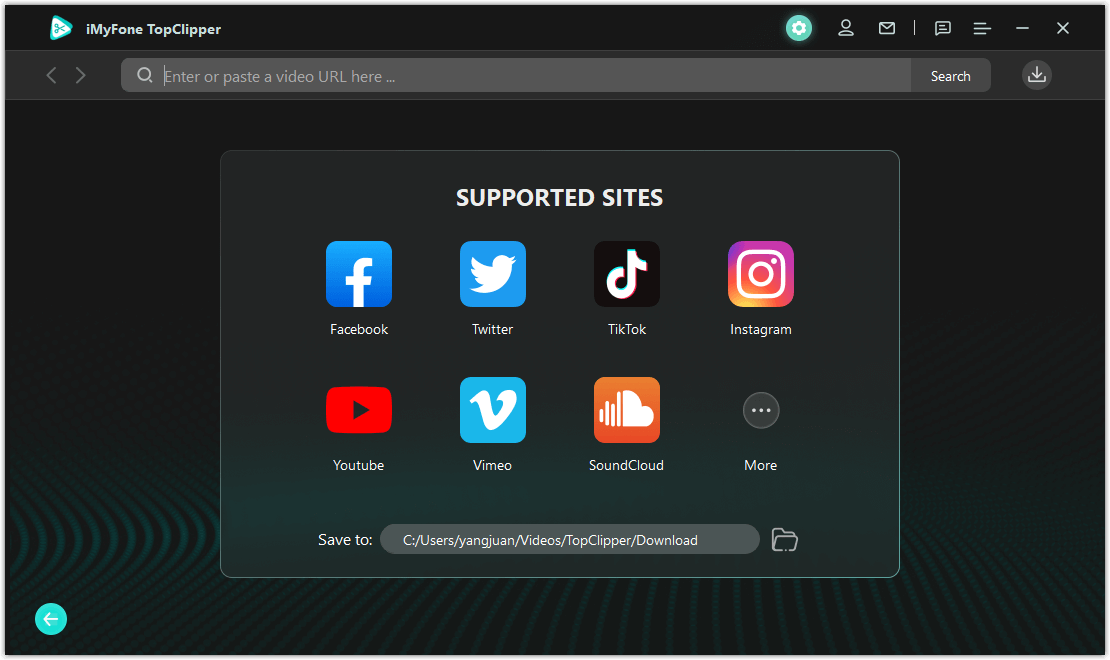 Step 4. Select the video quality you want to download.
Step 5. Click the "Download" button and save the video to your device.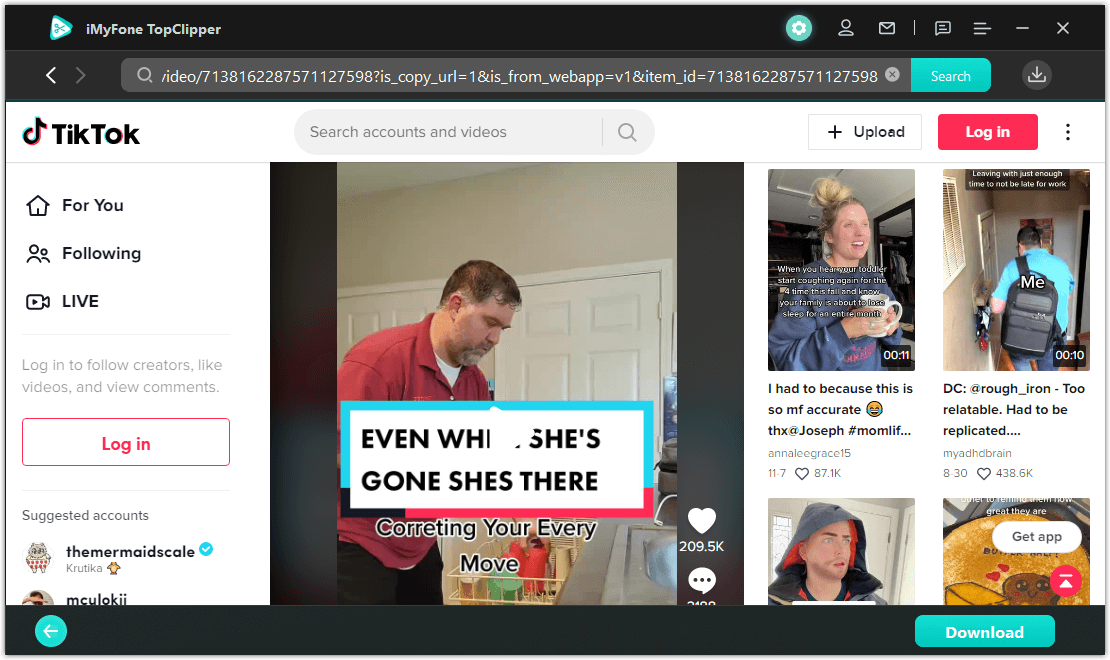 Features of Topclipper Tool
iMyFone TopClipper is a powerful and convenient video-downloading platform that will help you customize, crop, and effortlessly save videos. This article closely examines five of TopClipper's best features and explains why they make it the perfect choice for downloading Facebook videos. 
Quick Search 

---

TopClipper makes it easy to quickly search for your desired video with just a few clicks. The intuitive user interface allows you to type keywords or phrases related to the video you're looking for. After entering the information, the app will automatically search through a vast database of videos and display relevant results, so you can easily find what you need. 

Customize The Video

---

Once you've found the exact video you want to download, TopClipper provides users with customizable options that allow them to personalize the clip according to their preferences. You can choose from editing tools such as trimming, cropping, adding captions, or simply leaving it as is if desired.  

Automatically Crop Brand-New Videos  

---

With TopClipper's newly developed technology, users can automatically crop brand-new videos without having to manually do so. This feature saves time by allowing users to quickly crop out any unwanted content while preserving the video's original quality.  

Save Video  

---

TopClipper also offers users an easy way of saving their edited video onto their device with just one click to save online videos. Once downloaded, users have full control over where they store the file; they can choose between their phone gallery or any cloud storage service such as Google Drive or Dropbox.  

Extract & Save Audio Freely  

---

On top of that, TopClipper adds yet another bonus feature – audio extraction and saving – which is especially useful when downloading music or sound clips from Facebook videos. All users have to do is select "extract audio" from within the app before downloading; this will enable them to save high-quality audio files without any restrictions on usage or length.
Conclusion
iMyFone TopClipper is an excellent alternative to fdownloader when downloading Facebook videos without watermarks and you can download youtube videos.
Its advanced features make it quick and convenient for users to search for exactly what they need, customize how their files look before saving them, automatically crop brand-new videos for better quality downloads, and extract and save audio freely from any of their downloaded files.
Try out this amazing app or software today if you want an effortless way of downloading videos from Facebook!