Unlocking the Secrets of How Do People Make Money on TikTok?
Category: Videos Maker
7 mins read
Have you ever seen someone getting paid to post TikTok videos? Have you ever wondered how people make money on TikTok, an increasingly popular short-form video-sharing platform? It's becoming more and more common for influencers and entrepreneurs to use social media as a tool to monetize their content. So, if you have a knack for creating engaging videos and a large following on TikTok, it might be worth exploring ways in which you can turn your passion into an income stream. In this blog post, we will discuss how individuals are profiting from their content on the platform by investigating different methods of earning money on TikTok.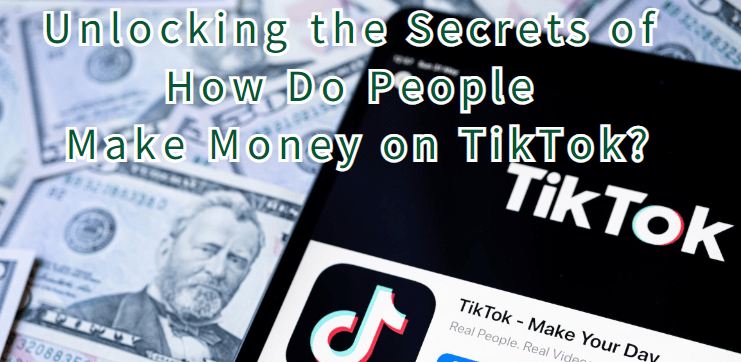 How do people make money on TikTok?
Tiktok is a popular social media platform where users can share videos and engage with other users. For many, it has become an incredibly successful way to make money on TikTok. With iMyFone TopClipper, you can easily join the ranks of those making money on TikTok.
TopClipper offers two key features that will help you succeed: the Download Video without Watermark and Create Videos Automatically functions. These features will allow you to easily turn any Tiktok video into a brand-new original Tiktok video, which you can then repost on the platform and make money from.
These tools are incredibly easy to use, allowing anyone to quickly get started making money on TikTok. With TopClipper, creating your own content has never been easier! Simply upload the video you want to work with and let the platform do the rest. Below mentioned are steps to use both features:
1

Download TikTok Videos without Watermark
---
The "Download Video without Watermark" function allows you to save videos from TikTok with just one click, in case you would like to download your favorite video or get more video content that does not have a watermark attached to it.
Launch the iMyFone TopClipper up
iMyFone TopClipper can be downloaded, installed, and launched on your computer. You can select a download mode that will allow you to download watermarked free videos.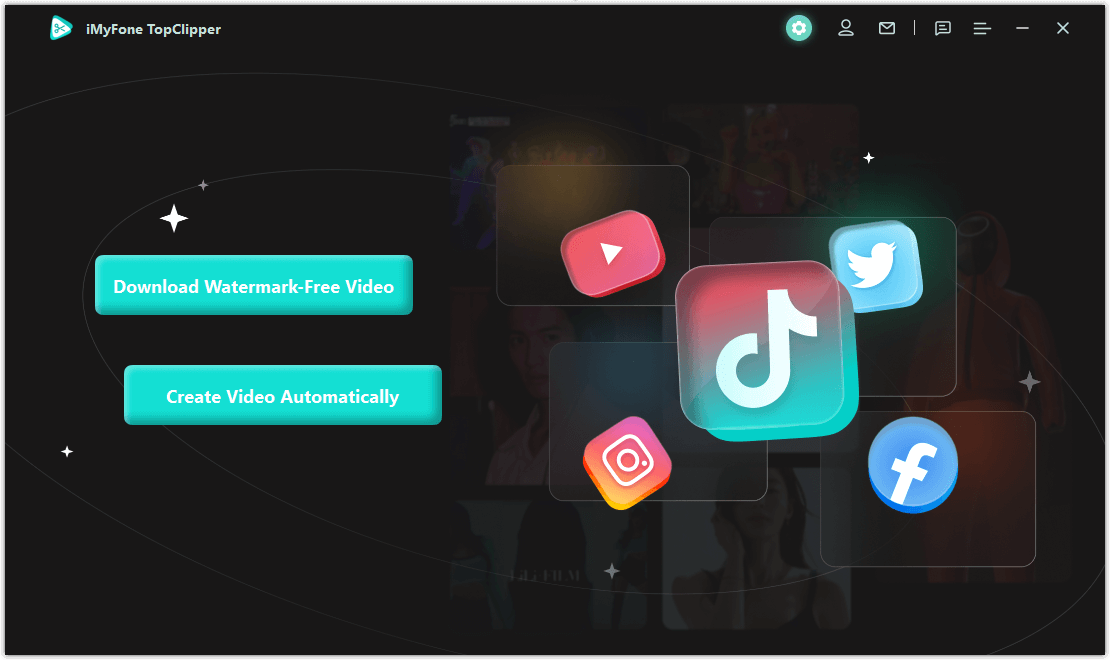 Paste the URL of the video
Enter the URL of the video you want to save and click "Search", or choose any video platform from the list and click that icon to access it directly. With the integrated browser in the iMyFone TopClipper, you can view and find your favorite videos. The program will light up the Download button when it recognizes that a video exists and supports parsing.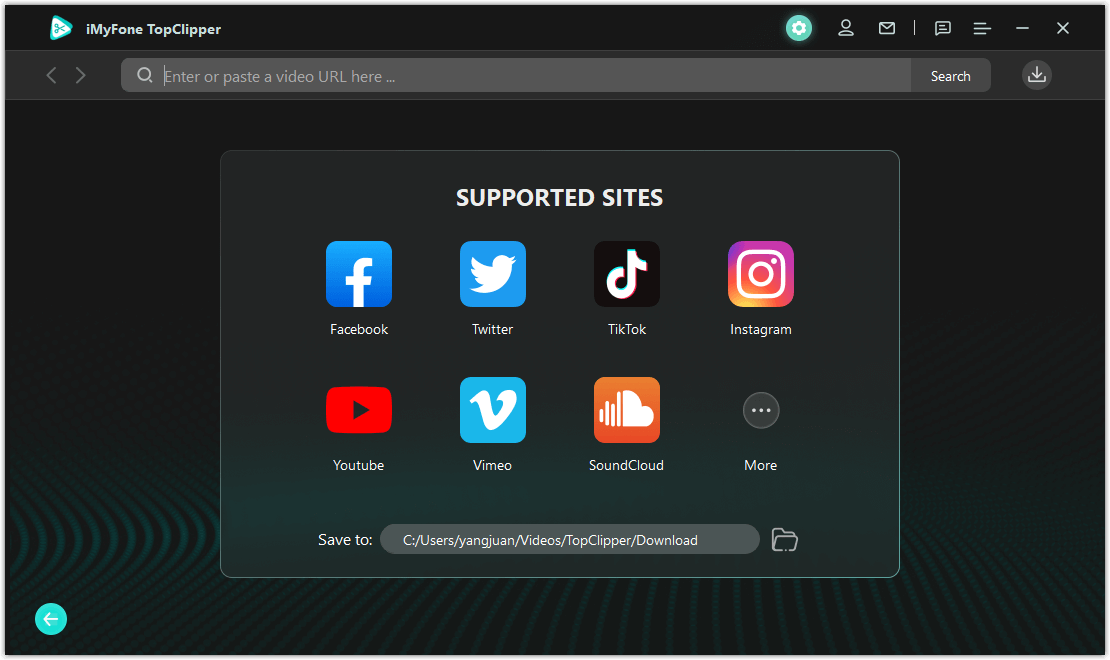 Analyze the video
For more information about the parsing process, click "Download". You can download and save the video automatically after the parsing has been finished.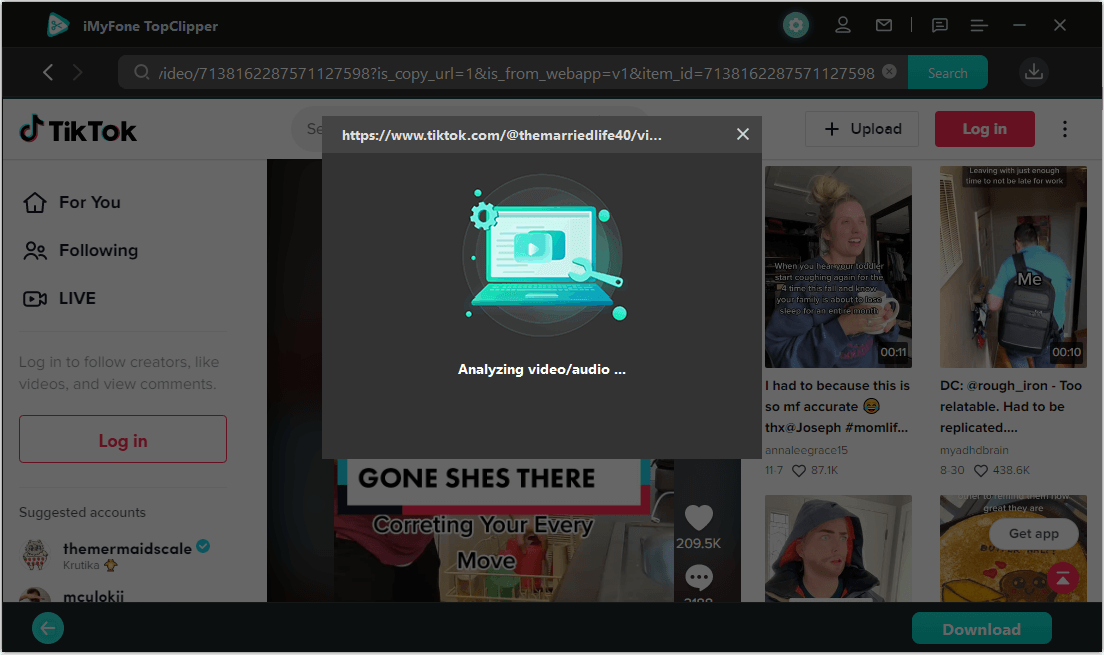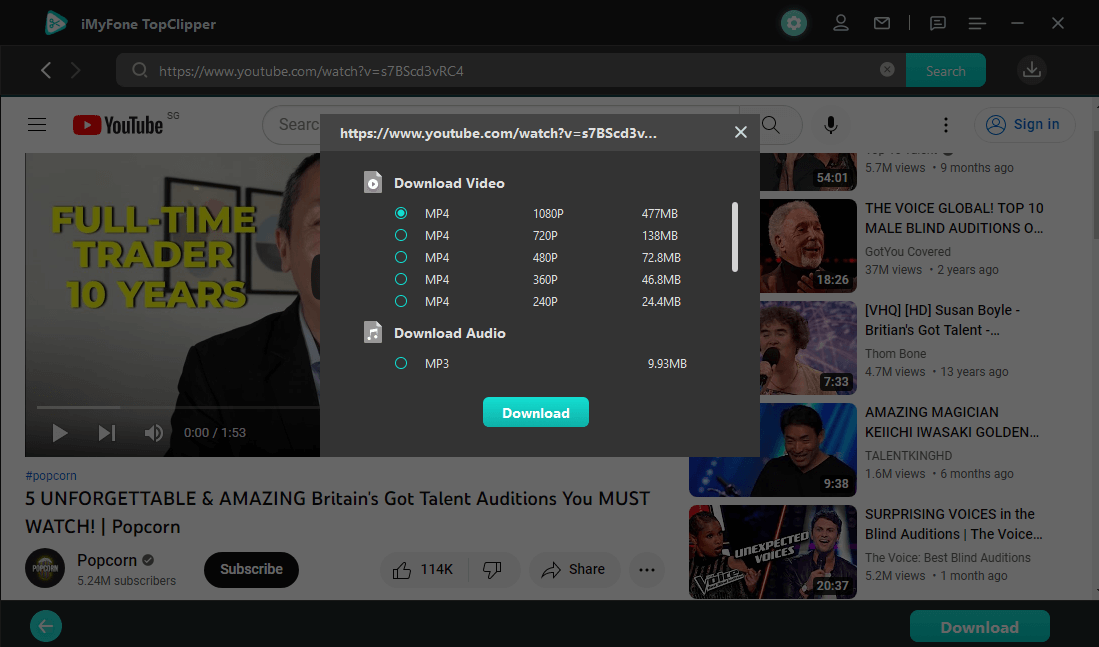 Successfully downloaded
TopClipper downloads videos at high speed in just a few minutes, so please be patient. Once the video has been downloaded, click on "Thumbnail" to see the preview, and then select "Start Creating" to edit it. If the file is saved elsewhere, you can open it there. You can also paste the video URL directly into the video URL field at the top of the page, starting the download process.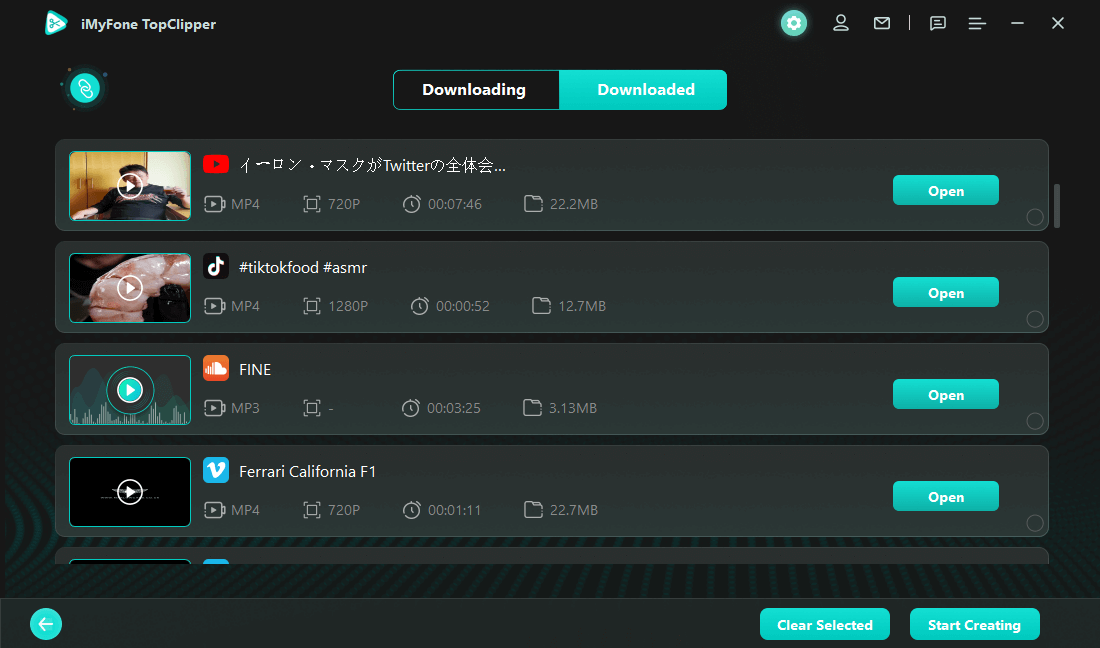 2

Automate the creation of videos
---
According to the fixed editing parameters, iMyFone TopClipper can process MP4 videos uploaded or videos with watermarks removed. The original video will be transformed into a new one once the pixels of each frame are changed. In the processing, images are flipped, picture-in-picture, frames are drawn, video duration is changed, and beginnings and ends of videos are pinched.
Start iMyFone TopClipper
Run iMyFone TopClipper after downloading and installing it. Upload a video in MP4 format using "Create Video Automatically" mode.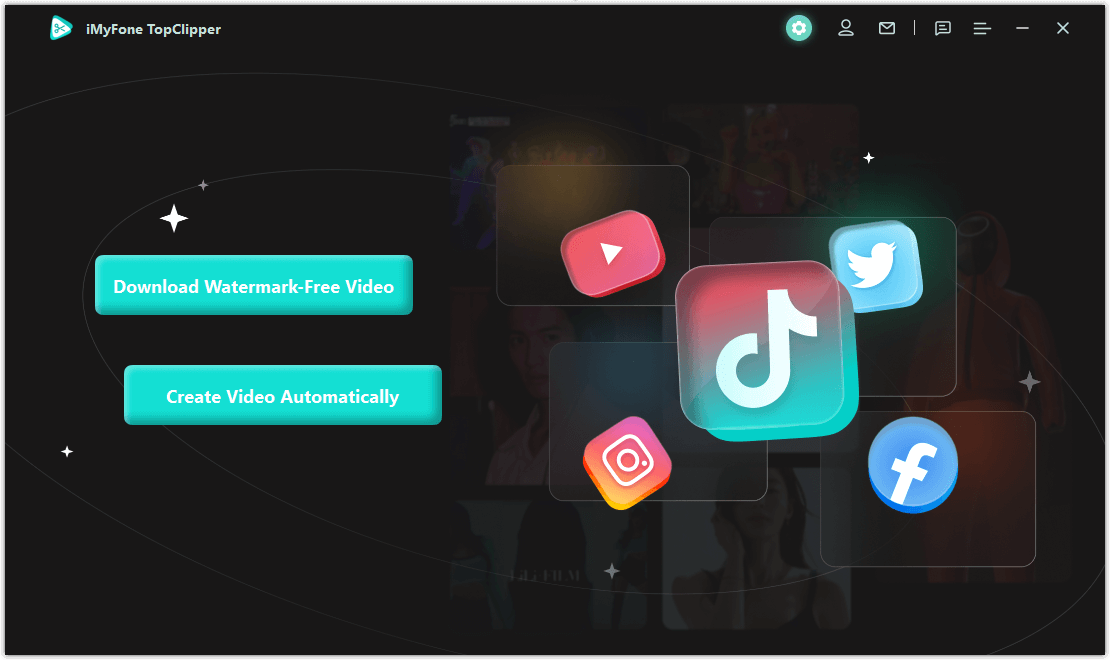 Create now
The creation preparation page will appear after the video has been uploaded successfully. TopClipper will automatically create an original video for you based on the basic data of your video. Please click "Start" once you have entered the basic information. You can also adjust the editing parameters by clicking the setting button above.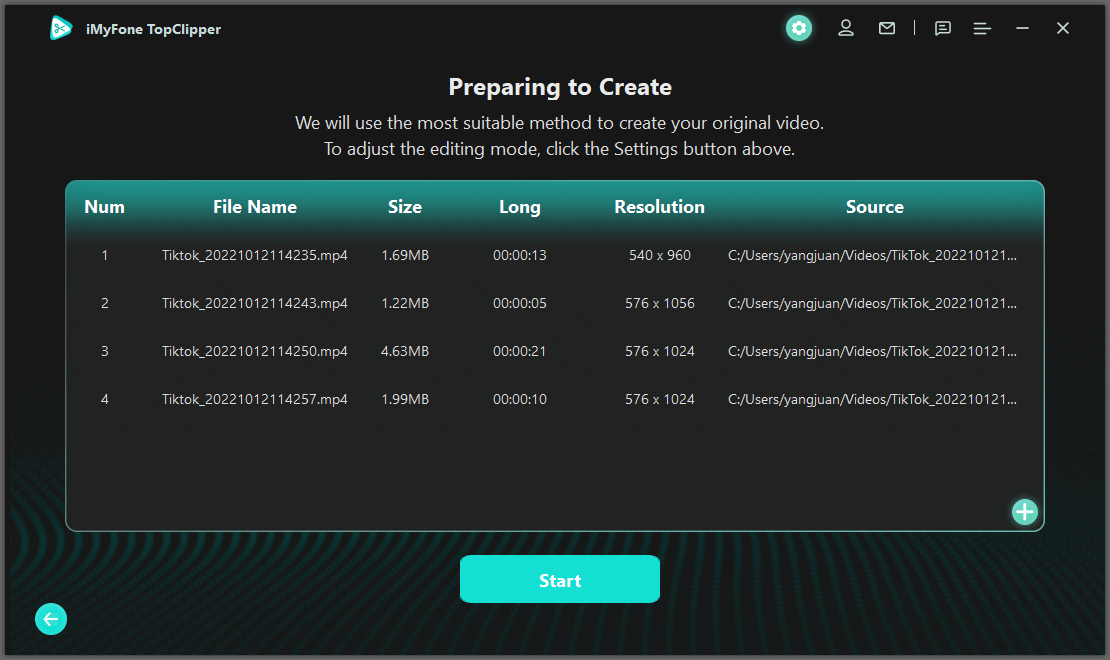 Video processing will take some time
TopClipper creates original videos for you within a few minutes, so please allow some time for this process.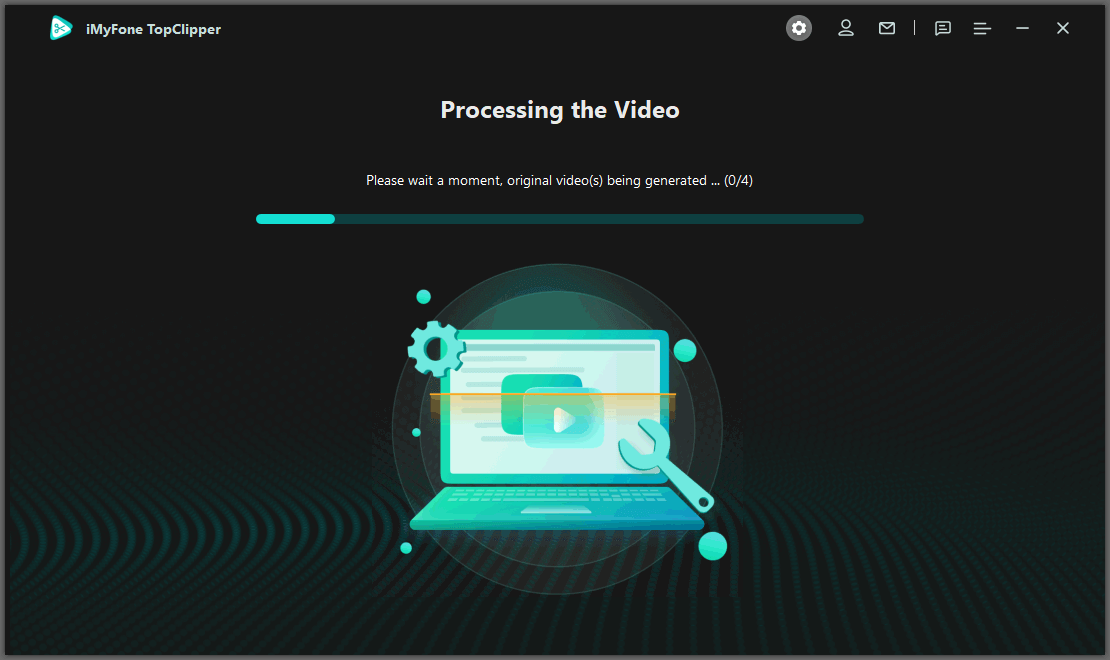 Check out the preview video
The effect of the video processing can be checked directly after the video processing is complete. If you would like to save it to your computer, click "Save".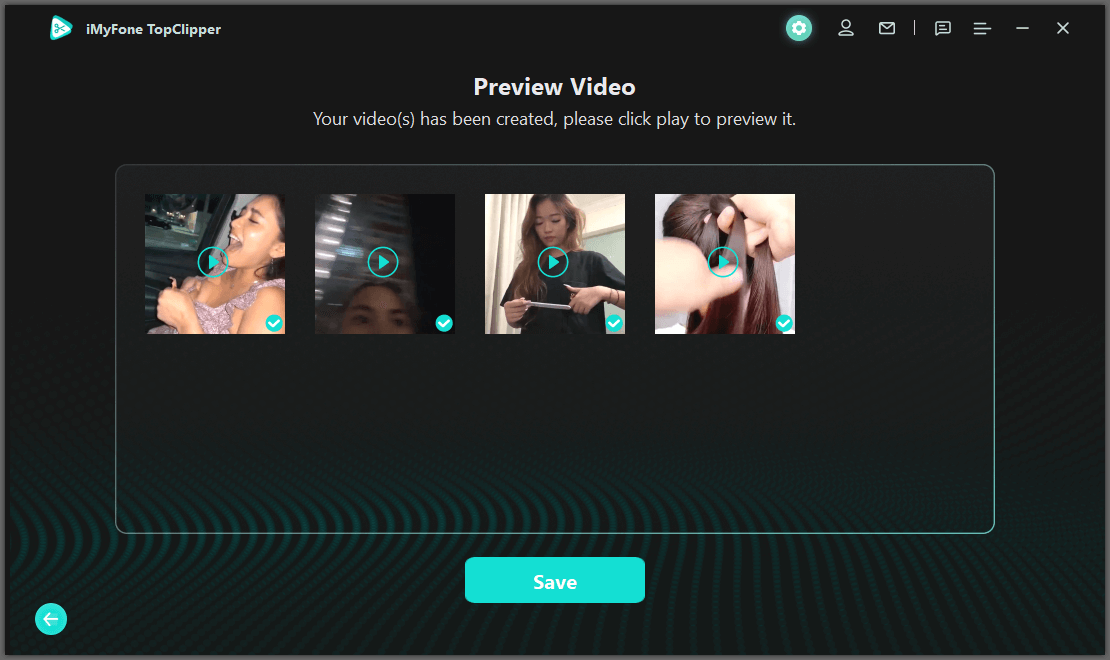 You can save the video
You can directly return to the main interface after the video has been successfully saved so you can use any of the functions again once it has been successfully saved.
Another way people make money on TikTok
The popularity of TikTok has made it an attractive platform for people who want to make money. Beyond creating entertaining content, there are several other ways to monetize your TikTok account and generate revenue.
1

Get involved with TikTok's Creator Fund
---
In this method, money can be made through an app sanctioned by the company. The TikTok Creator Fund, announced on July 22, 2020, will provide $200 million in advance for "people who aspire to start inspiring careers through their voices and creativity."
It quickly became a sensation on the internet, with an announcement that by 2023, it would reach $1 billion dollars in the U.S. But how can you obtain such sweet creator money? To apply, you need to check a few boxes:
Have a physical address in the United States, United Kingdom, France, Germany, Spain, or Italy
A minimum age of 18 is required
A minimum of 10,000 followers is required
Within the past 30 days, you have viewed at least 100,000 videos
Make sure your account complies with TikTok's guidelines
The Creator Fund is only available to TikTok Pro users (good things in life don't come for free).
2

Ads can be run on TikTok
---
You can use the TikTok ads manager to create your own in-feed ads to expand the reach of your content if you're willing to spend a little to advertise on TikTok. A TikTok ad appears in the "For you" feed of users and auto-plays just as any other TikTok video. By buying ads, you can ensure your videos reach the most relevant audiences.
This feature allows you to reach a wider audience, which means that more people may become your followers. There is a considerable cost associated with this method. Despite this, it is not impossible to become popular and crowded if you pay attention to the opportunities that are available.
3

Selling Goods or Services
---
One way to make money on TikTok is by selling goods or services. You can create videos that highlight a product or service you offer, such as an online course, and then use the platform's built-in marketplace feature to facilitate direct sales from your profile page. Alternatively, you could use affiliate marketing links in your bio to drive people to products you're promoting, and earn commissions on any sales made. You can also leverage your TikTok presence by setting up an online store to sell merchandise related to your brand or content. This could include anything from stickers and apparel to mugs and phone cases, with all proceeds going directly into your bank account.
4

Set up a TikTok shop
---
Another way to make money on TikTok is by setting up a shop within the app. This ensures that your followers don't have to leave the platform in order to purchase products from you, as they can simply make their purchases directly through your profile page. You can use this feature to sell physical items such as books, apparel, or accessories, or digital items such as music and video downloads. Additionally, you can use the shop feature to promote campaigns such as crowdfunding projects or charity donations.
TopClipper——Best tool for people making money on TikTok
iMyFone TopClipper is the perfect tool for anyone looking to make money on TikTok. With its two key features, Download Video without Watermark and Create Videos Automatically, you can easily turn any existing video into a brand-new original video that you can then repost on the platform. And with TopClipper's easy-to-use interface, you'll be able to start making money quickly and easily. So why wait? Start making money on TikTok today with TopClipper! With TopClipper, it's never been easier to make money on the world's most popular social media platform.
From downloading videos without watermarks to creating original masterpieces with flip video, picture-in-picture and frame processing features, you'll be able to make money in no time. With TikTok's algorithm-averse approach, you can easily go viral and start earning money from your creative content.
With TopClipper, you can take any existing video, whether it's your own or someone else's, and turn it into something new with nothing more than a few clicks of the mouse. The flip video feature allows you to quickly switch between mirrored and non-mirrored versions of the video, while the picture-in-picture and frame processing features let you add effects and layers to your creations. Plus, with TopClipper's extract & save audio feature, you can quickly extract sound from any video and save it as an audio file.
It's simple - start making money on TikTok with TopClipper today. With its two key features, Download Video without Watermark and Create Videos Automatically, you can quickly and easily turn any existing video into a brand-new original masterpiece that you can repost on the platform. So what are you waiting for? Get TopClipper today and start making money on TikTok tomorrow!
FAQs about how do people on TikTok make money
Can I make money on TikTok by posting videos?(Is this legal)
Yes, it is legal to post videos on TikTok and make money. You can monetize your content by becoming a verified creator, joining the TikTok Creator Marketplace, or partnering with sponsors. To get started, you will need to have a high-quality profile page and content that your followers enjoy. Once your channel has grown, there are opportunities to earn money from ads, sponsored videos, or even physical products if you have an engaged enough following.
---
How to create great video content?
If you're new to video content creation, or just don't have the time and resources to create great video content from scratch, don't worry. There are plenty of options for re-editing existing videos to make them more engaging and shareable. One way is by using iMyFone TopClipper – a simple yet powerful video editing tool. TopClipper makes it easy to download your favorite videos from popular online video platforms, and then cut and remix them with a few clicks. This can help you quickly create professional-looking videos that are sure to grab attention on social media.
---
Why are the original videos made by TopClipper the same as the videos uploaded by myself?
The original videos made by TopClipper are exactly the same as the ones uploaded by you because they are both generated using the same technology. TopClipper uses state-of-the-art video editing tools to make sure that each video is professionally edited and optimized for sharing on different platforms. All videos created with TopClipper are then uploaded directly to your account, ensuring that the original content remains authentic and untouched. This way, you get exactly the same results as if you had manually edited each video yourself. With TopClipper, you can create high-quality videos quickly and easily.
Conclusion
Now that you have a better understanding of how do people on TikTok make money, it is time to decide if this is something you would like to pursue. There are many different ways to make money on TikTok; however, creating long-term income requires dedication and hard work. It also requires having an idea or concept that resonates with people and is enjoyable to watch. If you are willing to invest the time and energy, there is great potential to make money on TikTok. It is important to remember that making money on TikTok is not necessarily easy, but it can be done if you use the right strategies.