5 Best Plugin For Facebook Video downloader with TopClipper
Category: Videos Maker
5 mins read
Are you looking for an easy way to download and share your favourite Facebook videos? Look no further - this blog is here to help! We'll cover all there is to know about plugin Facebook video download tools.
Also, we will discuss the 5 best plugins for Facebook video downloaders for Chrome and a few bonus ones, plus the best plugin of all, TopClipper! So get ready to say goodbye to plugin headaches and hello to smooth video downloads. Let's get started!
5 Best Facebook Video Downloaders For Chrome
Facebook videos have become a popular form of entertainment and communication, but sometimes it is difficult to save them for later viewing.
Fortunately, plenty of tools are available to help you easily download Facebook video. Here are five of Chrome's best Facebook Video Downloader plugins that will help you get the job done.
1

Video Downloader For FB
---
Video Downloader For FB is a free Facebook video downloader extension for Chrome that makes it easy to download private Facebook videos as well. It supports downloads up to 4K resolution, giving users access to the highest possible quality.
It also offers support for multiple languages, including English, Spanish, French and German, making it perfect for international users. Video Downloader For FB is extremely simple and intuitive, with just one click required to download any video.
It also has an automatic reload feature that allows users to resume downloads instantly after pausing or leaving their computer idle. 
2

Download Facebook Videos
---
Download Facebook Videos is another great choice when it comes to downloading videos from the social media platform. This plugin supports downloads in up to 1080P resolution, providing excellent quality and high levels of detail.
It also offers several additional features, including advanced options that allow users to customize their downloads in format and size while maintaining good image quality. The plugin also has an integrated search function which makes finding the right video much easier than before. 
3

Video Downloader Professional
---
Video Downloader Professional is another great option if you're looking for something more advanced than the others on this list. This plugin offers support for both PC and Mac platforms and HD resolutions up to 4K Ultra HD resolution.
It has many powerful features such as batch downloading capability, video conversion capabilities and even a built-in web browser where users can watch videos directly from within the application without leaving their browser window open all the time.
In addition, this plugin includes extensive options for customizing your downloads according to your needs, such as setting download speed limitations and previewing video thumbnails before beginning your download process.  
4

Fdown.net/Video Downloader Plus
---
Fdown .net/Video Downloader Plus is another great choice if you're looking for an all-in-one solution that can handle all kinds of videos from different websites, including YouTube, Dailymotion and Vimeo.
This plugin supports up to 1080P resolution but also offers additional features such as file management support, allowing users to organize their downloaded files more easily while eliminating unnecessary clutter in their computer's hard drive over time.
It also has an integrated search bar which makes it easy to find the exact type of video you're looking for with just a few clicks of your mouse button too! 
5

Video Downloader Plus
---
Video Downloader Plus is yet another excellent choice when loading videos from Facebook quickly and easily, with its fast download speeds reaching up to 4K resolutions on some devices! This particular plugin also offers unique features such as automatic frame detection, which helps users detect regions with higher image detail to optimize their viewing experience without manually setting each frame's boundaries themselves!
Additionally, Video Downloader Plus includes other helpful tools, such as integrating with popular cloud storage services like Google Drive or Dropbox, so users don't have to worry about filling up their hard drive space over time. With this downloader, downloading videos from Facebook is a breeze!
A Few Bonus Facebook Video Downloaders for Chrome
If you're looking for more options than just the usual Facebook video downloaders, Here are some more great plugins or tools for Facebook video downloaders to choose from include:
1

Internet Download Manager
---
The Internet Download Manager (IDM) is one of the most popular bonuses for Facebook video downloader Chrome. It's a powerful tool that can easily help you download your favourite videos without hassle.
IDM is very easy to use; you must paste the link into the program, and it will start downloading automatically. The program also offers advanced features such as scheduling downloads, browser integration, and more. It even allows users to pause and resume downloads if needed.
It has an advanced scheduler for scheduling downloads, automatic virus checking for downloads, multi-threaded downloading for faster file transfers, the ability to connect with different proxies and more. IDM also integrates with Chrome browser, so it's easy to quickly grab any video you find on your newsfeed and start downloading it. 
Lastly, it supports multiple browsers, including Google Chrome, Firefox, Edge, Safari, etc., making it a great choice for anyone who needs a reliable and efficient way to quickly download their favourite videos from Facebook. 
2

YouTube 4K Video Downloader:
---
Another great useful Facebook video downloader for Chrome that might come in handy is YouTube 4K. This program allows users to quickly and easily save Facebook videos and youtube videos in 4k resolution.
It also provides many other features, such as batch processing to download multiple videos simultaneously, converting videos into different formats, and previewing the downloaded files before saving them to your computer or mobile device – all within a few clicks!
YouTube 4K Video Downloader allows users to customize their downloads with several settings like speed limiters or proxy servers if needed. And lastly, this software works with almost all popular browsers, including Google Chrome and Firefox, making it a great choice for those who need an efficient yet easy-to-use bonus Facebook video downloader for their Chrome browser.
It supports all popular video formats, including 4K resolution videos and audio formats like MP3 or WAV. It also has batch processing capabilities, which means you can select multiple files and start their downloads simultaneously without interruption.
TopClipper is the Best tool for Downloading Facebook Videos without Watermark.
If you're looking for an easy-to-use plugin Facebook video downloader without any watermarks, iMyFone TopClipper is your best bet. It is a professional plugin that helps you download videos from Facebook without leaving any watermark. All you need to do is follow these simple steps:
First, copy the Facebook video link, paste it into TopClipper and hit enter.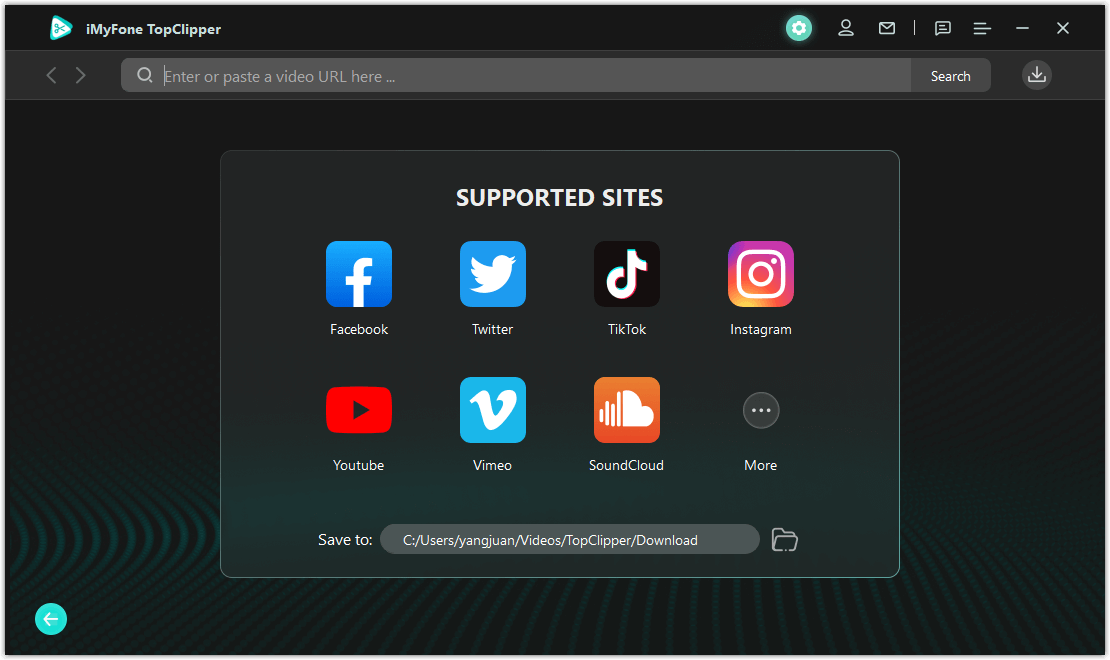 Log in to your Facebook profile and visit the page with the video you want to download.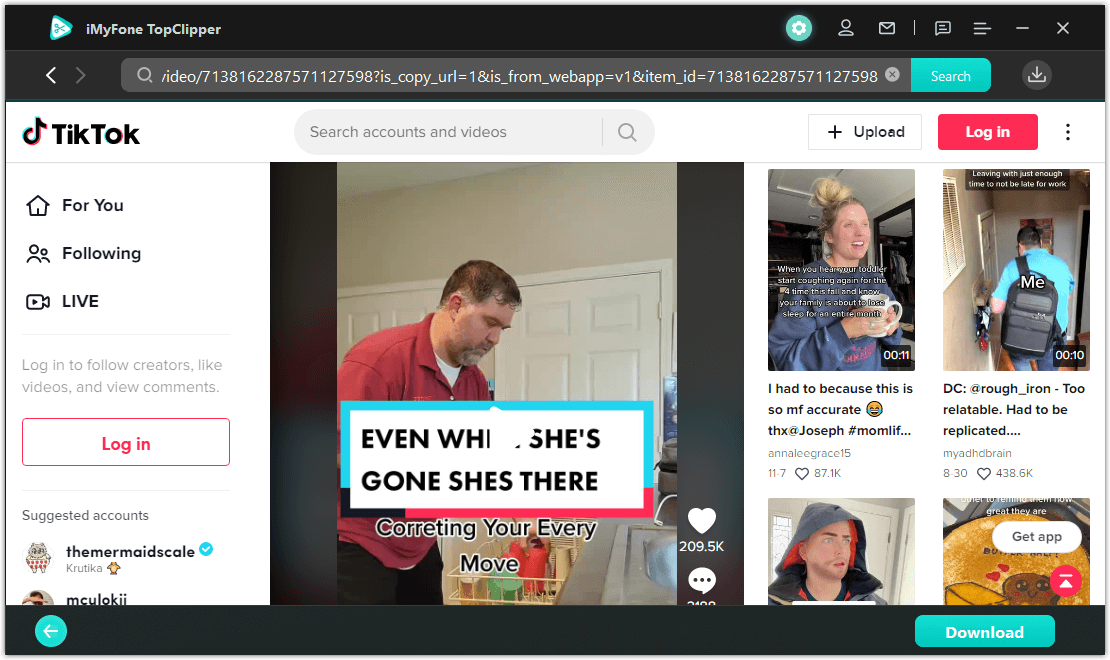 Select the resolution that you want your downloaded video in.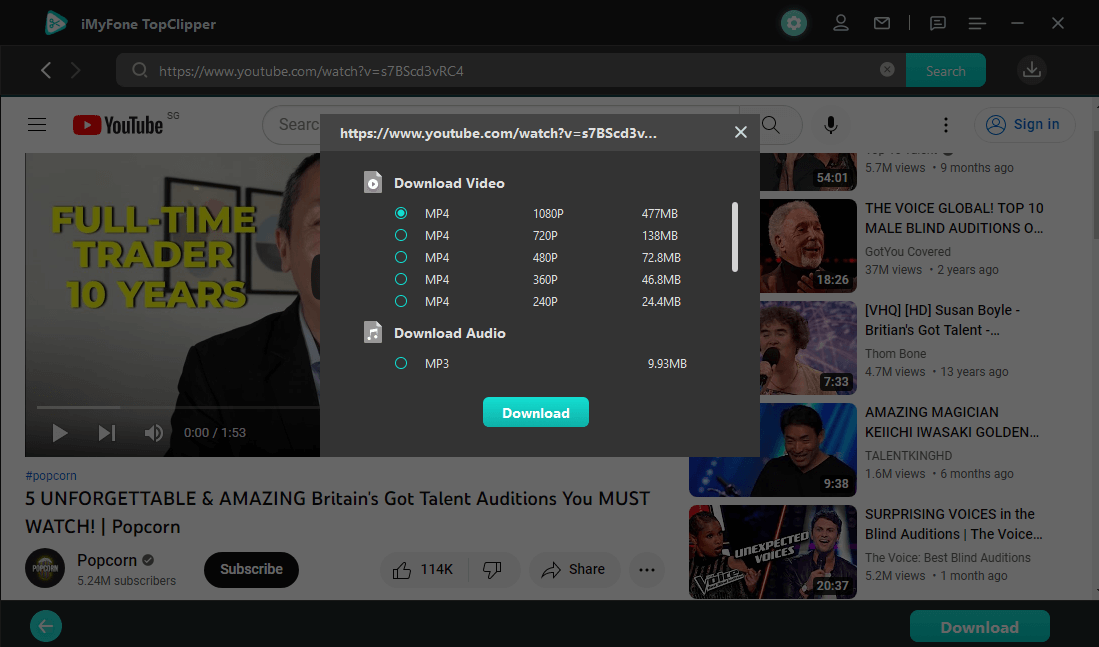 Right-click on the video, then select "Download" from the context menu that appears.
iMyFone TopClipper will automatically begin downloading the video without any watermark or other unwanted elements.
TopClipper is the best tool for downloading Facebook videos without watermarks. It is a free, easy-to-use, powerful media downloader that can help users download any video from Facebook with high quality and no watermarks.
With TopClipper, you can quickly and easily search for videos in the library, customize them according to your needs, save them for future reference, or extract and save audio on your computer or device. 
Features of TopClipper
1. Quick Search

The quick search feature of TopClipper allows users to quickly find the videos they are looking for in the library. The search bar allows users to enter keywords related to the topic of their video and get relevant results instantly. Users can also filter their searches by category, language or country, making it much easier to find exactly what they are looking for. 

---

2. Customize The Video

With TopClipper's customizable editing tools, users can edit videos according to their needs. They can crop the original video, adjust its size or add effects such as text bubbles and captions. Additionally, they can add music and sounds to their videos, giving them greater control over their final product.

---

3. Save Video

One of the key benefits of using TopClipper is that it allows users to save their creations directly onto their devices or computers with just one click download button. By doing this, they can easily access their favourite videos anytime without going through a lengthy downloading process whenever they want to watch them again.

---

4. Automatically Crop Brand-New Videos 

TopClipper has a special feature called "Automatic Crop", which automatically crops newly downloaded videos into various sizes to be more suitable for sharing on different platforms such as YouTube or Vimeo. This feature helps ensure that all shared videos have been properly resized according to the platform's guidelines, saving time and effort when sharing on different sites.

---

5. Extract & Save Audio Freely 

Another great feature of TopClipper is its ability to extract audio from downloaded videos and save it freely on users' devices or computers. This allows people who wish to listen to these audio files without having to watch the entire video repeatedly, making this feature very useful for those who wish to record audio from video files without much fuss.
Conclusion:
In conclusion, iMyFone TopClipper is a plugin for Facebook Video Downloader for Chrome that offers a variety of features to make downloading videos from Facebook easier and more efficient.
It allows users to save videos with or without watermarks, resizes them based on the platform's standards, and extracts audio from video files in just a few clicks.
Regardless of your needs, TopClipper is the perfect plugin for downloading videos from Facebook without any hassle. So why wait? Go ahead and get this plugin today to make your life easier!