How to Download Shortcut facebook video with Topclipper
Category: Videos Maker
4 mins read
Are you looking for easy ways to download facebook videos? Whether for personal or work-related use, there are several shortcuts, apps and tools available that can help.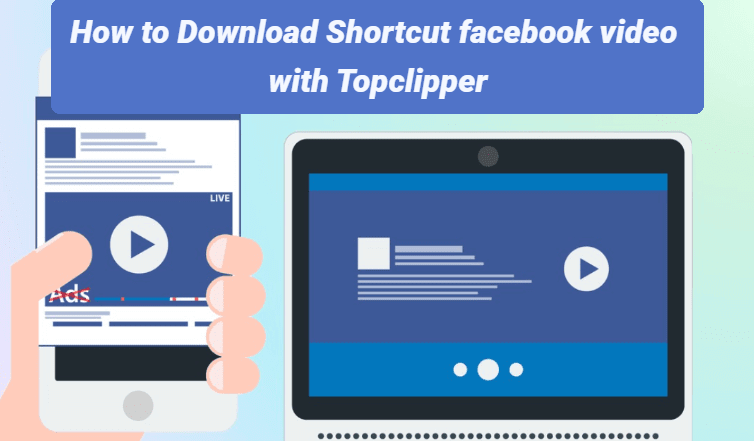 In this article, we'll discuss how to download facebook videos with shortcuts and the best facebook video-downloading application- iMyFone TopClipper.

You will learn how to use Facebook video download shortcut scripts and the benefits of using TopClipper. Read on to find out more!
How to Download Facebook Videos with Shortcuts 
There are several ways you can download Facebook videos directly without any third-party applications. One such method is through shortcuts that enable you to download Facebook videos with just a few clicks. Here's how you can do it:
Step 1

Launch your Web Browser 

The first step in downloading a Facebook video is launching your web browser. You may use a standard web browser such as Chrome, Firefox, Safari, or Edge. Alternatively, you can also use a mobile device such as a smartphone or tablet. 
Step 2

Go to the Facebook Website 

Once you have launched your web browser, head over to the official website for Facebook; here, you will need to log into your account if you are not already logged in. Once logged in, focus on the video you want to download onto your device. 
Step 3

Find the Video File URL 

Now that you are on the page where the video is located select it by clicking it and then right-click on it with your mouse pointer (or long press if using a mobile device).

This will bring up an options menu which should give you an option called "show video URL" or something similar, depending on your browser.

Select this option and copy the link that has just appeared on your screen (you can do this by either pressing ctrl + C or selecting copy from the options menu). 
Step 4

Paste the URL into Your Downloader App 

Now paste this copied link into a shortcut app that downloads videos from social media websites such as YouTube and Instagram. Popular downloaders include MyVideoDownloader, Video Downloader Pro+, GetfVid and more (many of these have free versions available). Many apps allow users to quickly and easily download videos onto their devices with just a few clicks.
Step 5

Download Your Video  

Once you have pasted in the link, simply click 'download' and wait for the video to be saved onto your device. Depending upon your internet connection speed, this could take anywhere from several seconds up to several minutes, depending upon how large and long the file is. Once downloaded, simply open it with any media player, such as VLC Media Player or Windows Media Player for PC users and QuickTime for Mac users.
How to Use the Facebook Video Download Shortcut Script
If you prefer to use a script for Facebook video download, then you can use the Facebook Video Downloader Script. This script allows users to quickly and easily download Facebook videos using just a few simple clicks. Here's how it works:
Step 1: Access the Script 
The first step is to access the script by visiting FVD's official website. Once you have accessed the website, click on the "Download" button at the top of the page.
Step 2: Install Script 
Once you have downloaded the script, install it as you would with any other software. You will be prompted to enter your facebook app login details, so make sure you have them to hand before continuing.
Step 3: Select Video 
Once the script has been installed, open it up and select the facebook video you wish to download. You can do this by entering the URL of the facebook video in the search bar at the top of the page.
Step 4: Download the Video 
Once you have selected the Facebook video you want to download, click on the "Download" button at the bottom of the page. The Facebook video will then be downloaded onto your device.
How to Download Facebook Videos with TopClipper
iMyFone TopClipper is another facebook video download shortcut that simplifies the video download process. It provides an easy-to-use interface and allows you to select from multiple options for video quality, file size and format.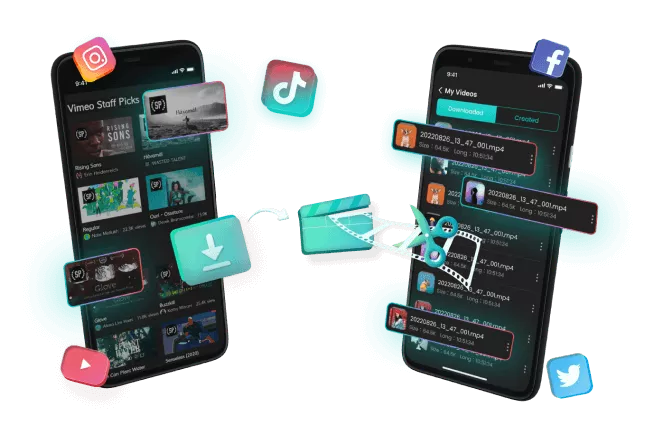 TopClipper Key Features:
Download Social Videos from Any Website without Watermark
Automatically Crop Brand-New Videos with Ease
Extract & Save Audio Freely
10% OFF Coupon Code: TC10OFF
Step 1. Install TopClipper 
The first thing you need to do before downloading a video from Facebook is to install the TopClipper application. This quick and easy download can be accessed through the official website or by searching for it in your app store on mobile devices such as Android and iOS. After installation, open the app and log in using your Facebook credentials.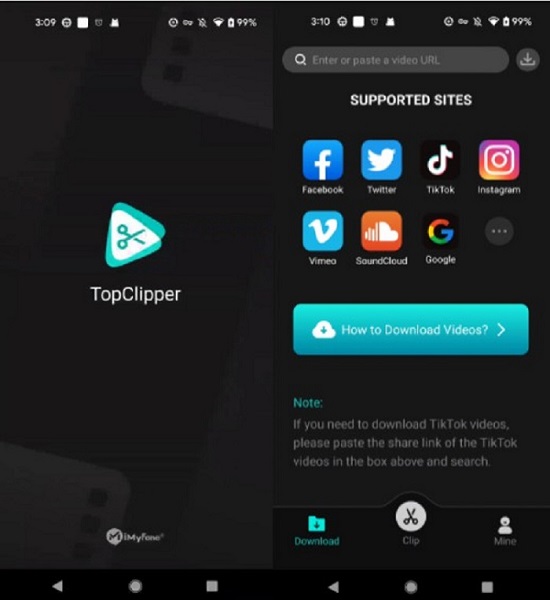 Step 2. Locate Your Desired Video 
Once you have logged in, browse through the available videos until you find the one you want to download. You can also use the search bar at the top of the page if you know exactly what video you are looking for. Once located, tap on it and select "Download" from the options menu.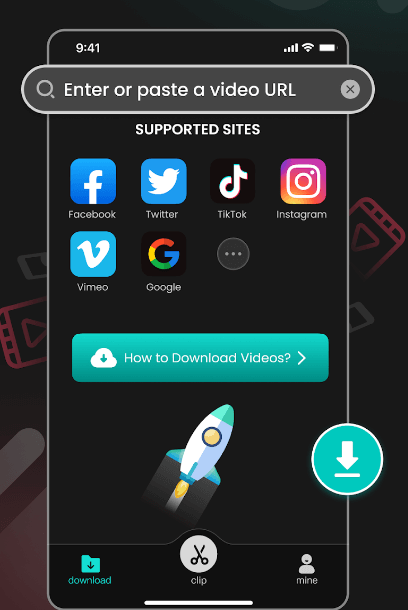 iMyFone TopClipper is a revolutionary shortcut Facebook video downloader that helps you quickly, easily and securely download all your favourite videos from the internet. This unique tool makes it easier to get all your must-have videos rapidly.
With its intuitive and user-friendly interface, you can quickly and effortlessly search for the video you want to download with just a few clicks of your mouse. TopClipper comes with an array of customizations, allowing you to tailor the video to meet your needs. 
10% OFF Coupon Code: TC10OFF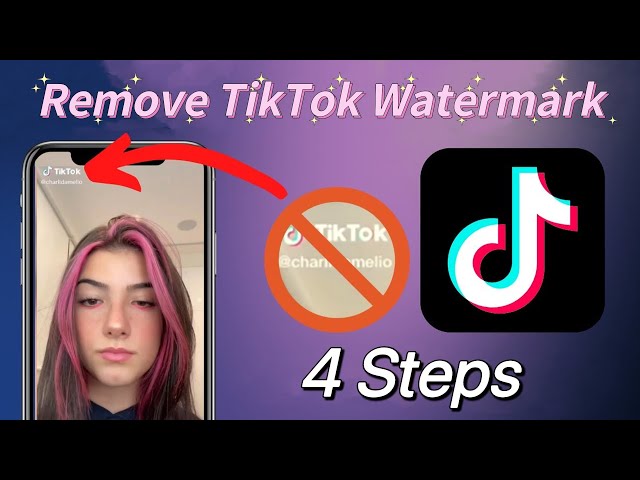 Features of TopClipper
1. Quick Search:
---
With TopClipper, users can quickly search for the video content they want to watch with just one click. The search engine is optimized to find the exact content you're looking for, allowing you to start watching without having to go through a bunch of results.
2. Customize The Video:
---
With TopClipper, users have the ability to customize their videos in a few simple steps. Users have the option to adjust things like speed and playback settings, add effects and transitions, or even crop and trim clips before sharing them with friends and family. It's a great way to make sure your videos look exactly how you want them!
3. Save Video:
---
This feature allows users to save their favourite videos so they can easily access them whenever they need it in the future. This eliminates the need for downloading multiple versions of the same video if it needs to be rewatched or shared again later on. Plus, users can store their videos in a secure location so only they can access it without worrying about anyone else seeing it.
4. Automatically Crop Brand-New Videos:
---
iMyFone TopClipper automatically crops brand-new videos so that they are optimized for sharing on social media platforms like Twitter or Instagram. This makes it easy to post clips online without worrying about cropping them yourself! 
5. Extract & Save Audio Freely:
---
TopClipper allows users to extract and save audio from any video clips. This feature enables users to get just the audio they need without having to download an entire clip. The audio can be saved in multiple formats, such as MP3 or WAV, so that it is easy to share online or use in other applications.
Furthermore, users can customize their audio by adjusting the quality settings and applying additional effects. This makes it easy to create an audio track exactly according to their needs.
Conclusion
Now that you understand how to download shortcuts to Facebook videos, you can start enjoying this content offline. You can also share your favourite videos with friends and family members who may not be on Facebook.
Facebook video download shortcuts make it easy to quickly and conveniently download video from this popular social media platform.
By leveraging the features of tools like iMyFone TopClipper, users can easily crop and extract audio from any Facebook video in just a few clicks. With these types of shortcuts app, downloading Facebook videos has never been easier!
Remember to bookmark the page so that you can come back and reference it later. And if you're looking for an easy way to download Shortcuts Facebook Videos, check out TopClipper.