How to Download TikTok Videos without Watermark Online for Free
Category: Videos Maker
4 mins read
"Can I find a downloader to help me remove TikTok watermark?"
Absolutely, the answer is yes! No matter you like it or not, TikTok has become one of the most popular social media platforms recently. As a result, many people want to find a way to download TikTok videos without watermark, so that they can share these videos with their friends without embarrassment.
In this post, we will show you what you should do first before downloading TikTok videos. 2 online ways to download TikTok videos without watermark for free will be also introduced.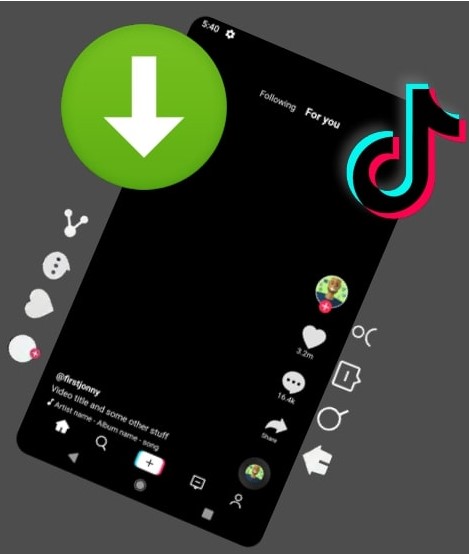 Part 1. What You Should Do before Downloading TikTok Videos
Before learning how to download TikTok videos without watermark, you may do some preliminary work. Now let's review the to-do list.
Free up Phone Storage for Your TikTok Downloads
The first thing before downloading is to make sure you have enough storage for saving videos. After all, photos and videos can take up a lot of space. Let's take iOS device as an example. Here are the simple steps to follow.
Step 1. First, see what's taking up the most space on your iPhone. Go to "Settings" -> "General" -> "iPhone Storage".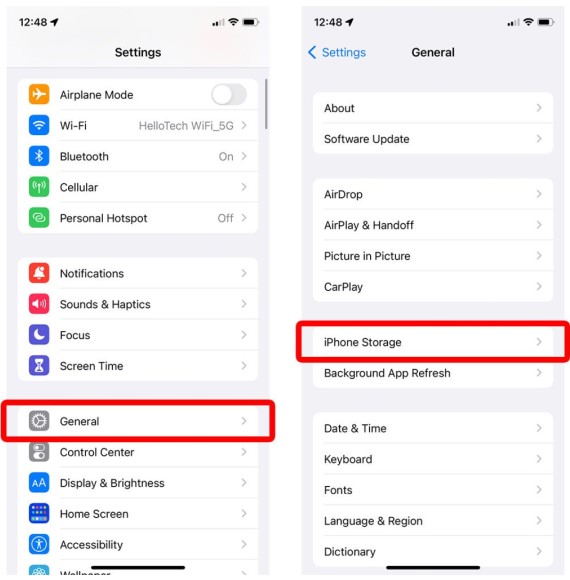 Step 2. Next, you can see exactly how much storage you're using and what's available on your iPhone on the screen.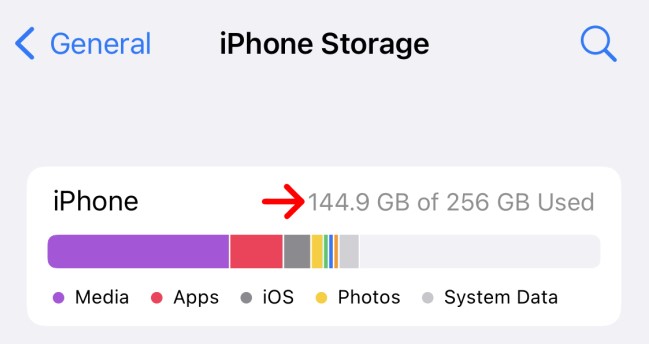 Step 3. You can follow the Apple's Recommendations. Just scroll down and select "Enable" or the ">" arrow icon next to a recommendation. You can see more recommendations by tapping "Show All" in the top-right.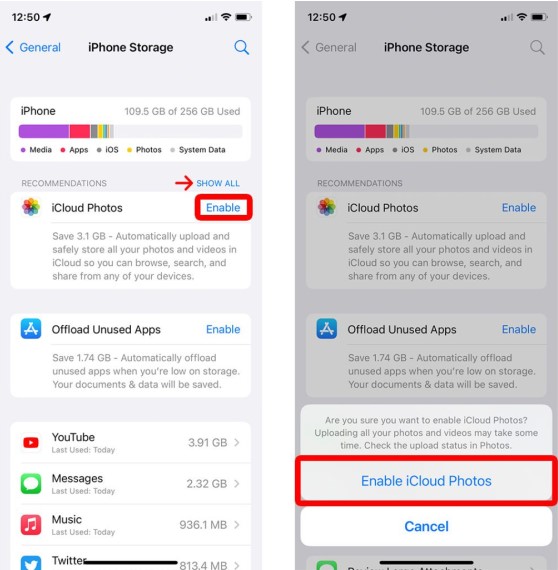 Recommendations with an enable button automatically delete data from your iPhone based on certain conditions. For example, you can choose to automatically delete all text messages older than a year. You can also delete or offload large apps, delete photos and videos, delete large attachments from messages, etc. We list only one case here.
Is it ethical and legal to download TikTok videos?
The answer is that you should consider whether the video you download will be subject to copyright infringement at the very beginning. According to TikTok's Community Guidelines, as a TikTok user, you can not post, share or send any content that infringes the copyrights, trademarks or intellectual property rights of others.
The most common copyright issue is posting someone else's content as if it were your own. In order to keep this situation from happening, every time you download a TikTok video it comes with a watermark. But there is a great solution you can take, just read this article!
Part 2. 2 General Ways to Download TikTok Videos without Watermark Online for Free
There are 2 general online ways for you to download TikTok videos without watermark for free. If you have iPhone, then you're lucky! You can download TikTok videos directly by turnning your video into Live photo, and then turn it back. Or, you can just learn to crop videos to remove TikTok watermark. This method can sometimes make you lose some important content.
1

Download TikTok Videos without Watermark Directly [iPhone Only]

As many people want to get a free way to download TikTok videos without watermark. So, you can follow the steps below to do so. By the way, this way only works for iPhone.

Step 1. Open TikTok on your iPhone or iPad, then select the video you want to download.

Step 2. Click on the "Share" icon and tap on the "Live photo". Then, your video will be automatically saved as a live photo on your iPhone.

Step 3. Go to "Photos" nd open it from the option of "Live photo". Tap on "Share" icon and scoll down to tap "Save as Video".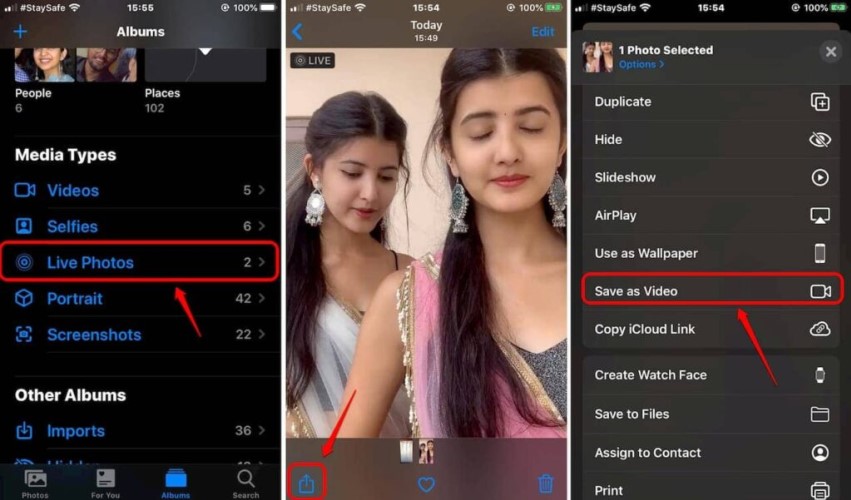 This method has one only drawback. You will get a tiny static TikTok watermark in the lower-right corner of the video instead of a floating watermark. Then, you can use a picture to cover it or just cut it out.
If you've already saved the videos and want to remove TikTok watermark for free, then you can read our related article. We have a full tutorial for you.
2

Download TikTok Videos without Watermark via Third Party Tools

Using a third party tool is also a useful way to get TikTok videos without watermark. Here, we provide you with 5 proved helpful tools that can remove TikTok watermark online for free.
1

iMyFone TopClipper

iMyFone TopClipper is an excellent third party tool that can help you remove TikTok watermark quickly within just a few clicks. And, a new feature for batch watermark removal is coming soon. This tool is quite different from other similar eidtors on the market. It has another wonderful feature. If you want to crop your videos efficiently but don't want to spend much time, then you can use iMyFone TopClipper to re-edit videos! You can follow the steps we've listed below!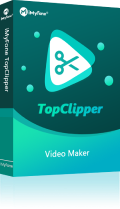 1,000,000+ Downloads
Key features of iMyFone TopClipper:
You're lucky! Before learning the text guide, you can remove TikTok watermark by following our video tutorial. Our video will teach you step by step.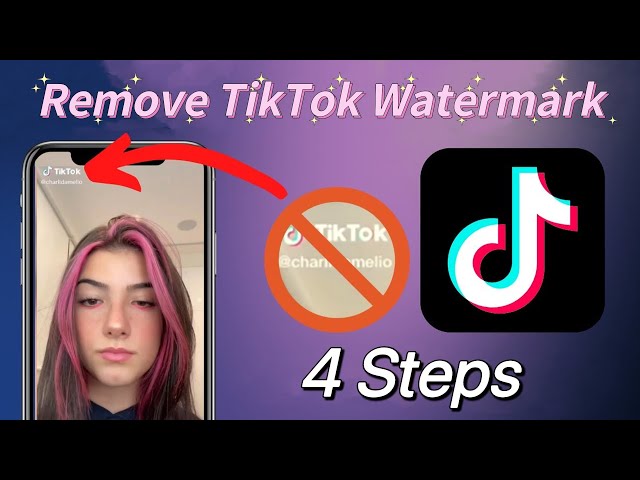 Step 1. After launching iMyFone TopClipper, select Remove Watermark mode.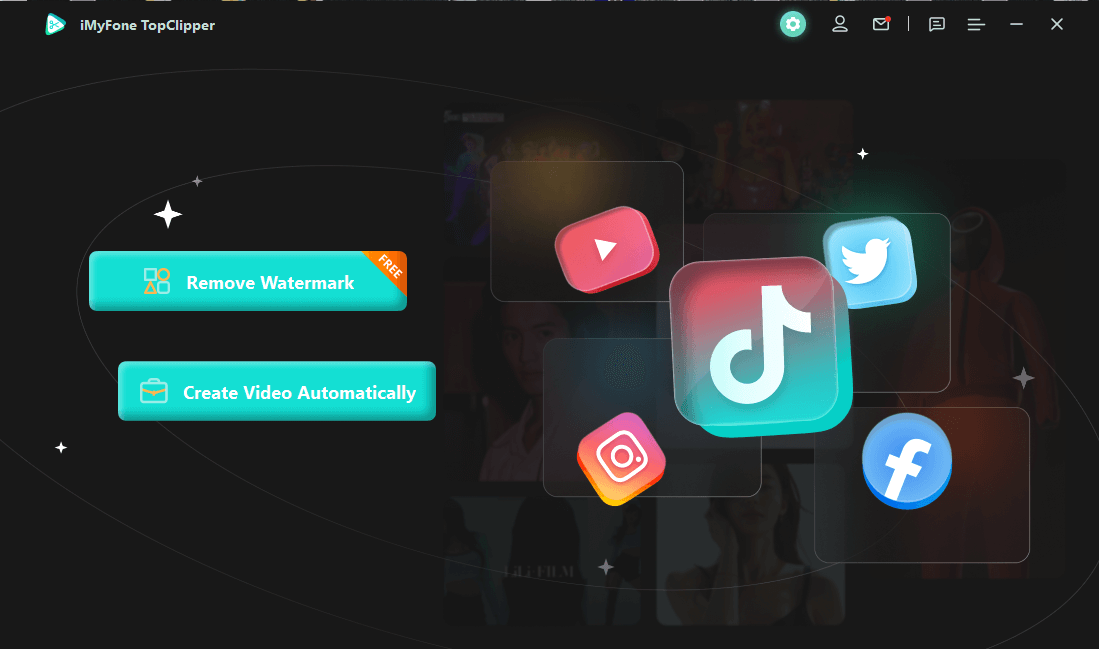 Step 2. Choose one of your favorite TikTok videos and copy its URL. Then, paste the URL into the search box and click Search.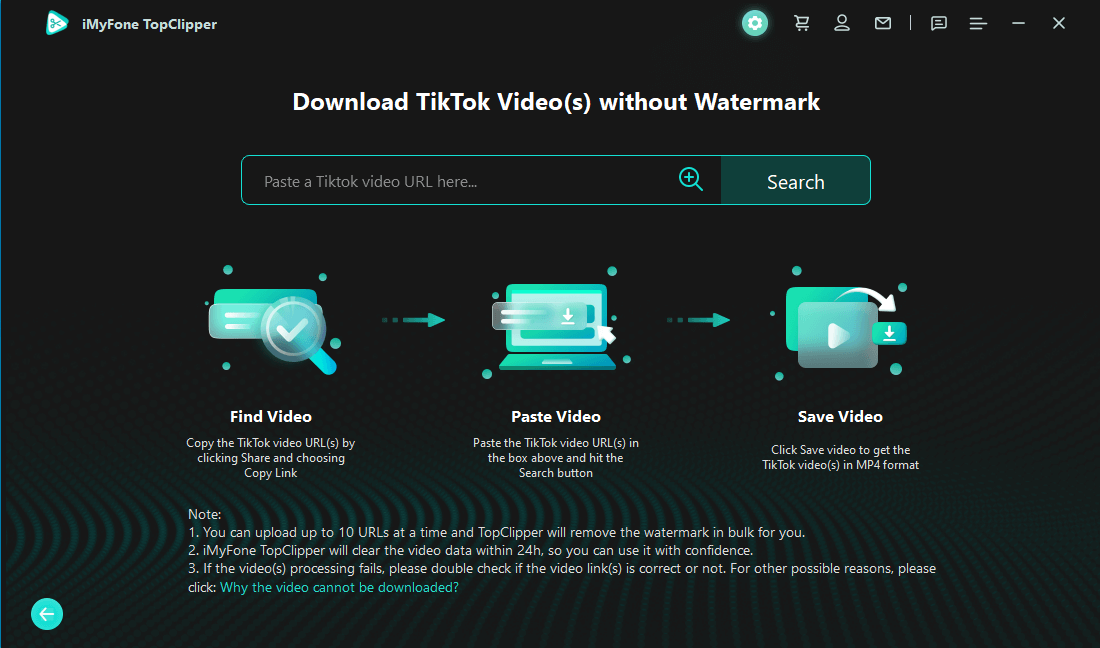 Step 3. TopClipper will then extract your video and remove its watermark. The whole process will take a few minutes to finish.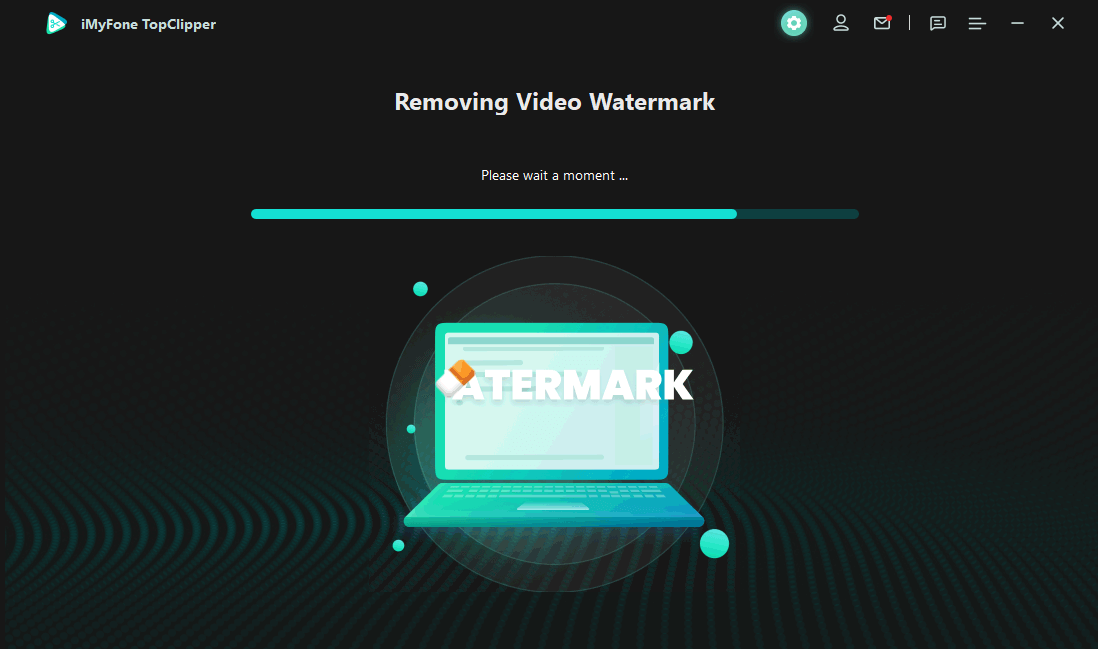 Step 4. Once parsing is complete, you can preview your video to check the effect. If you're satisfied with this video, then click Save Video. You can also click Start Creating to make a new TikTok video.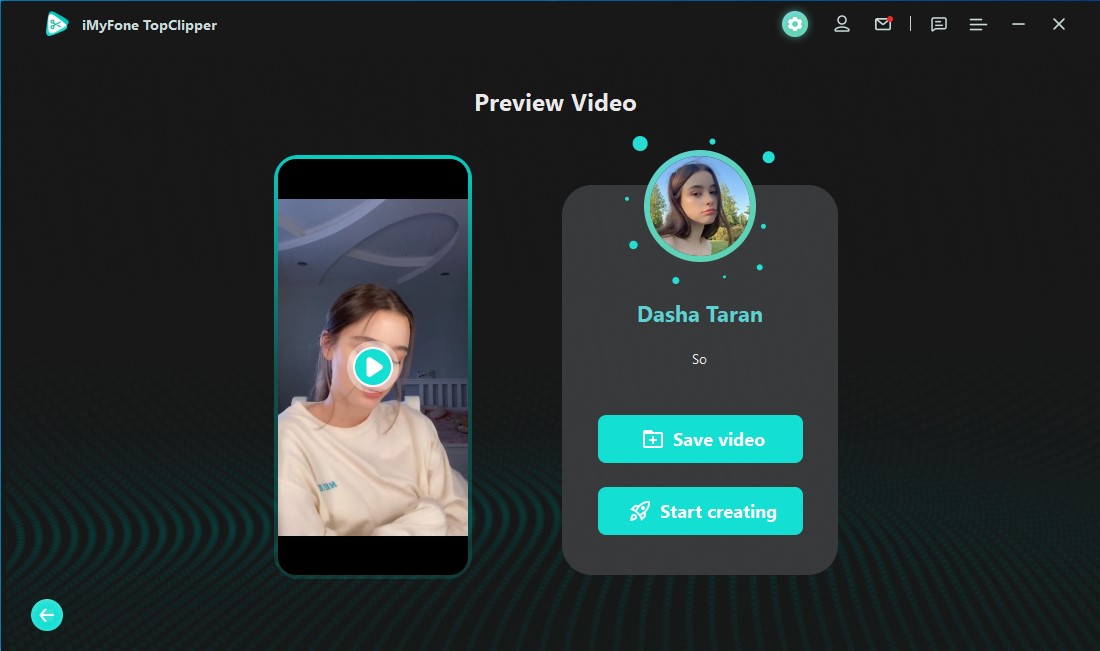 ---
2

SnapTik

SnapTik is one of the popular TikTok downloaders. it has many versions, so that you can download this app on your Android or iOS device. It is available online, too. All you need is a TikTok video link, then you can rely on one click to make your videos without watermark.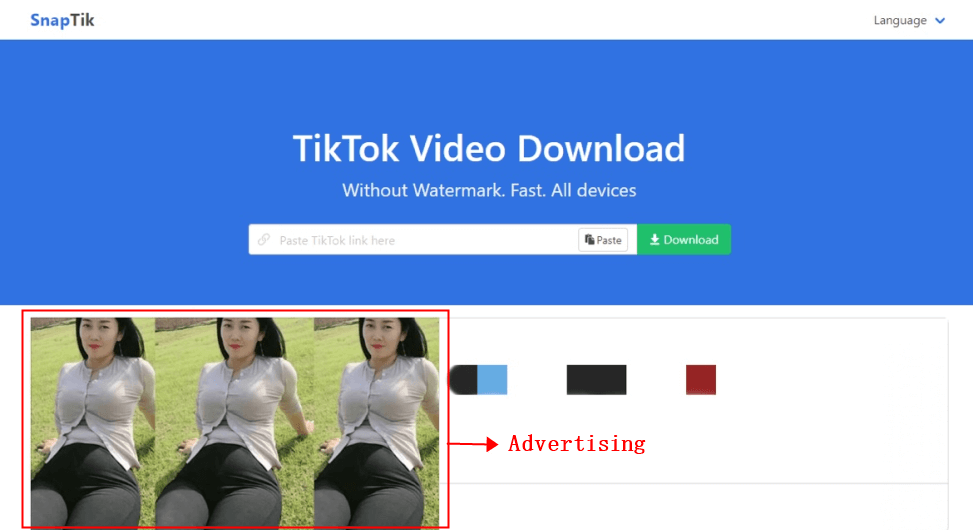 Download TikTok videos, music videos on any device you want: mobile, PC or tablet.
Download by using your browsers: No need to download or install any application.
It has advertisements on its homepage, and these advertisements appear frequently.
It has many technical issues. These issues can make it difficult to use or even prevent you from downloading videos.
Videos re-downloaded through it, always have the audio usually out of sync with the video.
The stability of this tool is relatively poor. Sometimes it takes a few minutes to download the video, or the quality of the downloaded video is poor.
---
3

TikMate

TikMate is an online tool that can help people download TikTok videos without watermark easily. You can download TikTok videos in various formats. And, you can use it without registering an account. However, its operating system only supports Android devices.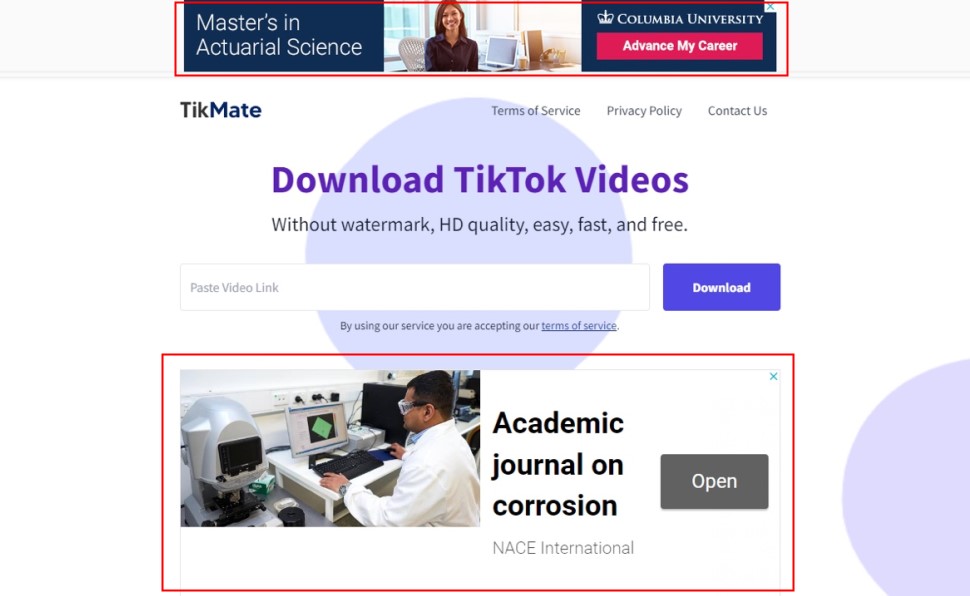 It works on any device, like Android, iOS, Windows, Linux and macOS.
Its operation is simple and fast, and it is free. It also allows you to download videos in HD quality.
It has more than one ad, with at least three ads appearing on the homepage.
It has a different name between its website and app versions.
---
4

SaveTT

SaveTT is a free online service that can help you download TikTok videos without watermark. It allows you to access to desktops, tablets, PCs, and mobile phones. Not only can it save a TikTok videos as a high definition content, it also allows you to download videos an unlimited number of times. It is easy and safe since it doesn't require you to register a account.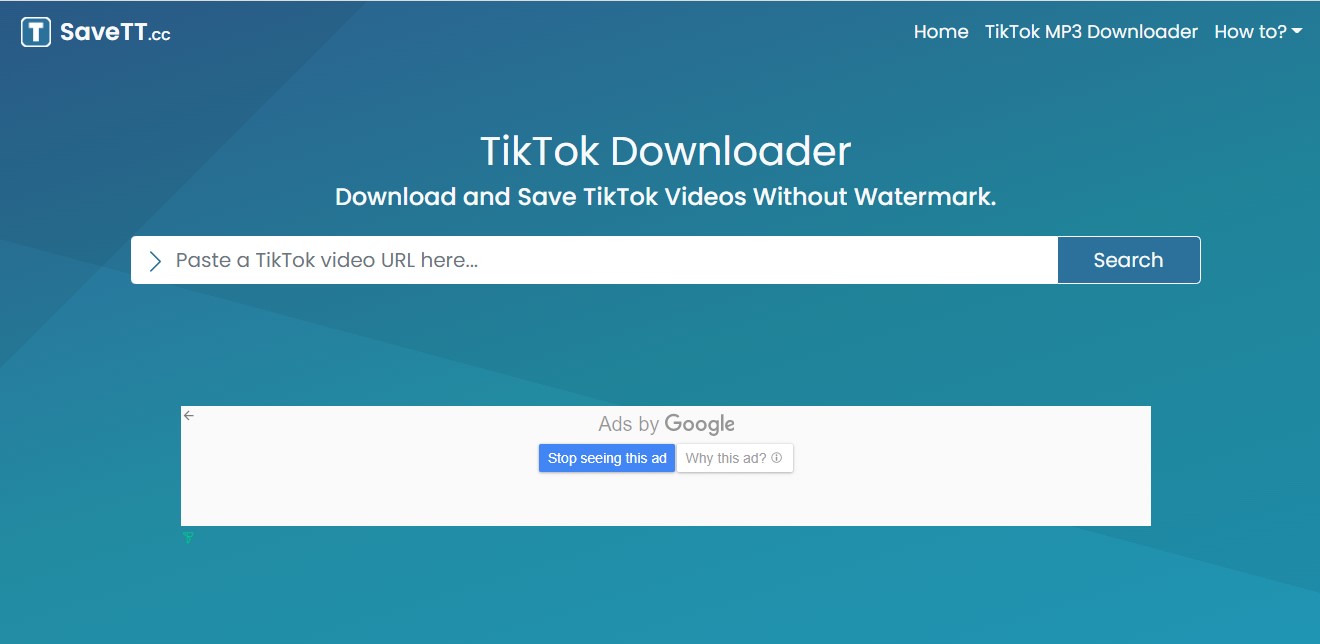 A very clear guidelines is provided in the upper right corner, so that people can find it easily.
It supports MP3 and MP4 formats, and provides 3 ways to download at the same time.
It has two prominently placed ads.
It is for online use only, without the corresponding app.
---
5

SSSTIK

SSSTIK is a free tool that can help you download TikTok videos or music without watermark online. It is capable of saving TikTok videos in MP4 file format in HD resolution. No need to install any app to use this service, all you need is a browser and a valid link. A full text guide is provided on the homepage.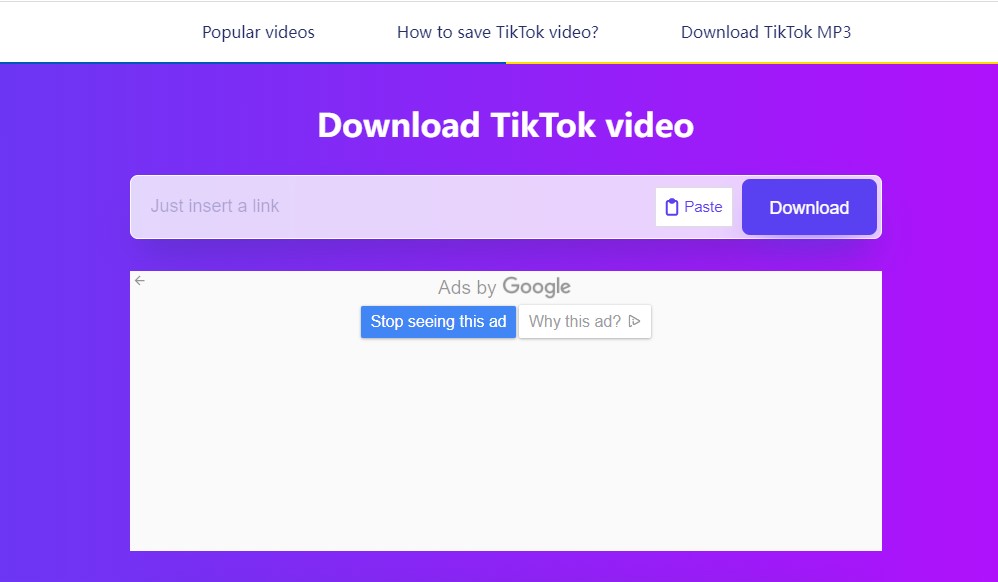 It allows you to download videos an unlimited number of times, and provides the corresponding app as well as the web version.
It's slow to download videos.
It has too many advertisements on the website which affects the experience.
Conclusion
Have you ever tried to download a TikTok video without watermark? Here, we have explored a lot of ways to download TikTok videos without watermark. Have you tried the above methods after reading this article? Which method do you think is the best to use? You can leave a message on our official website. Our latest product is also about to be launched. If you don't find a suitable downloader, maybe you can wait for our product.