How to Donwload TikTok Videos without Watermark [No Username]
Category: Videos Maker
4 mins read
Are you looking a way to download TikTok videos without watermark by username? Well, we can even provide a way to instantly download watermark-free TikTok videos without searching for a username, just using the URL of the video. If you are instereted in this topic, then you can read this post patiently.
Start to download TikTok videos without watermark & username right now!
Part 1. A Clumsy Method to Download TikTok Videos without Watermark & Username
If you want to download TikTok videos quickly and don't want the watermark and the usernames on them, then you can try this way. Although this method is a bit clumsy, it still works.
Step 1. Open TikTok and select the video that you want to download.
Step 2. Tap the Share button at the bottom-right of phone screen.
Step 3. Choose Save video and then go to the camera roll to find the video.
Step 4. Finally, you can use the built-in editing tool to crop the TikTok watermark as well as the username out of your saved video.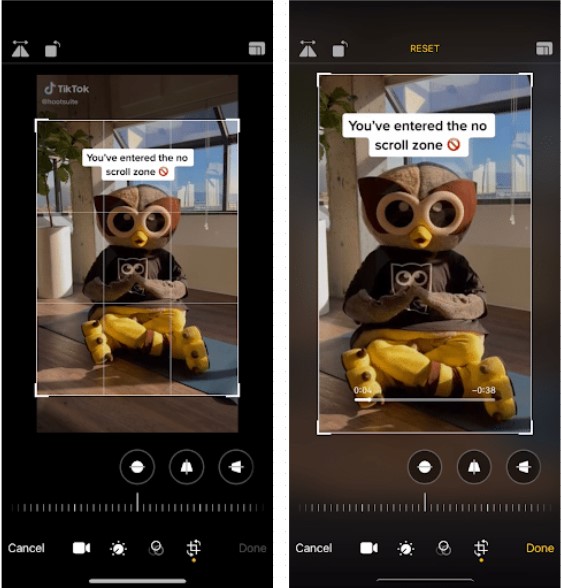 This method does not guarantee that your video quality is intact, nor does it guarantee that your video is complete. If you are very concerned about these, you can check out another method below.
Part 2. An Efficient Way to Save TikTok Videos without Watermark & Username
In this part, we will introduce an excellent tool called iMyFone TopClipper. We'll show you how to use this online maker and We'll also show you what kind of features it has. Let's take a closer look together!
iMyFone TopClipper is an efficient tool that are well recommended by many users online. It is a TikTok video downloader that can help TikTok users to download videos without watermark. With this tool, not only can you make your celebrity dreams come true, but also you can make money on TikTok, and even on other platforms, like YouTube. Some main features of this app are shown below.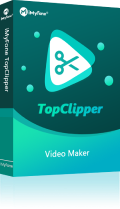 1,000,000+ Downloads
Key features of iMyFone TopClipper:
Remove TikTok watermark in batches by uploading a TXT file with the URLs.
Get more free likes and allow you to reprint TikTok videos to other platforms.
Download TikTok videos in HD resolution and with high quality all the time.
Recreate videos automatically and increase your chances of becoming popular.
10% OFF Coupon Code: TC10OFF
Now, you can follow instuction on the video or just follow the steps below. The whole process is very simple and the steps are easy to understand.
If you are not convenient to watch the video above, then you can view the text guide. We will teach you step by step.
Step 1. Launch iMyFone TopClipper, and select Remove Watermark mode.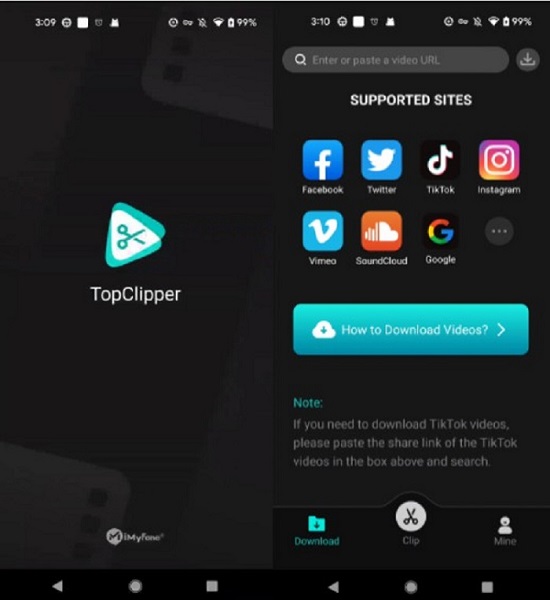 100% Free, 100% Working! A Tool Full of Surprises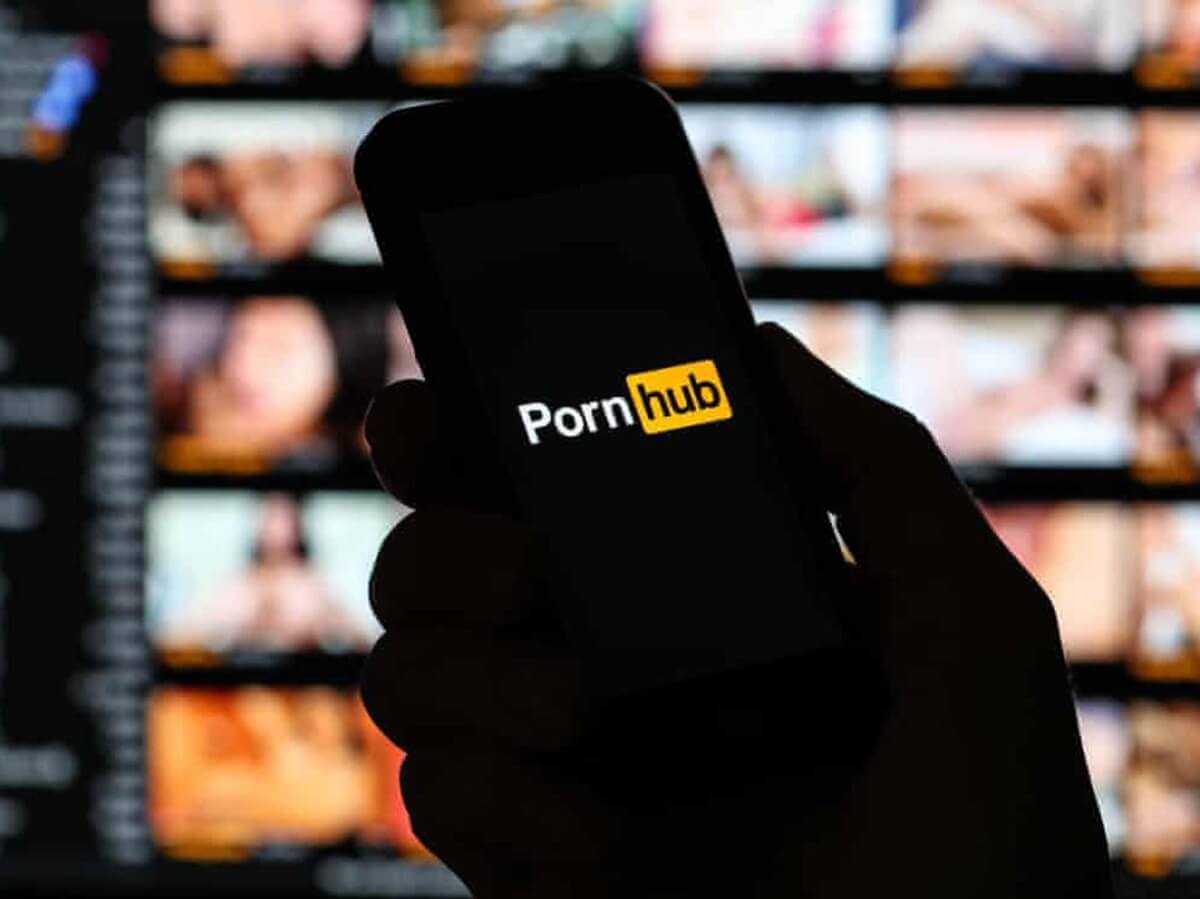 Step 2. Choose a TikTok video that you like and copy its URL. Then, paste its URL into the search bar and click Search.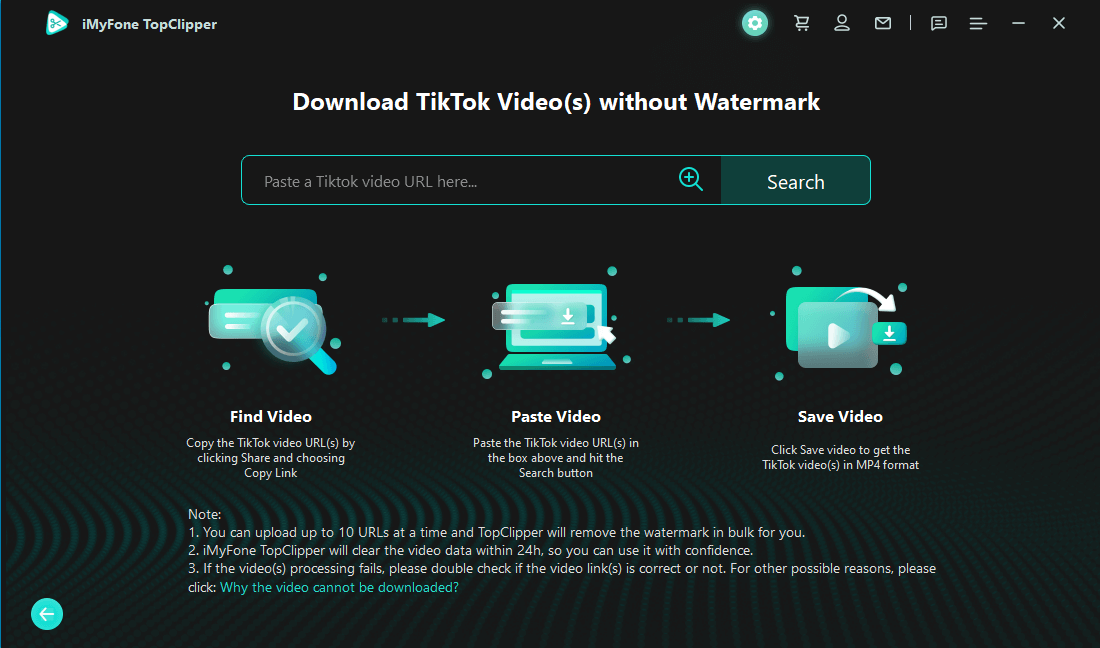 Step 3. TopClipper will then extract the parameters of your video and then remove the watermark. You need to wait for a moment.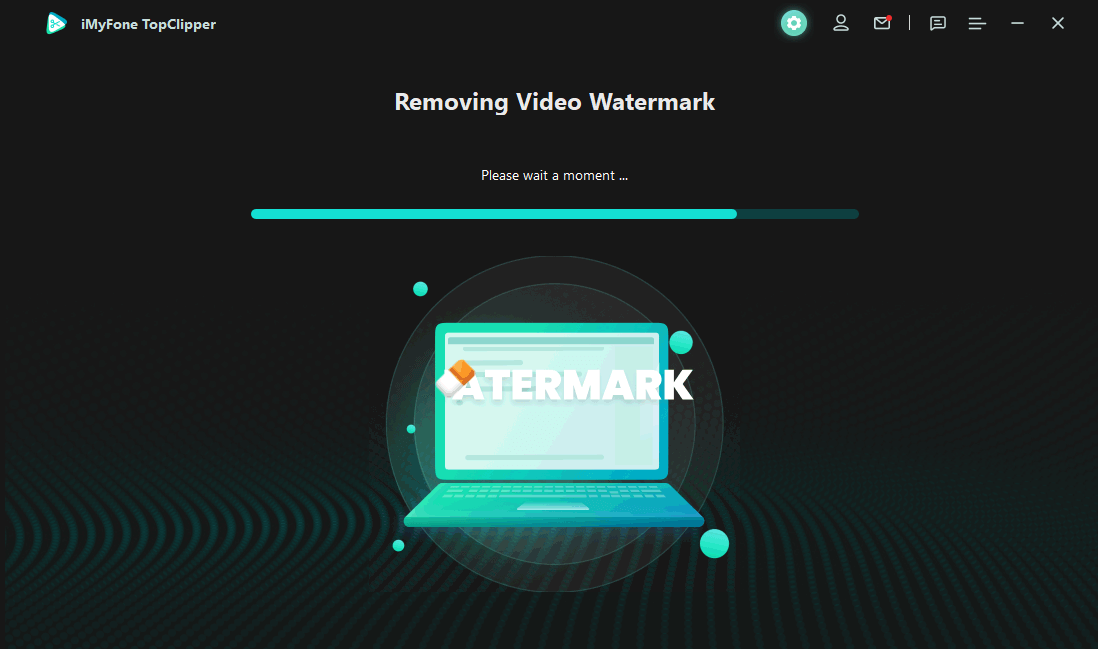 Step 4. After the removal process is complete, you can preview the video to check the effect. Click Save Video to save the video or you can click Start Creating to re-edit the video and turn it to be yours.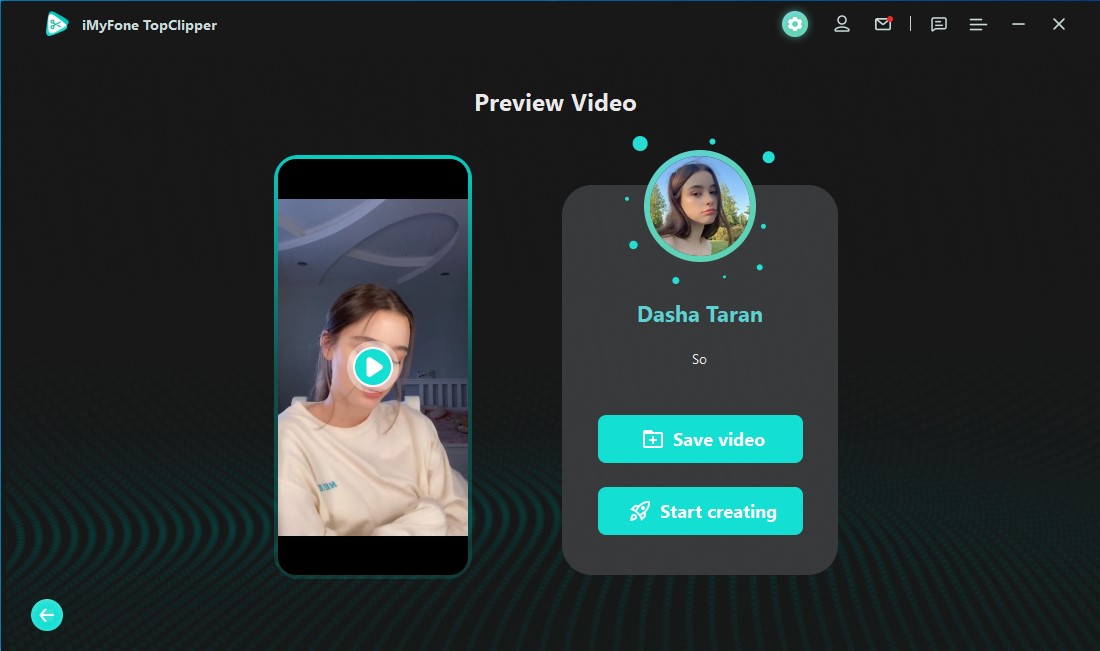 Part 3. FAQs about Downloading TikTok Videos without Watermark & Username
1

Are Online Video Watermark Removers Safe?

Well, we can't give you an accurate answer. Because we don't know whether online video watermark removers carry viruses or not. But what we can guarantee is that iMyFone TopClipper is absolutely safe. You can download and use it with confidence.
2

Can I Save Non-Downloadable TikTok Videos without Watermark?
Yes, you can. If you use iMyFone TopClipper, you can simply save TikTok videos, whether or not the video is restricted and not allowed to download. You can follow the steps above to save videos without watermark and username.
1

Can I Download High Quality TikTok Videos with HD and No Watermark?

Yes, you can. If you want to download high quality TikTok video with HD and no watermark, then the fastest way is to use iMyFone TopClipper. Not only can you use this tool to remove TikTok watermark easily, but also you can recreate the video. And then, reprint the video to other platforms.
Part 4. Other Possible Ways to Remove TikTok Watermark & Username
If you want other similar tools, then you can read this section. We'll give you a few simple methods that seem to work, but we can't make sure they 100% work for you. Now, the ways are as follows.
Similar sites / apps and their features:
There are many such tools or websites on the Internet. What you need to do is to carefully identify which websites or software are safe and reliable, and are genuine and effective.
Conclusion
That's all for today's video content. By reading this article, you can download TikTok videos without watermark and their username. And all thanks to a great TikTok downloader - iMyFone TopClipper. It can help you remove TikTok watermark in batches and save videos in HD. You can also use the second feature of this tool to re-edit your saved videos. Reprinting the popular videos will increase the possibility of going viral on TikTok. So, if you are dreaming of beoming an Internet celebrity, then click the Try It Free button below!