Screen mirroring from iPhone to Macbook without any third-party apps is not just a mere thought anymore. With the new Airplay feature, you can effectively screen mirror iPhone to Macbook wireless for an enhanced experience. 
If you had to rely on different apps to mirror the screen, this article answers all your mirroring issues. We will extensively provide step-by-step methods to screen mirror your iPhone, so stay with us till the very end. Without further ado, let's get right into the technical part. 
Method 1: Screen Mirror iPhone to Macbook Using Airplay 
AirPlay is a wireless technology developed by Apple that allows music, photos, and videos to be streamed from one device to another, including Apple TV or a HomePod, wirelessly. Users may now simply transform their Macbooks into AirPlay hosts with the release of macOS Monterey. Simply put, you may play music, videos or even mirror the screen of your iPhone or iPad to your Macbook and enjoy an elevated watch time.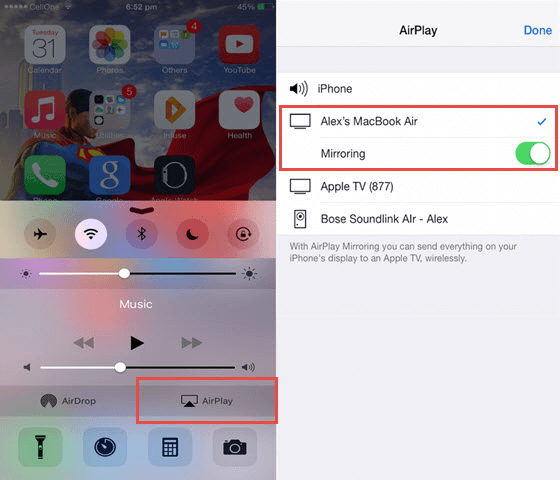 Following are the things that are made possible through Screen mirroring.  
Allows easy Streaming from iPhone to Mac in a matter of seconds.
You can easily play videos from iPhone on Mac.
Efficient display of photos from iPhone to Mac.
Play audios from iPhone on Mac.
Compatible Apple Devices for Airplay: 
If you wish to utilize AirPlay on a Mac, you would first have to ensure that your Mac is functional with the technology. The new airplay feature is not supported by every Mac that is capable of running macOS Monterey; thus, look at the list mentioned devices below to determine whether your Macbook could be employed as an AirPlay server:
MacBook Pro 2018 and subsequent models
MacBook Air 2018 and subsequent models
iMac models from 2019 and beyond
2017 Apple iMac Pro
2019 Mac Pro
Mac mini released in 2020
AirPlay was first presented to the public with iOS 4 some years ago. Just the devices specified below, however, have the capability of transmitting material in greater quality and high resolution:
iPhone 7 and newer models
iPad Pro (2nd generation) and subsequent models
iPad Air (3rd generation) and subsequent models
iPad (6th generation and later)
iPad mini (5th generation) and subsequent models
Set up Mac to Allow Streaming from iPhone – Step-by-step guide!  
Open the Apple menu > System Preferences > Sharing, then choose AirPlay Receiver on a Mac.
Select AirPlay Receiver from the list of services, then check the box and turn it on if AirPlay Receiver isn't enabled.
Select "Allow AirPlay for:" from the drop-down menu.

Select "Current user" to enable only devices that are logged in with the same Apple ID as the Mac to start streaming to the Mac.
Select "Anyone on the same network" or "Everyone" to let others stream on your Macbook.
Steps to Screen Mirror iPhone to Macbook   
Search for the AirPlay icon in the Control Center or within supported applications on your iPhone.
Select the Screen Mirroring option in the Control Center to mirror the display of your iPhone through AirPlay.
Next, from the AirPlay menu, choose your Macbook.
After some time, your Screen should be instantly mirrored to your Macbook.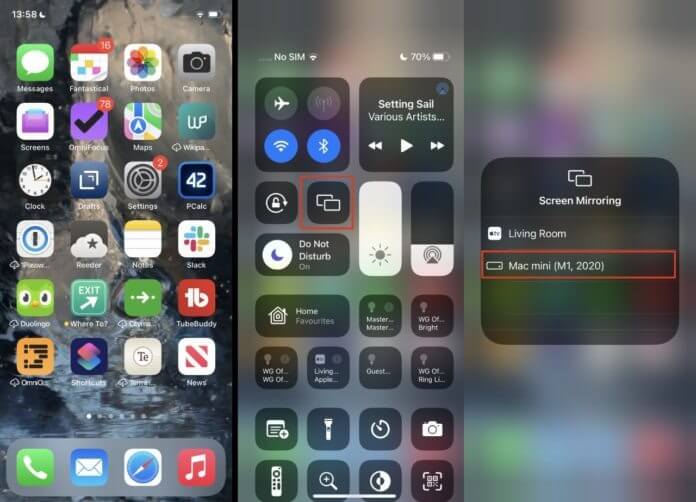 Method 2: Third-Party Apps to Mirror iPhone to Mac Wireless  
1

iMyFone MirrorTo
iMyFone MirrorTo is a credible and reliable screen mirroring software that allows you to stream your iPhone's Screen to the Macbook easily. iMyFone MirrorTo makes controlling iPhone on Mac very effective. You can stream your games on the Mac and can enjoy iPhone on the big screen for a more exciting experience.
Features of MirrorTo
Screen-share all compatible iPhones to your Macbook with ease.
Manage your iPhone from the Macbook using a big display.
Enjoy mobile games or scroll through social platforms on your Macbook easily.
Take screenshots and save screen recording videos automatically to your Macbook for ease of work. 
Connect in-app screens and audio to conferencing programs with convenience.
Video Tutorial about How to Mirror iPhone to PC (Also Suitable for Mac)
Steps to Follow
Step 1.Download the iMyFone MirrorTo app and install it on your PC.
Step 2.Connect the two devices with the same Wi-Fi connection.
Step 3. Go to "Control Center" and click "Screen Mirroring". Now you can see your phone screen on PC.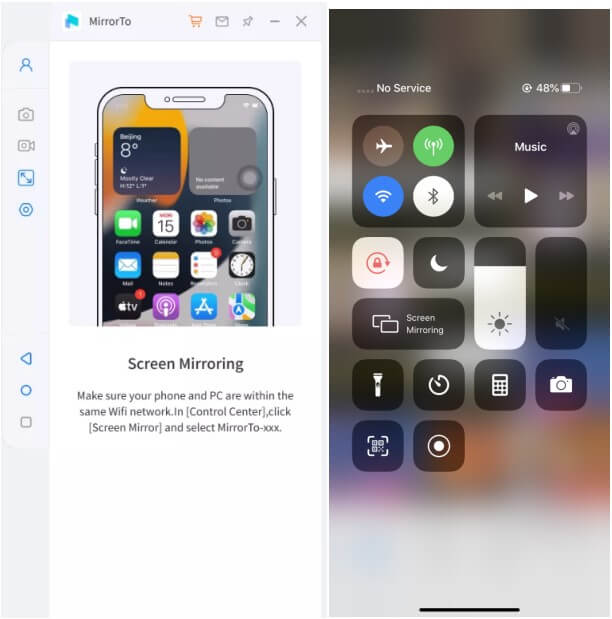 Step 4. Now you can see your phone screen on PC.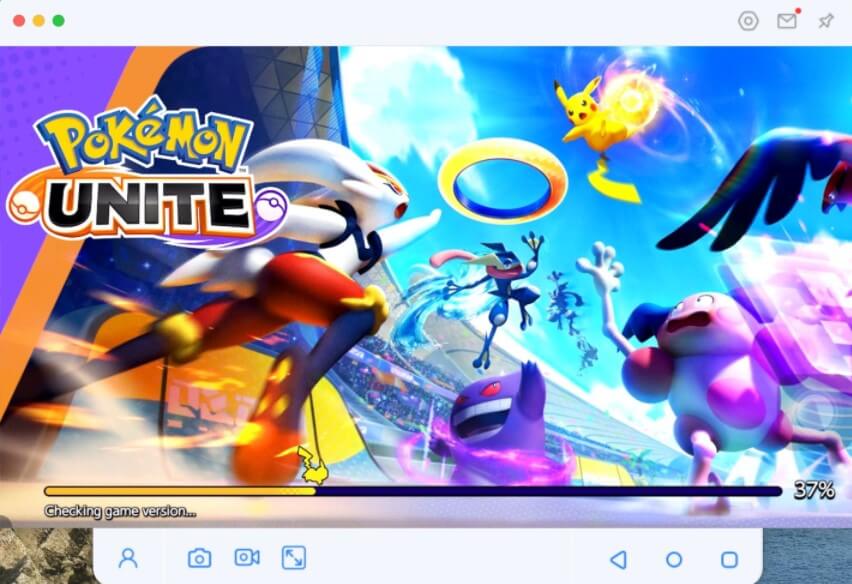 Step 5.Go to "Settings", then enter "Bluetooth" and pair the bluetooth between your phone and computer.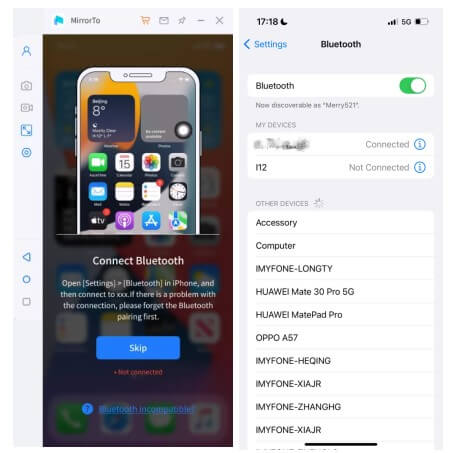 Is your phone screen successfully mirrored to the PC? Now, you can control your phone from your PC.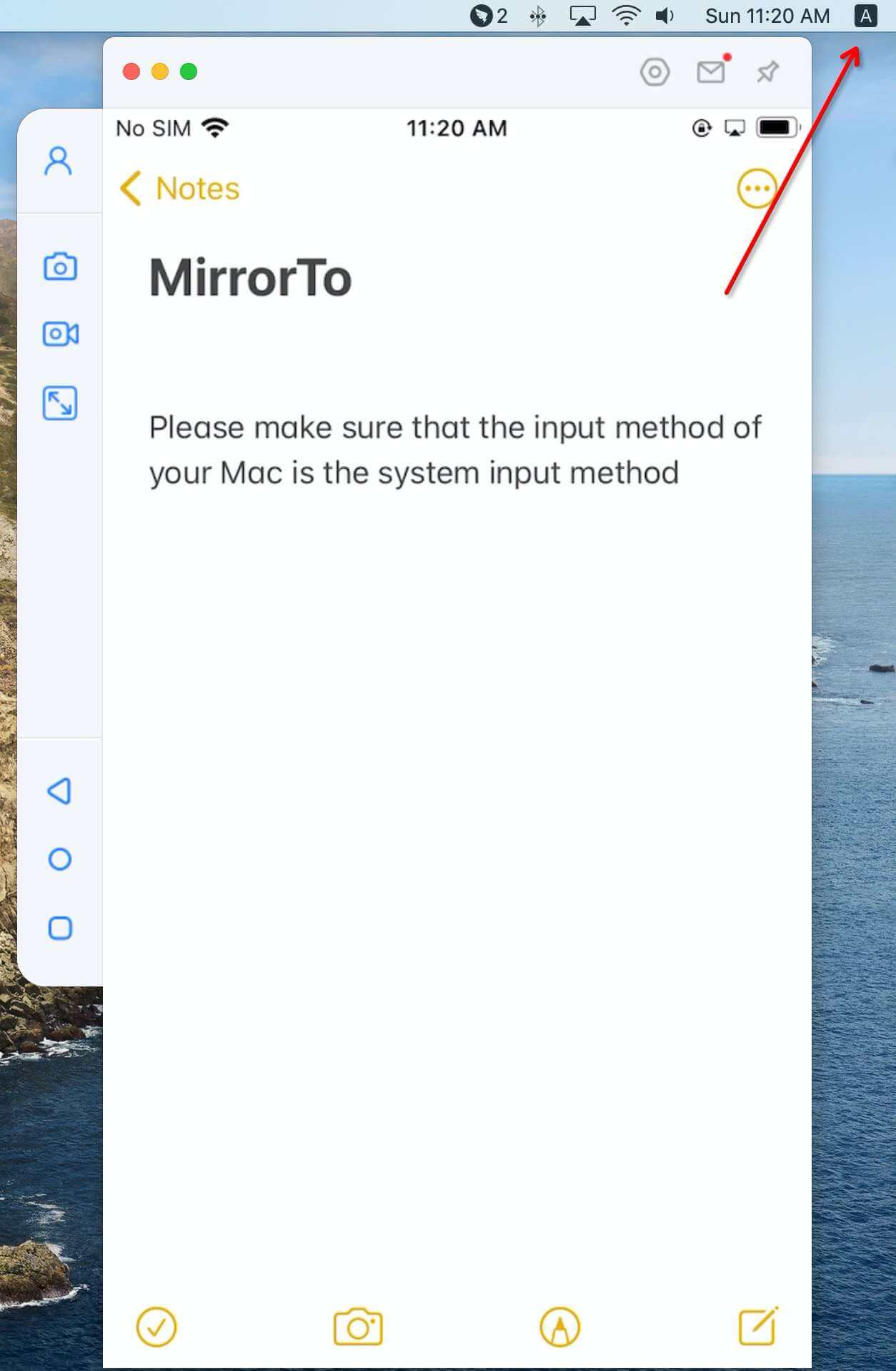 2

Reflector
For Macbooks, Reflector is a wireless Screen mirroring application that performs admirably well. Reflector, the Screen mirroring application for Mac OS X, is far more powerful, adaptable, and configurable.
Steps to Follow
Step 1. To begin, make sure that both devices are connected to the same WiFi connection. Then open Reflector on your Macbook.
Step 2. Open the Control Center on your iPhone. Slide down from the upper-right corner of the touchscreen if you have an iPhone X or later model.
Step 3. Swipe up from the bottom side of the screen if you're using an iPhone 8 or later. Select Screen Mirroring from the drop-down menu.
Step 4. Select your Macbook from the drop-down menu of available devices.
Step 5. Enter the AirPlay passcode that shows on your Macbook's desktop on your iPhone.
Step 6. Your iPhone will now be mirrored on your Mac.
3

ApowerMirror
ApowerMirror is among the most diverse Screen mirroring apps in the market. This app is compatible with almost every device, including iOS. You can not only mirror the iPhone to Mac but also screen record through it. 
Steps to Follow
Step 1. Download the app on your phone and Macbook
Step 2. To make things work, you must simultaneously connect your iPhone and Mac to the same WiFi connection.
Step 3. The next step is to open the application on your Mac simultaneously with the app on your iPhone. 
Step 4. In order to establish a connection on your iPhone, you must first press the blue "M" icon, followed by a touch on the username of your Macbook. After that, choose "phone screen mirroring" from the drop-down menu. 
Step 5. Swipe up or down to expose your control centre, depending on the iPhone model, and then choose "Screen Mirroring" from the menu.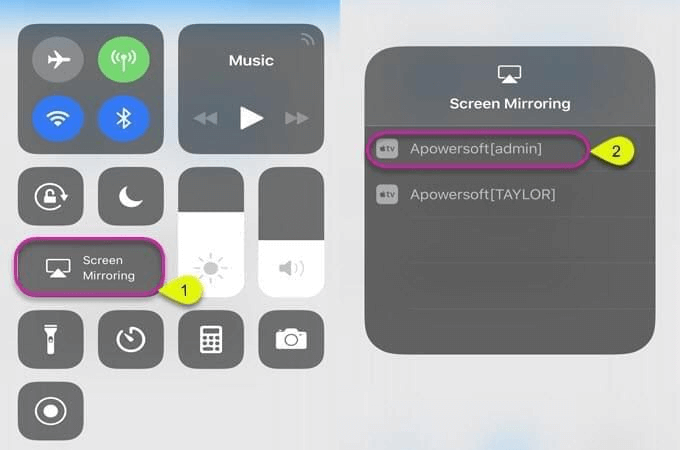 Step 6. To begin the mirroring process, touch the username of your Mac once again.
4

LetsView
LetsView is another great screen-sharing program for iOS and Mac that is available. The IU of the tool is straightforward and simple to use. While mirroring, it responds quickly and provides a seamless experience for the user. Additionally, you may utilize the screen mirror and screen cap tools to write on your Macbook's screen while it is being mirrored as well.
Steps to Follow
Step 1. Install it by going to App Store and downloading it.
Step 2. Set up a WiFi connection for both your iPhone and Mac and link them together.
Step 3. Afterwards, swipe up or down the Control Center and choose Screen Mirroring. 
Step 4. As soon as your Mac's name displays, just select it and your iPhone will be instantly mirrored to your Macbook.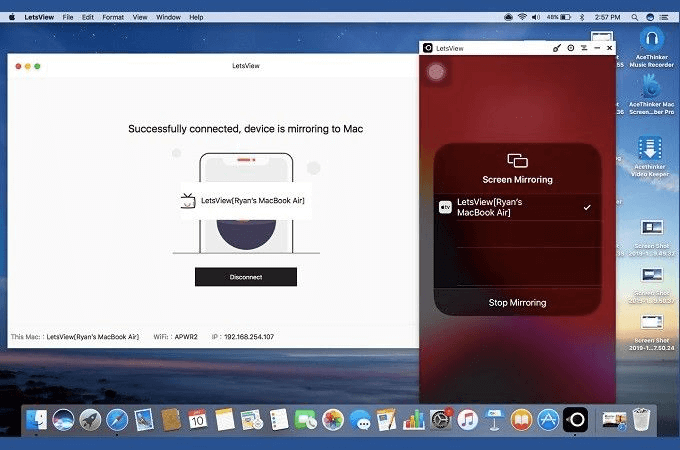 Conclusion
Sometimes using a phone continuously can be tiring and small screens are frankly feels like a hassle. Screen mirroring to your Mac is a viable option and will help you take on your meetings and family gatherings with ease. Airplay is perfect for iOS devices, but if you are unable to use it for some reason, iMyfone MirrorTo is a reliable alternative. 
So, enjoy using your phone on the big screen and have a wonderful time.