There are situations that you do not want to lose your crucial phone data when switching to a new phone. While things may get a bit difficult especially when you switch to a new phone with different OS system.
To solve this problem, let's review iTransor Pro by iMyFone, a piece of software designed to help you transfer all kind of crucial phone data, including WhatsApp data which is difficult to manage when switching between devices with different OS systems.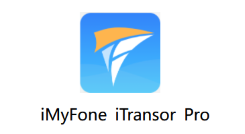 Why Choose iMyFone iTransor Pro?
iMyFone iTransor Pro supports simultaneous migration of many kinds of data from one phone to another. Even if you forget any of the information you need, you will be able to retrieve it back with no problem thanks to this service.
Some of the significant advantages are:
Simple to use: Using iMyFone Transor Pro is like a cakewalk. Anyone with basic knowledge can use it. You can use it even on iOS 16.
Efficiency: Fast phone transfers are guaranteed by the superior data processing power of iMyFone iTransor Pro. Your time is valuable and will not be squandered.
Zero damage to data: With the help of cutting-edge technology, the phone's original data will not be erased or corrupted during this process.
Easy transfer: Cables are used to connect all of the devices throughout the phone transfer process. There won't be any unforeseen network or data issues to deal with.
What Are the Key Features of iMyFone iTransor Pro?
Directly transfer data between two devices - You can directly transfer data you need between Androids or iPhones, or even transfer data from a Android to an iPhone or vice versa.
Selectively transfer including WhatsApp - You can selectively transfer up to 18 types of data, no matter Contacts, Text Messages, Documents or even WhatsApp data.

Note

If you want to manage your WhatsApp data, just choose

Transfer WhatsApp

mode. Then

iTransor for WhatsApp

will be automatically installed and run on your computer. You don't need any extra operations in this step.

Back up WhatsApp to the program or PC - Not only transfer WhatsApp between devices, you can also back up your WhatsApp data to the program or to your computer for future use.
Preview before restoring backup - For full-users, you can preview to confirm the data and choose the one you need to restore to your new device before processing.

No need for Wi-Fi or cellular data - There is no requirement for Wi-Fi or cellular data, so it is less likely to be interrupted by unstable internet condition.
What Are the Best of iTransor Pro?
With iTransor Pro, it's easy to move data across Android and iOS devices. It's also possible to back up your iPhone and Android data to your PC and restore it whenever you wish. As a bonus, you can save your WhatsApp data in HTML and CSV/XLS formats.
It is possible due to their team of experts and cutting-edge technology, which makes it simple to use and guarantees a 100% success rate for transfers. It handles everything from photographs and files to texts and movies.
Data transfers, back-ups, restores, and exports are a breeze thanks to iTransor Pro. Because information is saved locally on your computer, it is entirely secure.
What Could iTransor Pro Be Used for?
Transfer up to 18 types of data: iMyFone iTransor Pro allows you to move many sorts of data like contacts and messages from one phone to another simultaneously. Regardless of how critical the information is to your day-to-day functioning, you can be assured that it will get safely moved to a new device.
Transfer WhatsApp between two devices: There are no other programs or tools required. No matter how old or new your phone is, you may quickly move your WhatsApp data between them. You don't have to be concerned about losing any data.
Back up your WhatsApp to PC: iTransor Pro can be used to back up your WhatsApp chats to the program or to your PC so that they won't be lost, also you don't need to worry about privacy anymore. You can do this by connecting your phone to PC, and the process is simple and hassle-free.
Preview and restore your WhatsApp from previous backups: Before finally restoring WhatsApp to your new device, you can preview and confirm the specific data. Moreover, you can select specific category to transfer during this process.
How Well Does iTransor Pro Perform?
Using iMyFone iTransor Pro to transfer your data is secure. According to GDPR and other standards, iMyFone is a compliant data processor. Only your computer has access to any of your information, so you can be certain that it is entirely secure.
It's simple to use and you can easily manage it by several clicks. During the process, you can hardly find it broke down or stuck in process. All the time it costs depends on the size of your documents.
As a result of its superior data processing capabilities, iMyFone iTransor Pro assures you a lightning-fast phone transfer. Time is valuable. Thus we will not spend any of it on you.

How Does iTransor Pro Work?
Step 1.Install and run iTransor Pro on your computer.
Step 2.Choose Transfer Other Data, use USB ports to connect both your devices to computer. Click on Next.
Note
Ensure to enable access to phone files on your phones.
Step 3.Select the data you want to transfer, then press on Transfer.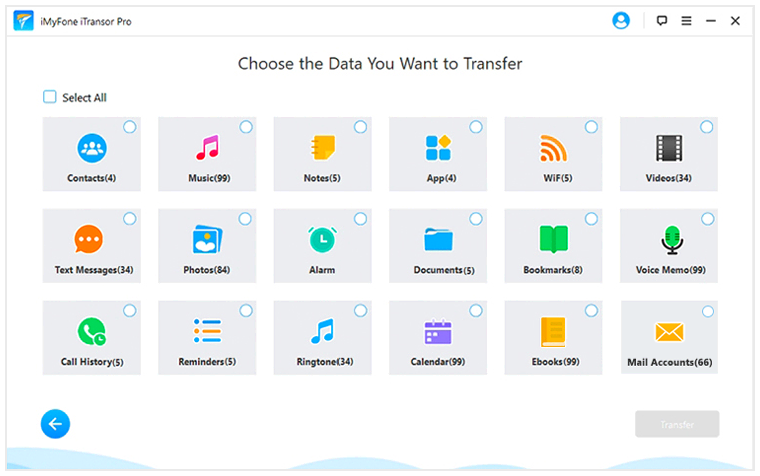 Step 4.The time it cost depends on the size of the data. It will usually be finished within half an hour. Then all the data you've transferred can be checked on the target device.
Hot FAQs about iMyFone iTransor Pro
1. Is it safe to use iMyFone iTransor Pro?
It is completely safe to use iMyFone iTransor Pro to transfer your data. iMyFone complies with GDPR and other data processing regulations. All your data will only be processed on your computer, which guarantees 100% data safety.
2. What's the difference between the trial and full version?
You can use the trial version to transfer up to 18 types of data from iPhone to Samsung or from Samsung/Huawei to iPhone, such as contacts, text messages, and call history. With the full version, you get access to the quick and easy transfer of your WhatsApp, calendar, reminders, ringtones, and eBooks from iPhone to Samsung, or your WhatsApp, music, eBooks, and voice memos from Samsung/Huawei to iPhone.
3. Can I stop the phone transfer in the middle if I want to?
Yes, you can stop the phone transfer whenever you want. iMyFone iTransor Pro will remember where you were in the process, so you can restart and continue the phone transfer from where you stopped.