Switching to a new operating system can be exciting; you will learn new things; you will have access to new features, and it is a fresh experience. But there are challenges too. Changing operating system requires longer processes to transfer your information, with the closest thing to a direct transfer being the "official" transfer apps published by phone manufacturers, such as the Move to iOS app if you were moving to an iPhone.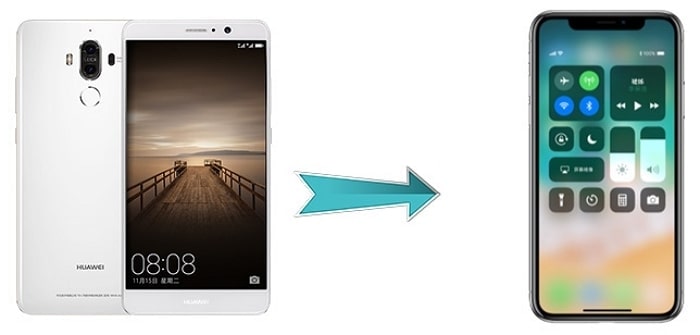 Once you have decided to switch to an iPhone after seeing its attractions compared to your old Huawei phone, you may also want to transfer your data from Huawei to iPhone. This article will show you various methods, ranging from more complicated and time-consuming to extremely simple ones on how you can transfer data from Huawei to iPhone.
Part 1. Transfer Basic Data from Huawei to iPhone
Apple understands that people will be switching from Huawei phones (which run the Android operating system) to iOS, and because of that, they have published the Move to iOS application on the Google Play Store – the app market for Android. You can use this application to wirelessly move some data from your old Huawei phone to your new iPhone. However, before you do so, please check that you meet the following requirements:
You have access to both phones during the transfer process.
You have a strong, reliable Wi-Fi connection (so avoid using mobile data and any public Wi-Fi connections).
You have sufficient storage capacity on your new iPhone. If you don't, you can deselect some of the data types during the transfer process so that your data can move over. This does mean that some of your data will not move over.
Your iPhone is currently not set up. If it is and you would like to use this method, you have to factory reset your iPhone (this can be done through the device settings but will result in you losing your data).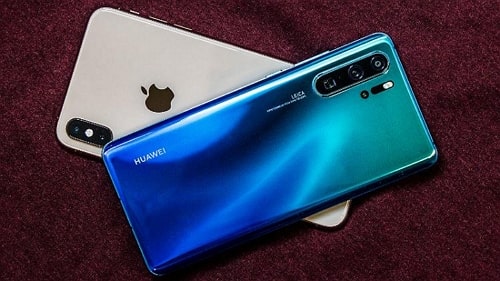 Once you have made sure you meet these requirements, you are ready to begin the transfer process. You need to:
Download and install the Move to iOS application from the Google Play Store on your Huawei phone.
Set up your iPhone until you get to the Apps & Data screen.
On this screen, tap Move Data from Android.
Open the Move to iOS app on your Huawei and wait for a code to be generated on your iPhone.
Enter this code on your Huawei device.
Select the content that you will want to be transferred and pick Next.
Wait until both phones show the transfer process to be complete (one phone might show the completion to be earlier than the other – do not stop at this point).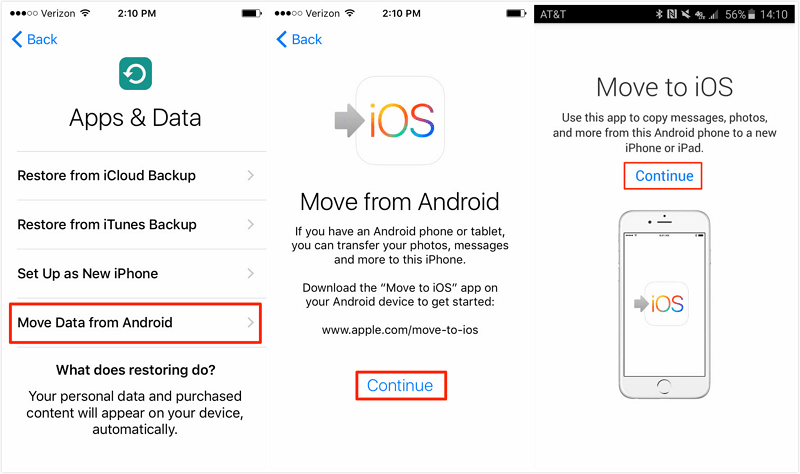 If this method doesn't work and an error comes up, reboot both phones, disconnect them from the Wi-Fi network, reconnect them and attempt this method again. If your Huawei shows with a sign saying you have a weak network connection, you can ignore it and continue the process.
The file types that you can select to move using this method are:
Contacts
Texts messages
Media files – Photos and videos
Bookmarks
Email accounts
Calendar data
Furthermore, if apps are available on both the Google Play Store and the Apple App Store, and they are free to download on both, then the iPhone will automatically install them on your iPhone. It also means that Move to iOS will not bring your app data as it can only offer you the new apps in App Store. So we recommend you to use the second method to transfer your data from Huawei to iPhone.
Part 2. Transfer up to 12 Types of Data from Huawei to iPhone
Here we provide you a third-party method - iMyFone iTransor Pro - to transfer your phone data from Huawei to iPhone easily, safely and successfully. As an essential application on your phone, you must be worried about your WhatsApp chat history, images, videos and audios which keep lots of your personal information. iTransor Pro will help you to transfer them all, together with the other 11 data types inlcuding contacts, messges, photos, videos, and etc. You can even choose to reset your iPhone or not.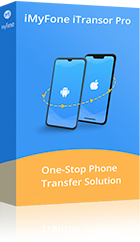 1,000,000+ Downloads
Main features:
No need to factory reset iPhone. (Suitable for both new and old iPhones.)
Compatible with all operating systems including Android, iOS and Windows.
Supports WhatsApp data backup, restore, transfer and export.
Simple process and easy operations.
With this software you can get the whole process done within just a few clicks.
Install and launch the program on your computer.
Select Transfer WhatsApp or Transfer Other Data in the program.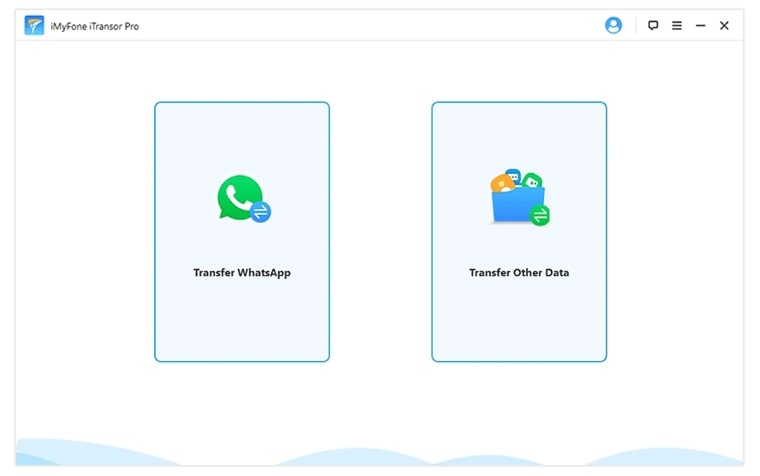 Connect both the Huawei phone and the iPhone to your computer with USB cables.
Click Switch (if necessary) to set the Huawei phone as the source device while the iPhone as the destination one.
Now click Next and follow the instructions on screen to select the data you'd like to transfer.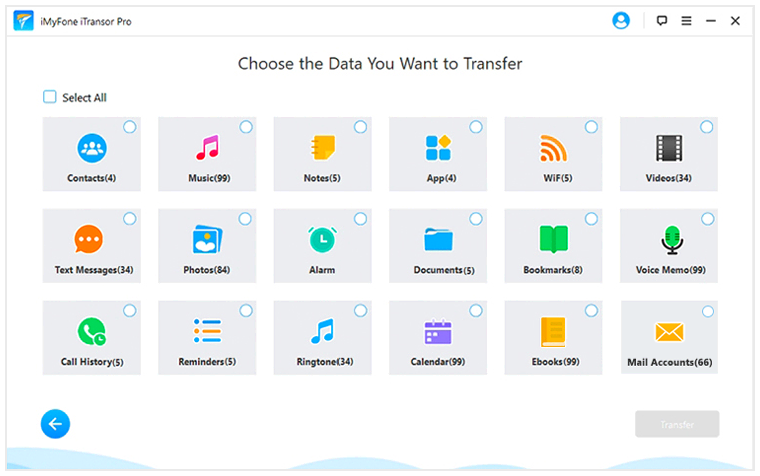 Normally you can see all your data on your new iPhone within half an hour.
Tips
The app can also be used for transferring 18 types of data from iPhone to Samsung. You can check the full phone transfer guide here. The Mac version is coming soon, so stay tuned!
Part 3. Transfer Single Data Types from Huawei to iPhone
If you only want to move a certain data type from your old Huawei to your new iPhone, this can be done in many ways. We will just be outlining one of them in this article. Here we take music as an example.
Before you proceed to transfer your music, you need to be sure that you have downloaded your music files as .mp3. If you are using a streaming service, such as Spotify, then there is no need to manually transfer the files at all. You just need to download the app on your iPhone once it has been set up, log in with your account and you will have access to your music library. Then, if you prefer to have your music downloaded for offline access, you can do so.
If, however, your music is download in .mp3 files, you can transfer them onto your iPhone in the following way:
Download and install iTunes on your PC.
Connect your Huawei to your PC using a transfer cable.
Locate the downloaded music files.
Copy the files to another location, such as your desktop.
Open iTunes and drag the music files to the Songs section, under Library.
Connect your iPhone to your PC and click on the device button (indicated by a symbol of a phone).
Select music from the listed options and check the box that says Sync Music. You can also choose to add additional music files to your iPhone if they are in your iTunes library.
Wait until your music files have synchronised.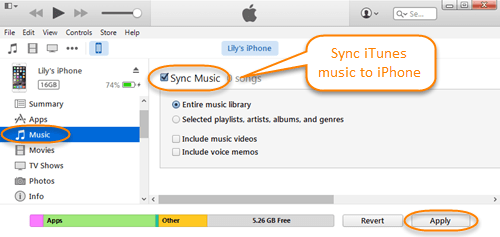 You should not delete the songs from your iTunes library after this is done, because the next time you connect your iPhone to your PC and sync it, it will result in those music files also being deleted from your iPhone. However, you can continue to add music files this way.
Tips
You can check out our other articles that give more details for single data type transfers, for files such as contacts, text messages and photos.
Can You Transfer Data If You Don't Have Access to Your Huawei?
The short answer is NO, you can't. This is because you need access to the data, and the only way of getting access to them is by having access to your Huawei. However, if you have saved files to some other place, such as a micro SD card, or a cloud storage service, then you can access those files from there. For example, you may be able to get your pictures and videos if they were saved to Google Photos.
This is why we recommend that you regularly take backups of the key data on your phone. You can refer to the method mentioned in Part 2 to regularly back up your WhatsApp data. In this way you can restore your WhatsApp backup to any device you like or even export your WhatsApp backup to your computer when you cannot access your Huawei phone.