Switching to a new phone can be exciting due to the new experience and the change that it brings, especially if you are someone who likes to explore with technology. However, you might think that it means leaving all your old photos on your previous device. This is not the case.
This article will show you how you can move your photos from your old Android phone to your new iPhone so that you can look through your memories if you ever want to. There are a variety of methods on how to transfer photos from Android to iPhone 14 after setup without computer, so make sure you look through the entire article and select the method that best suits your need.

Transfer Photos from Android to iPhone 14 after Setup Even without Internet by iTransor Pro
iMyFone iTransor Pro is a fast, effective and simple-to-use program that lets you move 12 types of data from Samsung/Huawei to iPhone including photos on your Android phone. It can migrate WhatsApp between Android phones, iPhones and even across operating systems. This is great if you aren't too experienced in the use of technology, or if you want something that will automatically move alll your phone data from your old Android phone to the new iPhone, without you having to worry about selecting them and choosing a suitable location to move them to.
Due to the automated process, it is the fastest way to move your data, with the PC being which the data is moved through. In addition to this, you can also use it to backup and export your WhatsApp data to PC. This is great just in case you ever accidentally lose your data or wipe your phone.
To use the software:
Install the software on your PC.
Choose to Transfer WhatsApp or Transfer Other Data and connect both your phones to your PC.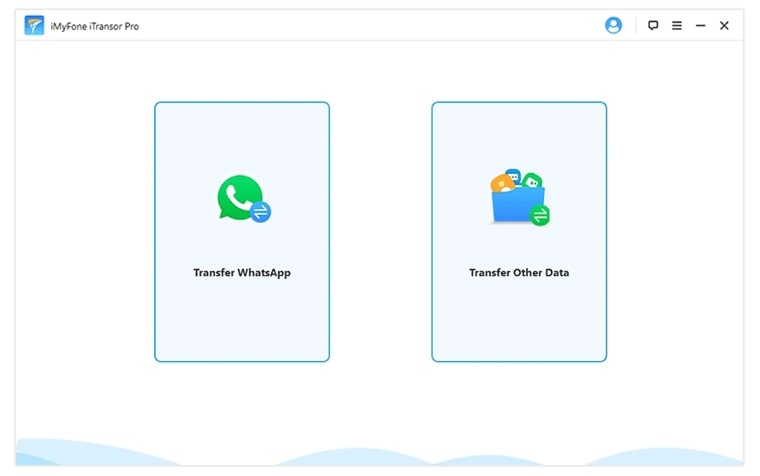 Set the correct source device and the destination one and then select the photos you'd like to transfer.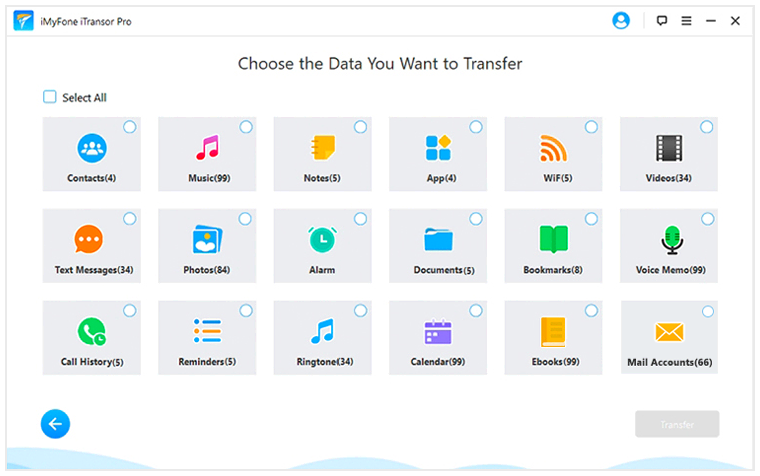 Click Transfer and wait until all the photos are transferred.
The steps given above are quite brief, and you can find detailed ones in the official phone transfer guide. You can also have a look at how to complete different types of phone data transfer.
Method 1 – Transfer Photos from Android to iPhone 14 Free without Computer by Google Photos
The primary gallery application on most Android phones is the Google Photos application. It comes pre-installed on almost all Android phones, and you can use it to look through your photo collections, save them to a Google Account and back up your photos in case you ever accidentally delete them. Luckily, the Google Photos app is available to download on the Apple App Store too, so if you have been using Google Photos to store your photos, you will easily be able to sync them to your new iPhone.
Before you log in with your Google Photos account on your iPhone, you will need to back up all the photos that you want to transfer to your iPhone from your Android. This can be done by selecting them and choosing to upload them to Google Photos. Once this is done:
Download and install Google Photos on your iPhone.
Log in with your Google Account to this iPhone.
Enable backup and sync through settings.
Wait for your photos to sync.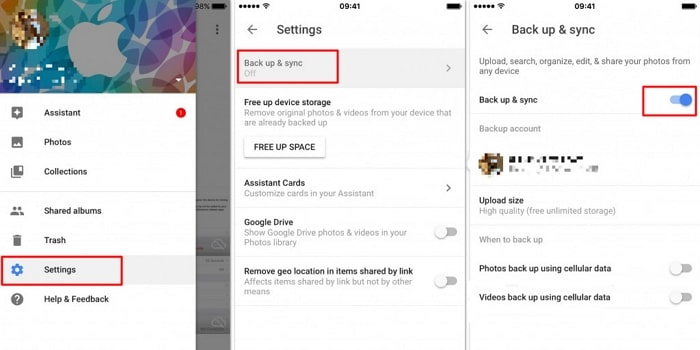 This will give you access to your images. If you would like them to be stored on your phone's internal storage so you can see them through your camera roll, you can select them by holding them, tapping the share icon and choosing the option that lets you save the images. Furthermore, any additional photos that you shoot can be backed up to your Google Photos account, meaning they can also be accessed remotely, from devices such as computers. This means you can have access to your photos as long as you are connected to the internet, and there's no need to save them on your device, wasting storage capacity.
Method 2 – Transfer Photos from Android to iPhone 14 Free without Computer by PhotoSync Application
Another application that you can use, similar to Google Photos is the PhotoSync app. It is available for free on both operating systems' app markets – the Google Play Store and the Apple App Store. You can use this app to share photos from one device to another. Before you use this method, make sure both your iPhone and your Android phones are connected to the same Wi-Fi network and are not using mobile data.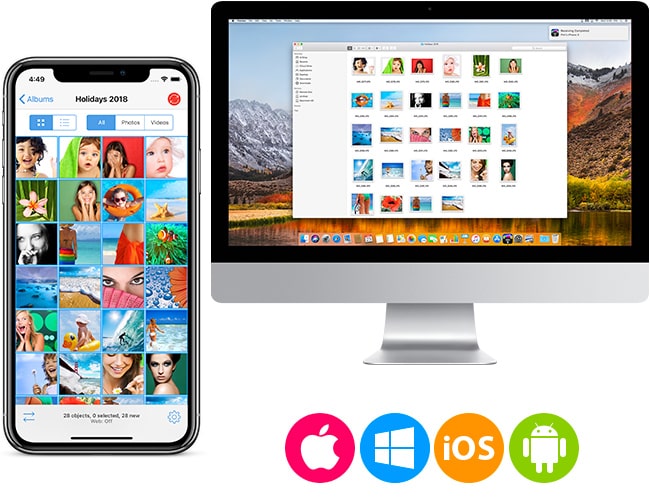 Download and install PhotoSync on both your iPhone and Android.
Open PhotoSync on your iPhone and tap the Red sync button.
Choose to receive.
Open the PhotoSync app on your Android phone.
Select all the photos that you want to transfer and tap the Red sync button in the top corner.
From the given options, choose "Selected", and pick Phone/Tablet as your destination.
Your iPhone should automatically be detected. If it isn't, you can choose to Add device manually (IP) and then enter the IP address and port showing on your iPhone screen.
Wait for the transfer to complete once you have selected the device that you want the photos to move to.
This method can take quite some time, especially if your internet connection isn't too strong, and if you select a lot of files.
Method 3 – Transfer Photos from Android to iPhone 14 Free without Computer by Cloud Storage
Cloud storage is when you use an online service to save your files to a server that isn't local to your machine. This means if you have access to a device and can connect to the internet, you will be able to access these files. This is great, especially if you require some files to be modified often but also access them from different devices, such as Word documents.
You can use a cloud storage system to upload your photos to them and then download them onto your new phone. You will need an account to a cloud storage site (we will be using OneDrive for this example; however, alternatives also work fine).
Download the OneDrive application on both your phones from their app markets.
Open a gallery application on your Android and select the images that you want to upload.
Choose Share and then pick OneDrive.
Wait until the images upload.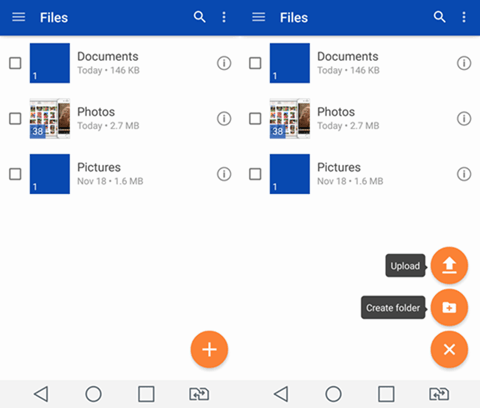 Log in to the same OneDrive account on your iPhone.
Locate the uploaded photos and download them onto your iPhone.
You can use the Photos app on your iPhone to relocate them and sort your photos into folders.
This method is great if you only want to move a few photos from one phone to another, however, as the number of photos increases, so does the time. Cloud storage services also have limits to the storage space available to use, so if you have a lot of photos, you may exceed that limit.
Method 4 – Transfer Photos from Android to iPhone 14 Free without Computer by Move to iOS Application
Apple has built an application for users who are switching from Android to iPhone 14. This is free to download and install on the Google Play Store and similar to the PhotoSync app, it uses Wi-Fi to move your files (including photos, contacts, videos…) from your old Android to your new iPhone. Before you advance with this method, you will need to check the following:
You have a strong internet connection.
Your iPhone has not been set up. If it has, you will need to factory reset it.
Once you meet these requirements, you can use the Move to iOS application in the following way:
Go onto the Google Play Store on your Android phone and find the Move to iOS application.
Download and install this app.
Set up your iPhone up to the Apps & Data page, where you will need to pick Move Data from Android.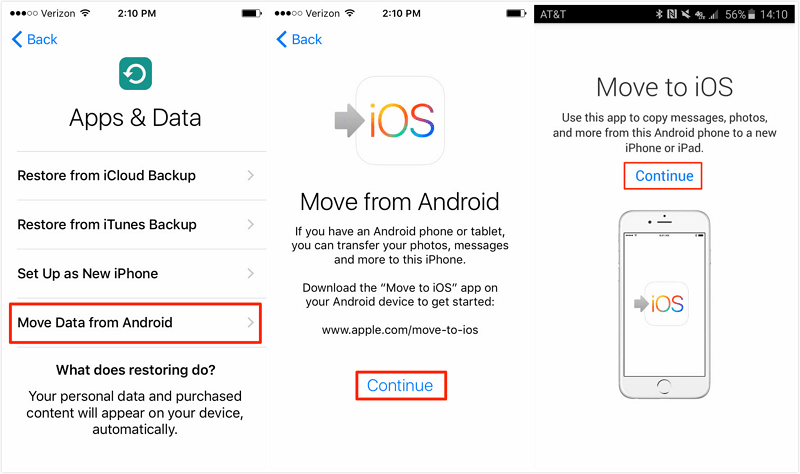 Open the Move to iOS application on your Android.
Enter the code generated by your iPhone.
Choose Photos from the listed file types and tap Next.
Wait until both phones show the transfer to be complete.
Note
Do not use either of your devices for any other purposes during the transfer process. This may lead to errors and will require you to redo the process.
This method can also be used to move other files from our old Android to your new iPhone, but it doesn't always work. Furthermore, due to it being part of the initial set up stages, you need to have your phone factory reset.
---
Conclusion
Hopefully, this article has guided you successfully in moving your photos from Android to iPhone 14. It is the best to use the method that you are most comfortable with, although we would highly recommend you at least read all the methods so that you can learn more about what they have to offer. Also, make sure you check out our other articles.