Changing from an Android device to an iPhone can be a big step, especially for those people who have been accustomed to Android. The main worry of such users will be the transfer of important files between devices. The contacts, messages, important notes, etc. will need to be transferred from the old Android device to the new iPhone.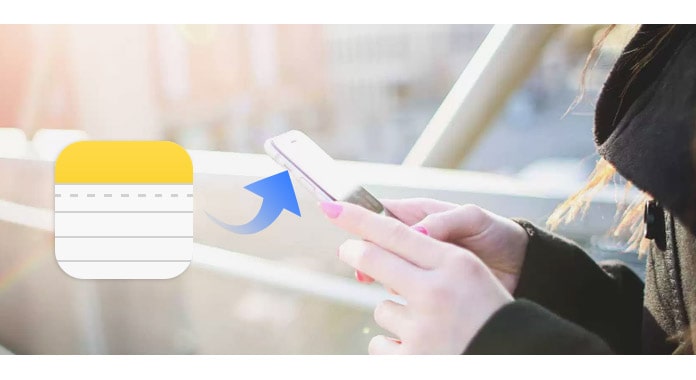 The notes in our mobile can consist of many things, from simple grocery lists to private details like passwords, office details, bank details, etc. So the transfer of notes is very important and must be done in a very secure manner. Here in this article, we will discuss how to transfer notes from Android to iPhone 14 .
The Ultimate Tool to Transfer All Notes from Android to iPhone 14
While you may think it is troublesome to transfer all your notes from Android to iPhone 14, it is even more complex to transfer your WhatsApp chats, call history, pictures, videos and contacts. The importance of being able to transfer your WhatsApp data while switching from Android to iPhone cannot be overstated, but there is no official method from neither WhatsApp nor Apple for this. Luckily, we know an outstanding tool and that can excellently complete this task.
iMyFone iTransor Pro is one of the rare apps in the world that offers a simple and effective method to transfer up to 12 types of data including your notes and WhatsApp data from Samsung/Huawei to iPhone 14, without compromising the safety of your data.
It offers an easy system to selectively transfer one or multiple data types in one go. If you are desperate to avoid losing your old Android data after switching to an iPhone, you should consider using the iTransor Pro tool. Here is how you can transfer data with the app:
Visit the official website and download the app to your PC. Install the app after downloading it.
Choose Transfer WhatsApp or Transfer Other Data. Check the complete phone transfer guide here if you need.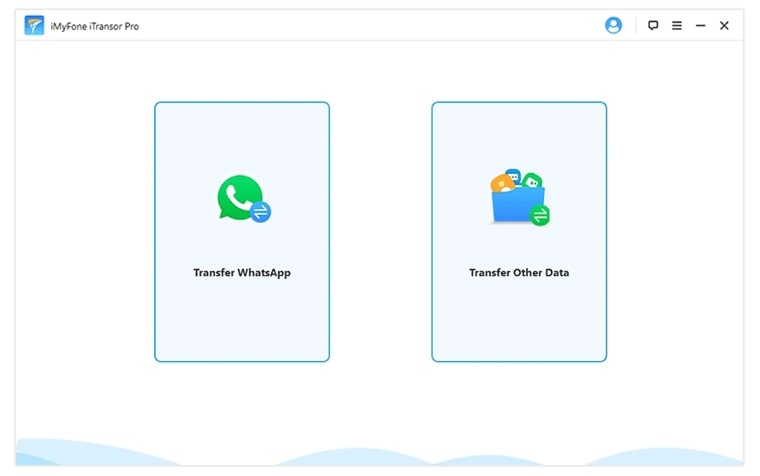 Launch the app and connect the Android device to your PC via USB cable. Allow USB debugging or allow access to phone data on the Android.
On the iPhone, remember to turn off Find My iPhone before beginning the process. Connect the iPhone via USB cable and Trust the PC on your phone.
Select the data you'd like to transfer and follow the on screen instructions. Then wait till the transfer process is complete.
1. Google Sync - Automatically Transferring Notes from Android to iPhone 14 Free without Computer
This method utilizes Google account for the transfer of notes. A google account can be used to store data that can later be accessed from any device via the same Google account. Every Android device must be logged in using a Google account for accessing certain features which makes data stored easier. The Google sync feature on an Android device allows the users to store important data like contacts, notes, etc. automatically to the Google account which can then be accessed even from an iPhone.
Steps of Transfer
Take your android phone and open Settings. Scroll down the options and click the Accounts option and then Google.
When you click Google, enable the Sync Now option. Now all the details like mail, contacts, calendar, and notes will be updated to your Google account.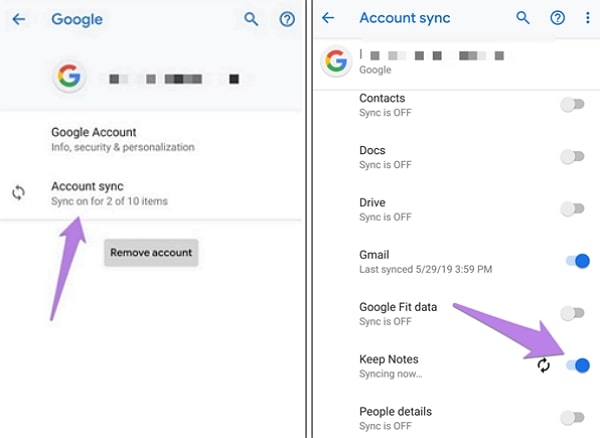 Once the sync process is complete, open Settings on your iPhone. Select mail, contacts, and calendar and tap on Add accounts. Enter the details and login to the same account you previously used in the Android device.
Tap on Next and enable the Notes option for the syncing process to start.
All the notes from your android device will be transferred to your iPhone within no time. Open your iPhone and check if all the notes have been added.
2. Dropbox - Using Cloud Storage to Transfer Notes from Android to iPhone 14 Free without Computer
Dropbox is a very popular cloud storage application that can be used to store files. These stored files can then be accessed from any device with an internet connection, which makes the Dropbox a medium of the notes transfer. Dropbox can be used both on Android and iOS devices so as to transfer notes from Android to iPhone 14.
Steps of Transfer
Take your Android and open the Notes application.
Select the notes you wish to transfer and tap on the Share icon (three vertical dots).
Now select the Send or Share option and then tap on the Dropbox icon from the popup window.
Take your iPhone and open the Dropbox application. You will be able to access the saved notes in it.
Dropbox files can be accessed either directly or with the help of third-party applications. It also has an inbuilt notes creator which can be used to save notes and be accessed on any device, provided you have an internet connection.
3. Email - Manually Sharing Notes from Android to iPhone 14 Free without Computer
One of the simplest solutions is using the Sharing via Mail option on your Android phone. There are certain notes you will be unable to sync between your two phones. For this reason, this is an excellent option for transferring notes from Android to iPhone 14.
Steps of Transfer
Go to the home screen of your Android phone and open the app labeled Notes.
Choose the notes that you want to be transferred to your new iPhone.
Look in your screen for the Share icon. On your toolbox, choose Mail. This will take you to a new email page. (Look in the content area, and you will see your notes. )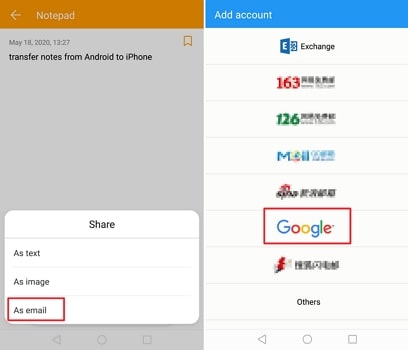 Go to the To field, then type in your main email account. Enter the title of your choice in the Subject field.
Find the Send icon, then tap. All of the notes on your Android phone will be sent to your email account.
Go to your main email account on your iPhone. This is located in your native Email app. Now all of your notes will be in your new mail.
4. Comparison of the 3 Mentioned Methods
The method of transferring through Google account seems easy but adding a google account and manually syncing can appear a little confusing especially if you are using an Apple device for the first time.
Using the Dropbox for the transfer purpose can be more confusing than Google accounts, especially if you have never used Dropbox before. There is a "getting used to time" for an Apple device and above that, you will need a "getting used to time" for Dropbox.
As for the Email option, it is easy to operate while might be complicated when there are numerous notes to transfer. All of three methods are out of the box if you don't have a stable wifi connection. So we provide a software tool below which won't be affected by wifi connection.

Conclusion
Notes help us to save important details and information on our mobile phone. Some of this information can be very important and will need to be transferred to any device we are using. Fortunately, you have so many choices to transfer notes from Android to iPhone 14. Please let us know what you think about our suggestions by leaving feedback in the comment box below.