You can also read this guide in Français.
There are many reasons you might need to switch the computer that you are syncing your iPhone to. Maybe you got a new computer or maybe you have a second computer and would like to share your music with it. Regardless, there are ways to get around iTunes' usual restrictions and sync your iPhone with another computer. Are you wondering "how to change iPhone sync computer without erasing"? You are right here.
What Happens If I Change iPhone Synced Computer?
When you plug your iPhone into a new computer and launch iTunes in order to sync to the new computer, a few things will happen. The main thing, however, is that you will find iTunes wants to take the data that you have in the other computer's iTunes library and transfer it to your iPhone. However, it will overwrite your iPhone music, movies, playlists, podcasts and any other media files when it does this, erasing it.
A dialog box might come up that says something like: "iPhone is synced with another iTunes Library. Do you want to erase this iPhone and sync with this iTunes Library?" Basically, this means that iTunes is asking if you want to replace the data on your iPhone with the data in the new iTunes library. You can't just add to it, iTunes will replace it.
This sounds terrible especially when you have important data on your iPhone. But can you change iPhone sync computer without erasing? The answer is yes.
---
Can You Make the iPhone Sync Computer without Erasing Data?
If you want to bypass all of these limitations, then you can use an iTunes alternative called iMyFone TunesMate. With it, you can change iPhone sync computer without erasing. You can sync your iPhone to different computers without losing any data. And you don't need to unsync your iPhone off the old computer before you sync it to a new computer.
iMyFone TunesMate is a good iTunes alternative, which is highly commended by lots of well-known media and users since its release.
Key Features of TunesMate
Sync iPhone files to computer, iTunes, and even external hard drive.
Sync files to iPhone from iTunes libraries without deleting old files from iPhone.
Add files to iPhone from computer directly without iTunes as a bridge.
Build up your music collection from your friend's iDevice.
Share files among different iPhones or iTunes libraries even signed in different Apple IDs.
How to change iPhone sync computer without erasing?
Download the free version of iMyFone TunesMate on your new computer and follow below to sync your iPhone files to new computer.
Step 1: Launch TunesMate after you install it. Plug your iPhone to computer and trust this computer on iPhone.
Step 2: Choose the file type you want to sync from the top menu, like "Music."
Step 3: All your iPhone music will be shown there. Select the ones you want to sync and hit "Export > Export to PC".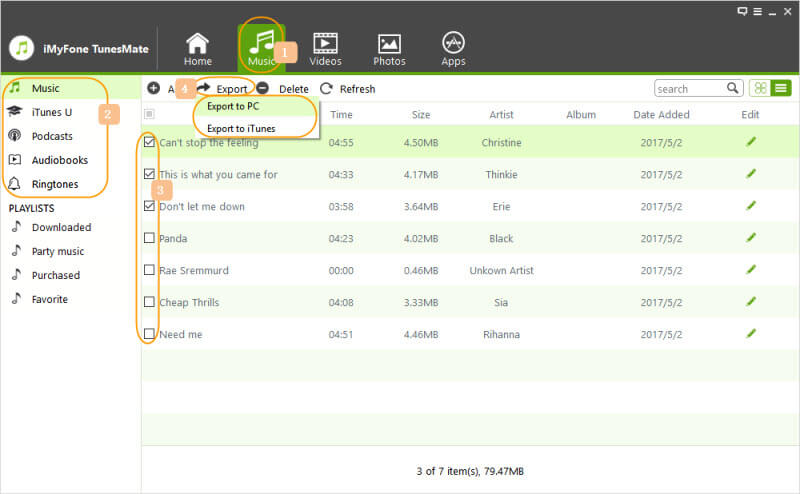 Step 4: Choose a folder on computer to store the iPhone music and click on "Select Folder" to begin.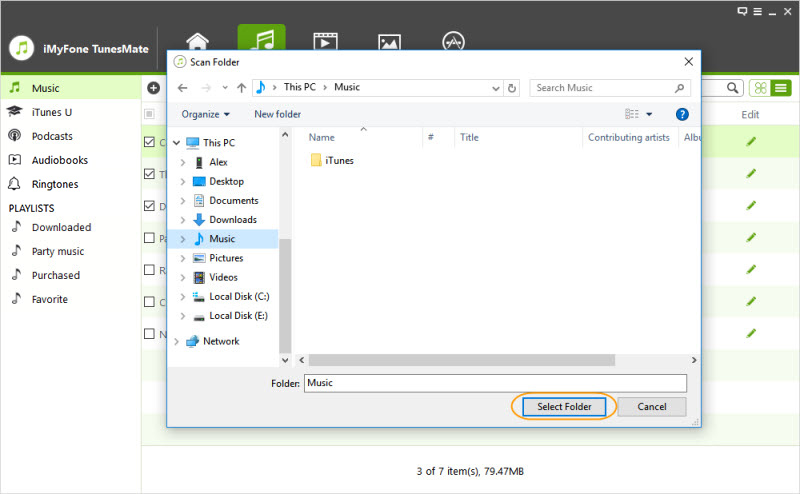 Tips
You can share purchased or non-purchased music with friends.
Incompatible music and video files are automatically converted when you transfer to iPhone.
You can edit music info, like names, artists, artworks, albums, etc. as you like.
You can rebuild your iTunes library when your computer/iTunes crashed.
-- By iMyFone TunesMate