There are a lot of device managers out there for iOS, and sometimes it can be hard to pick the right one for you. Lets take a look at Sharepod iOS Transfer and a few of the other options before you commit to a specific one.
Complete Software Review of Sharepod
Sharepod is device management software that lets you transfer music and playlists from your iOS device to your PC or Mac. It allows you to extract music as well as playlists.
General features include:
You can restore music from your iPhone to your PC in case your computer crashes.
Transfer music and playlists to a new computer with your iPhone.
Transfer music, movies, podcasts, and iTunesU.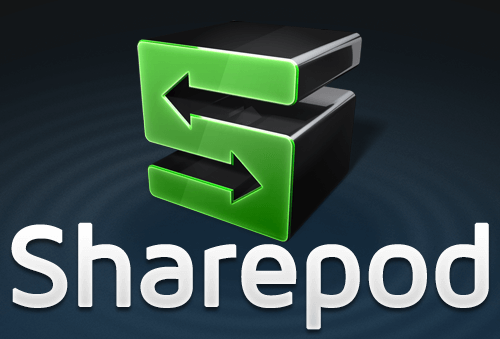 Pros:
It's extremely simple. In fact, the official website itself calls the program "dead simple." It does just a few things and it does them well.
It allows you to recover your music from an iOS device in case you lose your iTunes library or something happens to your computer. In other words, you can turn your iPhone, iPad, or iPod into a backup device for your music.
Cons:
The fact that it is simple means that it doesn't have as many features as other file mangers out there.
It appears that you can't transfer files from your computer to your iPhone.
You can only transfer music, and not other kinds of files.
It's note updated in time. Its website still says it supports iOS 10 and iPhone 7 instead of the latest iOS 11 and iPhone X.
Top 3 Ultimate Alternatives to Sharepod
#1. iMyFone TunesMate iPhone Transfer
iMyFone TunesMate is software that allows you to manage all kinds of files on your iOS device, including music, photos, video, ringtones and more. You can transfer freely between your device and your PC or Mac the way you want. It bypass iTunes limits to give you freedom to manage your files.
Key Features:
Transfer to/from iPhone: You can transfer files to iPhone from different places; or extract files iPhone the way you want.
Transfer to/from iTunes: You can enlarge your iTunes library from unlimited devices even in different Apple IDs; or sync iTunes library to iPhone without data loss.
Purchase & Non-Purchase: No matter how you transfer, it supports iTunes purchased files or files which are not from the official iTunes store.
Full File Supported: All the media files are supported to transferred or manage, like music, movies, playlists, photos, audiobooks, ringtones, podcasts, etc.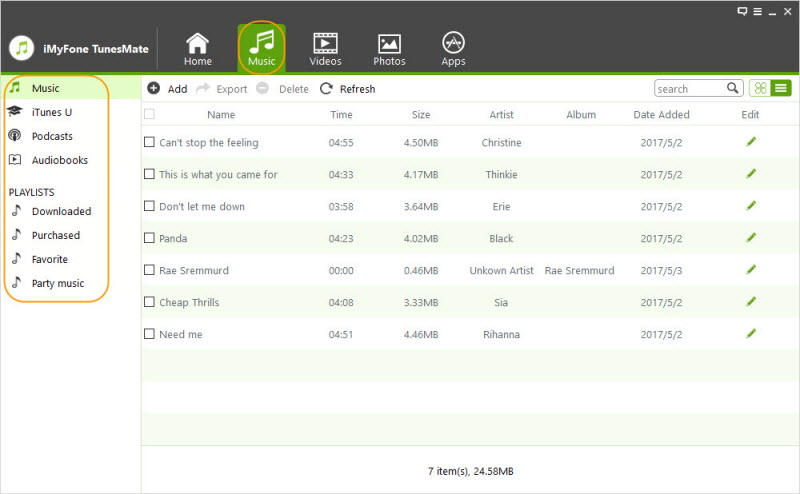 Pros:
It supports even the latest iOS and iOS devices.
You can rebuild your iTunes library when your iTunes files are missing.
It's easy to use and offers you 1-click features.
#2. Syncios iOS Transfer
SynciOS is another interesting program that allows you to transfer your files. Like TunesMate, it lets you transfer to and from your PC or device, and it supports many different types of programs.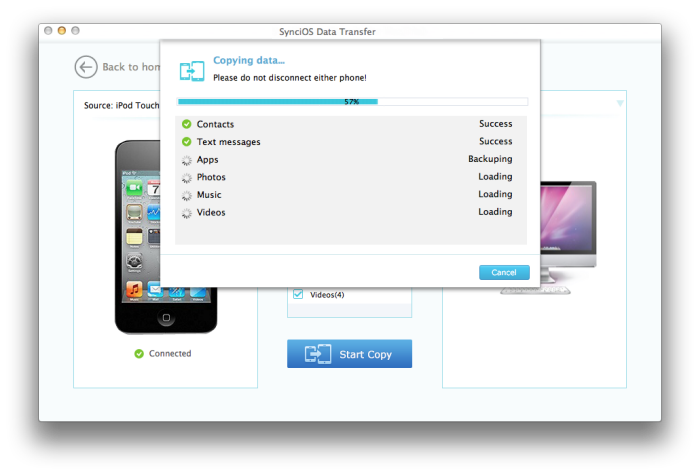 Pros:
It's user friendly.
You can transfer many different file types.
It lets you make ringtones.
Cons:
Tries to get you to download unrelated programs (adware).
It doesn't provide free trial to test.
You can transfer files from iTunes to iPhone on the program.
You can transfer music, instead of music playlists.
#3. ImTOO iPhone Transfer
ImToo is a feature-rich device manager for iOS that has a lot of interesting options. It can transfer most types of files and it is fairly easy to use.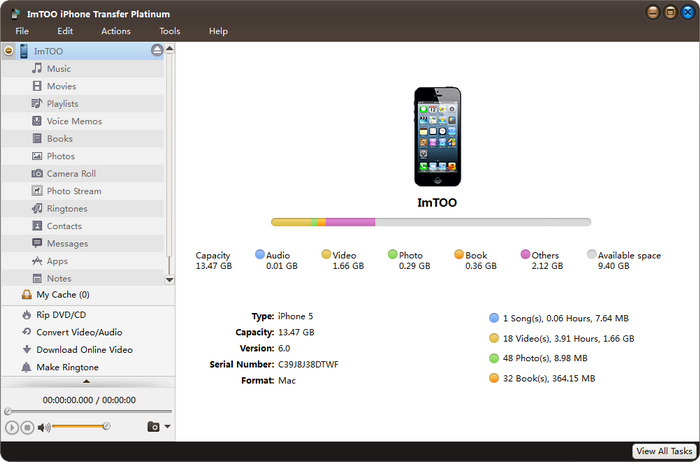 Pros:
You can back up a lot of files, including text messages.
It supports the latest versions of iOS.
Cons:
It doesn't provide free trial to test.
Syncing files from iTunes to iPhone is not available.
It doesn't support music playlists.
Which Software Satisfies Your Needs Much More?
| Apps and Metrics | SharePod | | SynciOS | ImToo |
| --- | --- | --- | --- | --- |
| Transfer many different kinds of files, not just music | | | | |
| Transfer files from iPhone to computer | | | | |
| Transfer iPhone files to iTunes library | | | | |
| Make or transfer ringtones | | | | |
| Sync iTunes files to iPhone | | | | |
| Transfer music playlists | | | | |