You can also read this guide in Français.
What Is SynciOS Data Transfer?
As one of the more reliable and commonly used data transfer solutions, SynciOS Data Transfer has been a appreciated iTunes alternative for some time. With the ability to help you with anything from transferring data between iPhone and computer/iTunes, such as contacts, photos, eBooks, music, videos, apps and more, this makes it easy to manage and control the media of your iPhone.
It can also help with things like content syncing from iTunes Library and also recovering old backups. In short, it has become a common option for easy backup and management of iDevice for those in need of a quick solution.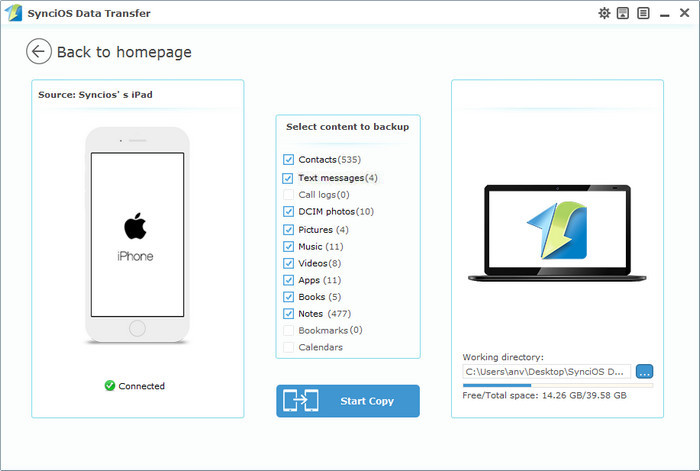 Key Features of SynciOS Data Transfer
It gives you great ways to transfer files between PC and iPhone/iPad/iPod.
A good maanger to manage iPhone music, videos, photos, apps, contacts, messages and more on PC.
Sync iTunes media library to iPhone without deleting old data on iPhone.
Back up iPhone files to iTunes/computer.
However, SynciOS Data Transfer might not actually be the best choice on the market at this moment in time.
SynciOS Data Transfer May Not Be the Best Choice
Did you know, for example, that SynciOS Data Transfer has a rather complex and hard to grasp user interface? Many other options exist on the market today that offers a far less complicated manner of usage.
It's hard to get used to using SynciOS, given the fact that it can feel a little unwieldy to mess around with at times.
It doesn't support all music/video formats as it doesn't have a built-in automatic converter.
Some music or videos might be displayable on iPhone/iPad/iPod.
You should find that it fail to transfer some important data, like audibooks, ringtones, photo stream, etc.
Add in the fact that it's very expensive at £50+, and it's very easy to see why many people choose to go elsewhere.
---
The Best Alternative to SynciOS Data Transfer (iOS 14 Supported).
As the best SynciOS alternative, iMyFone iOS Transfer beats SynciOS Data Transfer hands down in offerings and performance. It is an all-in-one expert that allows you to manage iPhone/iTunes music, videos, files at will and even computer data in a way. It can do what SynciOS can and cannot. This is the perfect alternative when you find SynciOS too expensive or awkward.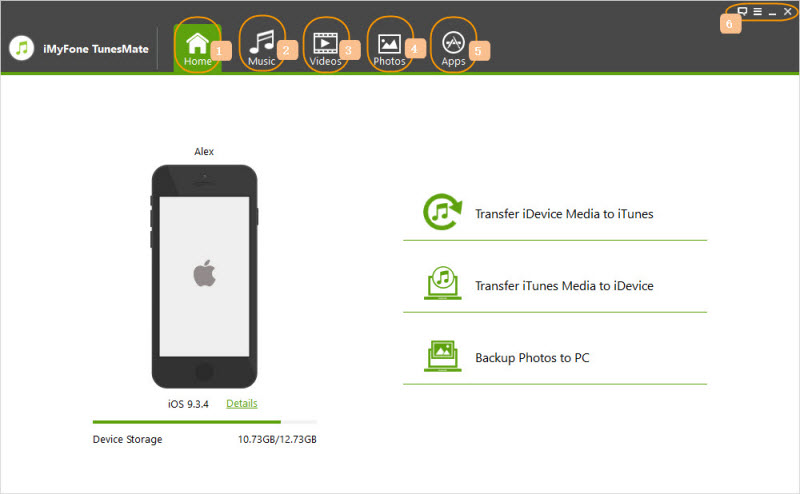 There are many reasons why iMyFone iOS Transfer is the ideal pick for making this work the way that you need.
What Make iMyFone iOS Transfer Better Than SynciOS
01

More Powerful Functions
Two-way sync - You can freely transfer iPhone music/videos/files to computer/iTunes to have a large media library, or in return, sync computer/iTunes media to iPhone. Quality and original info will be well-remained.
Simpler & Smarter Management - It offers a more simplistic management method allows you to back up iPhone data to local library in 1 click to avoid data loss from accidents, or mass delete unwanted iPhone media, add new contents, edit music info and manage music playlists either in bulk or whole.
02

User-friendly Interface & Easy Operation
Using hardware like this can feel like a struggle for many people who are not tech-savvy. With this, you get a 3-step, clickable, drag-and-drop interface that is incredible fun to deal with. Its intructions are also easy to understand and follow. You should find it easy to get used to.
It supports all audio and video formats, and all music either purchased or free. That's say, it doesn't put limits to the contents to transfer or manage.
It supports almost all Window and Mac platforms, and almost all iOS devices.
04

Automatic Conversion
Fear that music or videos can't play on iPhone? No worries. Music/videos will be automatically converted to iPhone/iPad/iPod version when transferring. All the files transferred should be in good conditions on your device to play.
05

Cost-Effective
Far cheaper to pick up than SynciOS Data Transfer, this offers a much more cost-efficient solution that provides better features and performance, allowing users to enjoy media in a smart and suitable way.
How to Transfer Music to iPhone Using iMyFone iOS Transfer?
Step 1: Download, install, and launch iMyFone iOS Transfer (it has a free trial, why not have a shot?). Connect your iDevice to computer.
Step 2: Now, go to the "Music" tab on the top section, and head into Music. Hit "Add > Add File" and locate where your store your music on computer.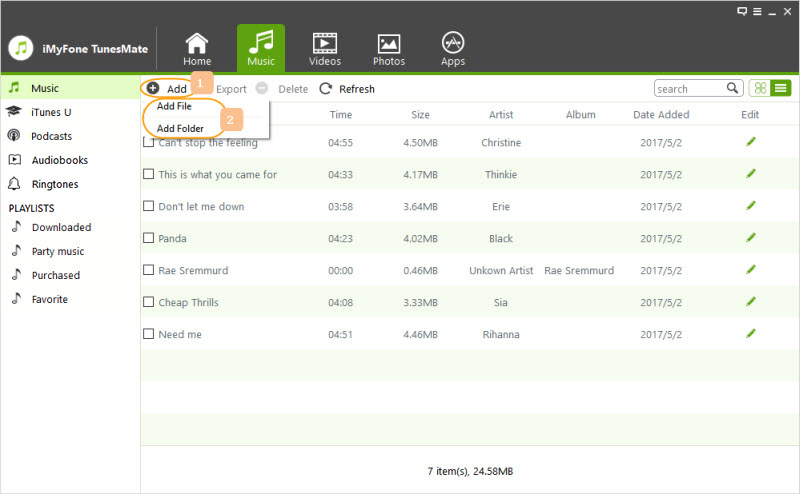 Step 3: Holding "Ctrl" or "Shift" key when checking music to select multiple songs. Once done, hit "Open" to begin.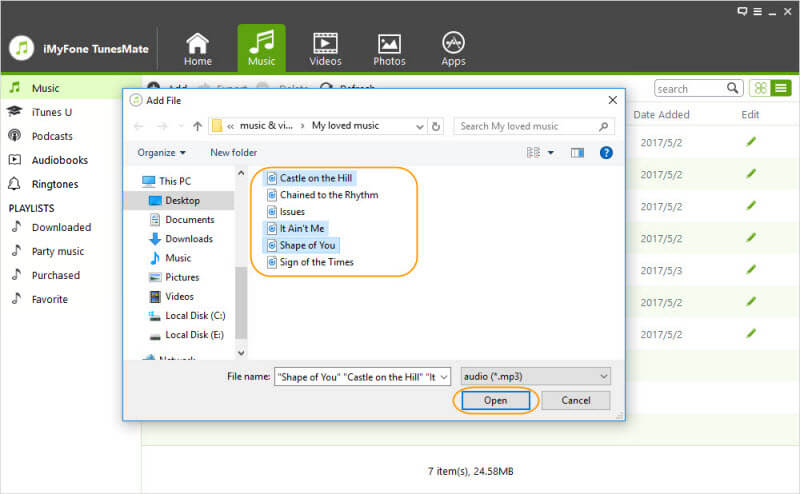 When transferring process finishes, you can open "Music" app on your device to enjoy the newly-added songs.
With such easy management and usage, this can become the go-to choice for anyone looking to make their usage of iOS devices easier and less complex in the future. With the help of iMyFone iOS Transfer, that just became a little easier!