You can also read this guide in Français.
If you are looking for an all-in-one iPhone manager then look no further than the one called iSkysoft Transfer. This outstanding software gives you more freedom to manage your media files on iPhone, much more convenient than iTunes.
It does more than what iTunes does while bypassing iTunes restrictions. In general, iSkysoft iTransfer is a good iTunes alternative.
What Is iSkysoft iTransfer?
iSkysoft iTransfer is an all-in-one iPhone manager that will give you control of your iPhone files, including music, video, photos, contacts, SMS, etc. Also it makes your multi-device and cross-platform media management simple and easy.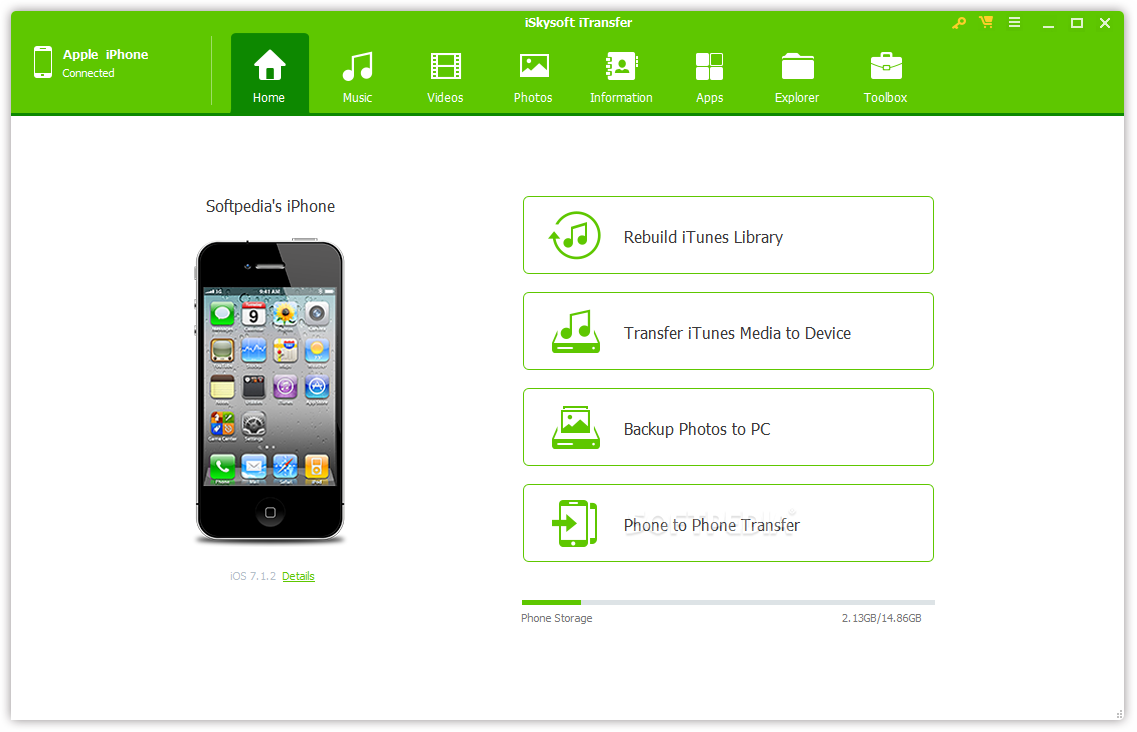 iSkysoft Transfer Main Features:
Capable of retrieving and backing up 10+ types of data from an Apple device
1 click to rebuild iTunes library from iPhone/iPad/iPod
Recover backup to iPhone from computer/iTunes
Transfer files from iPhone to computer/iTunes
Manage iPhone contacts: backup, import, transfer, add, delete
Supports iOS 10 and the newest Apple iPhone 7
A Well-Done iSkysoft iTransfer Review
Without a doubt, iSkysoft iTransfer is one of the best phone manager for iPhone/iPad. It not only helps you to transfer or manage your music, video, phoots, but also helps you convert to GIF images. With its features, you can, with a single click, copy all your songs from your iPhone to the iTunes Library or to a folder on your PC or to another Apple device. iTransfer allows you to complete these tasks without any interference from iTunes.
Conversions
Secondly, iTransfer also performs different conversion jobs in a very seamless manner. It supports virtually every kind of format for audio and video and so you can put any song or video to your iPhone for further enjoyment. And, if you want to do more with your photos, then iSkysoft iTransfer allows you to convert your photos on your iPhone to Animated GIF images.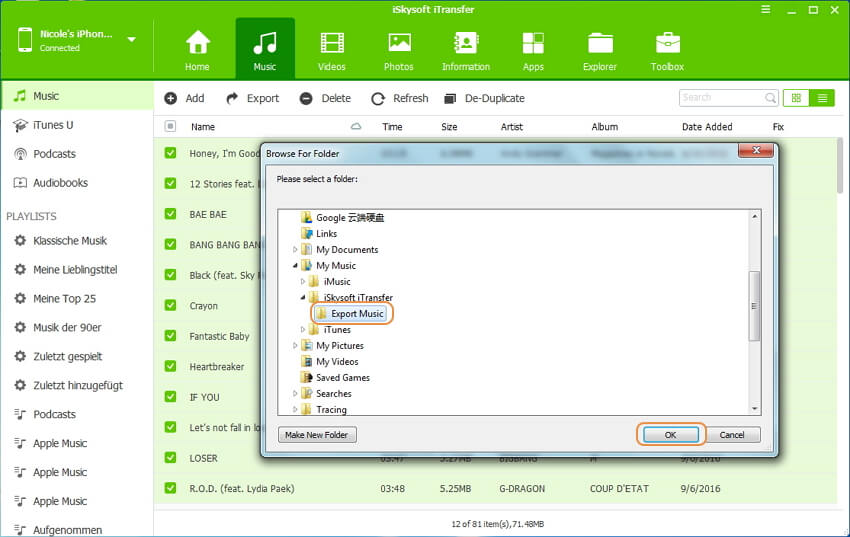 Cross compatibility
Another important feature of iSkysoft iTransfer is its cross compatibility. This means that you can procure GIF images from your iPhone. You don't even require an Internet connection to do this. And, when the photos are converted you can easily and quickly share them to most social media platforms.
Pros
iSkysoft iTransfer makes it easy for you to easily copy music and videos as well as photos to your iPhone without needing to use iTunes.
It also is very easy to manage.
It is cross compatible, which means that you can use it on Mac or Windows.
The interface is also very easy to understand and use.
Cons
It's much more expensive than the average prices of other phone managers, $49.95 for 1 PC and 1 Year.
It only supports to transfer some specific audio and video formats.
- Video: MOV, M4V, MP4
- Audio: AAC, MP3, WAV, M4A, AIFF, AJF
Its redundant features, like Explorer, which are not actually useful but just make the software lumbersome.
3 Similar Recommended iPhone Managers
1

iMyFone TunesMate
iMyFone TunesMate is the all-in-one iPhone transfer tool, which is fully compatible with iOS 10, or even iOS 11 and iPhone 7. It is used to transfer media freely between iOS and iTunes and/or PC. Apart from transfer, you can manage iPhone files, back up important files and restore backups anytime.
Pros:
+ It supports all file formats of video and audio, as it has built-in converter to make files iOS compatible when transferring.
+ It supports all purchased or non-purchased files.
+ Its user interface is friendly, which makes it easy to use.
+ It supports the latest iOS 11 and newest iPhone 7.
Main Features:
- Feature a one-click iTunes Library Rebuilder.
- Supports music, video, audiobooks, playlists, photos, podcasts and 10+ files.
- Two-way transfer between iPhone and iTunes without any damage to any library.
-
Transfer files to iPhone
from anywhere: computer, iTunes, CDs, external hard drive, other phones, etc.
- Back up iPhone/iTunes files and restore backups whenever you need.
- Smart managements of iPhone music and playlists: add, delete, edit, transfer, back up, rename, import, etc.
- An iPhone can be synced to different iTunes libraries at the same time without erasing.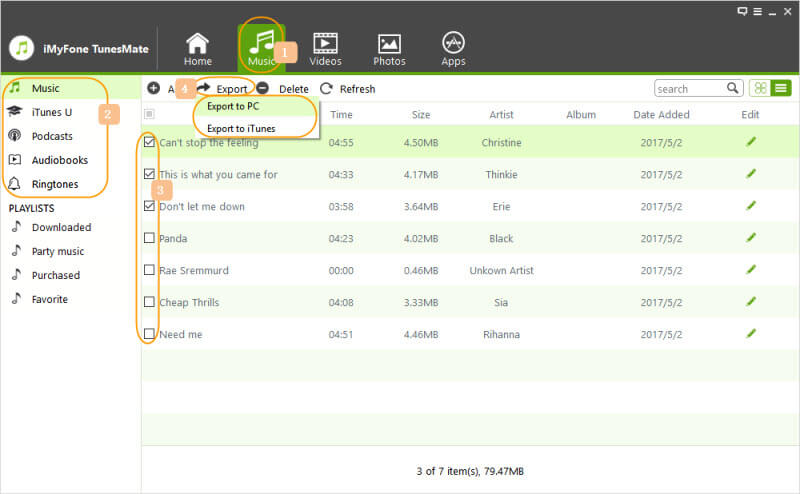 Recently received media reviews: getintopc.com, tricksworldzz.com, crunchytricks.com.
2

iFunBox
iFunBox is another alternative to iSkysoft iTransfer that you will do well to check out. It is an excellent record director for your iPhone that makes it easy for you to make the most of your iPhone. It works like a removable drive. The main features of iFunBox include giving you total control over your Apple device file system. It is also a one-stop install and backup app. And, it offers hi-speed general-purpose storage capabilities that help you convert your apple device to a large USB flash drive.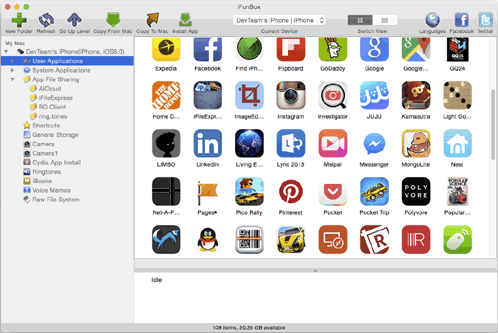 3

Apowersoft Phone Manager
Apowersoft Phone Manager is another app that allows you to oversee as well as exchange music, recordings, photos and much more between your PC and Apple device. Its main features include allowing you to connect your Apple device to your PC wirelessly. It also allows you to stream any screen activity with audio to your PC. Finally, Apowersoft Phone Manager also excels at customizing settings for display and capture.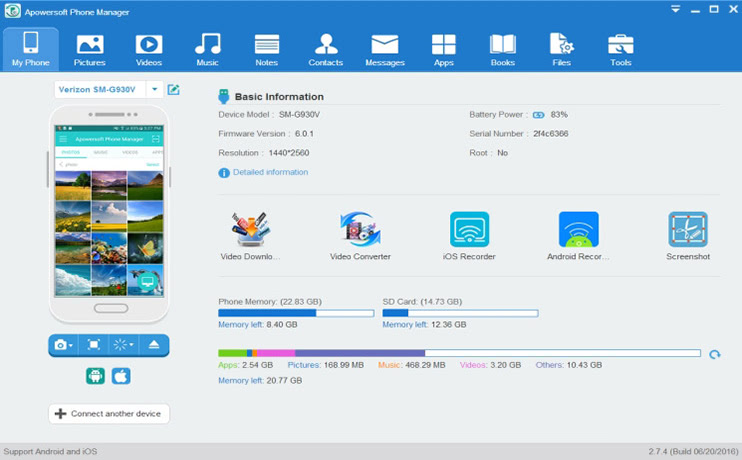 Also Read:
Top 5 iPhone Music Manager: Add, Transfer Music Easily
Top 4 Best & Free iPod Music Manager Review