Everyone who has multiple devices will eventually find that they need to share information between these various devices. If you have an iPhone, you may want to transfer files from PC to iPhone, but you may not know how to do it most efficiently. The truth is that using iTunes is very restrictive. You should copy files from PC to iPhone without iTunes.
How to Transfer Files from PC to iPhone without iTunes
The best iTunes alternative for transferring files from PC to iPhone without iTunes is the 3rd-party application iMyFone TunesMate iPhone Transfer. It is a powerful application that can transfer just about any kind of files from PC to iPhone or from iPhone to PC without iTunes. You can also share data among unlimited devices in iOS 14, and preview the files before you transfer them.
Main Features:
Two-way transfer that can freely transfer files between iPhone and PC/iTunes.
Directly transfer files from PC to iPhone, without ever opening iTunes.
Sync files to iPhone from different PCs without erasing.
Sync iTunes library files between iPhone and computer without data loss.
Transfer files including music, videos, photos, playlists, podcasts, audiobooks, and 10+ more.
Highly spoken of by hundreds of users and well-known media, like Geekreply, tricksworldzz.com, etc.
It also supports almost all iOS devices and is compatible with the latest iOS 14 operating system.
Steps to Transfer Files from PC to iPhone without iTunes (iOS 14/13/12 Supported)
Step 1. First you need to download and install iMyFone TunesMate on PC. Plug your iPhone into your PC.
Step 2. Look at the different tabs, like "Music" at the top.
Step 3. Click "Add > Add File/Folder". Go to where you locate the files on your PC. Press "Shift" or "Ctrl" key when selecting files. After that, you can click "Open", and this will add them to your iPhone.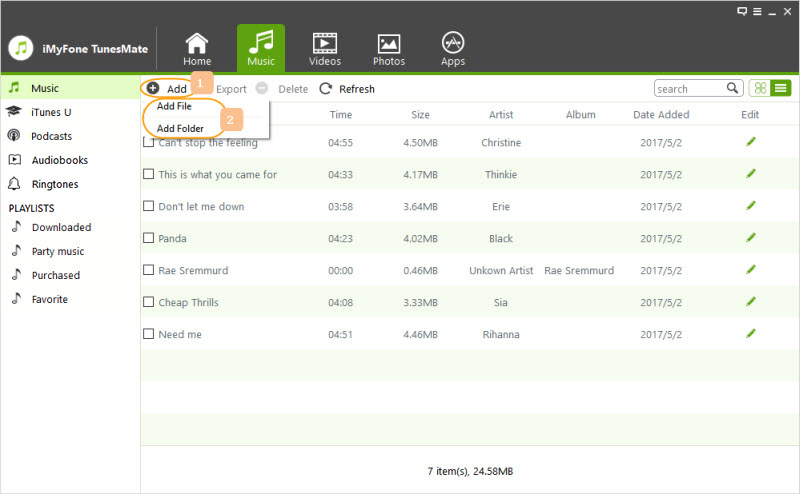 A Gift for You!
You can purchase this premium quality software at a reasonable price. Moreover, if you buy now, you get an additional 20% discount on the actual price using the following coupon code:
Steps to Use Coupon Code for Purchasing TunesMate License
Step 1. Visit iMyFone Store and choose iMyFone TunesMate by clicking the 'Buy Now' button.
Step 2. After that, choose one of the license you prefer, then click on 'Add to Cart' button to proceed. Doing this will take you to the shopping cart.

Step 3. Then, find and check the box named 'Check to enter coupon code'.

Step 4. Now copy the coupon code 5ED-FQ1-KZU and paste it in the textbox shown on the page. Click 'Apply' to proceed.

Step 5. Then you will save 20% to get iMyFone TunesMate.

Why Use TunesMate to Transfer Files Instead of iTunes?
| Apps/Metrics | | iTunes |
| --- | --- | --- |
| Support all audio and video formats | | |
| Transfer files from PC to iPhone Directly | | Transfer files to iTunes library first |
| Existing files on iPhone won't be replaced when transferring | | |
| Drag and drop files from PC to iPhone | | |
| Sync files to iPhone from different PC without erasing | | |
| How many iDevices are supported | UNLIMITED | Only 5 |
Related Tips
2 Ways to Transfer MP4 Video to iPhone
How to Copy Files from PC to iPhone Using iTunes
If you insist on using iTunes, here is how to transfer files from PC to iPhone. No matter which kind of files you want to transfer, you should use iTunes sync which causes data loss. Here we take music for example.
Launch iTunes. Plug in your iPhone with USB.
Click on the device icon at the top left corner. Go to "Options" under "Summary.
Uncheck "Automatically sync when this iPhone is connected" and tick "Manually manage music and videos". Then tap "Apply" button.
By going to "File > Add File to Library" and selecting files to transfer, you will import music to iTunes library.
Go to "Music" under "Settings, and then click "Sync Music". Finally, click on "Apply".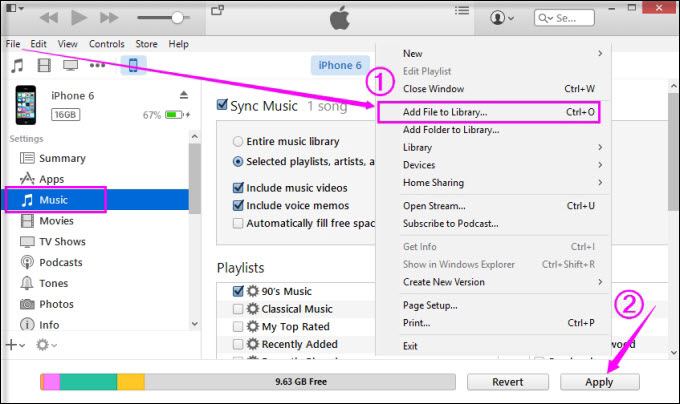 You can transfer purchased music, as well as photos and video from PC to iPhone with iTunes using the file sharing functionality, however you cannot transfer music and data that you didn't purchase.
Steps to Transfer App Files from PC to iPhone
Connect your iPhone to PC.
Tap device icon on iTunes.
Click "Apps" under "Settings".
Under "File Sharing", you may see a list of apps and choose one. Then click "Add" button.
Select the file to transfer from the right list. Click "Open" and then "Sync" button.
Here you are!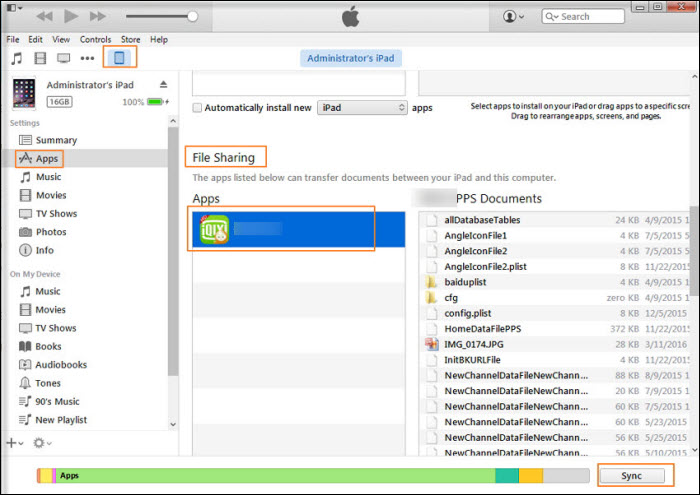 So if you're looking for an application that will give you total control, iMyFone TunesMate is the one you want.