Transfer Data Between iOS and Android Without Restrictions
Getting frustrated by strict limitations on types of data or phone models while transferring data from phone to phone?
iMyFone iTransor Pro helps our customers deal with this annoying problem.
Selectively transfer the data you need
No matter what kind of data you want to transfer, iMyFone iTransor Pro allows you to selectively choose one, two, or more types with just a few simple clicks.
No need for Wi-Fi or cellular data
All the tools you need are two cables and a computer with iMyFone iTransor Pro. Common network connection problems are therefore eliminated.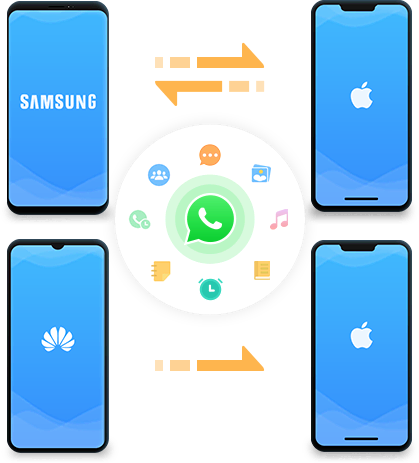 Directly transfer data across different platforms
iMyFone iTransor Pro will handle the technical aspects for you on both Android and iOS. All iPhone, Samsung, Huawei, OnePlus or other Android models are fully supported.
Transparent process of phone data transfer
You can check what and how much data you have on your phone. The whole process is transparent. You can even stop and restart whenever you want.
Migrate Multiple Types of Data at One Time with One Tool
Tired of installing different applications to transfer different types of data during the phone to phone transfer? Now there's no need.
Use iMyFone iTransor Pro to successfully transfer all your phone data to new phone in one go.
We transfer everything for you.
Multiple data types can be migrated from phone to phone at the same time with iMyFone iTransor Pro. Data you cannot afford to lose, data that enriches your life, data that keeps you on track, and even data you might forget, will be successfully transferred without any loss. A high successful transmission rate will definitely leave you a good impression.
Contacts
Alarm
Documents
Music
Reminders
Ebook
Text Messages
Photos
App
Ringtone
Notes
Bookmarks
Wifi
Voice Memo
Videos
Call History
Calendar
Mail Accounts
Even WhatsApp is on the list:
You can transfer, backup, restore or export all your WhatsApp chats, contacts, photos, and more at once with only a one-click operation.
Transfer WhatsApp data between Android and iPhone directly
Back up WhatsApp from Android or iPhone to a computer
Restore WhatsApp backup to iPhone or Android devices without data loss
Export WhatsApp backup to multiple formats included HTML and CSV/XLS
Faster, Safer and More Stable
Restricted by low speeds, uncertainty over data safety, and connection problems while transferring data from one phone to another?
We've got the solution for you. iMyFone iTransor Pro is the ultimate solution to all these regular challenges.
High Efficiency

iMyFone iTransor Pro promises you a speedy phone transfer with its excellent data processing ability. Your time is precious and won't be wasted.

No Data Damage

Our development team is highly professional with advanced technology. We assure you that your original phone data won't be overwritten or corrupted.

Smooth Transfer

During the phone transfer process, all devices are connected with cables. You will not be interrupted by any unexpected network or data challenges.
A Quick Start to Use iMyFone iTransor Pro
Transfer all your data between iOS and Android in three easy steps!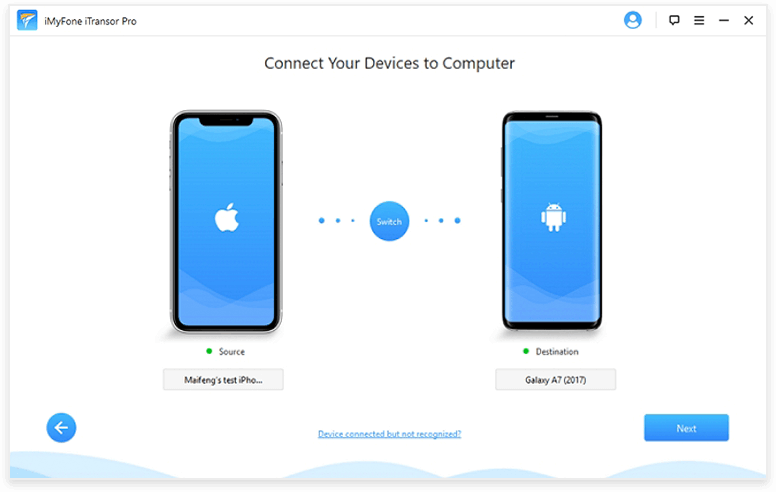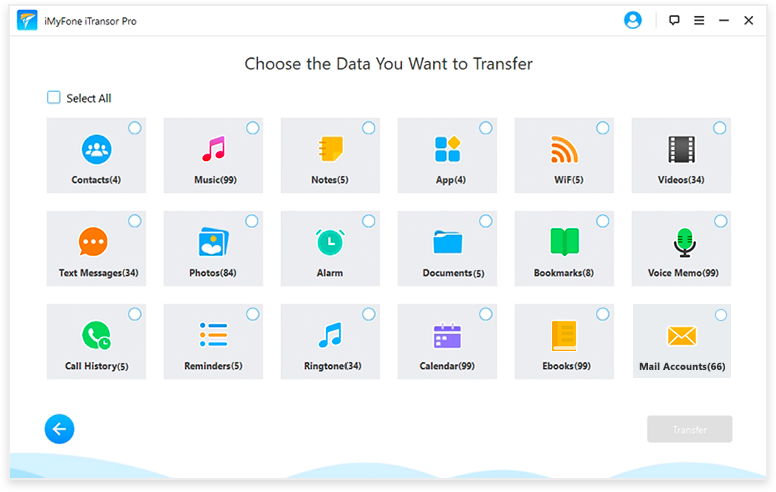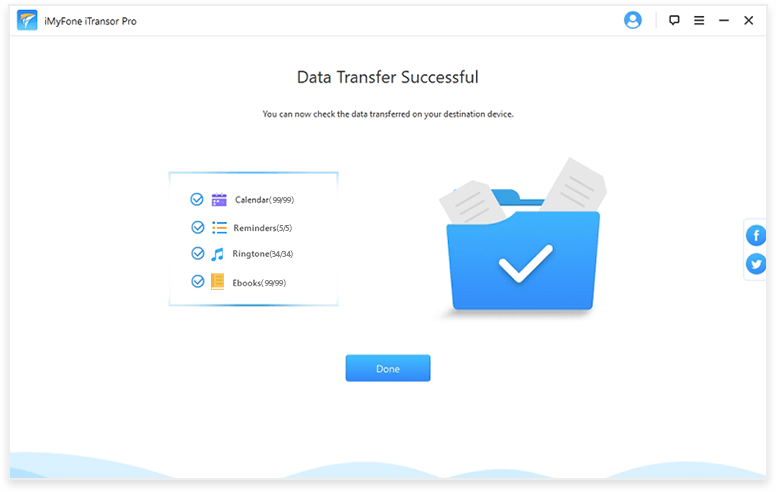 Why Choose iMyFone iTransor Pro?
We are capable of dealing with all kinds of data through numerous data processing experiences.
iMyFone products are trusted by
more than

100,000+

users speaking

6+

languages from

all

over the world.
I was tired of downloadflex various apps to transfer my old iPhone data to my new Samsung Galaxy M01 until I came across iMyFone iTransor Pro. It helped me to transfer all my phone data at one time! Contacts, messages, music, calendar and even my WhatsApp. Nice experience. THX.
Excellent! Got my new Samsung and wanted to migrate the data from my old iPhone. I tried iTransor Pro by chance and found it really useful. I got all the data across I wanted without any loss within just a few moments. The process is super easy. Worth a try.
30-Day Money Back Guarantee
100% Secure
Transactions Protected
Serving Millions of Users
Things You May Want to Know
1. Is it safe to use iMyFone iTransor Pro?

It is completely safe to use iMyFone iTransor Pro to transfer your data. iMyFone complies with GDPR and other data processing regulations. All your data will only be processed on your computer, which guarantees 100% data safety.

2. What's the difference between the trial and full version?

You can use the trial version to transfer up to 14 types of data from iPhone to Samsung or from Samsung/Huawei to iPhone, such as contacts, text messages, and call history. With the full version, you get access to the quick and easy transfer of your WhatsApp, calendar, reminders, ringtones, and eBooks from iPhone to Samsung, or your WhatsApp, music, eBooks, and voice memos from Samsung/Huawei to iPhone.

3. How long will it take to transfer data from phone to phone using iMyFone iTransor Pro?

The time depends on the amount of data you need to transfer. It can be a few minutes to over an hour.

4. Will the original data be affected on the source device?

No, of course not. iMyFone iTransor Pro will never overwrite or change your original data, so it won't be affected.

5. Can I transfer partial data from one phone to another rather than all the data on the source device?

Yes, you can selectively transfer the data you want from one phone to another with iMyFone iTransor Pro. All types of data are supported.

6. Can I stop the phone transfer in the middle if I want to?

Yes, you can stop the phone transfer whenever you want. iMyFone iTransor Pro will remember where you were in the process, so you can restart and continue the phone transfer from where you stopped.