Hello, I did a factory reset on my Android phone, and on booting up, I think I'm stuck. It's saying I should enter my Gmail account. But the thing is that I don't remember the login of the Google account I linked my device to.
If you get the error, 'This device was reset. To continue, sign in with a Google account that was previously synced on this device,' then your phone might have been locked by FRP. FRP stands for Factory Reset Protection, and it is one of Google's security measures on Android phones. It is vital for preventing unauthorized people from wiping your device.
We get this request so much, and so we have put this guide together. Here, we will give you step-by-step guides on how to bypass Google account with and without a USB OTG (USB on the go).
Part 1: When Will You Need to Bypass Google Account?
You will need to bypass Google account if you ever forget your Gmail account credentials and are therefore locked out of your device.  Learning to bypass Google account also comes in handy if you want to remove Factory Reset Protection (FRP) on your device, and you have forgotten the password to the Google account linked to the phone.
Part 2: Bypass Google Account without OTG via iMyFone LockWiper (Android)
Using this tool to bypass Google account is as simple as replacing a lightbulb. iMyFone LockWiper (Android) FRP Unlock Tool will eliminate all locks from your Samsung/Android smartphone or tablet device, e.g., fingerprint, pattern lock, password, and face locks, the program can also erase FRP locks on your device, letting you take full control of your device without limitations.
Features of iMyFone LockWiper (Android):
Bypass Google account completely without entering password.
Allow you to add a new Google account after bypassing the old one, and thoroughly remove all traces of the old Google account.
Easiest and most straightforward application to use for bypassing FRP lock.
Unlock Samsung device screen lock without data loss.
No technique and skills required, only a PC and a USB cable needed.
Steps to Bypass Google Account without OTG Using LockWiper Android
Step 1: Download LockWiper and run it on your computer. On the first screen where you select the operating mode, choose Remove Google Lock mode. Make sure your phone or tablet is connected to your computer throughout the operation.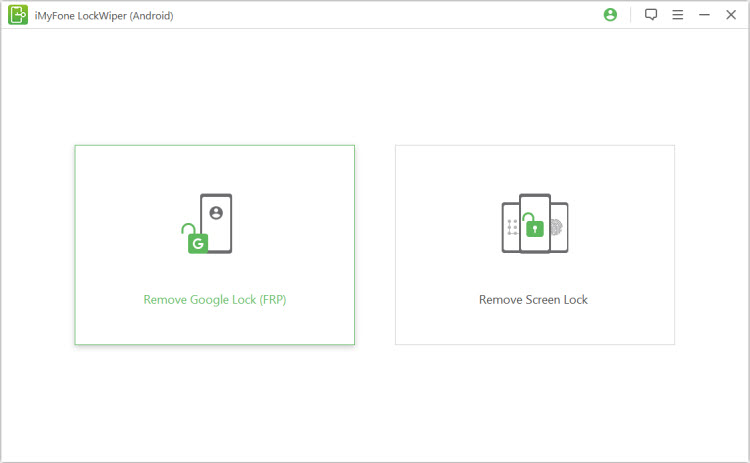 Step 2: Hit Next for the program to detect your device information. You can change the given information is it's not correct. When all is good, click Next.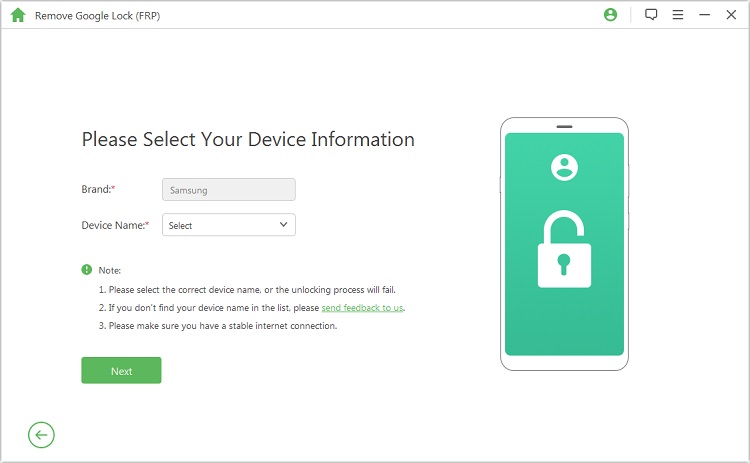 Step 3: Follow the onscreen instructions to put your device in Recovery mode and click Next.
Step 4: Here, you input information about your device. Enter your country and carrier, and then click Download. If your device is not on the list, hit the PDA is not in the list button, and enter your device model.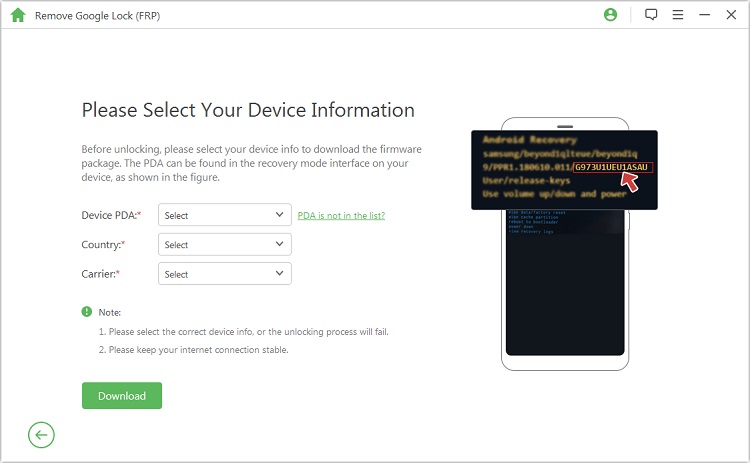 Step 5: After hitting download, LockWiper begins to download the relevant data package for your device. After this download completes, click Start to Extract to unpack it.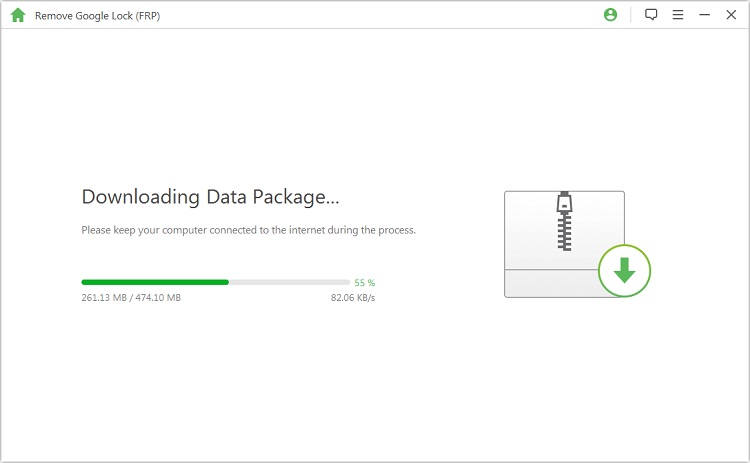 Step 6: This time, follow the onscreen steps to put your device in Downloading mode. Click Start after doing this.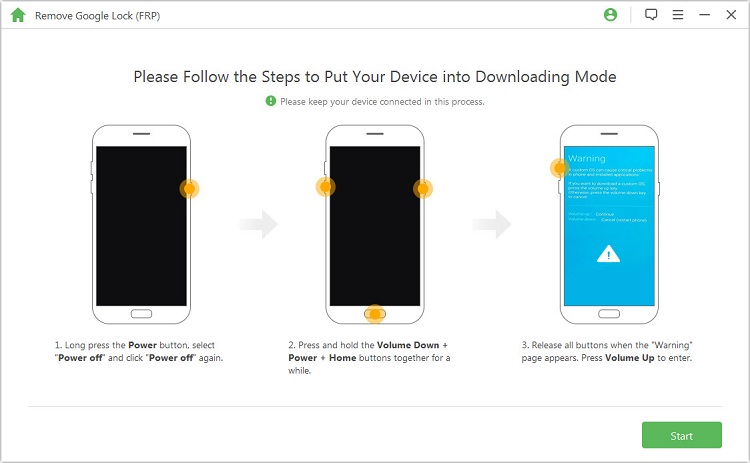 Step 7: Confirm the operation. The downloaded data package will then start getting installed onto your device.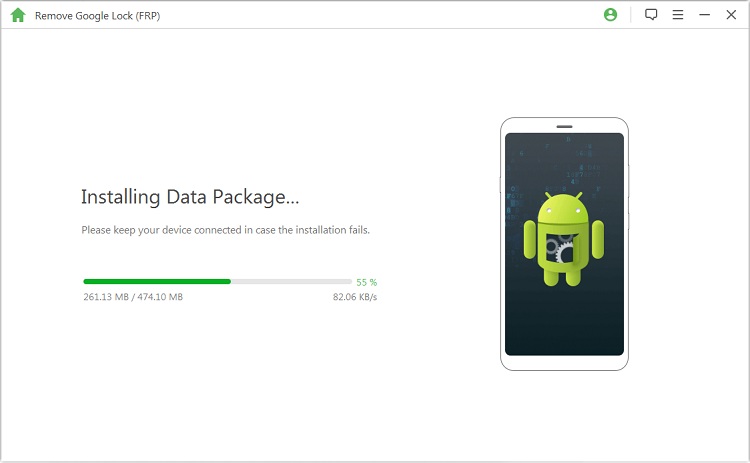 Step 8: To install the downloaded firmware package, ensure that USB debugging and OEM unlock are enabled on your device. If they are disabled, follow the onscreen steps to enable them.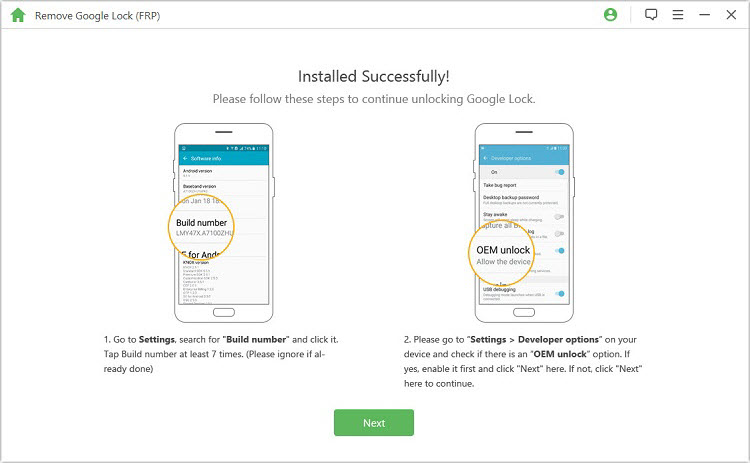 Step 9: The next step is to reset your device. Put your device into Downloading mode to install the firmware on your device.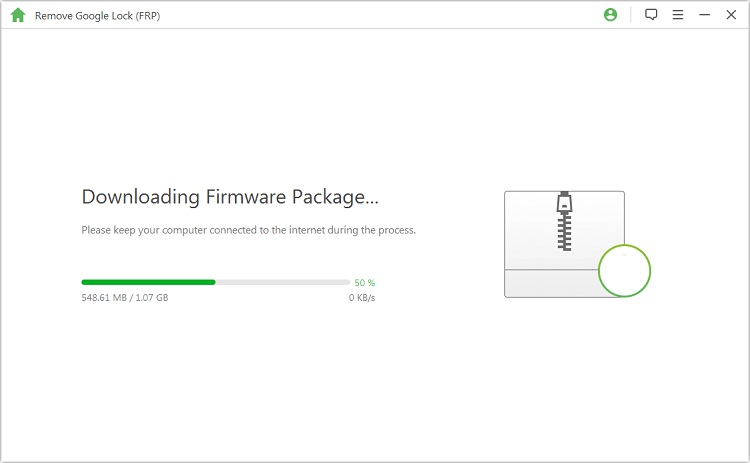 Step 10: When the download completes, to extract the package, hit Start to Extract.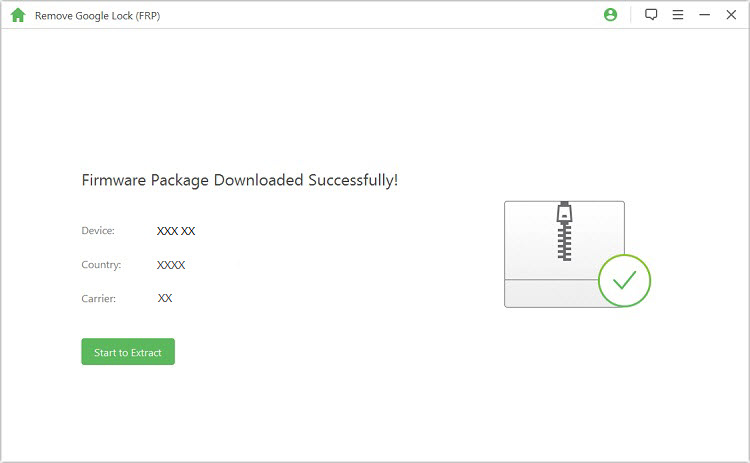 After the extraction, you will notice that the FRP lock has been bypassed. LockWiper will now let you either create a new Google account for the device or link the device with another old Google account.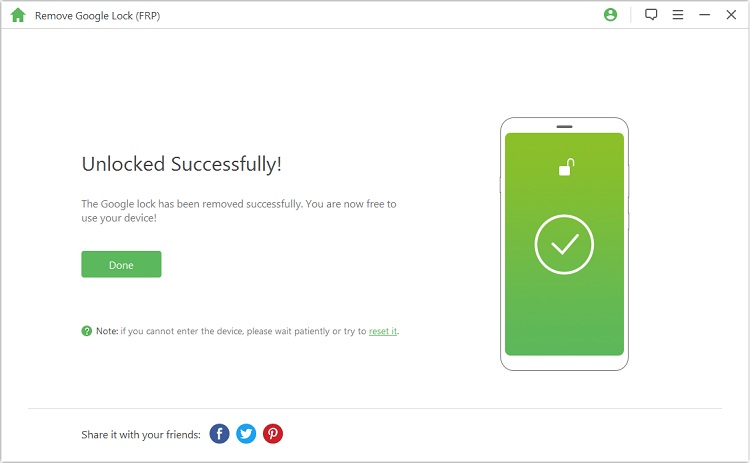 Part 3: Bypass Google Account with OTG Using FRP Bypass APK
This method will require you to use a PC, an OTG cable and a pen drive.
Step 1: Download FRP Bypass APK from this link: Download Development Settings APK
Step 2: When the download finishes, copy the downloaded FRP Bypass APK file to a pen drive or an OTG drive.
Step 3: Boot up the device you want to bypass Google account on.
Step 4: Next, the Setup Wizard starts. Just wait for a moment to complete the first couple of steps.
Step 5: The Bypass FRP screen will pop up and ask for your Google account login.
Step 6: Since you do not know this password, do not enter anything.
Step 7: Connect the pen drive to your Android device via an OTG cable.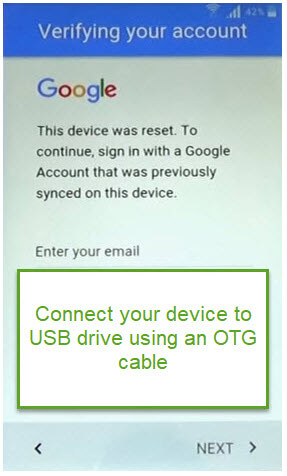 Step 8: Your device will open your File Explorer automatically.
Step 9: Navigate to the folder where you placed the downloaded APK file.
Step 10: Attempt to install the APK, but the phone will block the installation if you haven't turned on the Unknown Sources option.
To do this, go to your Settings app from the popup.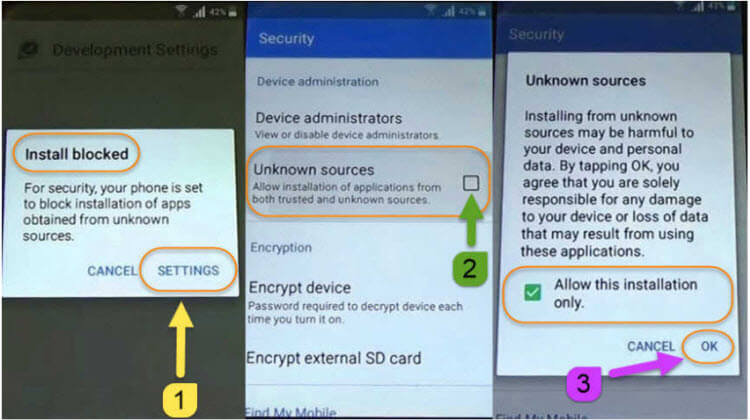 Step 11: Now, install the APK. This function of this App is to take you to the Settings menu.
Step 12: Tap Open when the installation completes, and it will take you to the Settings app.
Step 13: Scroll down a little and tap Backup and Reset. Tap Factory Data Reset, and then confirm the operation.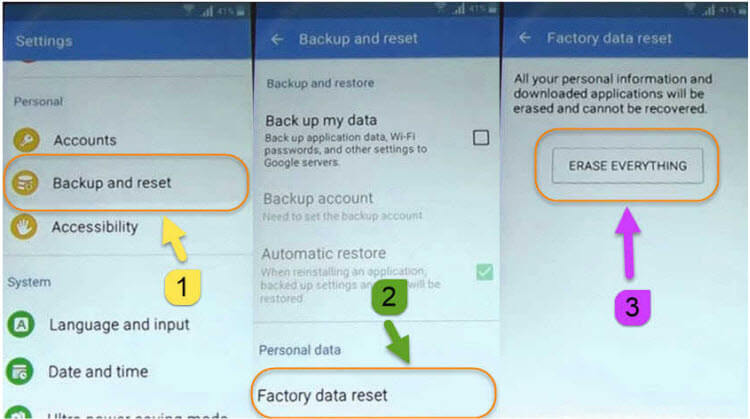 You've done Google account bypass with OTG successfully. After rebooting, it will ask you to add a Google account, you can do it or just skip it.

Conclusion
This article shows you how to bypass Google account with/without OTG in clear, easy steps: with the help of third-party unlock tool - iMyFone LockWiper (Android), and using FRP bypass APK. If there is something unclear, do not hesitate to leave a comment.