I bought a secondhand Android smartphone that came with the Home screen already activated. I did not contact the seller at the time because I could access the Google Play Store and get what I want easily. A time came when the device had a little software issue and I decided to factory reset to fix the problem, but I cannot access the device anymore because of FRP. I have tried using the OTG way but it is not working to remove the Google account verification screen. Please, I would like anyone to recommend another practical solution to bypass FRP without OTG. – Stephanie Lilac
The Google account verification (FRP) that Stephanie is facing is not unique to her; there are other Android device users who are facing this issue since Android developers increased their devices security system to become as strong as Apple iCloud system. However, using the OTG way to solve this issue is no longer recommended because this solution doesn't really work in recent Android versions and devices. Therefore, we recommend the following 3 practical ways to bypass FRP without OTG.
Part 1. Bypass FRP without OTG by Professional FRP Removing Tool – Recommended
If you are searching for a tool that is capable of bypassing the FRP lock efficiently with few easy steps and no requirements, we recommend iMyFone LockWiper Android FRP Unlock Tool. You dont need to know the Google ID or password thats associated with the Android device, all you just need is to simply remove the barrier using LockWiper (Android). FRP lock on almost every Samsung device model can be unlocked using LockWiper (Android), giving you full access and control of your device. If youre not going to take our word for it, you can use the trial version of LockWiper before upgrading to the paid version.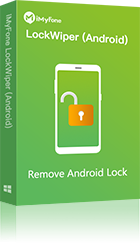 1,000,000 Downloads
LockWiper (Android) Excellent Features for FRP bypass without OTG
Require no OTG in the process of removing the FRP lock.
Completely bypass Google account verification (FRP) without the password to the Google account.
Introduce a new or old Google account to the device after bypassing the FRP lock.
Recover full access to your Android device and Google related features such as Play Store, Google Suite, etc.
Prevent the previous Google account owner from tracking or blocking your device.
Step-by-step Guide to Use LockWiper (Android) in FRP bypass
iMyFone LockWiper (Android) supports to remove Google FRP lock on all Samsung devices without knowing the password. Follow the instructions below to remove FRP lock on your Samsung phone.
Step 1. Download, install and launch LockWiper (Android) on your PC. Then, choose the Remove Google Lock (FRP) option.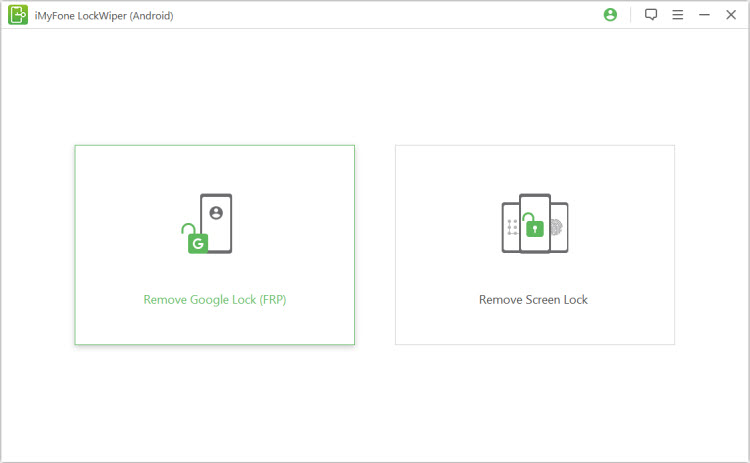 Step 2. Click the Start tab and connect your Android device to your computer using a USB cable.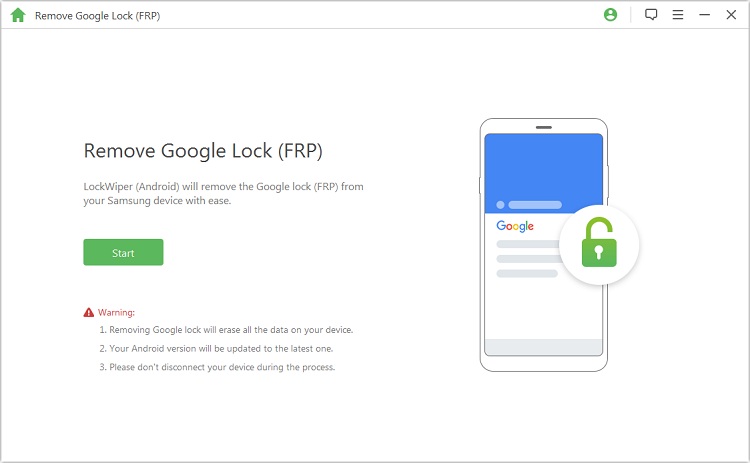 Step 3. Choose and confirm the device data, and follow the onscreen guide to reset your device.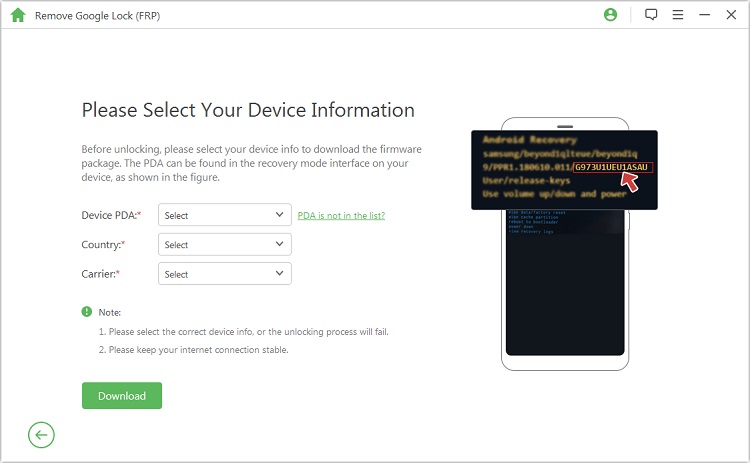 Step 4. Follow the onscreen guide to put your device into downloading mode, then enter"000000" to download and install the data package for your device.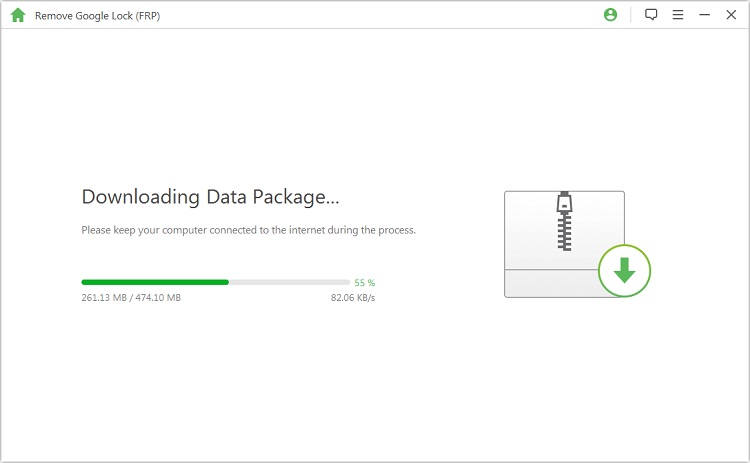 Step 5.Follow the instructions to reset your device and download a firmware package to your device.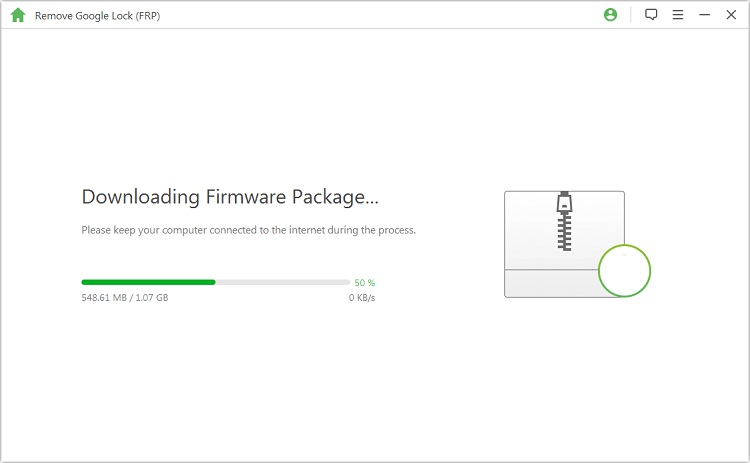 Step 6. Extract the firmware package by clicking the Start to Extract tab. Then, LockWiper (Android) would start the FRP bypass process.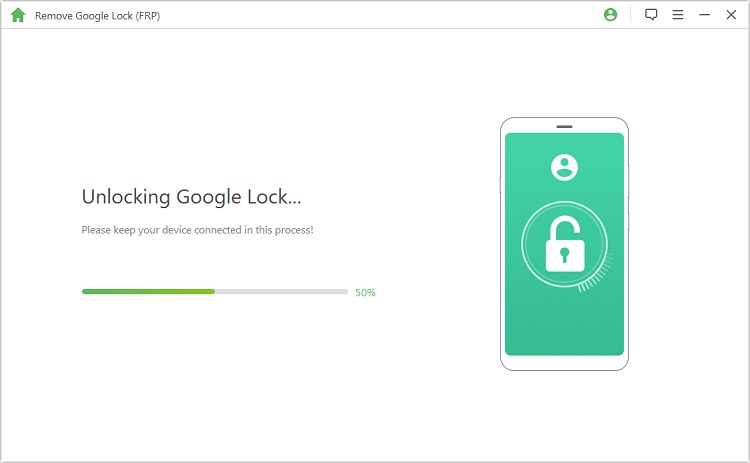 Step 7. Take a cup of coffee and relax as LockWiper (Android) bypasses FRP lock on your device.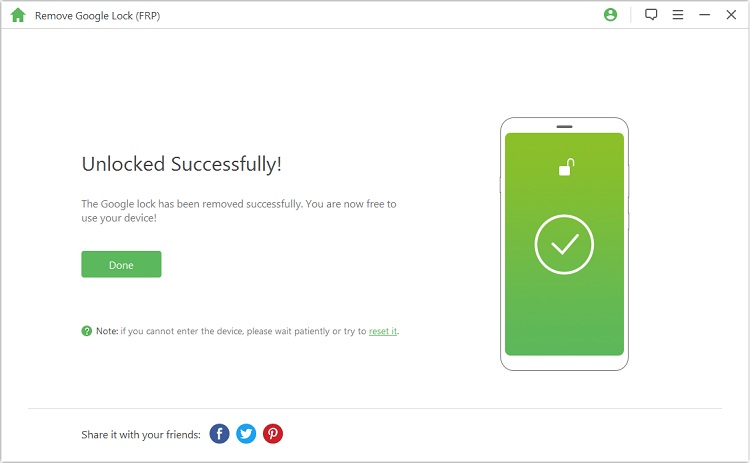 Part 2: Bypass FRP without OTG Using the OEM Unlocking Method
Step 1. Boot your device, and select your preferred language.
Step 2. Connect your device to a Wi-Fi network.
Step 3. When prompted to enter your email, tap on the box to bring up your keyboard.
Step 4. Tap and hold the "@" button until you see the gear icon.
Step 5. Choose "Google Keyboard Settings" and tap the 3 vertical dots at the upper right section of your screen.
Step 6. Choose "Help and Feedback" option
Step 7. In the text displayed, double click on "Settings" to select and copy it. Then, tap the search icon.
Step 8. Tap on the "Settings" menu on the search queries to open the device setting.
Step 9. Scroll down to "About Device or About Phone" and tap on the Build number 7 times to enable Developer Options.
Step 10. Go back to settings to open the Developer Options you just enabled.
Step 11. Allow "OEM Unlocking" and tap back two times.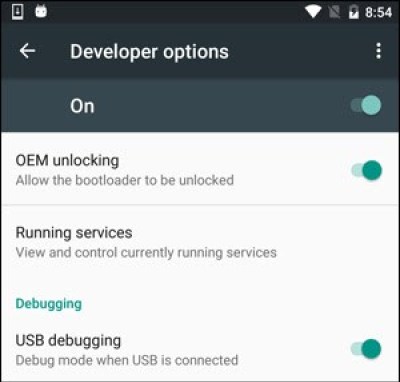 Step 12. Restart your device.
Step 13. Connect back to your Wi-Fi. If prompted to Add a new Google account, skip it and continue to set up your device.
Note
OEM Unlocking on Android device can cause the loss of warranty.
Part 3. Bypass FRP without OTG with the Help of SideSync
The SideSync method is a good way to bypass factory reset protection on Android devices. At the concluding part of this article, you will learn why we don't recommend it for you.
How to Bypass FRP Lock Using SideSync Method
Step 1. From the welcome panel of your Android device, choose your preferred language.
Step 2. Connect to a Wi-Fi network, and go back to the Verifying your account panel.
Step 3. Download and launch the SideSync application to your computer from http://www.samsung.com/us/sidesync/.
Step 4. Connect your Android device to your computer using a USB cable.
Step 5. Choose Chrome Browser on the Open with screen.
Step 6. Accept the terms and conditions, then click No when asked to set up Chrome.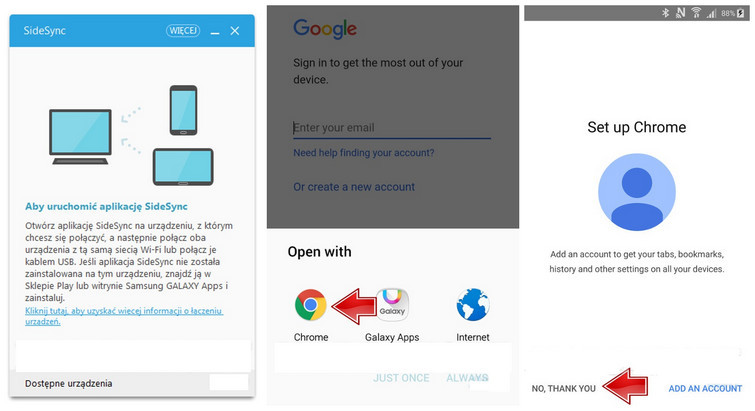 Step 7. Type Download.hardreset.info into the search bar.
Step 8. Open Samsung folder and select Samsung Bypass Google , then tap OK to confirm.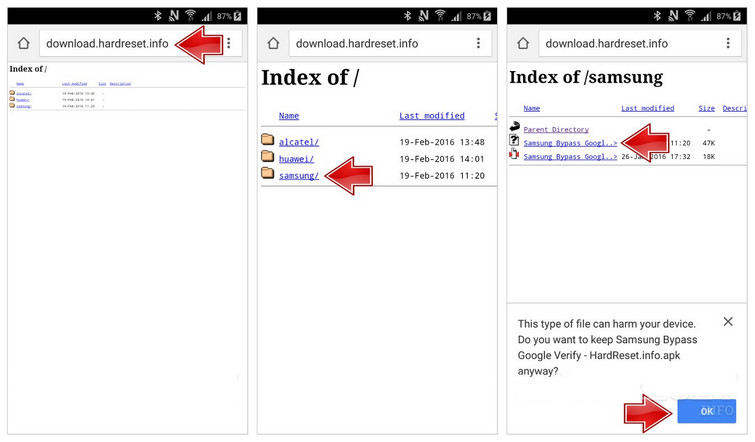 Step 9. Go back to the next screen, click OK and enter the Galaxy app.
Step 10. Agree to terms and condition before opening App Searcher.
Step 11. Type in ES File Explorer and search for the app.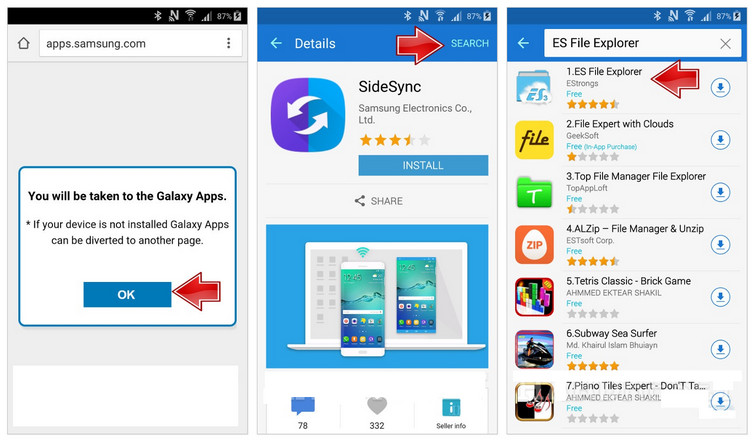 Step 12. Click Install and sign into your Samsung Account.
Step 13. Click Install again and select Accept and Download.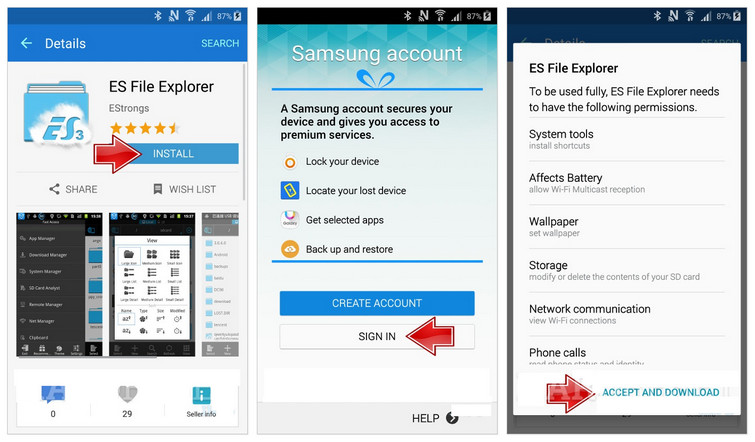 Step 14. Tap Open ES File Explorer.
Step 15. Choose Download from the available folders, and install the Samsung Bypass Google app.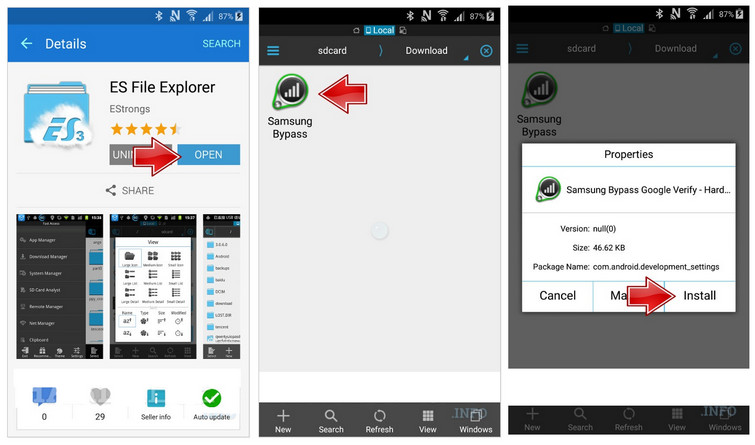 Step 16. Select Settings > check Unknown Source > OK.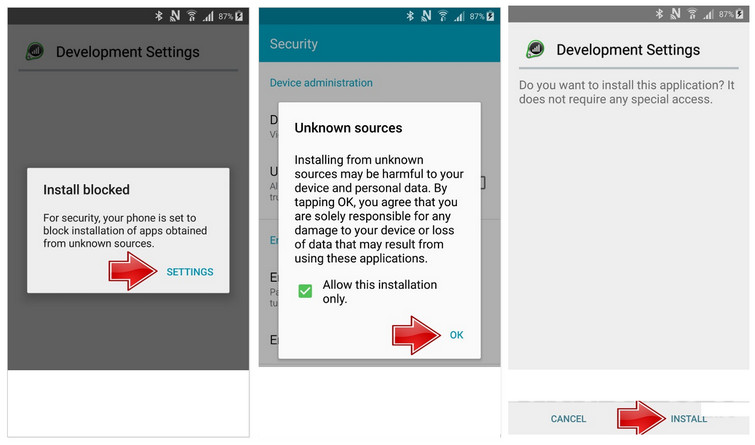 Step 17. From the Developer Settings, select Install > Accept.
Step 18. Open the bypass app and use the Android Settings.
Step 19. Click Backup & Reset > Factory Data Reset > Reset Phone > Erase Everything.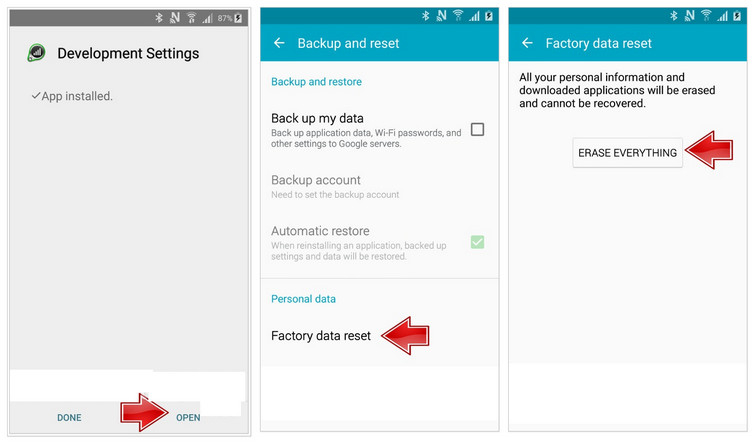 Step 20. You've successfully removed the FRP lock.
Note:
For some recently released Android devices, the Chrome browser window in Step 5 won't pop up.
You need to install the app on both Samsung mobile devices and a PC so as to build the connection.
Conclusion
From what has been discussed above, we've seen the three (3) practical solutions to bypass FRP without OTG. Among the solutions introduced above, we want to recommend iMyFone LockWiper (Android) for you because it offers shorter steps, quicker unlock, and more permanent solution for bypass FRP locks on Android devices.