You bought a Samsung Galaxy years ago, and didn't use it much. Now you have no clue of the Google account that you used on it or the password. You want to gift this phone to your little cousin, but can't seem to remove the Google account on it. It always shows up on the user dropdown even as you are not able to log into it. Here is a guide which can help you remove/bypass Google account from Samsung device.
Think It Over Before Removing a Google Account on Samsung Device
Whenever you set up a Samsung device, you are required to configure a Google account on it. You may see it as irrelevant or cumbersome, but it's quite useful and makes your device secure, amongst other things. Before you remove the Google account, be sure that you really need to do that.
The Confusing Ideas about Removing Google Account
Removing a Google account is a little tricky. Note that you might not need to completely remove Google account from the Samsung device, if you no longer want to receive emails from the account. Instead of removing the account completely, you can try one of the following:
Delete the account from Google. This will permanently delete your account from all Google platforms, and not just your device.

Disable sync, you will stop getting the emails.

Entirely removing the Gmail account from the phone remotely.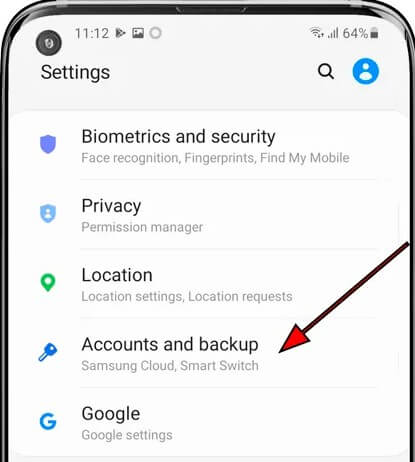 Remove Google Account from Samsung with iMyFone LockWiper (Android)
If you are certain that removing the Google account is what will work for you, then we recommend that you carry this delicate operation out using iMyFone LockWiper (Android) FRP unlock tool. LockWiper (Android) is the ultimate application for removing Google account Samsung. Not only does this program remove the account flawlessly, it also does it fast, and makes the entire process easy by doing all the heavy lifting behind the scenes.
Key Features of iMyFone LockWiper (Android):
Completely remove Google account from your Samsung device without password required.

Allow you to set up a different Google account for the device or open a new one altogether.

An advanced solution to Samsung device screen removal without data loss.

Capable of bypassing all kinds of screen lock for all Android devices irrespective of OS version.

Test the application before committing money to purchase it with the Free Trial available.
Steps to remove Samsung Google Account/FRP Lock without Password :
Step 1: Download and run iMyFone LockWiper (Android) on your computer. On the first screen, select the Remove Google Lock operating mode. Connect your phone to the computer with a USB cable.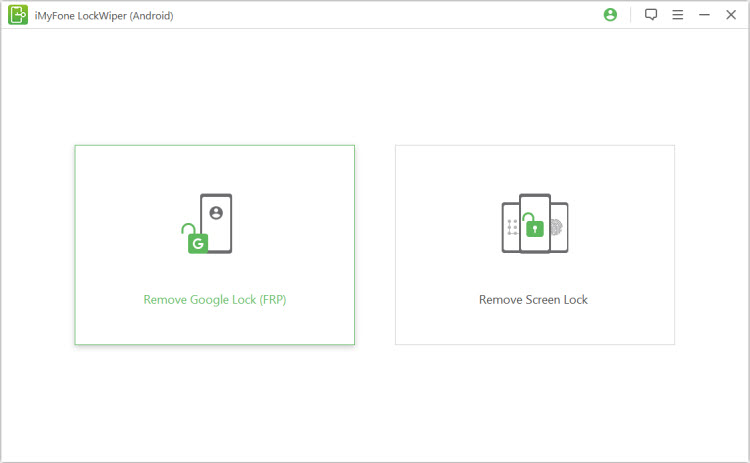 Step 2: The program detects your device and its information automatically. Then click Next to continue. Then enter your device information to proceed.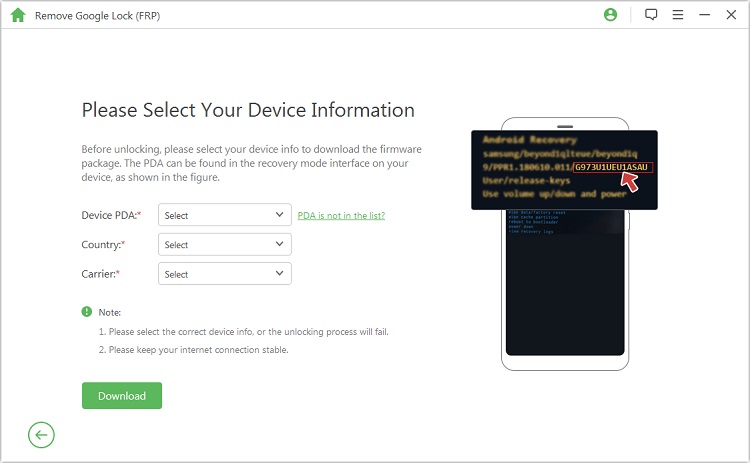 Step 3: LockWiper (Android) will begin to download the required data package for your specific model. When the download finishes, hit Start to Extract to unpack it.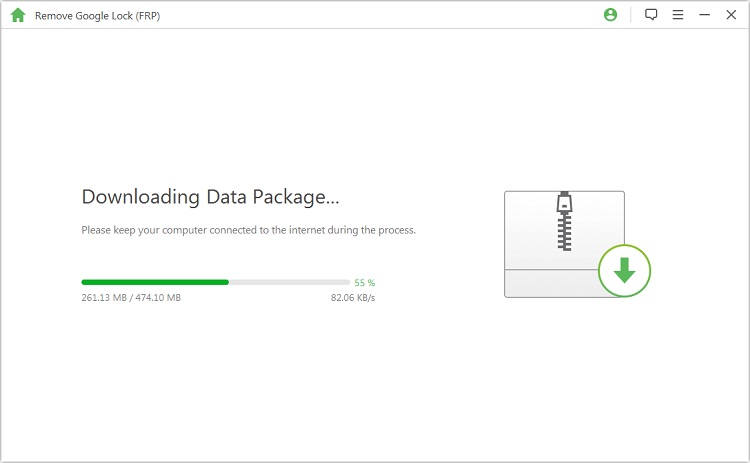 Step 4: Follow the steps on the screen to boot your device into Downloading mode. When you are in Downloading mode, click Start. Then confirm the operation and the downloaded data package will be installed on your device.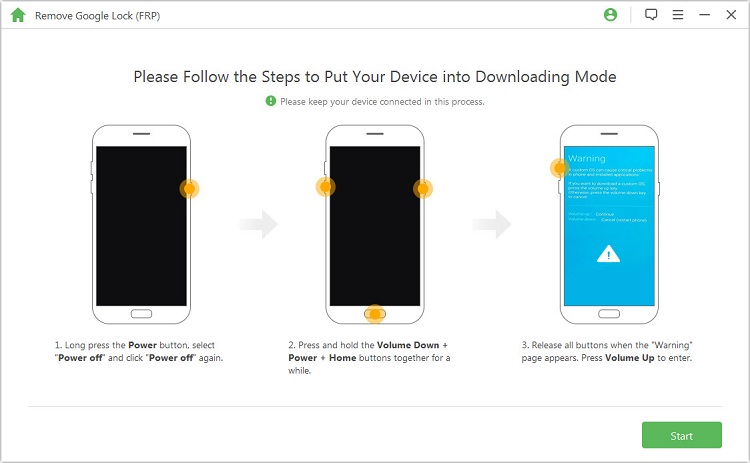 Step 5: Next, to install the downloaded firmware package. Please ensure that USB Debugging and OEM unlock are enabled on your device. If not, follow the onscreen guide to enable them. Next download the firmware package again. The program will extract the package after clicking Start to Extract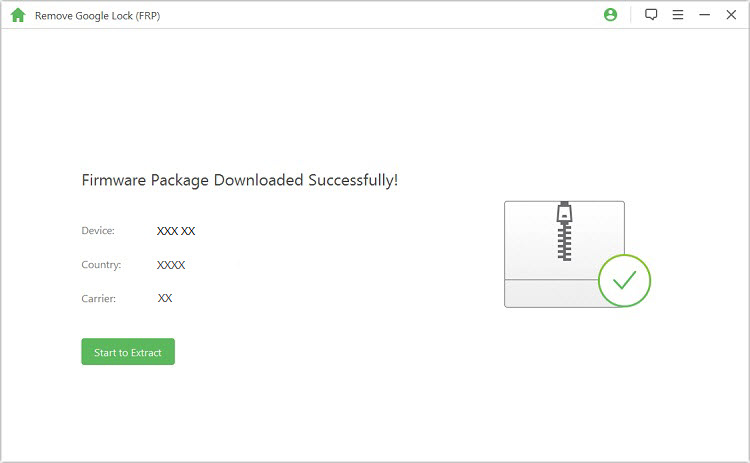 Step 6: Waite a minute, the Google account will be removed from your Samsung device and you can then set up another Google account for your device.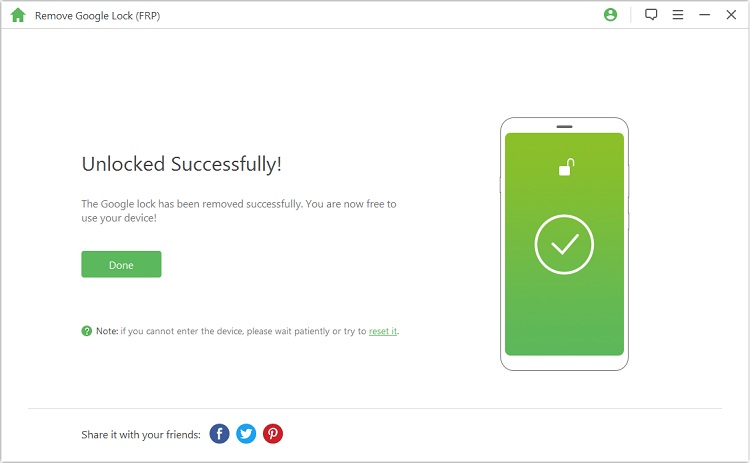 Remove Google Account from Samsung through the Gmail App
If the device is unlocked and you have access to it, a simple way to Remove Google account Samsung is through the Gmail App which comes installed on most Android device. Here is how to do this.
Step 1: Tap the Gmail icon on your phone.
Step 2: Select the four-bar line beside Inbox that reveals all your email folders.
Step 3: Tap the dropdown arrow next to the account name.
Step 4: Select Manage Accounts.
Step 5: Tap Google.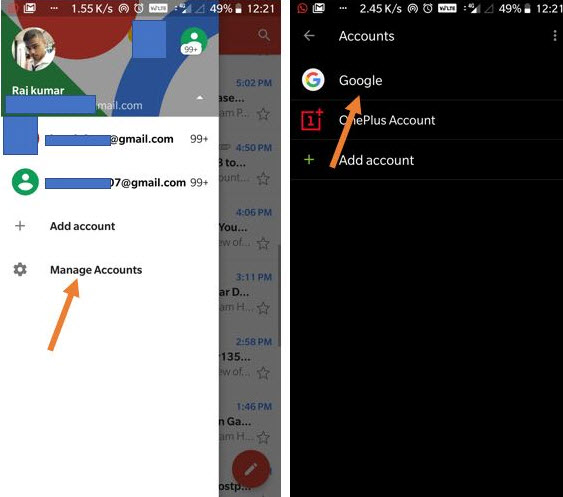 Step 6: Locate three dots on the top bar, tap it and select Remove Account.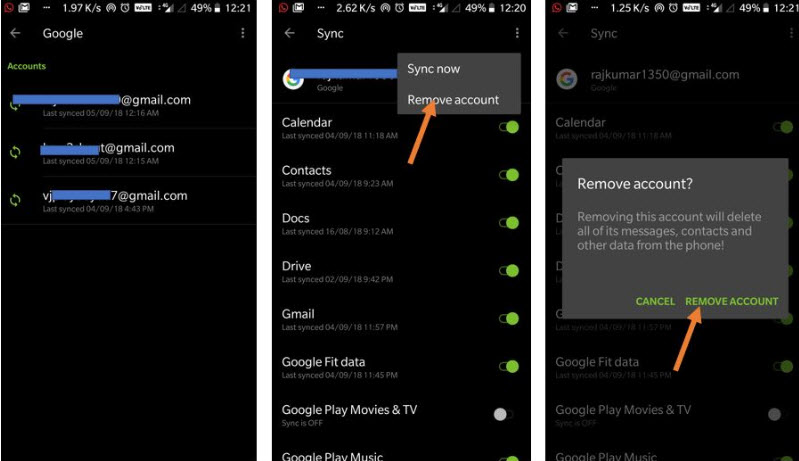 Bonus: How to Add a Google Account on Samsung
To add a Google account to your Samsung phone or tablet, you should already have a functioning Google account and have the login details for this account.
Step 1: Open the Settings app on your device.
Step 2: Tap Accounts and backup.
Step 3: Tap Accounts.
Step 4: Select Add account.
Step 5: Tap Google. If you have a screen lock set up, you will be asked to unlock your device.
Step 6: Type the email address for the Google account and tap Next.
Step 7: Enter the password and tap Next.
Step 8: Review the Terms of Service and Privacy Policy and tap I Agree.
Step 9: You may be asked if you want to back up to Google Drive, we recommend that you tap Accept, but this is optional.
There it is. You have successfully added a Google account to your Samsung device.
---
Conclusion
Removing Google account from your Samsung device is crucial for solving issues related to the account, or when handing over your phone to a new owner, and in a lot more situations. Thankfully, you now know how to do. We hope this article was clear. If there is anything you have difficulty when using the iMyFone LockWiper (Android) FRP unlock software, or following the steps here, you can put your reviews below.