I bought a fairly used Samsung S10 from eBay at a cheap price without understanding what "with FRP Lock" means in the product description. When I finally got the device, I switched it on and the first thing I discovered was the Google Account Verification screen. I called the seller to return it back, but he refused and said his product description spells out that the device is FRP locked. Since I can't return the device, I would like to know a way to bypass Google GFP lock on the device
–  McKay176
It's possible for an Android user not to know what Factory Reset Protection (FRP) truly means when he/she sees it under product descriptions. Anyone can fall prey to such mistake and end up buying an FRP locked device. However, that should not discourage you because you're about to learn the techniques and solutions to bypass FRP lock on Samsung devices. Therefore, this article would introduce some tested, trusted, and effective solutions to bypass Samsung Google FRP on phones and tablets.
Part 1. Samsung Bypass Google FRP – What is FRP?
FRP is a built-in security feature of every Android device that is running Lollipop 5.1 and later versions. This security feature is automatically activated once a Google account is added to the device during setup, and it prevents anyone from using the device after a factory reset until the credentials (username and password) to the Google account are provided.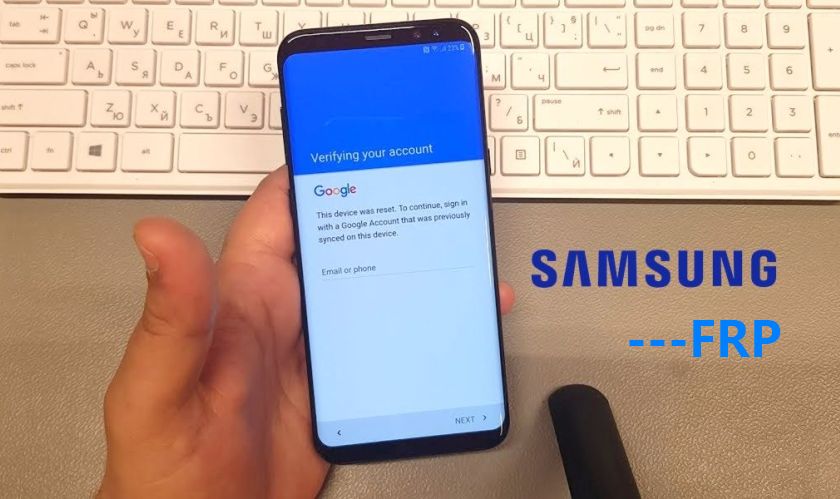 How does FRP work?
Factory Reset Protection (FRP) is activated once a Google account is added to an Android device running Android Lollipop 5.1 and above. It will surface to protect your device when anyone factory resets the device. Hence, if the person is not able to provide the Google credentials of the account in the device, then the device will remain locked by the Google account verification screen.
Part 2. Samsung Bypass Google FRP – Advantages and Disadvantages
If you know your Google account credentials (username and password), you can easily bypass the FRP lock screen without any hindrances. If you can remember the password, you can easily change/reset the password via https://account.google.com/.
Advantages of Google FRP on Samsung Devices
Prevent unauthorized access to your device by stopping anyone who factory resets your device from using it.
Deter thieves from stealing Android devices and makes people who found your device to return them.
Protect your data and privacy.
Disadvantages Google FRP on Samsung Devices
If you forget your Google account username and password, you may not be able to unlock the phone without special intervention.
Part 3. Most Recommended Tool to Bypass Samsung Google FRP
If youre searching for a tool that is capable of bypassing the FRP lock efficiently with few easy steps and no requirements, then we recommend iMyFone LockWiper (Android). You dont need to know the Google ID or password thats associated with the Android device, all you just need is to simply remove the barrier using LockWiper (Android). FRP lock on almost every Samsung device model can be unlocked using LockWiper (Android), giving you full access and control of your device. If youre not going to take our word for it, you can use the trial version of LockWiper before upgrading to the paid version.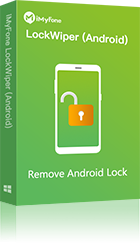 1,000,000 Downloads
LockWiper (Android) Excellent Features for FRP bypass without OTG
Bypass Samsung Google account verification completely from Samsung devices without password.

Allowr full access to your Samsung device and Google related features such as Play Store.

Introduce a new or old Google account to the device after bypassing the FRP lock.

Prevent the previous Google account owner from tracking or blocking your device.
Part 4. How to Bypass Samsung Google FRP without Google Account
iMyFone LockWiper (Android) is a special tool for bypassing Google Account (FRP) lock on Android devices without providing the credentials to the Google account. No matter the condition of your device or circumstances surrounding the device, if you follow the steps below, you can easily unlock your device using this tool.
Step 1. Download and install iMyFone LockWiper (Android) on your PC. Choose the "Remove Google Lock (FRP)" mode. Click "Start" and then connect your device via a USB cable.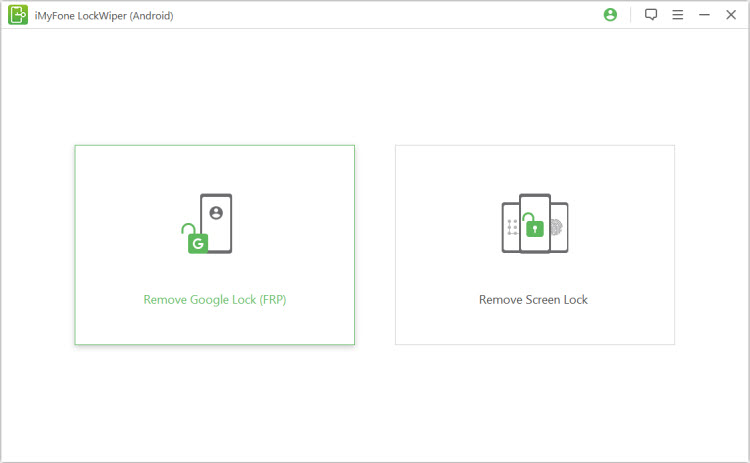 Step 2. Once your device information is detected automatically, verify the information. Select your device "PDA" or input it manually, and then select the right "Country" and "Network Carrier". Click the "Download" tab to continue.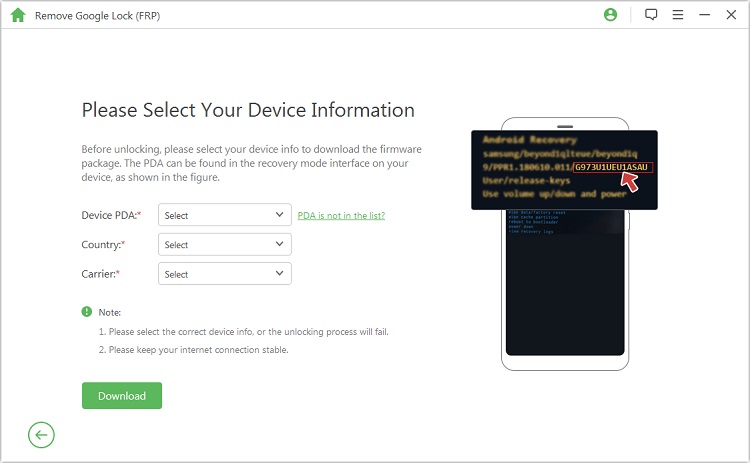 Step 3. Confirm your actions by typing "000000" into the box to start the data installation process. After the successful installation, take the onscreen instructions to enable "USB debugging" and "OEM unlock" on your device.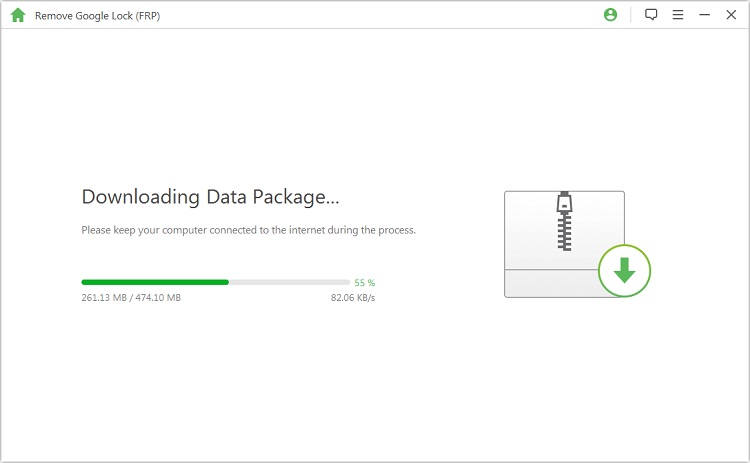 Step 4. Follow the on-screen instructions to reset your device and put your device into "Downloading Mode" again to download the firmware package. After the firmware package downloads successfully, click "Start to Extract" and it will prepare the firmware for your device.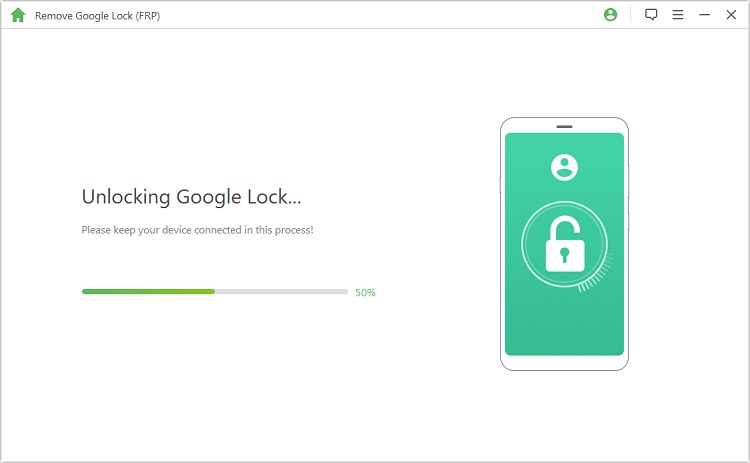 Step 5. The program starts to bypass the Google lock on your Samsung device. You may wait for a few minutes for this process to complete.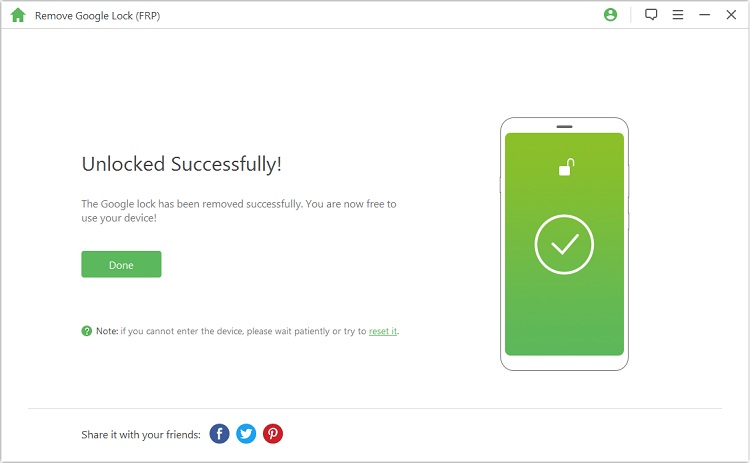 iMyFone LockWiper (Android) can also remove screen locks such as PIN, pattern, password, fingerprint and face lock without losing data from the Samsung device.
Conclusion
We have successfully discussed and shared tips on every knowledge you can't miss about bypassing Samsung Google FRP on Samsung phones and tablets. We also shared some advantages of using iMyFone LockWiper (Android) as a Samsung FRP unlock tool. Therefore, we encourage you to free download the LockWiper (Android) trial  if you need to  bypass Samsung Google FRP.