iPhone might've been the "smartest" smartphone at our time. But let's just admit it, all mobile phone devices could give you dumb bugs and issues once in a while, and iPhone is no exception to that. If you have been using iPhone for quite some time, then you may know that iPhone could sometimes force a passcode change by prompting the message "you must change your iPhone unlock passcode at this time" or "you must change your iPhone unlock passcode within 60 minutes". If you select "Later", the pop-up would appear again after a while. I know, it does not feel good for any human being to take order from an electronic device. So why would this prompt show up? And how to make such an annoying issue disappear? Let's find out now.
Part 1: Possible Reasons Why You "Must Change Your iPhone Unlock Passcode"
There are various possible reasons why iPhone would force you to change passcode and show you the "must change unlock passcode" prompt. Here are some of the most possible reasons.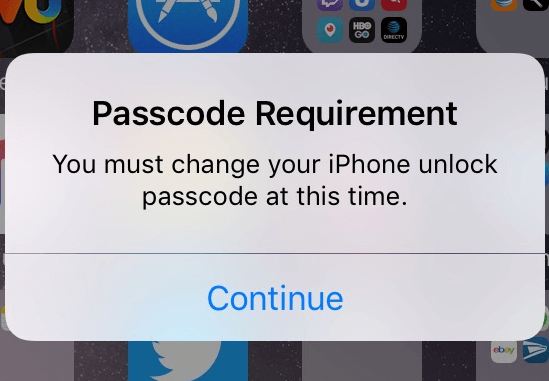 1. Safari security issue. Although it does not seem to make much sense, some safari browser history may cause your iPhone to "think" that your current passcode is not secure. This is most likely due to some link you have clicked at some point. To cope with this, you can simply delete all safari history.
2. Your current passcode is literally not secure. Apple encourages iOS users to use 6-digit passcodes for increased security of their devices. So if you are using a 4-digit passcode, and the passcode happens to be super easy to guess, then your iPhone might suggest you to change your passcode.
3. Configuration Profile. Configuration profile could also trigger the "must change iPhone passcode" pop-up. It only occurs if you have a configuration file installed on your device and you can solve the issue by deleting the profile.
4. MDM Enrollment. Business iPhones can be enrolled to the Mobile Device Management system. When they are enrolled, users can expect to see the Passcode Requirement prompt relatively more often for security purposes and preventing data leaks.
5. iOS 10 Feature (Bug?). This reason is somewhat ambiguous as the Passcode Requirement prompt appears even if you have set a 6-digit passcode and your iPhone isn't MDM enrolled either. Some consider it a new iOS 10 feature that requires the user to change unlock passcode from time to time. Or, it could just be a bug.
Part 2: Get Rid of The "Must Change Passcode" Prompt
First thing first. I believe many of you would like to know what would happen if you don't change the passcode as the popup suggests. Well, here is the answer: nothing. Many people with this problem have reported that although the device almost "order" them to change the passcode, no consequence would be caused even if they refuse to do so. But still, the popup itself is annoying enough. Now that we have some ideas on why this prompt would show up, let's see how to get rid of it.
1

Clear Safari Browsing History
In fact, up to 90% of the "must change passcode" issues are caused by safari browsing history. That makes clearing safari browsing history one of the easiest and most effective ways to get rid of the problem. To try this approach out, just follow the guide below.
Step 1: Launch Settings app on your iPhone.
Step 2: Navigate to Safari.
Step 3: Find and tap on the "Clear History and Website Data" option. This will clear all the stored cache and cookies from your iPhone and help you get rid of the Passcode Requirement prompt.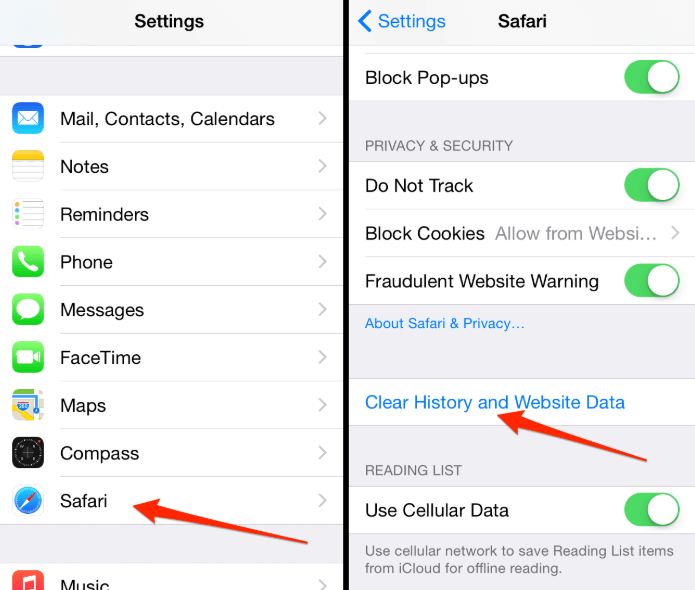 2

Contact Your Device Security Service.
Take some time and think back. Have you been using any third-party security service to manage your devices? Because many people use this kind of service to help them keep in track of their multiple devices. If you have, this "must change passcode" issue might due to their security update push. Contact the service and specify the issue, and they will most likely come up with a solution for you.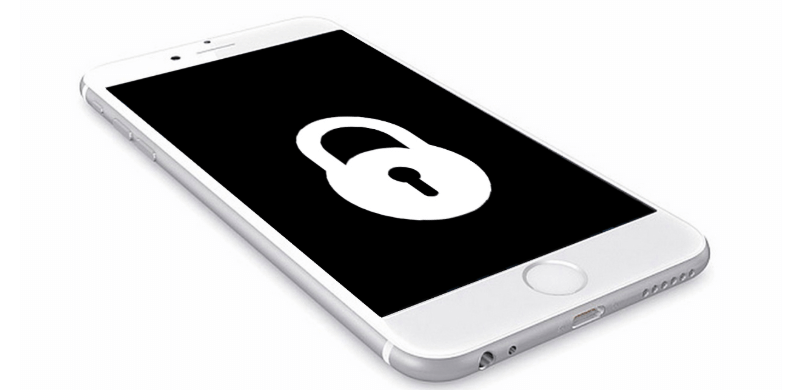 3

Or, Just Do as It Says?
It doesn't matter why you receive the "change passcode" suggestion, it's always better if you do change the passcode to a safer one. People with similar problems claim that the problem have not repeated itself ever since they changed the 4-digit passcode to a 6-digit one. Plus, a better passcode does not only remove such prompt, but also protects your device and data in a better way.
To change the passcode of your device, you can just tap the "Continue" button and let the system bring you to the settings panel, or manually go to the settings panel as suggested in the following:
1. Open "Settings".
2. Tap "Passcode".
3. Tap "Change Passcode".
If you are using iOS 7 or higher version of iOS, here is how you can change the passcode: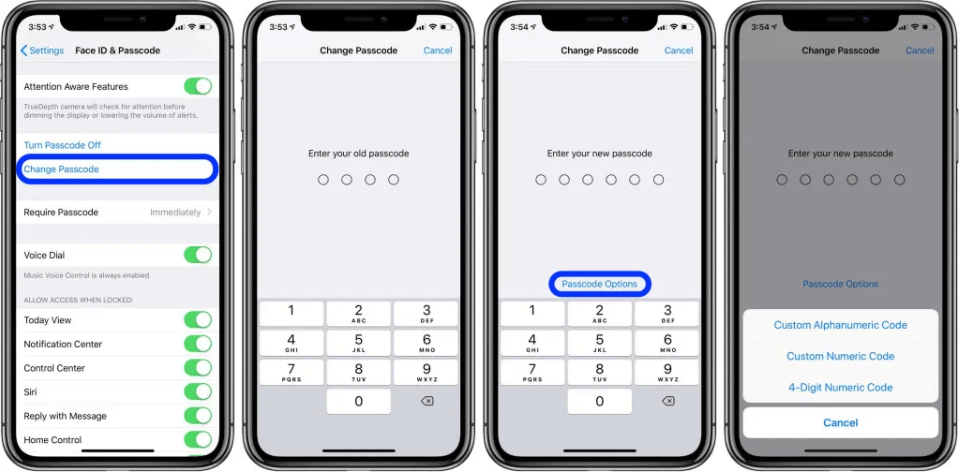 1. Open "Settings".
2. Tap "Touch ID & Passcode".
3. Enter your current passcode.
4. Scroll down and tap "Change Passcode"
5. You will have to enter your old passcode (the current one) and then the new password. You can pick one of the passcode options between custom alphanumeric code, custom numeric code or 4-digit numeric code.
6. Enter the new password with the option you picked and verify it.
Part 3: iPhone Passcode 101 - What Makes a Good Passcode?
In the digital era that we are living in, a good passcode might be way more important than you think. For iPhone users, the best and the most secure "passcode" would be Face ID and Touch ID, also known as biological identification. But whenever you need to set a digital passcode, remember one code:
The more complex, the better.
Also, make sure you avoid the following patterns as they are easy to crack and will endanger your personal info and data.
Combinations that should be avoided for a passcode:
Any 4 numbers that are the same ("0000" - "9999")
Any 4 numbers in sequence ("1234," "4567," etc,)
Any sequence with a simple pattern ("2468," "1357," etc.)
Any binary pattern ("0101," "0011," "1001," etc.)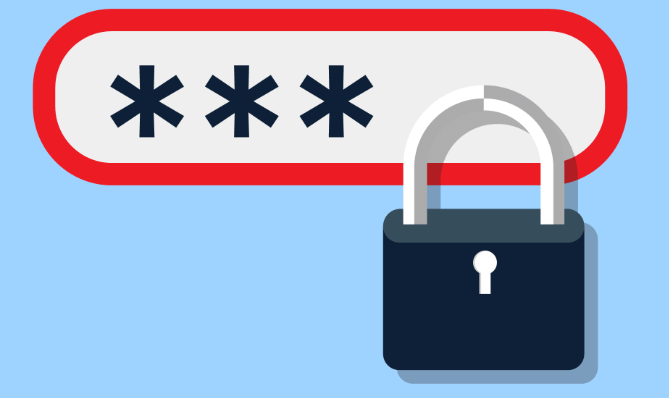 Also, passcodes like 197*, 198*, 199*, 200*. 201* are also not recommended as they are also considered easy to guess. Always remember using a complex, long passcode for not only your phone, but also all important devices or accounts. After all, you wouldn't want to learn it the hard way that you have set your password too easy-to-guess. And, as you would guess, the more complex your passcode is, the less possible you would receive the annoying "Must change passcode" request from your iPhone.
Bonus: A Smart iPhone Unlock Passcode Tool Recommend
iMyFone LockWiper is a top-rated software that can unlock your iPhone password. Meanwhile, LockWiper can quickily remove different screen locks and Apple ID without entering any passcode.
Key Features of iMyFone LockWiper:
Remove iPhone screen lock without password permanently.
Support to remove various kinds of iPhone screen lock, including 4-digit/6-digit, Face ID, Touch ID, custom numeric code.
Support to erase Apple ID/iCloud account in minutes.
Please only use the software to unlock the password of legal iDevices.
Compatible with all iOS version and iDevice, including iOS 16 and iPhone 13/12/11.
Video Tutorial about 3 Steps to Recover/Reset iPhone Passcode without Losing Data
Steps to Follow
Step 1. Launch iMyFone LockWiper on your PC and choose "Unlock Screen Passcode". Then click "Start".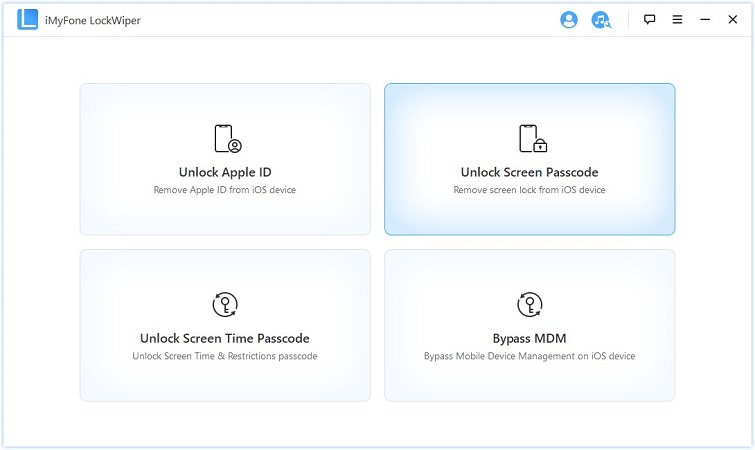 Step 2. Connect your iPhone 13/12/11 to PC via USB cable and click "Next" on the screen to load your iPhone information. Click "Download" once the software detects your iPhone details automatically.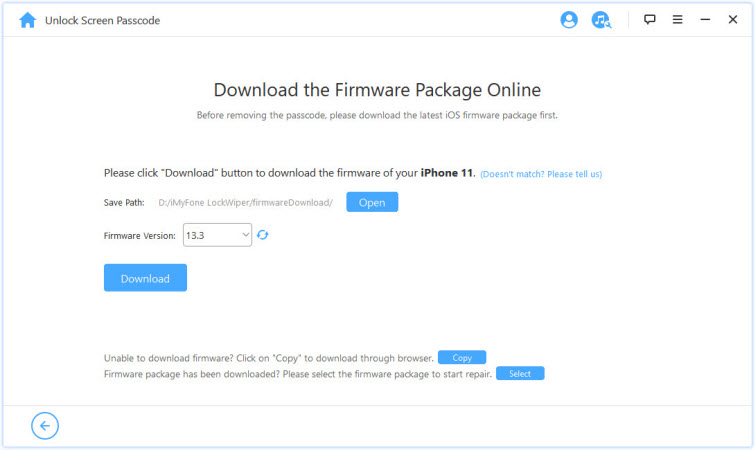 Step 3. Once the firmware package has been downloaded, click "Start to Extract" and wait for the process to complete.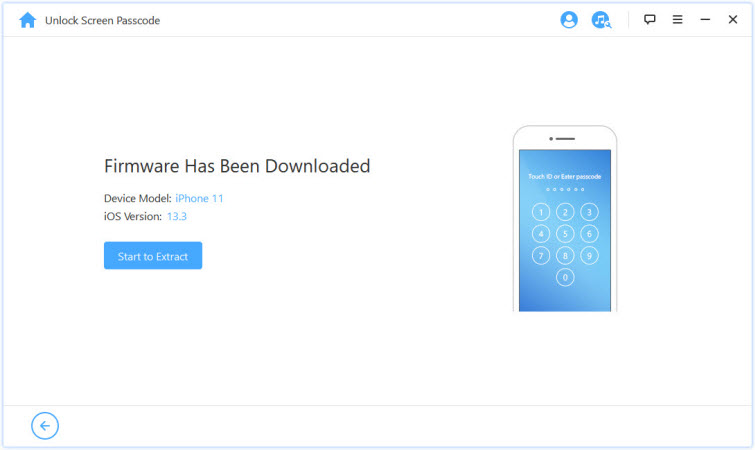 Step 4. Click on "Start Unlock" on the PC screen and then enter "000000" to double confirm the process. Click "Unlock".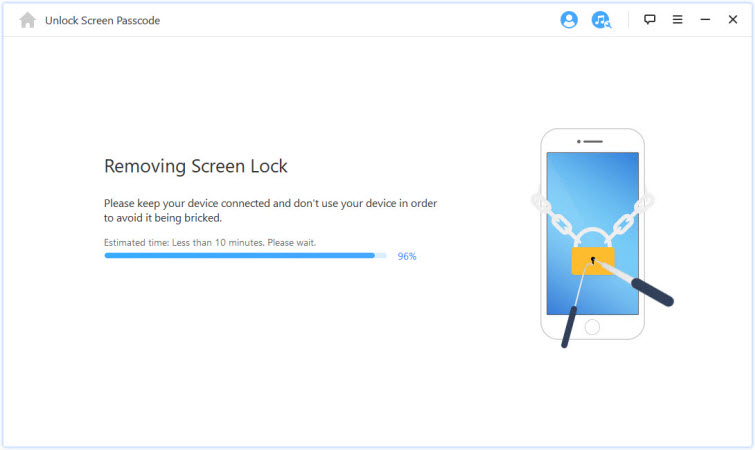 Step 5. Wait for a moment, iPhone screen passcode will be removed then.