Many people do not know they have an MDM on their iPhone or those that do, do not understand how to remove MDM profile on iPhone including iOS 12, 13, 14, 15 and 16. Some MDM removal services can be expensive and time consuming. However, using our quick guide, you can successfully remove an MDM from your iPhone.
Part 1. What is an MDM on an iPhone iOS /12/13/14/15/16?
What is MDM?
An MDM stands for mobile device management and is a security solution that has been used by a multitude of companies worldwide. In the corporate world, MDMs will be fitted to all "work devices" so as to control what the user of the device can access on their device.
For example, an MDM will limit what you can search for on your device, what kind of apps you can download and it will often set up work email accounts and other such productivity based apps. The purpose of such software is to keep productivity up among working staff and to keep the company's rules when it comes to online conduct.
MDM on iOS /12/13/14/15/16
iOS MDM is provided by Apple for organizations to simplify the bulk management of Apple devices including iPhone. Since iOS /12/13/14/15/16 are the 5 latest iOS versions and most widely used in iPhone users, the MDM restriction on iPhone iOS 11/12/13/14/15 bothers a lot of people and they want to remove MDM restriction on their iPhone.

Apple has been improving MDM enhancement on iOS system. Compared to iOS 10, iOS 11 is improved in MDM capabilities, such as controlling certain permissions pertaining to AirPrint.

In iOS 12, more changes have been made for manual enrollment into Mobile Device Management.

For iOS 13 version, Apple has applied a new form of MDM, User Enrollment, a new method of MDM for enrolling personally owned devices in BYOD (Bring Your Own Device) program.

In iOS 14, content caching metrics via MDM is allowed.

For the latest coming iOS 15, declarative MDM allow devices to make decisions for themselves.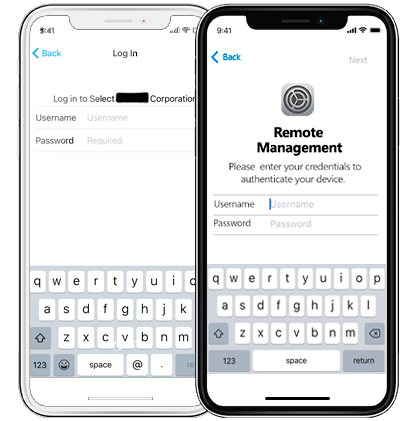 Part 2. Is MDM Safe on Your iPhone iOS /12/13/14/15/16?
Often times people do not know they have an MDM and will just assume that the iPhone comes like that normally. However, if you see a strange app downloaded or a profile in settings that you have not set up then you might have an MDM. This is an issue because it means that the data stored in your iPhone is not secure and you will need to remove MDM profile immediately.
What makes MDM potentially insecure for users is that MDM can be used by hackers who will install one onto second hand or stolen iPhones and then sell online. They will harvest data such as credit card details, contact details and other personal info.
Part 3. How to Remove MDM Profile on iPhone iOS /12/13/14/15/16?
The insecurity and inconvenience of MDM makes it necessary to bypass or remove the MDM restriction. If you are suffering from the MDM trouble on your iPhone iOS 11/12/13/14/15 and don't know how to deal with it, then you can turn to iMyFone LockWiper which can help you remove various locks from iOS devices including iPhone, iPad, iPod touch.
Key Features:
Bypass MDM restriction on iOS devices iPhone/iPad/iPod touch without with 1 click.
Bypass MDM activation without username and password.
Enjoy all features in your iOS devices after removing MDM restriction.
It also supports to unlock 4-digit/6-digit passcode, Touch ID, Face ID, etc.
User-friendly without any technical knowledge requirement.
Here's the step-by-step process on remove MDM profile using iMyFone LockWiper.
Watch Video Tutorial to Remove MDM Profile Step by Step
[Video Transcript]

Step 1. First, download and install iMyFone LockWiper. Now, launch it on your computer. On the main interface, click on "Bypass MDM" mode.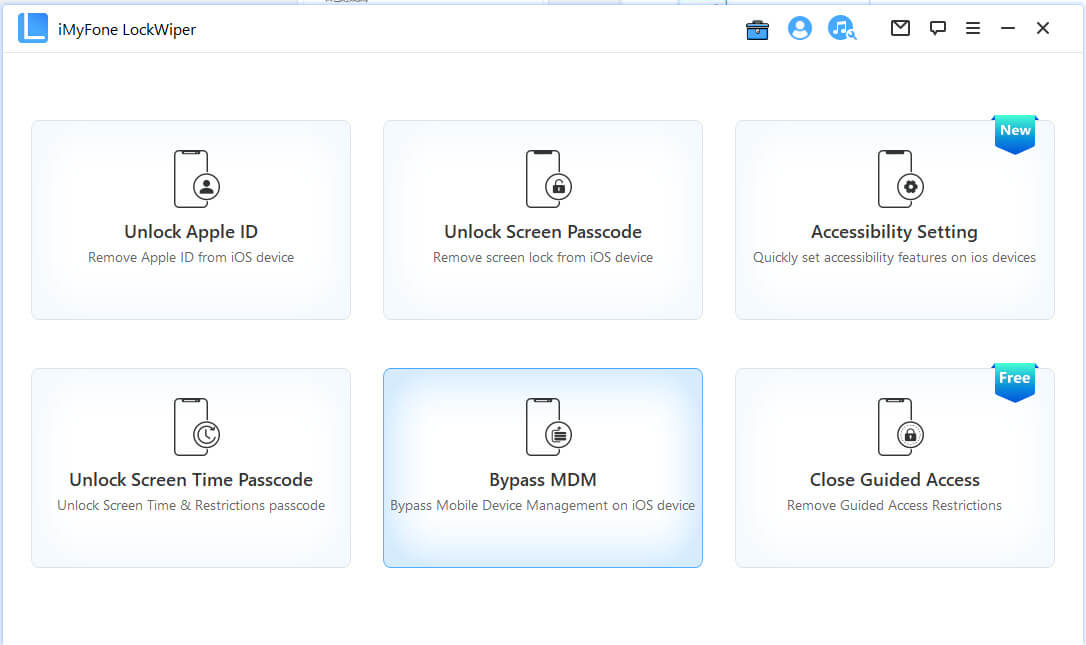 Step 2. Connect your iOS device together with your computer via USB. cable.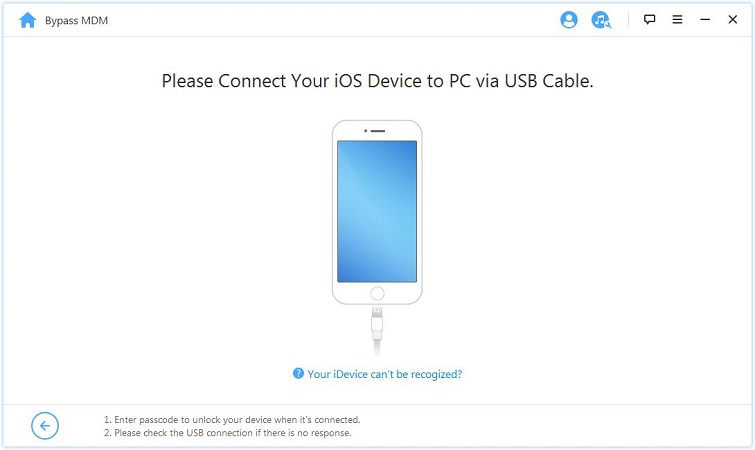 Before starting the MDM bypass process, please make sure your iOS device is on the MDM lock screen.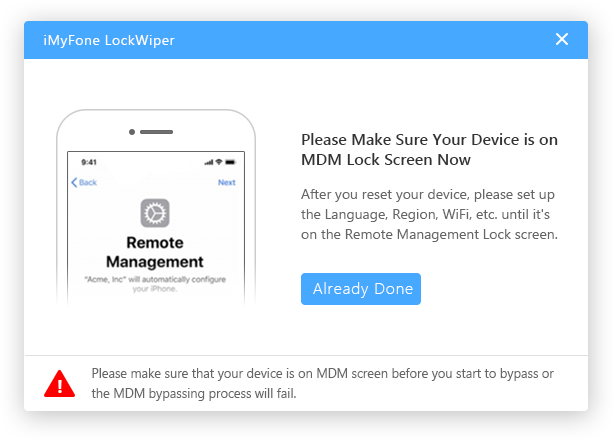 If your device is locked out of the MDM screen, please directly click the "Start to Bypass" icon to begin the process.
If you want to remove the MDM restriction on your device, please reset your device first by the following steps "Settings > General > Reset > Erase All Content and Settings". Then click "Start to Bypass".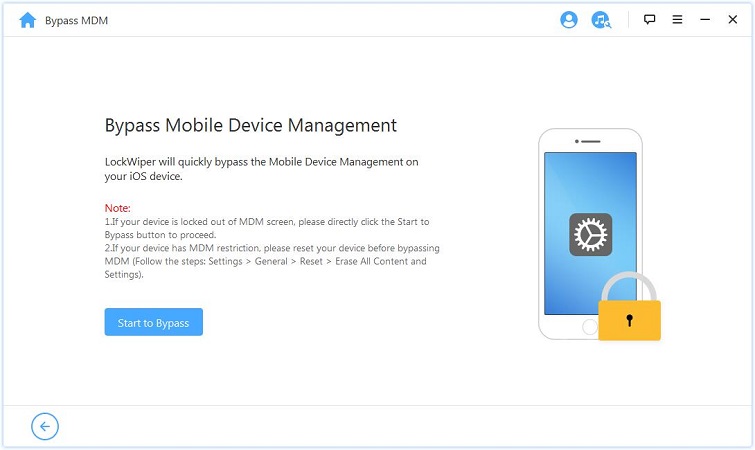 Step 3. After that, iMyFone LockWiper will start bypassing the MDM restriction on your iOS device.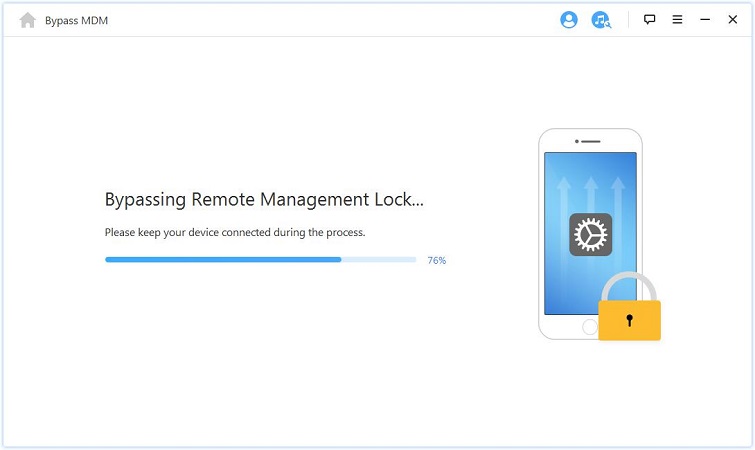 Once the process is finished, the MDM on your device has been successfully bypassed and now you can access your iOS device with full access.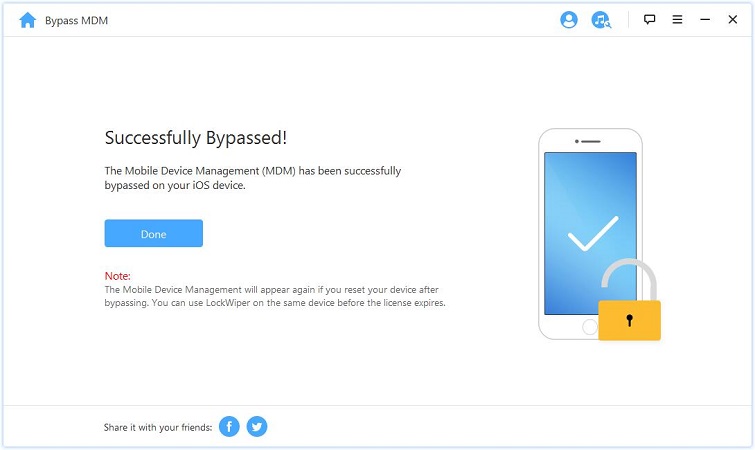 As you can see, the guide introduced above can only be applied to iPhone devices with a physical home button. To enter DFU mode for those who have a modern iPhone which don't come with a physical home button, ones that use Face ID, then simply follow the steps below.
A Quick Summary
If you think you have an MDM profile on your iPhone, then you will need to remove it. An MDM is a serious security breach and will need to be sorted as soon as possible. The best way to do so is to use iMyFone LockWiper to bypass the MDM restriction with simple clicks. Any questions then just ask us. With this professional tool, you can get full control of your Apple device.