You can never have too many backups for your WhatsApp messages and while you may be able to back up the chats on Google Drive, you can also back up some messages on Gmail. If nothing else, this Gmail backup will be easily transferrable. You can send this backup to anyone at any time or send them to your own Gmail account to keep them safe.
In this article, we are going to take a look at how to back up WhatsApp messages to Gmail.
Steps to Backup WhatsApp Messages to Gmail
Backing up WhatsApp messages via Gmail has many advantages. For starters, you will be able to very easily transfer the backed up messages to another person by simply emailing them. You can also very easily transfer the backed up messages to your computer. There are however, several things to keep in mind about this backup solution, including the following;
You can choose to include media files in the Gmail backup or not.
You have to save one chat at a time, a factor that can be very time consuming.
This method is however absolutely free to use.
To back up WhatsApp messages to Gmail, follow these simple steps;
Step 1: Open WhatsApp on your computer and you should see all chats loaded on the screen. Tap on the conversation you would like to save and then tap on the more options (three dots) button. Select "More".
Step 2: Tap "Export Chat" and select whether you would like to include media or not.
Step 3: In the next interface, tap on "Gmail" as the method to export the chat. The backed up chats will be attached to an email that you can then send to yourself or any other Gmail account.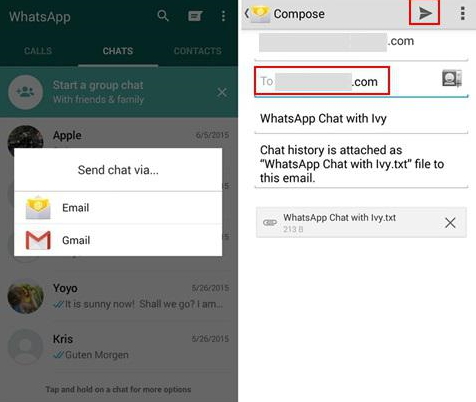 A Better Way to Backup WhatsApp Messages for Free
The solution above may be effective when you simply need to back up a few messages, but it is not an ideal way to back up all the conversations on your WhatsApp account. This is because you have to backup one chat after another, a process that can take a very long time. There is a tool that will overcome all these shortcomings by allowing you to backup all WhatsApp messages in a single click. This tool is iMyfone iTransor for WhatsApp. With this tool, you can easily create a full backup of all your WhatsApp messages and then restore the backup at a later date.
Some of the features that make iTransor for WhatsApp the best option include the following;
You can use it to backup all WhatsApp chats including attachments in a single click.
It can also just as easily be used to restore the WhatsApp backup back to the device when you need to.
You can use this tool to directly transfer WhatsApp messages from one device to another even across platforms (from Android to iPhone or vice versa).
Because iTransor for WhatsApp allows you to preview the messages, you can selectively backup or transfer WhatsApp data.
To use iTransor for WhatsApp to Backup WhatsApp messages to your computer, download and install the program to your computer and then follow these simple steps;
Step 1: When the installation is complete, launch the program and then click on "Backup WhatsApp on Devices".
Step 2:  Connect the device to the computer using USB cables and enable USB debugging to allow the program to recognize the device.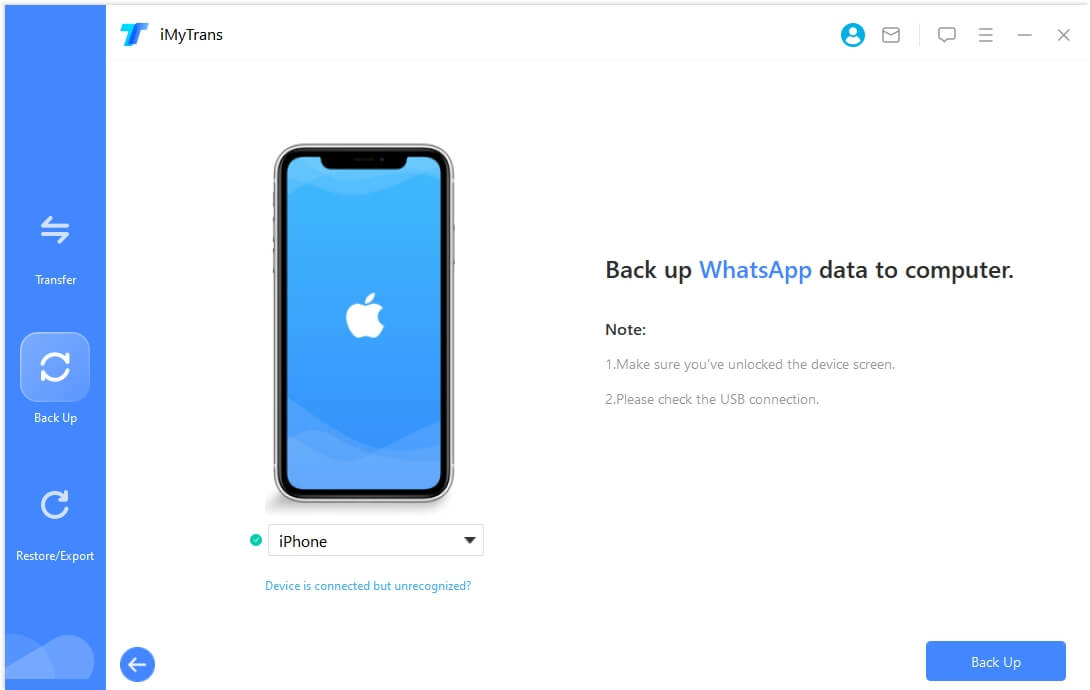 Step 3: As soon as the program detects the device, click on "Back up" and the process will begin immediately. Keep the device connected to the computer until the process is complete.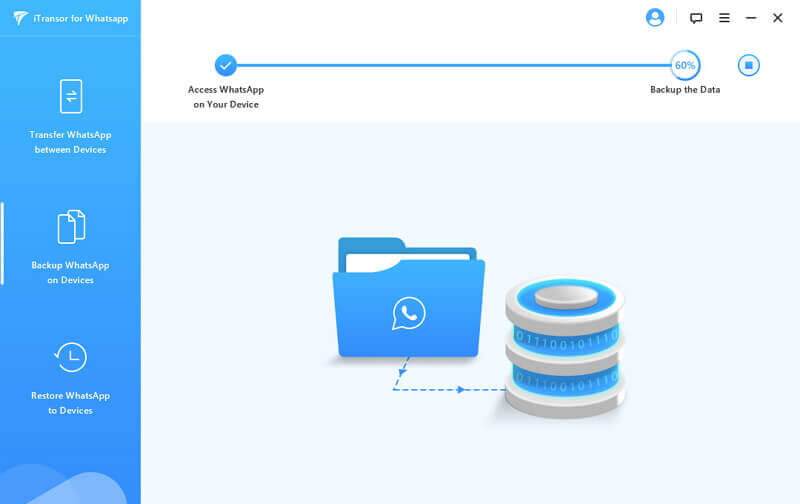 When you consider that iTransor for WhatsApp will allow you to not only restore the backup back to the device but also transfer WhatsApp messages to another device, it becomes apparent that this is a must-have tool for all WhatsApp users. It also doesn't hurt that the tool is very simple to use, even for the beginner user.