Being one of the most popular cross-platform social IM apps, Line is a major interactive platform with millions already using it in daily conversations. And as such, it is very easy to move, backup, and restore your line chat history. Now, messages through this platform are encrypted, especially when sent to the messaging server and during backup. In this article, we will tell you how you can decrypt your messages when restoring them from your backup should you accidentally delete your chat.
Part 1. How to decrypt line chat backup with Chatsback for Line
When reading encrypted Line messages, no software can do it better than the iMyFone ChatsBack software. You see, the software can read and restore even the encrypted messages from both iPhone and Android devices, whether from Google Drive or iTunes backup. This tool has a very good success rate when it comes to restoring data from backup, or recovering any lost data, which you can do in these four ways; recover from Google Drive, device storage, iTunes, and previous records. Here are some of its features;
Main Features about iMyFone ChatsBack for LINE:
You can recover the Line chats selectively
You can preview the chats before recovery
100% data security.
You can recover the chats without having to install your Line app.
It is easy to use and hence saves a lot of time
So, here are the detailed steps on how you to decrypt and recover your line chats using iMyFone ChatsBack;
Step 1 – download and install the software to your PC. Launch it and connect your phone to the computer with a USB cable.
Step 2 – once in, select the location from where you backed up your Line chat, then hit Scan. After the scanning process is over, hit Next. For you to analyze the database, ChatsBack will have to permit you. First, it will prepare the environment for data analysis and then ask you to key in your country code and phone number before sending an SMS to verify the number.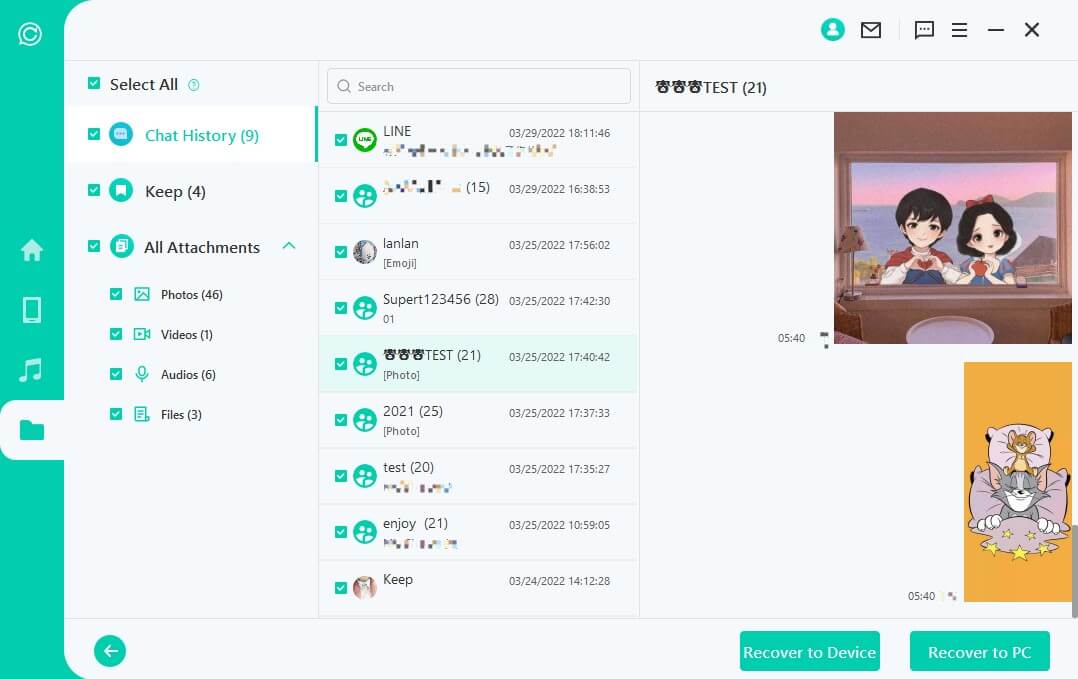 Step 3 – after that, the software will calculate the related keys for database analysis. Once the analysis is done, you can preview the recoverable chats and hit Recover.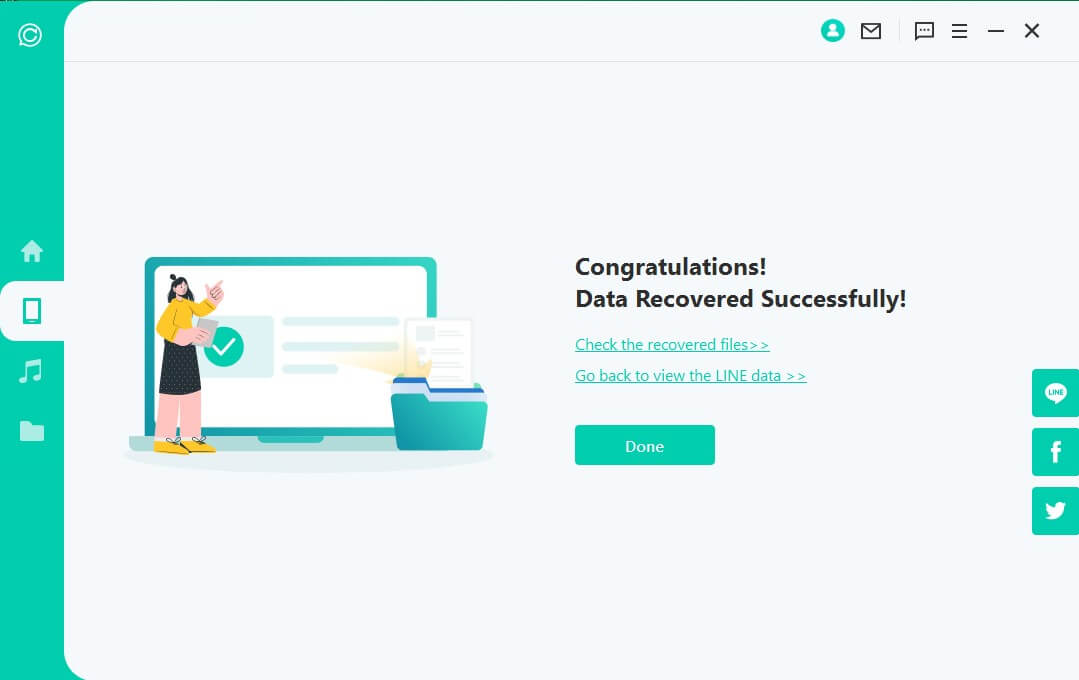 Part 2. How to encrypt line chat with Letter Sealing?
For starters, Letter sealing is, by far, the most advanced data protection and privacy method that Line has introduced. This feature allows users with end-to-end encryption for their messages, voice calls, and chats. With this type of encryption, the keys used in decrypting Line messages can be found on the user's phone instead of the main server. This means that every Line user has a specific set of encryption and decryption keys, which they use when receiving or sending messages.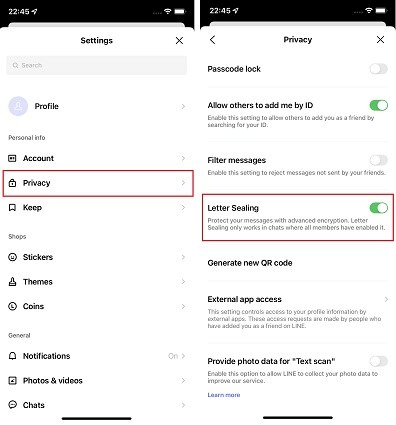 And when an authorized person tries to access your Line messages from another device, they won't be able to see your chats since all the texts appear as 'letter sealed' to someone without the decrypting keys. To turn this feature on, open the Line App, and on the home screen, go to Settings > then click on Privacy > locate the Line option, and then turn on Letter Sealing from that point.
Part 3. FAQs about How to decrypt line chat backup
3.1 Is Line chat encrypted?
Yes, it is! You see, messages from the sender are already encrypted, so only the intended user can open them. Also, with Letter Sealing being the latest feature introduced, it did take the encryption of messages a notch higher by introducing end-to-end encryption, which encrypts messages on the servers such that only the sender and the receiver can read them.
3.2 How to check if your LINE Messages have Been successfully Decrypted?
There are two ways through which you can check successful decryption, and they are as follows;
Method 1: Go to settings > Privacy. Then, check whether the Letter Sealing function is Enabled or Disabled.
Method 2: Open the Line app and then open any chat. After that, tap the three lines icons, and see whether the "This chat is protected with Letter Sealing" popup will appear on your screen. If it does, then it means that Letter Sealing has been turned on, and vice versa if it's off.
Final thought
Line is one of the safest chatting platforms today, as it has introduced Letter sealing as an encryption method to ensure that unauthorized persons cannot access your chats. When it comes to accessing Line chat backups, you definitely need powerful software to be able to restore the messages and also decrypt them. This is where iMyFone ChatsBack software comes in. With a user-friendly interface, plus amazing features, this is a tool you need to try, especially if you are a regular Line user. You can get it from our website! It is super easy to install, set up, and use. It is compatible with all Android and iOS devices. Download it today and enjoy!