WhatsApp is an encrypted application. It is the most popular messaging application with all types of messages, including private ones you might not want to share with others.
You may often forget to pick up your phone, but this should not prevent you from accessing your WhatsApp. It is possible to access WhatsApp from a different device, which may seem immoral to some since WhatsApp carries private information but it is actually quite useful.
Do you want to know whether someone can see my WhatsApp messages from another phone? Let us find out in this post how to retrieve your WhatsApp data on a different phone with iMyFone ChatsBack.
Part 1. Can Someone See My WhatsApp Messages from Another Phone
Although You cannot use WhatsApp on two phones at once, you may simply access all of your messages if you scan the QR code of your WhatsApp. This method works for PC (WhatsApp Web)
You may immediately access your WhatsApp conversation from anywhere globally by scanning your QR code. However, to access the QR code, you must physically have access to your phone.
Go to the three dots in the upper right corner of your WhatsApp screen to see if your WhatsApp web is functioning on another device. Check out the list of all open sessions by visiting WhatsApp Web. You may view every device linked to your WhatsApp account with this.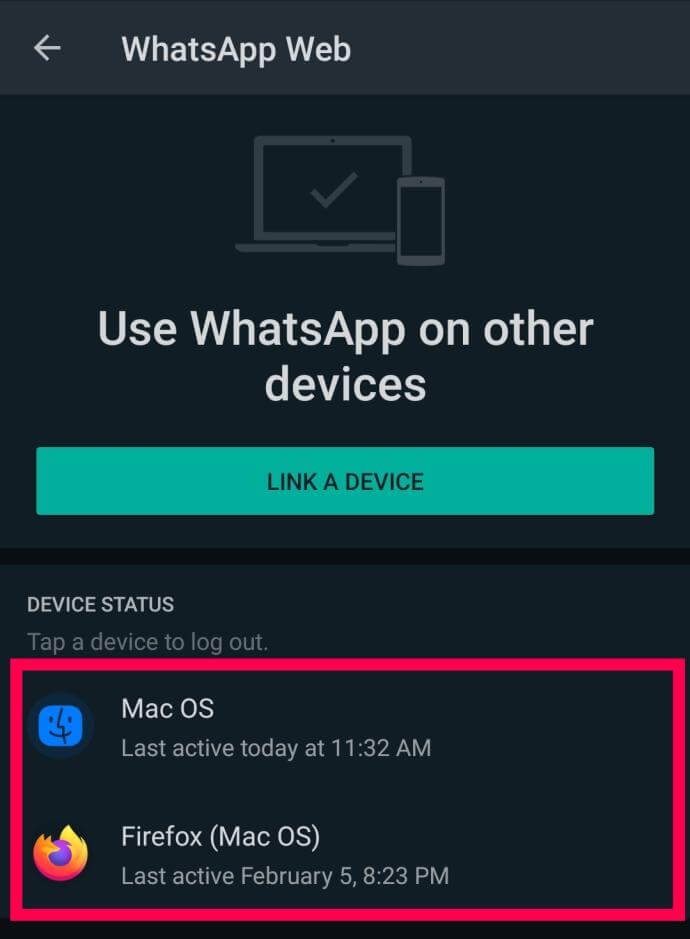 Part 2. How to Check My WhatsApp Messages from Another Phone
If you are wondering"how to check my WhatsApp messages from another phone,"you may either register the number on any phone or scan the QR code on the WhatsApp web page. However, there are certain limitations to these operations. If you install and verify the same number on another device, you won't have access to the WhatsApp that was installed on the old device.
Moreover, you may also restore the backup of your WhatsApp data on another phone, but this method necessitates regularly backing up your data.
Suppose you need to access your WhatsApp messages effortlessly. In that case, you may use a reliable data recovery program like iMyFone ChatsBack, which restores WhatsApp data and enables you to access WhatsApp on another phone.
Even if you do not have a backup of the data, you can easily do WhatsApp data recovery from your device's internal storage, thanks to the effective program.
The ultimate WhatsApp data recovery tool, iMyFone ChatsBack, can recover all your lost or inaccessible WhatsApp messages, photos, videos, music, contacts, and files.
Here are the primary aspects that make this software the most reliable and efficient alternative:
It allows you to pick out the WhatsApp messages you finally have to retrieve.
It provides three different ways to retrieve WhatsApp data, i.e., directly from the device's internal storage, from google drive backup, or iTunes backup.
Before recovering the data, you may see the WhatsApp data that was scanned and is ready to be restored.
This software works on both Android and iPhone.
Your personal WhatsApp data is entirely secured by this program, which takes appropriate care of your data privacy.
With this program, recovering WhatsApp data is simple and quick; it will not take long.
Bonus Tip: Recover My WhatsApp Messages from Another Phone
iMyFone ChatsBack is your best choice if you are concerned about how to get messages from WhatsApp from another phone. You may quickly restore data from Android and iPhone devices with this software by following these simple steps:
For Android:
The steps to restore deleted WhatsApp messages on an Android device are as follows:
Step 1: Install the software on your system and connect your phone to it.
Step 2: This step asks you to choose the preferable data recovery method. Select Recover WhatsApp Data from Device Storage.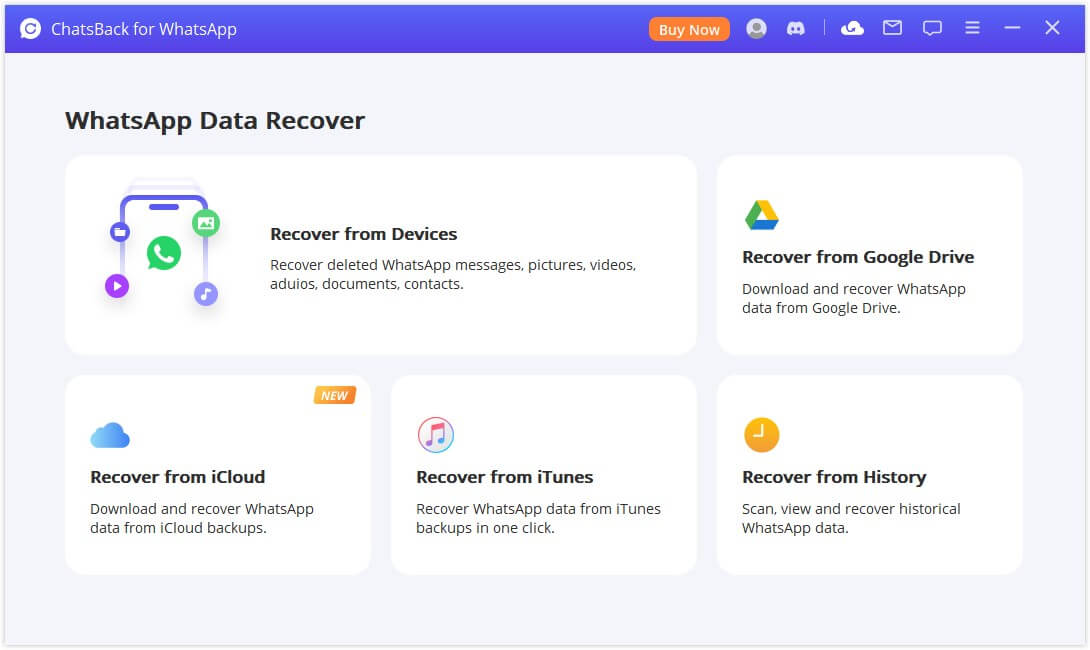 Step 3: Now begin scanning your device by clicking on the Start button. Once you are done scanning, follow the instructions to verify your phone.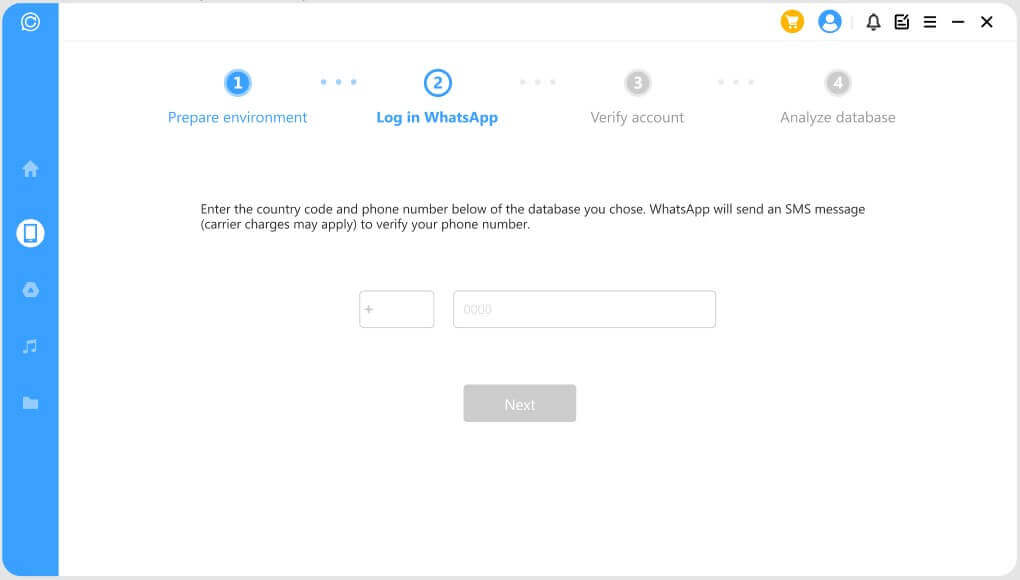 Step 4: You can simply select which WhatsApp messages, photos, videos, and other media you want to retrieve. Determine where you wish to restore your WhatsApp messages, then choose that location. Before you fix the WhatsApp messages, you may also preview them.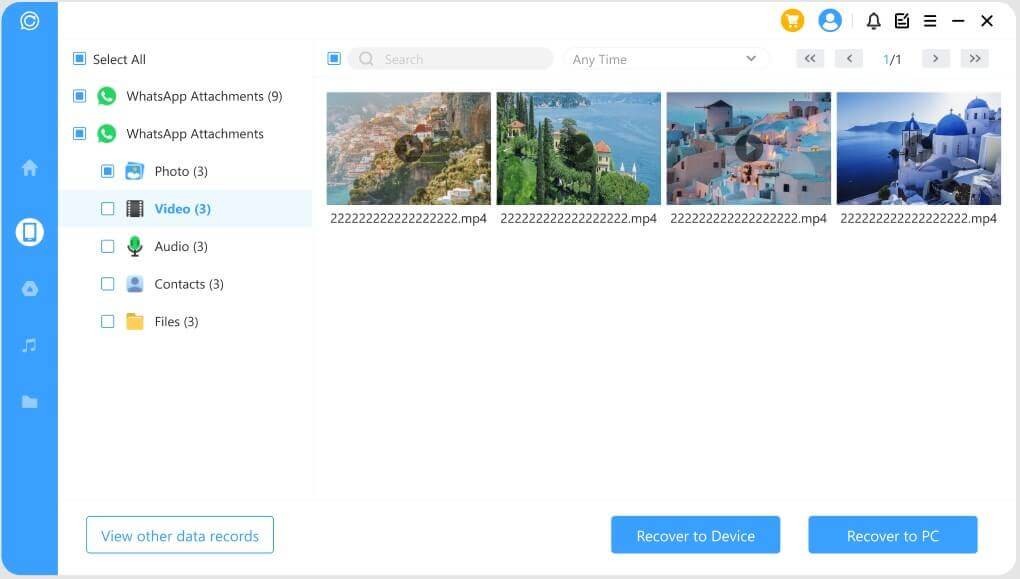 For iPhone:
If you're an iPhone user, you can restore your data by following the below steps:
Step 1: Download and install the software on the system and connect your iPhone to it.
Step 2: In this step, select Device Storage from the user interface and proceed forward. You can also use the iTunes method. For that, you'll have to provide the iTunes account log-in access.
Step 3: Now select WhatsApp Messenger and click on the Start button. The scanning process of the WhatsApp messages on your iPhone will begin soon after.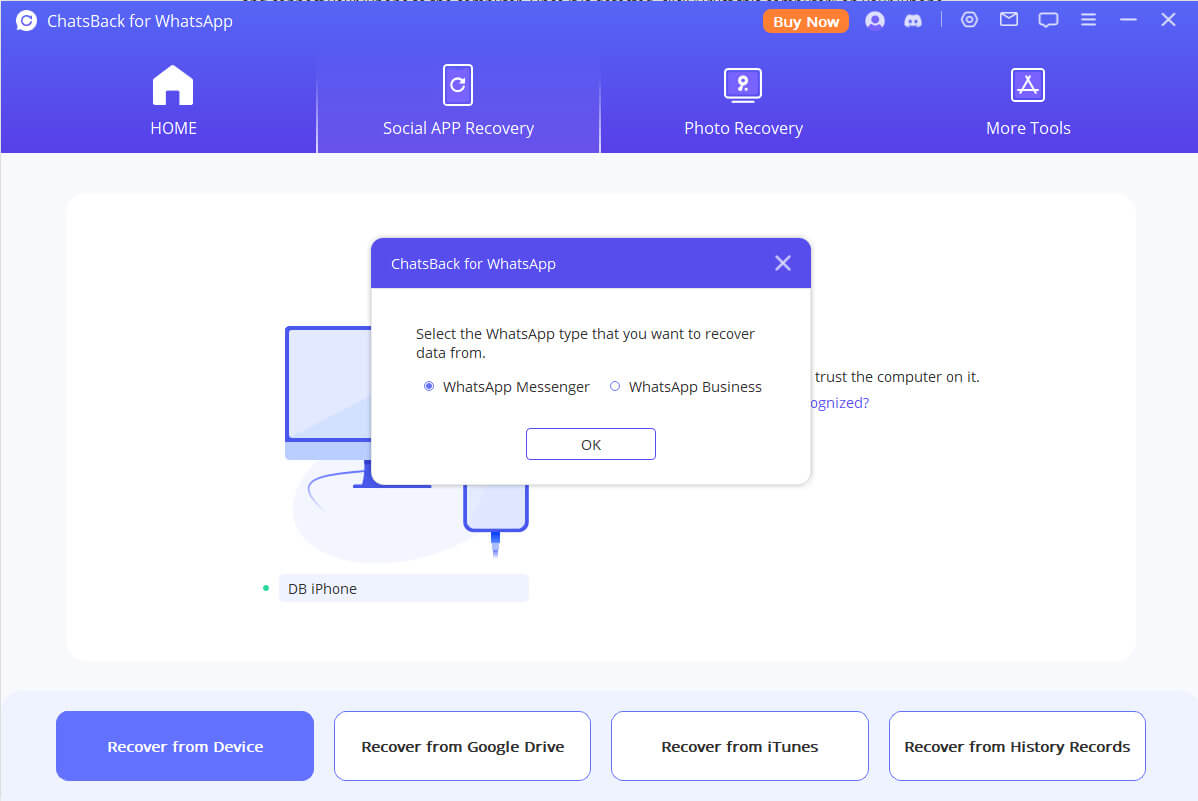 Step 4: After completing the scanning procedure, you may choose which WhatsApp data you want to recover. From the two options, select the location where you wish to save the data, and you are done.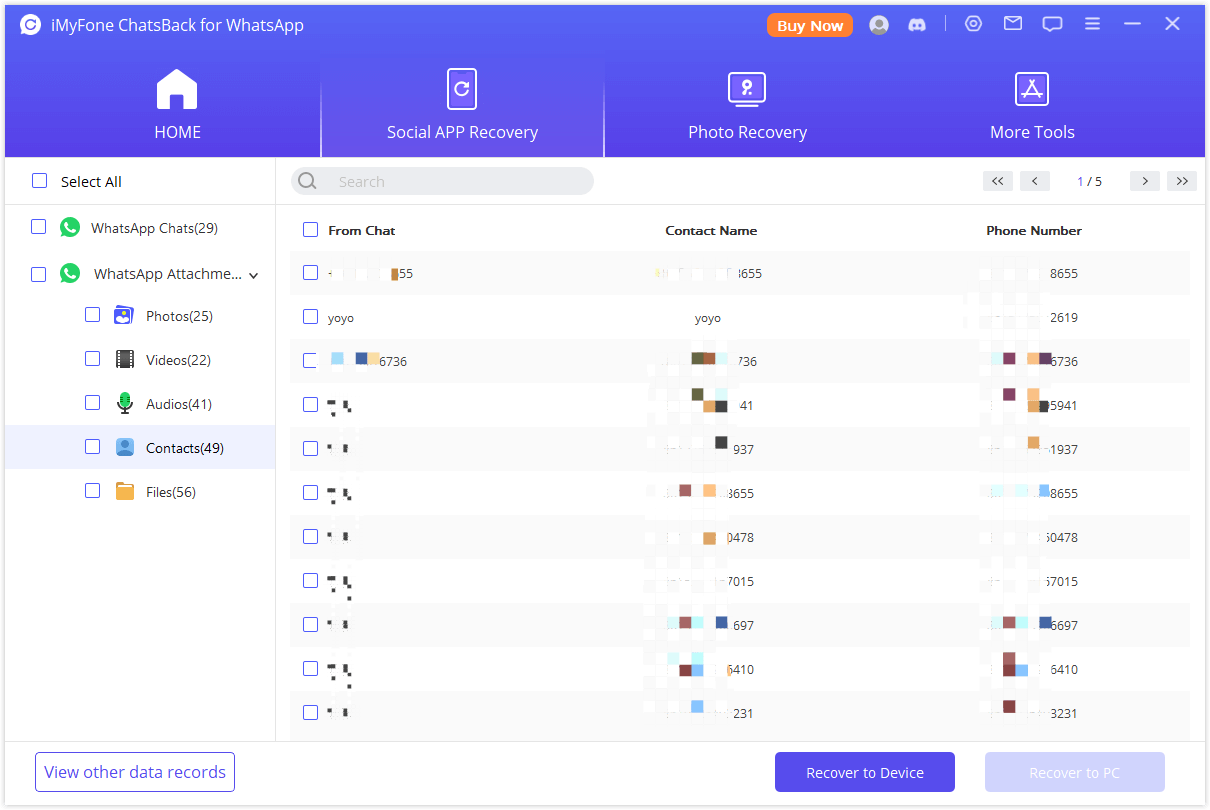 Part4. FAQs
1. Can anyone see my deleted WhatsApp messages?
Many individuals are concerned about can anyone see my deleted WhatsApp messages when they accidentally send a text and instantly delete it. The deleted messages on WhatsApp cannot be accessed or recovered officially. The recipient will not be able to read the statement if the sender deletes it using the Delete for Everyone option.
2. Can someone read your WhatsApp message without you knowing?
Yes, by turning off read receipts, anyone may read your WhatsApp message without your knowledge. The following privacy settings on WhatsApp let users disable read receipts, which prevents the sender from seeing any blue ticks when the recipient reads their message. Moreover, if read receipts are off, you will also not be able to see the blue tick when someone reads your message.
3. How to delete WhatsApp messages from another phone?
If you want to know how to delete whatsapp messages from another phone, then here is the straightforward answer. It is not possible to delete WhatsApp messages from another phone. However, you can go for the "Delete for everyone" option to delete messages.
Conclusion
Since WhatsApp is entirely encrypted, it may seem difficult to access it on another phone for any reason to get your essential data. However, you can still accomplish it using a reliable data recovery program like iMyFone ChatsBack. Although other options are also available, this software is the best alternative with which you can effortlessly retrieve your WhatsApp data from Android or iPhone.