Changing a phone is always a big decision. It creates various challenges that can prove to be detrimental for a smooth transition. One such challenge is transferring your WhatsApp data from the old phone to the new one. This can be even more difficult if the switch is to be made across different OS. Today, we would explore one such scenario and see the process of transferring WhatsApp from an iPhone to an OPPO phone. OPPO is increasingly becoming popular as a brand that offers good cameras and premium build quality for a reasonable price so many users may find this information to be pertinent.
Part 1. Can You Transfer WhatsApp across Operating Systems with Official Methods?
The official method are normally designed to function within the same eco-system. That is why whenever any attempt is made to transfer data across different OS, it fails in most of the cases. In other words, we cannot use the official methods to transfer WhatsApp from iPhones to OPPO phones. For reference, we would look at some of the official methods that users may try to use in this scenario.
1.1 iCloud
When it comes to iPhones, most people use iCloud to back up their WhatsApp data. This is probably because the backup option available within WhatsApp makes use of the iCloud storage for storing the backup. These backups can be created manually or automatically after an assigned period of time. When a switch is made to a different iPhone, these backups can be used to restore the WhatsApp data by using the same Apple account used for creating them. Sadly, the restoration doesn't work with Android devices which make use of Google Drive storage and Google accounts.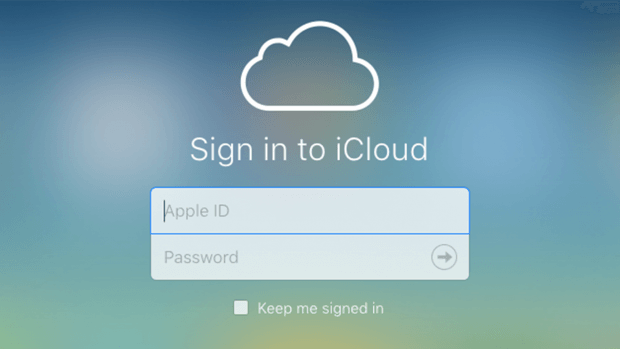 1.2 Google Drive
Just like iCloud does not work with Android phones, Google Drive does not work with iPhones. Google Drive storage is used by Android phones for creating WhatsApp data backups through the app. That is why any steps cannot be performed from an iPhone in this particular method.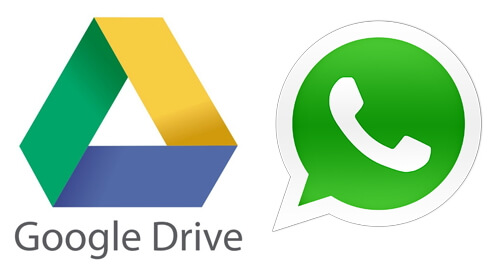 1.3 OPPO Clone
OPPO Clone is the official data transfer for OPPO phones. It can transfer data to an OPPO phone from both Android phones and iPhones. However, it cannot transfer WhatsApp data if the transfer is performed from an iPhone. According to OPPO, if you are transferring from iPhone to OPPO, you can only transfer the contacts and images to your new phone through the OPPO Clone app.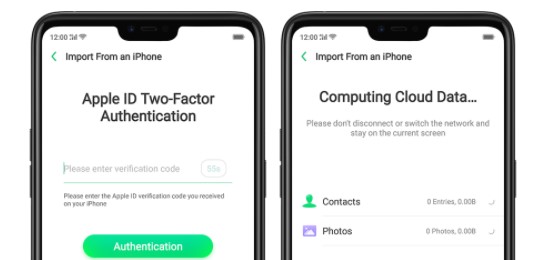 Part 2. Use a Third-Party Tool to Transfer WhatsApp from iPhone to OPPO
The best approach for transferring WhatsApp from iPhone to OPPO phone is through a reliable third party tool. Normally, these tools are paid. Those who are confident of the quality of their services offer a free trial or money back period. To understand their operation, let us look at a couple of examples.
2.1 Transfer WhatsApp Directly from iPhone to OPPO - iTransor for WhatsApp
iTransor for WhatsApp is a data backup and transfer tool specifically designed for WhatsApp. It not only offers the option to transfer WhatsApp data between devices but offers the option to create backups on a PC and then restore them to your device. The great thing about this transfer option is that it works across Android and iOS devices which means we can use this tool to transfer our WhatsApp data from an iPhone to an OPPO phone. Furthermore, the process of the transfer is as easy as 1-2-3 so an overwhelming majority of users can complete this transfer without any difficulty.
The steps for using iTransor for WhatsApp for data transfer are:
Step 1.Connect both your iPhone and OPPO phone to your PC.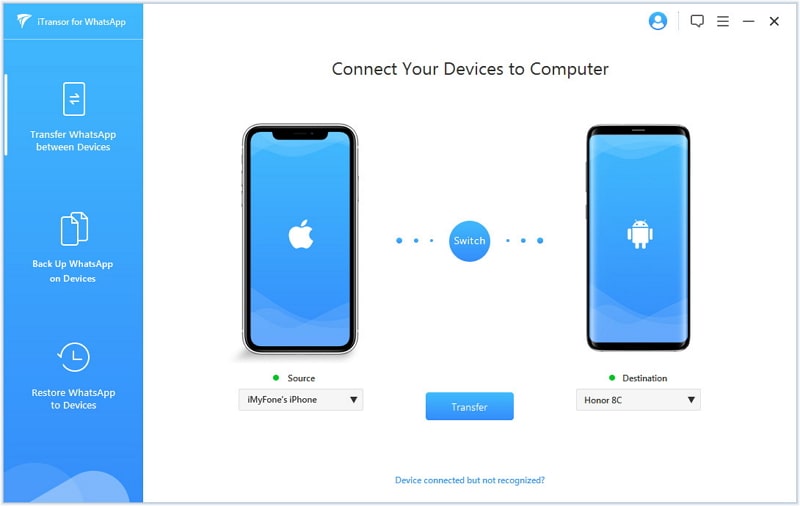 Step 2.Make sure that the iPhone is selected as the source device and the OPPO phone is selected as the destination device, and then launch iTransor for WhatsApp and click on "Transfer WhatsApp between Devices" from the sidepanel.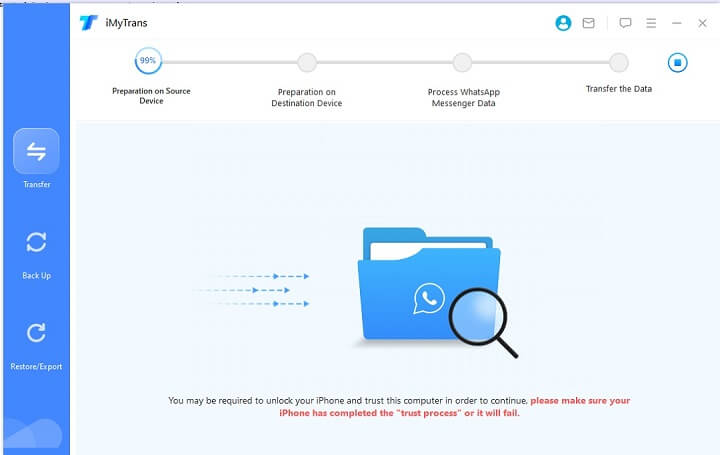 Step 3.Click on "Transfer" and after a while, the process should be completed.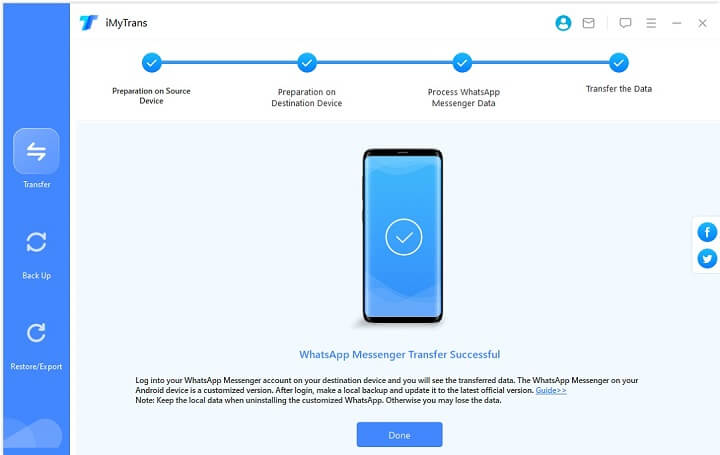 ---
2.2 [Technical Knowledge Required] Transfer WhatsApp from iPhone to OPPO with WazzapMigrator
This is another third party tool that works for transferring WhatsApp data from iPhone to OPPO phones. While the method is reliable, there have been complaints about the complexity of the process. Many users have found the steps to be cumbersome and have had issues with completing it successfully. The steps for carrying out the transfer are listed below and they illustrate that the process can be difficult.
Step 1.Connect the iPhone to your PC and launch iTunes. Select your iPhone and in the Backups section, make sure that "Encrypt Local backup" is unchecked and click on "Back Up Now".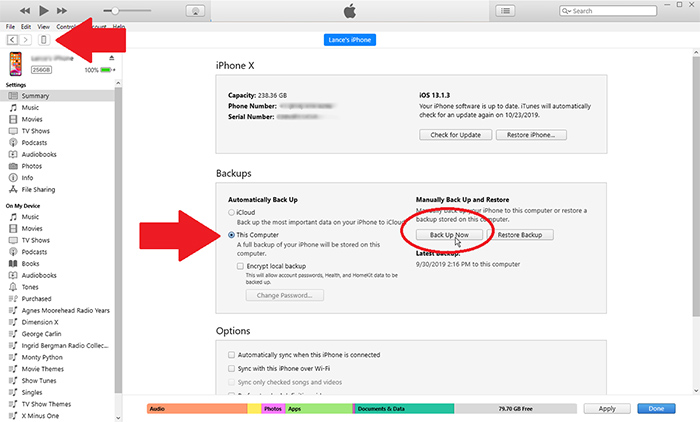 Step 2.Download and launch iBackup Viewer, and then select your iPhone from its interface.
Step 3.Select the raw files icon and switch to three view mode. Locate the folder ending with WhatsApp.shared from the list on the left. From the list on the right, select ChatStorage.sqlite and "Export" the file.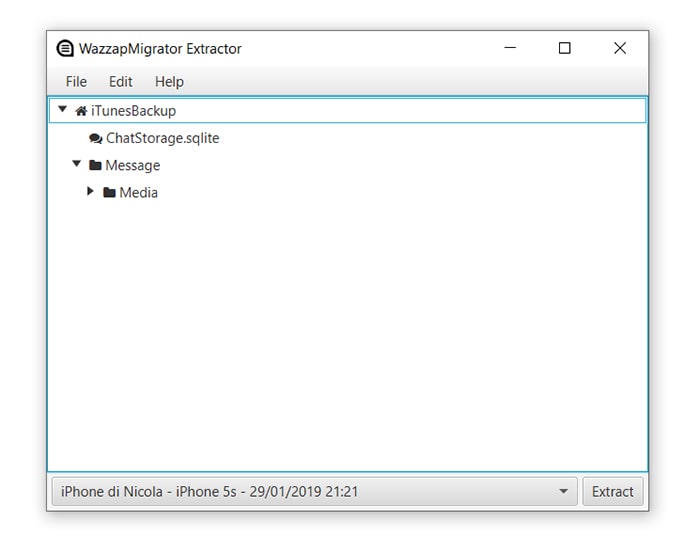 Step 4.For including the media as well, look for the folder which ends with WhatsApp and select Library > Media. Once selected, select the Export option.
Step 5.Connect the OPPO phone and transfer both the chat file and media folder to the download folder of the phone. Uninstall WhatsApp and install WazzapMigrator on the OPPO phone.
Step 6.On WazzapMigrator, press the play button after the files have been detected. Follow the prompts on the screen until you see "Conversion Successful". Open WhatsApp on your OPPO phone and you will see all the WhatsApp chat history from the iPhone.